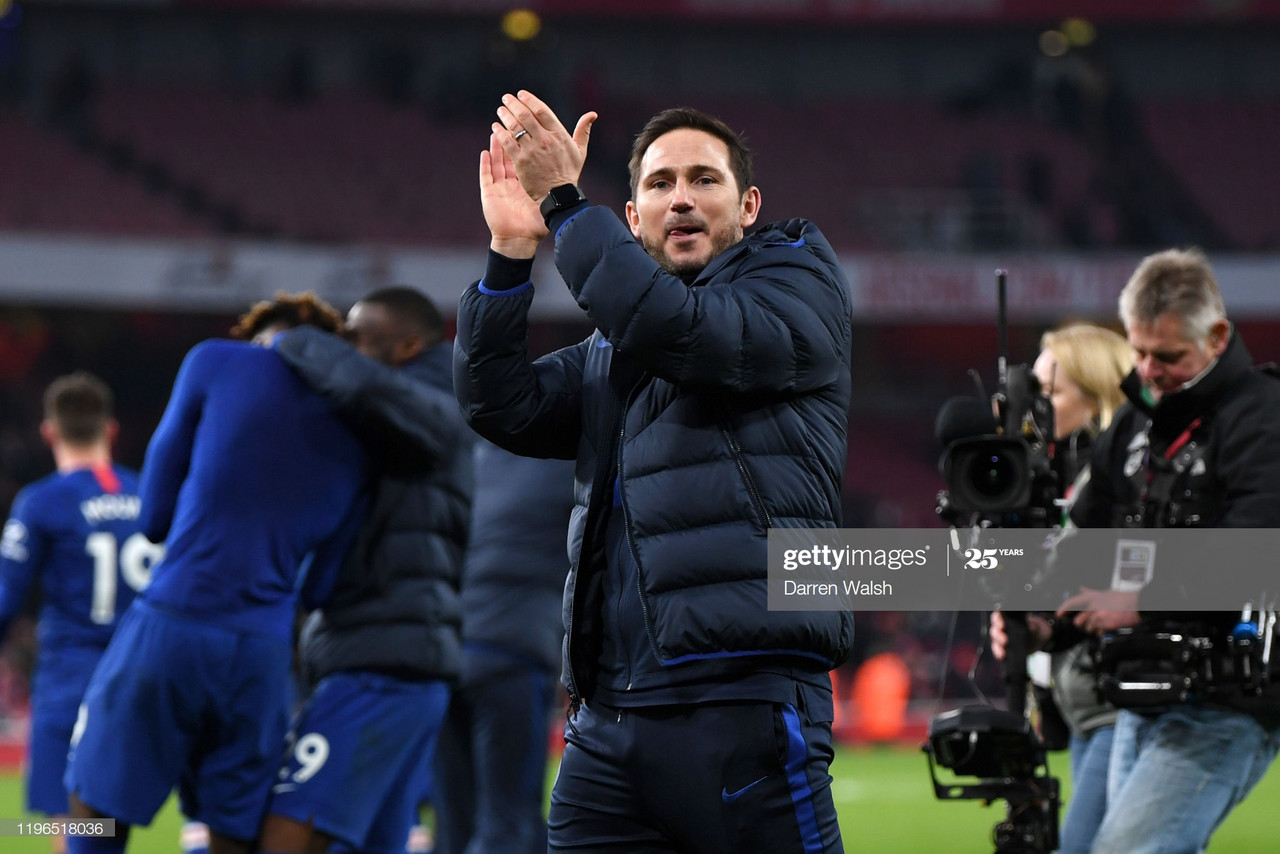 On 4 July last year, the announcement was made which confirmed Frank Lampard as the new Chelsea manager, following the departure of Maurizio Sarri.
One of the first obstacles of Lampard's tenure was the fact the Blues were placed under a transfer embargo for breaching FIFA regulations relating to the international transfer and registration of youth players.
This meant the only players coming into Stamford Bridge last summer were Christian Pulisic, whose transfer was agreed prior to the transfer ban, and also Mateo Kovacic, who had spent the previous season on loan with Chelsea, and had a clause in his contract which enabled the deal to be made permanent.
However, Lampard was still able to put his stamp onto his new Chelsea side, through the introduction of several academy graduates into the first team.
For the likes of Tammy Abraham, Mason Mount, Fikayo Tomori and Reece James, no new faces coming into Stamford Bridge meant they were finally given their opportunity after several years of successful loans.
A Shaky Start
Unfortunately it was not the fairy-tale start to the season most Chelsea fans had hoped for, with Chelsea losing 4-0 to Manchester United on the opening weekend of the Premier League.
Just three days later, Chelsea faced off against Champions League winners Liverpool in the UEFA Super Cup, but despite an improved performance and being able to hold the Reds to a 2-2 draw, Lampard's side lost 5-4 on penalties.
Lampard's shaky start continued, as the Blues went on to win just two of their opening six league games, as well as losing at home to Valencia in the opening game of the Champions League group stage.
The Turning Point
With some beginning to doubt whether Lampard was ready to coach at the highest level, a turning point came for the Blues, a 7-1 victory over League Two side, Grimsby Town in the Carabao Cup ignited an incredible run of form from the end of September to the end of November which saw Chelsea win six Premier League games on the bounce.
Chelsea's Champions League form also improved in this period, with wins to both Lille and Ajax away from home and a remarkable comeback against Ajax at Stamford Bridge, coming from 4-1 down to draw 4-4.
A Rocky Christmas Period
Chelsea continued their good form in Europe, with Lampard progressing to the knockout stages of the Champions League in his first year as a manager in the competition.
However, from 7 December to 29 December, the Blues gained just six points in the Premier league from a possible 15, including defeats at home to AFC Bournemouth and Southampton.
In between these poor results however, Chelsea produced two outstanding performances in wins at Tottenham Hotspur and Arsenal.
New Year, Same Chelsea
Since the turn of the year, results continued to be somewhat inconsistent, with only one win in the Blues' first six league games of 2020.
However, victories against Nottingham Forest and Hull City meant Chelsea earned a place in round five of the FA Cup, a competition which the Blues have won eight times, with Lampard playing a part in half of them.
Despite Chelsea's somewhat inconsistent form, with sides like Arsenal, Manchester United and Tottenham all struggling for results and juggling between managers, the Blues still looked set for a top-four finish.
The Final Five
In Chelsea's final five games before all sport was halted due to coronavirus, Frank Lampard picked up some huge results. Firstly, he was victorious over his former manager Jose Mourinho, and then also came out on top against Premier League favourites, Liverpool to continue the Blues' FA Cup run.
Unfortunately for Lampard, between these results came a disappointing 3-0 defeat at home to Bayern Munich in the Champions League, which saw Chelsea finish with ten men, due to a Marcus Alonso red card.
In their final game before play was stopped, Lampard beat another former Chelsea boss, Carlo Ancelotti, in a 4-0 thrashing of Everton at Stamford Bridge.
Looking Forward
With nine games to go, everything is still to play for in the race for the top-four, but Frank Lampard will be boosted by the return of striker Tammy Abraham, who was originally due to be out until just before the end of the season with an ankle problem.
Chelsea's top scorer so far this season with 13 goals, Abraham has been a standout performer since making the jump up to the Premier League following a loan spell at Aston Villa last year.
Another player Lampard will be thankful to have back is midfielder, N'Golo Kante, who was also injured just before the pause in play.
Most Chelsea fans will have their focus firmly fixed on the race for a top four finish, however Chelsea still have an extra two competitions to play for.
Despite odds being against them, Chelsea still have to play the second leg of their Champions League tie against Bayern Munich on Friday 7 August.
In addition to Europe, Chelsea are also into the quarter-finals of the FA Cup, where they will face Leicester City at the King Power Stadium on Sunday 28 June.
With a large, youthful squad filled with quality, there is no doubt Frank Lampard will be confident his side can secure another season of Champions League football and perhaps bring home a ninth FA Cup to Stamford Bridge.