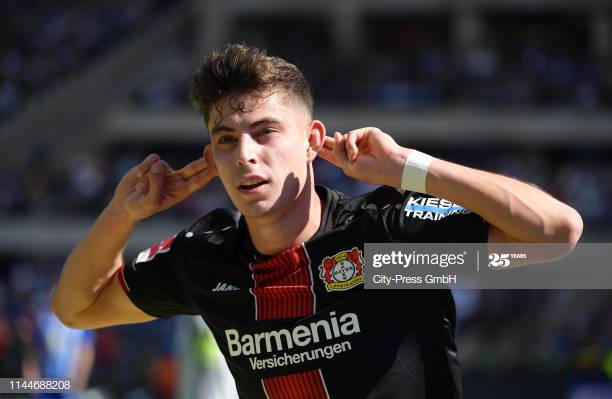 Born in Aachen, Germany, the 21-year-old has got the world at his feet. Impressing many across the footballing world, Havertz has been subject of a move away from Leverkusen.
Havertz might've played his last game for the German giants. Last weekend, Leverkusen lost to Bundesliga champions, Bayern Munich, in DFB-Pokal final, with Havertz scoring Leverkusen's second in a 4:2 defeat.
In 43 appearances this season, Kai scored 17 goals with nine assists to his name as well. With Leverkusen failing to qualify for the Champions League, it might be time for Havertz to move on.
The likes of Real Madrid, Manchester United, Bayern Munich and Chelsea all interested in the young prospect, it looks as if Chelsea are in pole position to sign the German.
With Bayern recently signing Leroy Sane from Manchester City, the champions aren't willing to spend £90 million on Havertz. Real have also been put off by the "steep" price tag. United have also pulled out of the race as their priority is Dortmund's, Jadon Sancho.
The Blues are keen on signing the youngster...
Last night, Fabrizio Romano took to Twitter to announce that Havertz wants to leave Leverkusen if the right offer is made. Romano went on to say that Chelsea has contacted Kai's team, with Havertz wanting "Chelsea as next step because of the project."
Making his debut at the age of just 17, Havertz has set the Bundesliga alight in recent years. In 148 games, Havertz has 45 goals. Havertz has broken so many records, over the years, it's no surprise that he's caught the eye of many.
Kai's preferred position...
Havertz can play as a 'false nine' or as a number 10. As a 'false nine' it's Havertz's job to pick the ball up deep in midfield and use his strength and skill to create chances in the centre of the park.
The young prodigy likes to draw central defenders away from their position, allowing Leverkusen's wide players to exploit the gaps in the opposing defence.
At the age of 21, Havertz has proved that he has a real footballer's brain and is so elegant when he has the ball at his feet. Standing at 6'2, Havertz tends to use his height to his advantage when driving at the opposing defence.
A well-rounded midfielder, Havertz is certainly one to watch and will be a great addition to the Blues, should they sign him.
It looks as if Chelsea are willing to spend up to £90 million for his services. If Havertz does sign, he'll be linking up with fellow international's Timo Werner and Antonio Rudiger. Impressing the masses already, Havertz is one to keep your eye on.