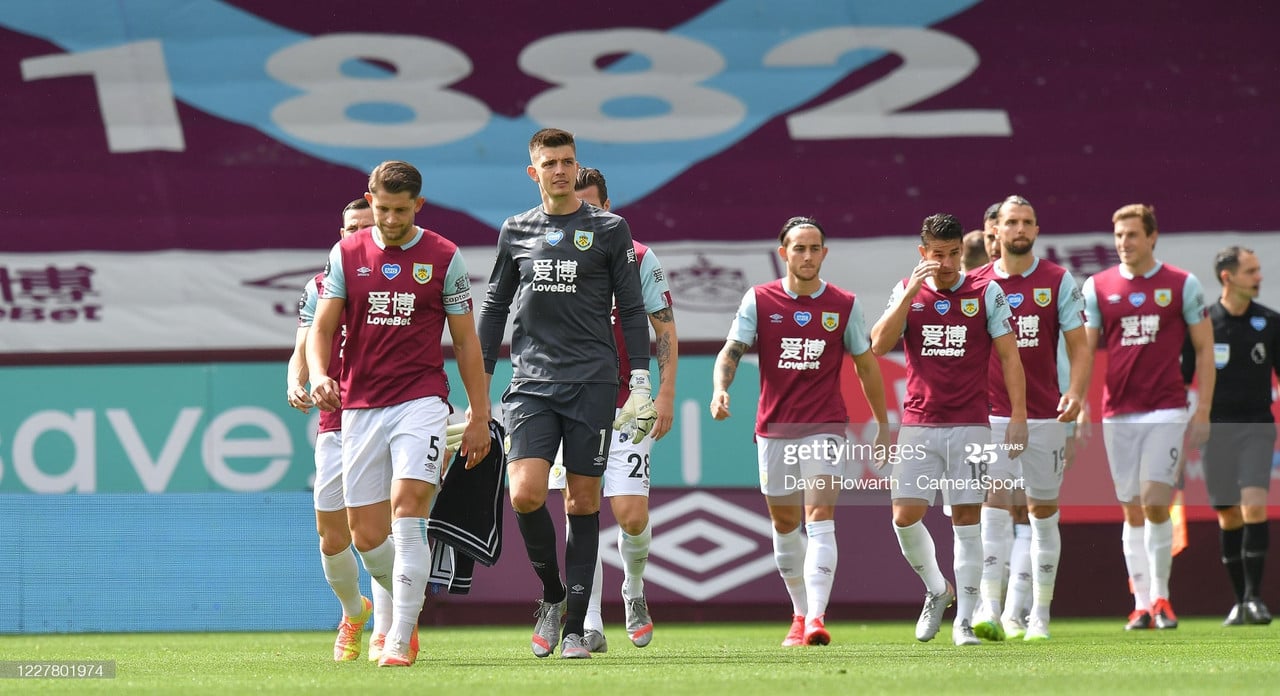 The 2019/20 season will always be remembered as the campaign that reminded us all of the importance of football and sport in general.
It will also be remembered for showing that although the game at the highest level becomes ever more commercial and corporate, it is and forever will be nothing without the supporters.
Burnley has always been a place where the club and the community are as one. When the club perform well on the pitch, the town and it's people grow and perform with it.
Under Sean Dyche's incredible seven-year reign, the Clarets have known little other than success, and supporters are currently enjoying what will be remembered in years to come as a golden era at Turf Moor.
For Burnley the 2019/20 season saw them break and match a number of club records, including recording their joint highest ever Premier League points tally of 54. That was also good enough to earn the Clarets a remarkable second top half finish in three seasons.
All of that was achieved despite a few tricky spells on the field, and then the long uncertain period of the lockdown period. During that time the club played a different role within the community as we all united to face unprecedented challenges to our daily lives.
Perhaps Burnley's biggest achievement though was that their committed group of honest players continued to give their all in the final weeks as games were played behind closed doors, with the Clarets ending the campaign with just two losses in 16 games.
Promising beginnings
Burnley started the 2019/20 season with the aim of avoiding the issues they endured at the start of the previous campaign. That had seen Dyche's side manage to collect just 12 points by Boxing Day as they juggled with the challenges of European football.
Any prospect of another slow start was put to one side with an encouraging 3-0 opening day win at Turf Moor against Southampton.
That game saw the Clarets clinically dispatch with their opponents in a strong second period with an impressive performance by Ashley Barnes in particular.
Indeed Barnes would go onto enjoy an excellent opening month of the campaign, netting in a narrow defeat at Arsenal and in a 1-1 draw at Wolves.
However, for Barnes the season would soon be disrupted by injury problems and the returning Jay Rodriguez would be relied upon to fill the void alongside the ever reliable Chris Wood.
A 3-0 defeat at home to Jurgen Klopp's excellent Liverpool side brought the first month to a close.
The Clarets recovered well with late goals helping Burnley to two draws at Brighton & Hove Albion and Aston Villa - and those points came in between a 2-0 win at home to Norwich City in a game which saw Wood score his first two goals of the campaign.
October began with Burnley earning a battling 1-0 win at home against struggling Everton; Jeff Hendrick's fine finish from a corner moved Dyche's side up into 5th place in the table.
However, three successive defeats against Leicester City, Chelsea and Sheffield United followed as the Clarets showed signs of struggles for the first time.
A testing period
Following a 3-0 defeat at Sheffield United at the start of November, Burnley looked like they would recover well, earning back to back 3-0 wins of their own against West Ham United and Watford.
Those two wins though were followed by another run of three straight defeats. Those losses saw Burnley uncharacteristically looking porous in defence, with Crystal Palace scoring twice at Turf Moor before Manchester City and Tottenham Hotspur hit the Clarets for four and five.
Dyche's side recovered well from that with back to back 1-0 wins against Newcastle United and Bournemouth showing how strong they can be when at their best defensively.
Indeed Nick Pope was starting to emerge as a huge performer between the sticks alongside the usual suspects of James Tarkowski and Ben Mee in defence.
However, Burnley ended 2019 with a 2-0 defeat at home to Manchester United. Two very poor performances followed in defeats at home to Aston Villa and at Chelsea to see the Clarets drop to a season's low position of 15th - and at that point they were only four points clear of trouble.
Turning point
Arguably the most important game of Burnley's season came in their clash with Leicester at Turf Moor. At half time Dyche's side trailed 1-0 and were heading for a fourth successive defeat with games against Manchester United and Arsenal to follow.
Burnley, though, defied the odds and produced an excellent comeback with goals from Wood and Ashley Westwood, in between a crucial penalty save from Pope to deny Golden Boot winner Jamie Vardy, turning the game around.
That second half fightback instilled renewed belief into Dyche's squad, and they would never look back. A 2-0 win at Old Trafford against Man United followed, the Clarets' first league win there since 1962.
Indeed by the time the campaign had been suspended in March, Burnley were on a seven-game unbeaten run. Thanks to some excellent performances from the likes of Pope, Mee, Tarkowski, Wood, Rodriguez, Westwood and by now even the once frozen out Matej Vydra.
No fans, no squad, no problem
Burnley returned to action at the end of June, with their trip to Man City the last game of the first round of fixtures played behind close doors following the season's restart.
It was a match to forget for many reasons on and off the pitch for the Clarets.
Not only were they swept aside losing 5-0, but by now Dyche was looking a frustrated figure following Burnley losing a number of players as their contracts ran out, including the likes of Hendrick, Joe Hart and Aaron Lennon.
There was much to reflect on after that game at Man City for the club. Burnley would have to field a very very stretched squad now until the end of the campaign - and there was also the issue of handling the moment with the infamous banner, which to their credit the likes of Mee and Dyche handled incredibly well.
If Burnley supporters thought that viewing the rest of the season from their own homes was going to be challenging, then they did not reckon with the incredible defiant mentality that Dyche has instilled at Turf Moor.
A seven-game unbeaten run was to follow, which included wins against Palace, Watford, West Ham and Norwich. While they became the only side all season to avoid defeat at Anfield earning a 1-1 draw against runaway champions Liverpool.
A defeat at home to Brighton on the last day could not take any gloss of what had been a remarkable end to the campaign under very very challenging circumstances.
Burnley, then ended a remarkable campaign having picked up a record amount of wins in the Premier League, a joint record amount of points, a top half finish - and Wood and Pope enjoyed record breaking seasons. The former scored the most goals in a single campaign (14) and the latter achieved the club's highest amount of clean sheets in one top flight season (15).