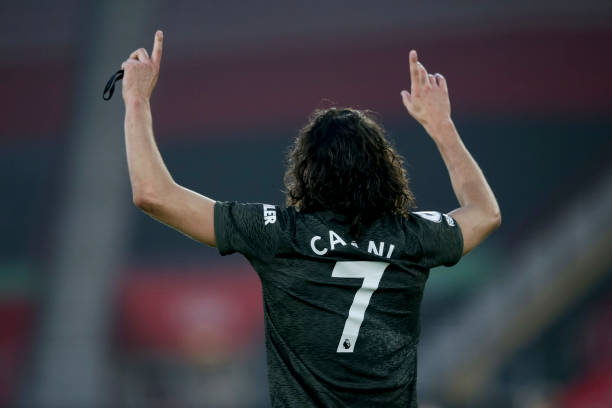 Manchester United came from two goals down to steal the three points at Saint Mary's Stadium - a feat that not only included an Edinson Cavani brace, but highlighted the team's determination also.
Going into half time two nil down, United's impressive string of away victories looked to be coming to an end. The second half reminded us all why Manchester United have been a force to be reckoned with away from home in recent months.
Defence:
David de Gea 5/10: The Spaniard had a tough afternoon after conceding 2 goals and injuring himself in the process. Perhaps he may have been revitalised in the second half, but his collision with the post meant he was substituted at half time.
Aaron Wan Bissaka 6/10: The full back went missing for parts of the first half, but came through strongly in the second half after keeping possession nicely on many occasions.
Harry Maguire 6/10: After a tough first half, it would have been easy for Maguire to go into his shell. Luckily for United, he had a composed second half which included a couple of vital interceptions.
Victor Lindelof 5/10: After a shaky start, the Swedish defender had a reassuring second half.
Alex Telles 5/10: The full back had a relatively quiet afternoon - he didn't make any mistakes but didn't do anything amazing either.
Midfield:
Fred 4/10: A careless foul on the edge of the box provided the league's best free kick taker a glorious chance to double the host's advantage. The midfielder made a couple of decent forward passes in the second half but Fred struggled for a large periods.
Nemanja Matic 6/10: The veteran midfielder had a solid game in the heart of United's midfield. He recovered the ball an impressive 15 times and kept the ball moving at a good pace when Ole's men were chasing the game.
Donny Van de Beek 6/10: The Dutchman gave the ball away several times but impressed throughout the game. His first start in the Premier League looked to be going dreadfully but he pulled through with slick movement and passes when United needed it most.
Bruno Fernandes 7/10: As usual, the Portuguese midfielder was constantly trying to make things happen for United. After being denied a goal in the first half by a miraculous save from McCarthy, Bruno's goal acted as a catalyst for the red's revival.
Forwards:
Mason Greenwood 4/10: For a footballer who never misses the target, Mason Greenwood was off the boil against Southampton. He started lively by rounding the Southampton goalkeeper but didn't have the finish to match. Another chance was wasted by Mason, ultimately leaving him to be replaced at half time.
Marcus Rashford 6/10: At one point it looked like it wasn't going to be Marcus Rashford's afternoon. He selfishly shot when he could have slipped in Cavani and also tried to tee up Fred when he had a great chance himself - his hard work was rewarded when his perfectly weighted cross was glanced in by Cavani.
Substitution Ratings:
Edinson Cavani 9/10: Despite only playing 45 minutes of football, Cavani was instrumental in United's victory. After playing a lovely ball into Fernandes for the first goal, the forward's brace will have Solskjaer contemplating to start him on a regular basis.
Dean Henderson 6/10: Making his Premier League debut for Manchester United, Dean Henderson looked confident and assured as he handled a couple of Southampton efforts very well.
Brandon Williams N/A: Late substitute.