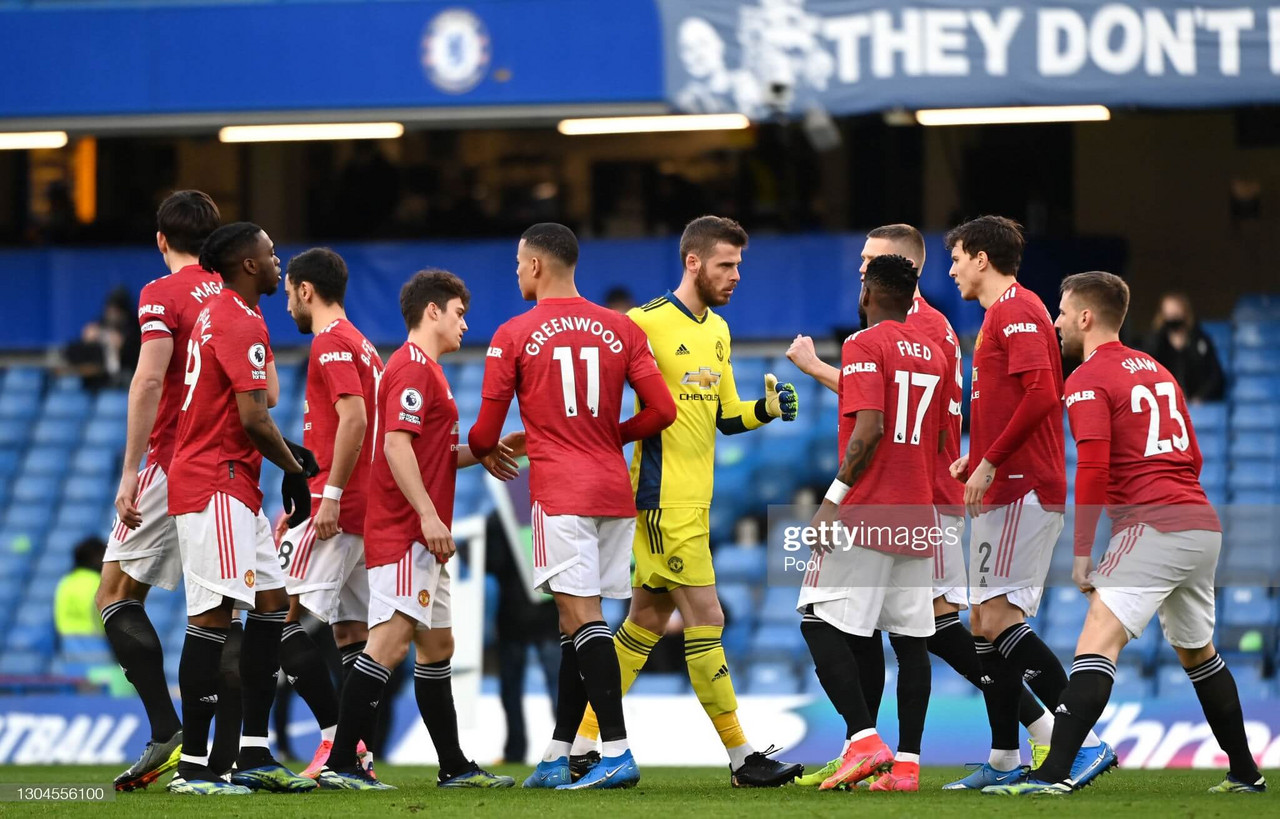 Ole Gunnar Solskjaer's Manchester United were unable to score in yet another match against a 'top six' opposition in their stalemate against Chelsea. While that means that United are unbeaten in 20 away Premier League matches, it is still a worry for the team.
However, it seems that the absence of goals in these matches is due to poor execution, rather than a lack of trying, as there were some bright moments for United throughout the match and it ultimately comes down to the same thing that has faulted United in previous big games this season - execution.
Against Thomas Tuchel's Chelsea, United were never going to control the majority of possession, especially without Paul Pogba in the middle due to injury.
Since the German came in at the helm at Stamford Bridge, Chelsea had averaged 67 per cent possession in each match. It was clear that Solskjaer's approach would be one that saw his side soak up pressure and look to counter-attack - like the United of last season - yet, with a little bit more. Chelsea ended the match with 57 per cent possession.
This almost came to fruition, but United lacked the cutting edge in attacking situations, personified by Scott McTominay's poor final pass in the dying moments of the match where three United men were lined up in the Chelsea penalty area. While this led to dropped points for Solskjaer's men, they still performed well in other aspects of the match, particularly in their defending and in their press.
Importance of midfielders in defence
Under Tuchel, Chelsea have operated in a 3-4-3; which allows them to attack with a front-five but also have reasonable cover behind them. While Daniel James was brought back into the side to help in his defensive duties, McTominay and Fred had even more important roles in the defence.
Essentially, what the midfield pairing did was simple, they covered the holes, but it was so important in the game so that Chelsea were unable to take advantage of United's stretched backline.
Whenever Ben Chilwell or Callum Hudson-Odoi (or Reece James in the second half) received the ball in an advanced, wide area, Solskjaer wanted his full-backs to be the ones pressuring them and less so the wingers, so that they could be more dangerous in transition. This meant that as Aaron Wan-Bissaka or Luke Shaw engaged in wide areas, one of the midfield pairing would slot into the space between their full-back and centre-back to help stop that space from being exploited - an example is shown below as Wan-Bissaka steps into the wider position, McTominay drops into the space between him and Victor Lindelof.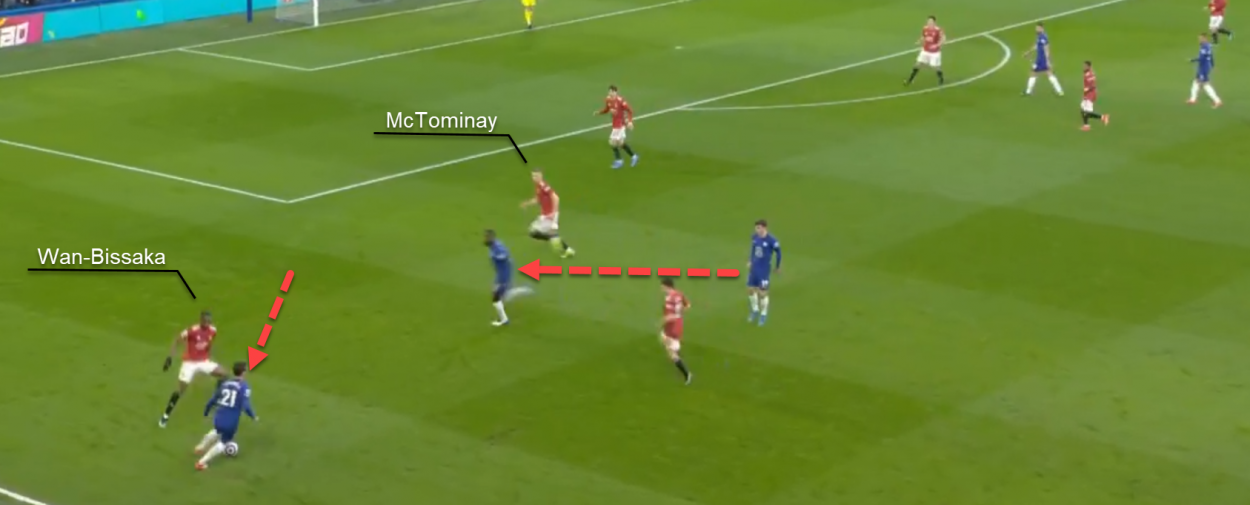 Their role in defensive situations was key, but they also needed to bounce back into their shape quickly enough that Chelsea were unable to exploit the central areas either. It was a difficult job to do but the centre-midfield pairing did it very well.
United's impressive press
From being disorganised and slow, United's press has been much improved in the last month and it finally looks as if they are pressing as a unit rather than as individuals and this was the perfect game to show that.
According to Sky, United won the ball back in the final third 11 times in the match, the most times they have done in a game this season.
They had a much better organised press, partly thanks to the inclusion of James, who had a staggering 37 attempted pressures, the joint-most of any United player (FBref).
Even players such as Marcus Rashford and Mason Greenwood, who have been criticised for their pressing in the past, had impressive games in their pressing and were both more intelligent when doing so.
Fred also had a key role in the press, as when Chelsea looked to beat the first line of pressure from United, His aggression was vital to win the ball back, winning two tackles (100%) and making three interceptions in the game and here is a clear example of United's pressing at work against The Blues.
Three United men pressured Chelsea on the right flank, and while they were able to play out of the initial press, Bruno Fernandes and Rashford were both ready to pounce on short passes to the defenders, so N'Golo Kante had to attempt a more difficult pass into his midfielders feet - which Fred was on hand to intercept and start another attack for United.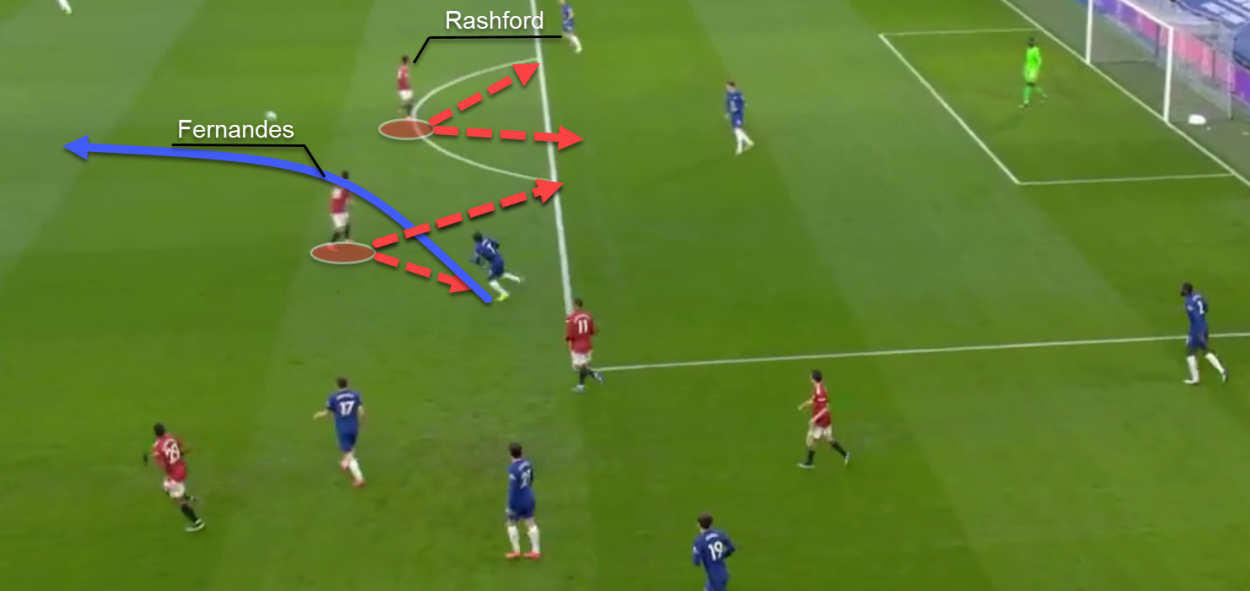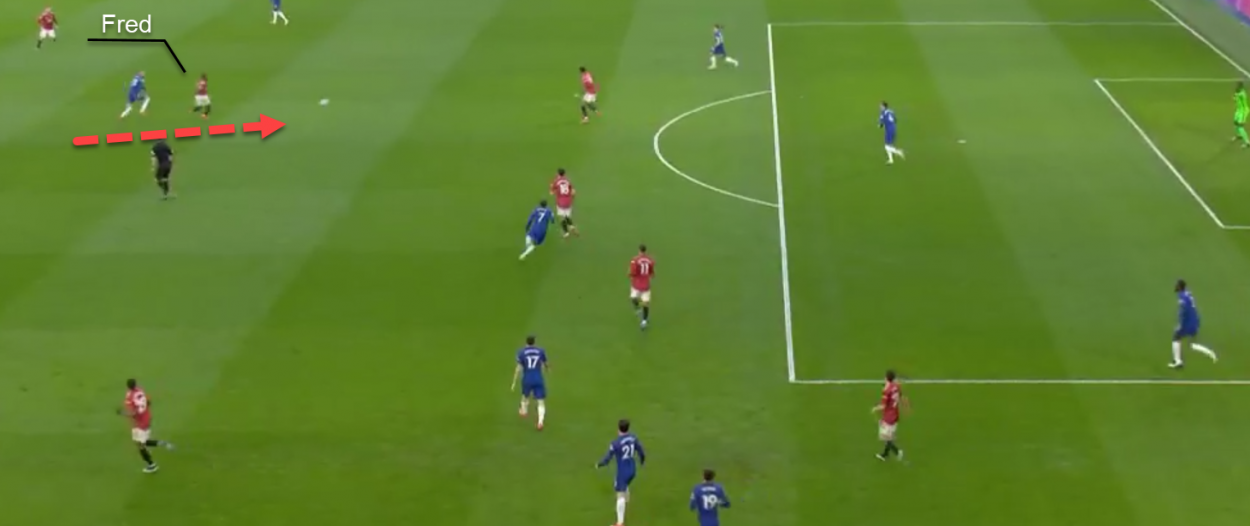 Conclusion
While it was an underwhelming result in United's attempt to keep tabs on Manchester City, the side showed multiple impressive facets in their performance but were lacking with their quality on the ball.
Unfortunately, though, The Reds have not been the clinical counter-attacking side that was so impressive against better opposition last season, this season and while they have had struggles against the low blocks; this is another area of concern for Solskjaer and his coaching staff.