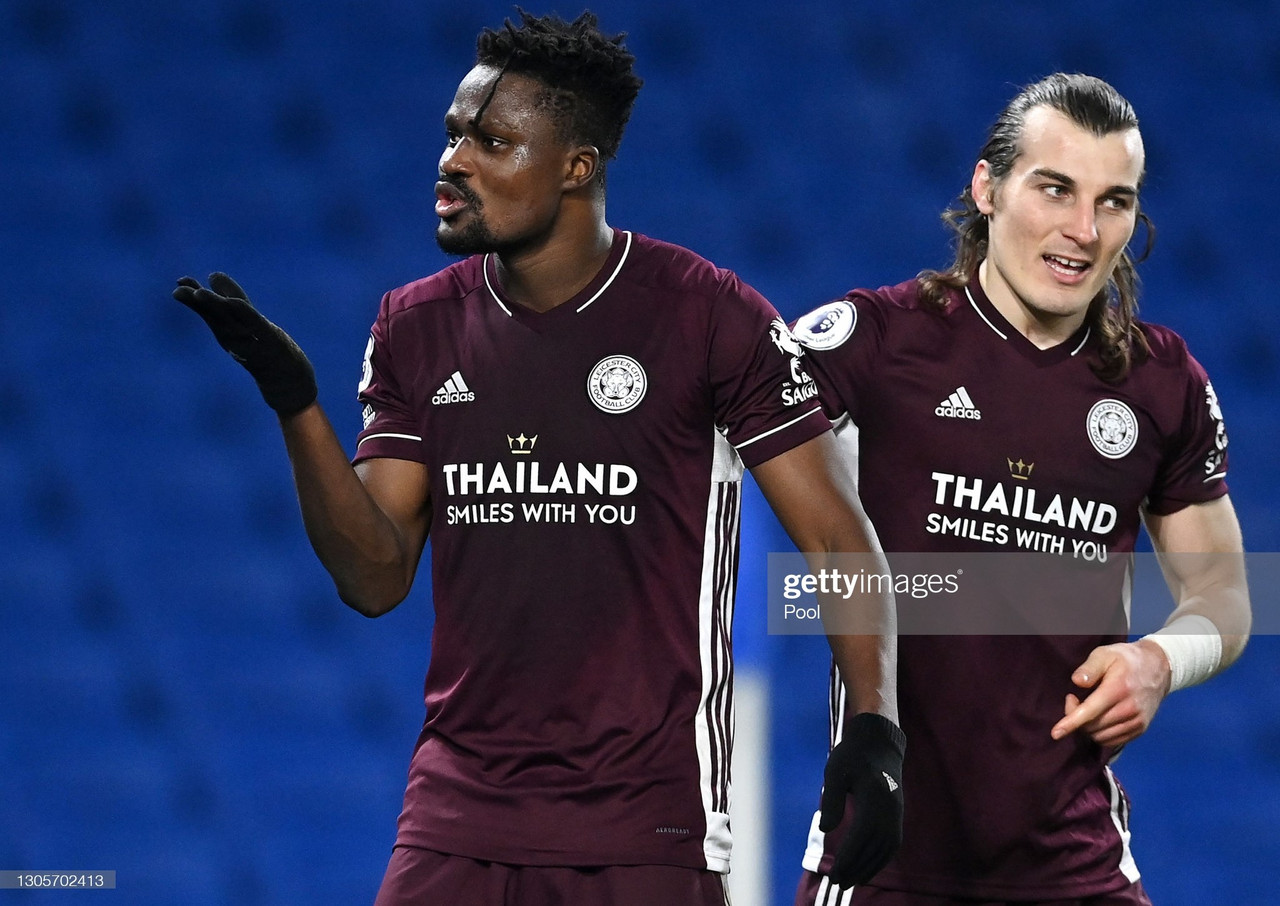 It was October 17th of 2018 and Ghanaian defender Daniel Amartey was at the King Power Stadium playing against West Ham United.
Amartey tried to impede a clear-cut chance from English striker Michail Antonio at the 91st minute of the game, but something went amiss. The Ghanaian grimaced in pain, and when the replay showed what had transpired, every single Leicester City supporter knew it was appalling news. The replay demonstrated that when going into the tackle, Amartey had twisted his ankle completely. It was evident that his ankle had snapped and noting such images were graphic and disheartening.
He was taken out on a stretcher and immediately rushed to the hospital for emergency surgery. Although this might have been seen as demoralizing for Foxes fans around the world, this would not be the only occurrence on that 17th of October. Minutes after the game ended, club owner Vichai Srivaddhanaprabha and four other individuals died in a helicopter crash in the stadium's parking lot after a faulty departure from the King Power Stadium. Amartey's recovery process was clouded by such occurrence, but the strong Ghanaian persevered and allowed himself to recuperate properly with the support of both manager Claude Puel and his teammates.
During the recovery process, Amartey received news of something that was deemed to arise sooner than later. French manager Puel was sacked by the Leicester board, and experienced Northern Irishman Brendan Rodgers became his successor. One can only imagine what Amartey was pondering at home during that time period, but he was already training with the team and playing with the Leicester youth side.
Rodgers left impressed
Rodgers attended one of the youth games in which Amartey played, and the current Foxes manager was impressed with what he saw. Rodgers took Amartey under his wing and promised him that he would have an essential role in his team once he came back from his dreadful injury.
Unfortunately, when Amartey came back from his injury in September of 2019, Leicester already had a talisman in the right-back position cemented by the name of Ricardo Pereira, and the Ghanaian had no chance to break into the first team. To make matters even worse, Amartey would end up aggravating his leg once again in December of 2019, which would have him sidelined for additional time.
Amartey would end up having to miss the 2019-2020 Premier League campaign completely, which would result in the Ghanaian having not been able to play in the squad for over two years. Even though it looked like his days were over at the East Midlands club, Rodgers saw how determined and resilient Amartey was, which led him to never lose hope in attaining him back in the squad someday.
Rodgers kept his promise fully. On September 5th of 2020, Amartey featured for the first time in 28 months in a Leicester City lineup. The Ghanaian was given the chance to return during a preseason friendly as a substitute against Blackburn Rovers, and he did not disappoint. Leicester would end up drawing this game 1-1, and Amartey would be the one responsible for bagging Leicester's only goal in that friendly.
Due to injuries early on during the start of this current season, Amartey saw himself display in crucial games early on, which included Leicester's win against both Manchester City and Tottenham Hotspur. Everything seemed to be like a dream come true for the Ghanaian, but injuries struck him once again.
On October 5th of 2020, Amartey suffered a hamstring injury against West Ham. The flashbacks to 2018 struck once again, especially since Amartey had ironically gotten injured during October against West Ham before. Rodgers was discouraged with such injury due to the fact that Amartey had just recently come back from a two-year injury recovery phase, and now had to sit out again as he had for 28 months. The Northern Irishman kept insisting that he would be crucial in his side, and Amartey came back in late December of 2020.
Since December, Amartey has been crucial in Leicester's rotation and has proven to everyone that he is still the versatile player he was back in 2018. The Ghanaian has been deployed as both a centre-back and right-back this season, and has been rock solid as ever.
On March 6th of 2020, Amartey got rewarded for his amazing effort and determination with a game-winning header against Brighton and Hove Albion, which became his first goal in a Premier League season in over four years.
To comprehend why Amartey is and has been one of Rodgers' most likened players since his arrival in February of 2019, it is essential to note what importance the Ghanaian has in Rodgers' scheme.
A Nonsense Defensive Commander
The first trait that has made Amartey one of Rodgers' most reliable players is his defensive prowess and leadership on the pitch.
Although Amartey is not always included in Brendan Rodgers' selection, he always finds a way to show his productivity and efficiency on the defensive side of the ball in silence. In his 587 minutes on the field this season, the 26-year-old has completed five tackles out of an attempted 10 on players dribbling with the ball.
This means that Amartey has a 50 percent tackle completion rate against dribblers, which is better than that of Scotland and Liverpool starlet Andrew Robertson and Manchester United right-back Aaron Wan-Bissaka.
Additionally, in his last three Premier League games, Amartey is averaging 1.66 key tackles per game and has been dribbled past on zero occasions. He also commands leadership with his great distribution from the back and his duels with other players during the transpiring of a game.
This season, the Ghanian right-back has completed 326 passes out of an attempted 389, which results in an 83.8 percent pass completion percentage. This is baffling for Amartey, as it results in him having a higher pass completion percentage than that of French Red Devil midfielder Paul Pogba, as well as Chelsea wonderboy Mason Mount.
The Ghanaian's dexterity to win ground and aerial duels is impeccable, and it has been proven time and time again. In Amartey's last three Premier League matches, he has won eight out of 12 duels, resulting in a duel win percentage rate of 66.6 percent. That is a very decent percentage, as it puts him near fellow centre-back Çağlar Söyüncü's duel win percentage, as he has won 20 of an attempted 29 duels for a percentage of 69 percent.
Amartey will try his best to increase this percentage by the end of the season, which is completely viable for the 26-year-old.
Becoming a Crucial Rotational Player
Another reason why Rodgers trusts Amartey significantly is due to his acceptance of limited game time and his ability to perform every single time he is asked to play.
Back when Puel was in charge of the East Midlands club from 2017 to 2019, Amartey became a causal player for the Foxes, as he would play exclusively on the right-hand side of the defense when necessitated. When Puel deemed that Pereira did not meet his standards of play or the Portuguese needed rest, he would slot in Amartey at the right-back position.
During Puel's reign, the 26-year-old only played in 16 Premier League games, which was adequate as Pereira was producing exceptional performances for Puel.
The Ghanaian signed a three-and-a-half-year contract extension during December of 2018, which made it even more evident that he fit the club's plan and philosophy. He always did his job properly, but his role was diminished.
When Rodgers came into the club, he fathomed how great of a rotational player Amartey was and never forgot of that notion. Whenever he had the chance, the Northern Irishman would encourage the Ghanaian and assured him of the important role he was going to have in the club once he was fit.
This season, Amartey has played in ten Premier League matches, in which he has proven his value and importance to Rodgers' scheme. Not only that, the Ghanaian featured in two FA Cup and UEFA Europa League matches, in which he proved to be a solid defender once again. He is an exceptional rotational player who can come in at any given time and produce, which is why Rodgers values him so much.
Many might criticize the 26-year-old by relaying the thought that he rarely contributes anything to Rodgers' scheme offensively like current Leicester full-backs Pereira, Timothy Castagne, or James Justin, but his defensive output makes up for such claims.
The Ghanaian might not look like one of the fastest or strongest players on the pitch, but his versatility to play in the right-back and centre-back positions at such a startling work rate makes up for all of those claims.
A Warrior at Heart
The final attribute that has made Amartey one of Rodgers' most coveted players in this contemporary Leicester first team is his mentality and demonstration of being a warrior inside and outside of the pitch.
When a player sustains an ankle injury of the severity of Amartey's injury in 2018, many eyebrows will be raised as to the fact that the player will never be able to function comparably to the stature of their performances pre-injury.
Not only that, to sustain a hamstring injury not even a month later after recovering for over 14 months from such a gruesome injury would seem like the end of an era for that player in their respective club.
Amartey converged with the East Midlands club to assemble a recuperation plan for every single day of those 28 months of recovery, with the end goal of returning to the pitch to play.
Inside of the pitch, the Ghanaian literally gives his blood, sweat, and tears for the Foxes on every occasion he is granted to accumulate game time. His grit, determination, and discipline are attributes that all members of the first team should appreciate and replicate on the pitch in every single minute they play for the East Midlands Club.

In spite of whether or not Amartey is the most skillful or rapid player on the pitch, no one will ever take away his determination and hardheadedness in critical situations for the Foxes. Rodgers will continue to support Amartey and persuade him to produce world-class performances in the near future to prove to everyone that he is essential in this current Leicester City side.
At 26 years of age, Amartey still has a lot of footballing years in his locker if injuries do not impede him to do so. It is more than evident that Foxes fans will see the Ghanaian in a Leicester jersey for years to come, especially if Rodgers stays at the club long term.