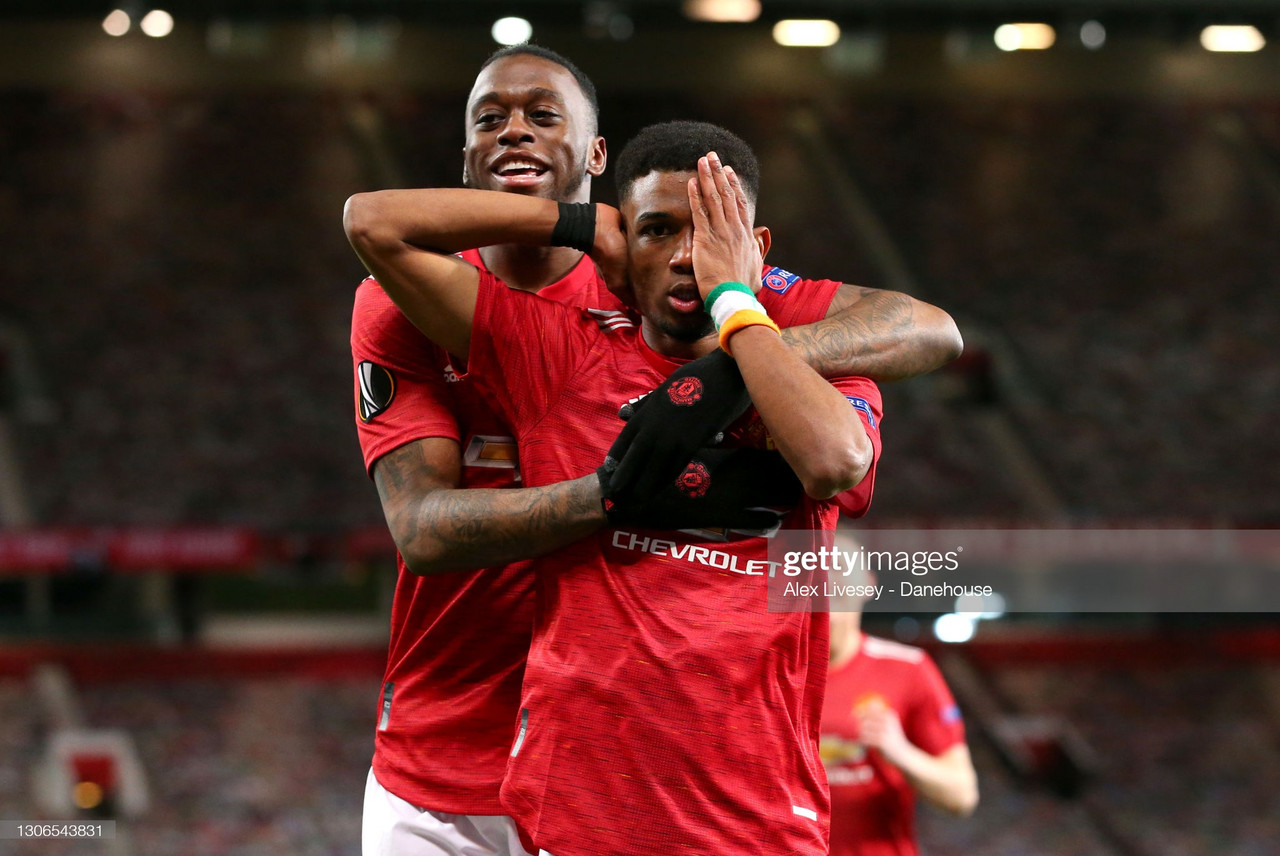 In what was a disappointing performance for Ole Gunnar Solskjaer's Manchester United, it almost looked like they were going to win the match after Amad expertly headed past Gianluigi Donnarumma following Bruno Fernandes' superb pass in behind the AC Milan backline.
However, United showed their vulnerability in defending set-pieces yet again, as they conceded at 91st-minute equaliser from a corner, where Dean Henderson would've felt that he should've done better.
This tactical analysis will look at how the Reds lacked in attack due to poor movement and quality and also why they struggled to build against Stefano Pioli's side in their Europa League clash.
A lack of movement and quality in attack
Solskjaer was limited for choice in terms of the personnel in his frontline, as both Edinson Cavani and Marcus Rashford were unavailable through injury. Anthony Martial started through the middle with Mason Greenwood and Daniel James on the flanks.
Without Fred in the line-up, United struggled to progress centrally and mainly looked to play on the flanks. According to WhoScored, the Reds attacked through central spaces just 20% of the time in the match.
However, it is known that United have struggled to progress the ball on the right. While Wan-Bissaka is slowly improving his all-round game, he is still without a real right-winger in front of him.
This leads to Solskjaer's side usually favouring the left side in attacking situations, but in this match, Alex Telles and James started on the left flank, rather than the in-form Luke Shaw and Rashford and you could certainly see the drop off in quality.
Many times in attacking situations, United lacked the quality to sustain the attack and lost the ball due to poor passing on multiple occasions.
In the example below, James has done well to dribble inside and he can pass to Greenwood, which would take AC Milan's entire midfield line out of the game. However, an overhit pass means that Diogo Dalot can intercept the ball.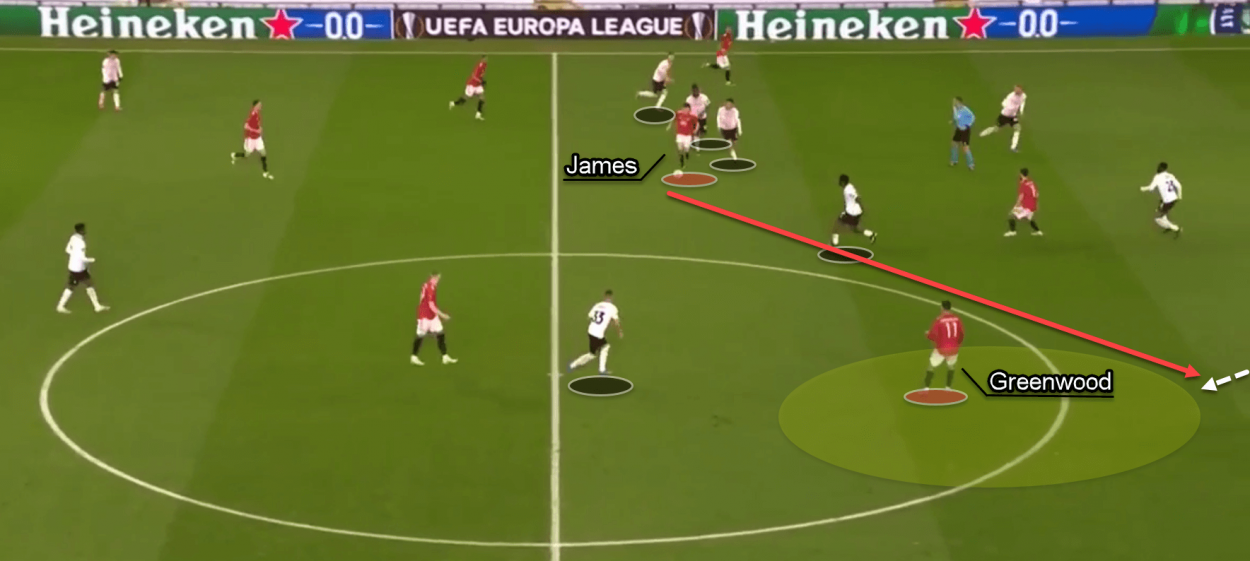 United were unable to really test AC Milan in transitions because of their lack of quality in possession. Here is another example of this, where Nemanja Matic wins possession for the Red Devils, but then misplaced his pass to Greenwood and gifts Milan a throw-in.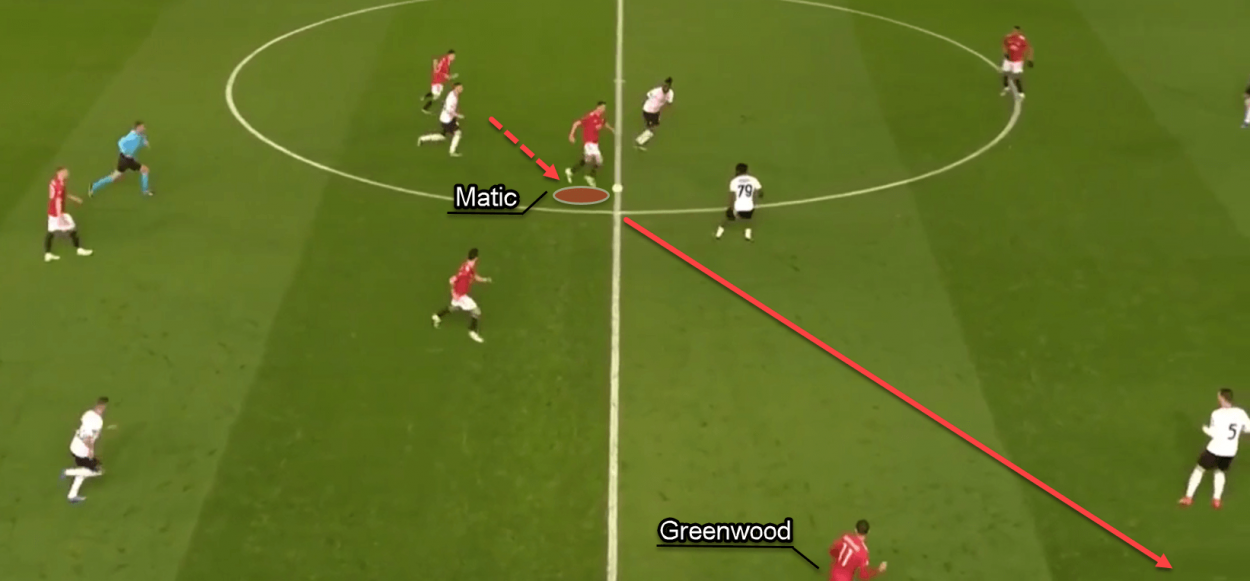 There was also a lack of movement from the forward line, especially in the first half. AC Milan were comfortable in their defensive shape and were rarely stretched. It took 18 year old, Amad, to come off the bench and make those runs in behind - which he scored from.
Here are two examples of how the Man United frontline lacked movement in the final third against the Italians.
In the first, Matic has the ball centrally and neither Martial nor James make a movement to receive. Martial, especially, could've looked to receive in the pocket of space, but instead, Matic played across to Telles and the opportunity to attack Milan when they were unsettled in defence was gone.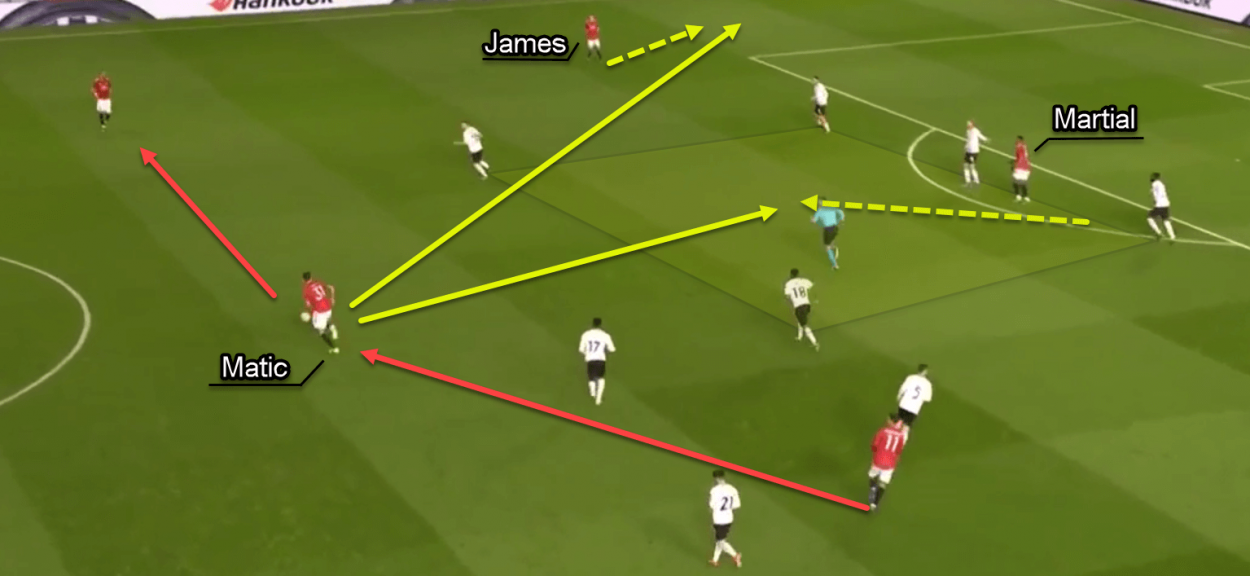 While the second shows Martial doing well on the left side of the box, but Greenwood is too far away from the box to make himself an option. Instead, Martial had no one to aim for and instead, attempted to take-on the Milan defender but was unsuccessful.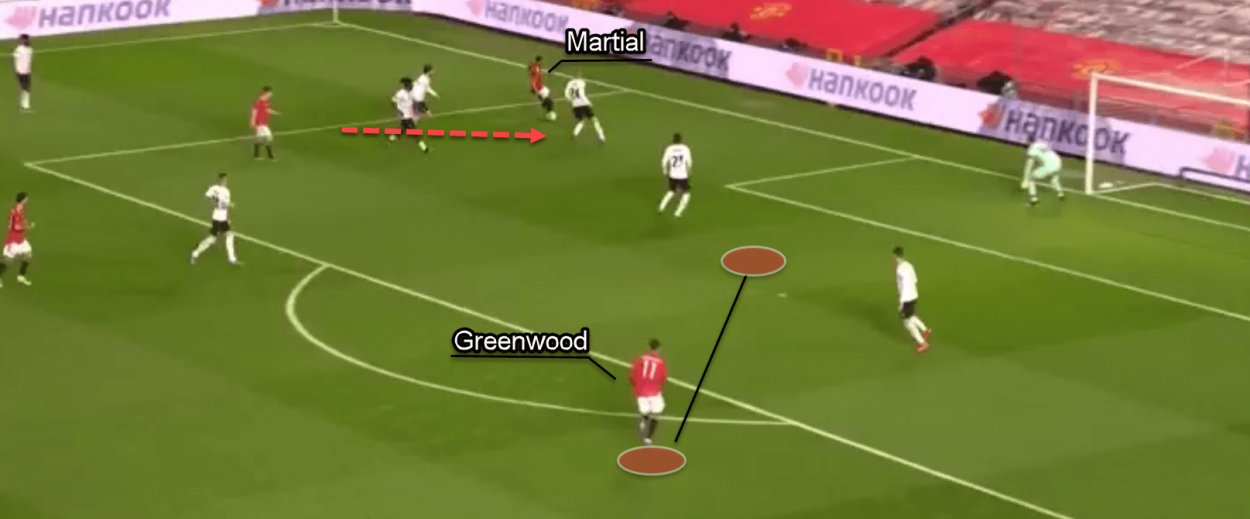 Build-up struggles
In the build-up, United struggled to progress centrally. Although Scott McTominay passed and carried the ball well at times, the United pivot were overloaded by the Milan forwards dropping and their midfielders being aggressive in central areas, as shown below.
Then, in wider areas in the build-up, United lost the ball as a result of poor passing decisions a lot of the time. Telles, especially, was culpable of this throughout the match, often playing into Milan's press, rather than out of it.
Conclusion
Manchester United certainly did not deserve to win this game and were fortunate that Amad and Fernandes linked together to score their goal early in the second half. They also, yet again, showed that they are unable to manage a game in the latter stages.
The Manchester side will have to travel to Italy and continue their impressive away form in order to progress into the quarter-finals of the Europa League.