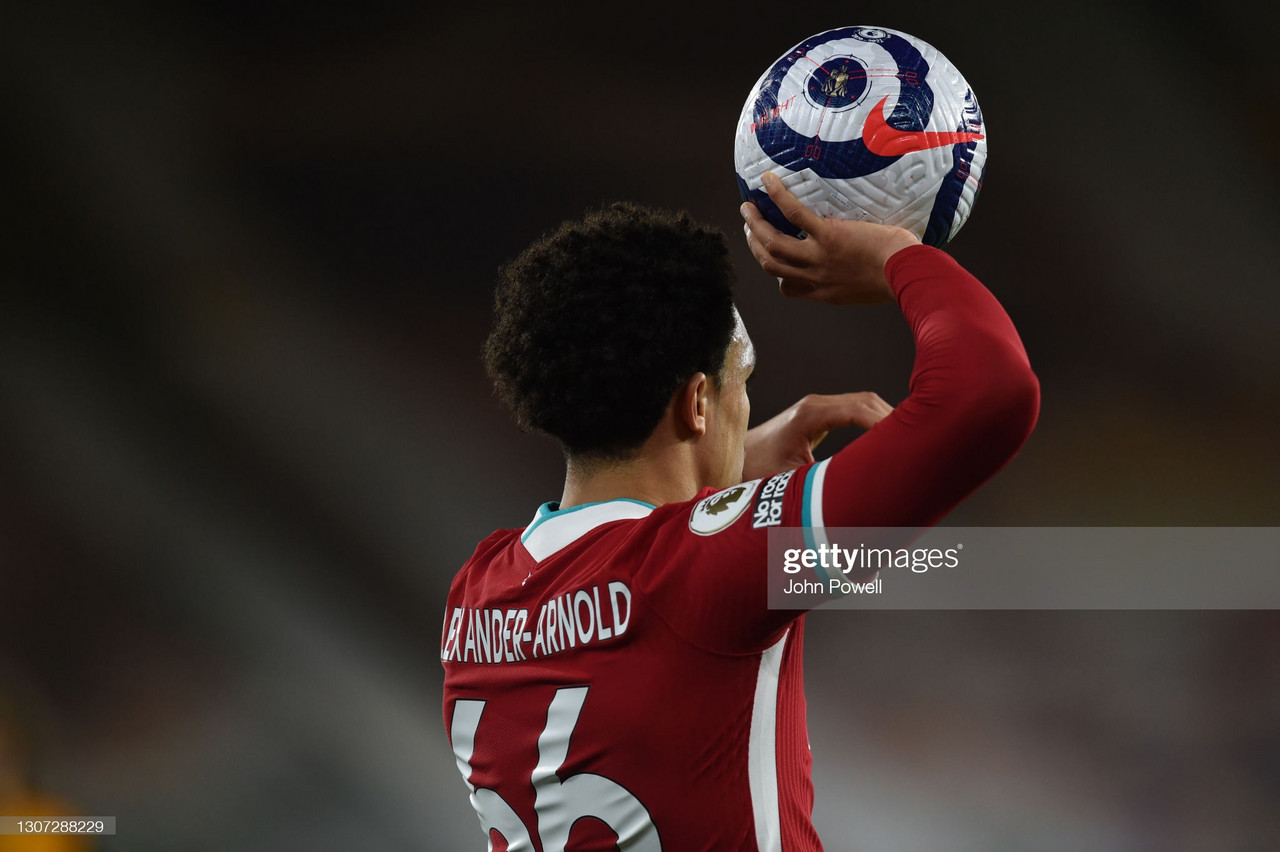 The Three Lions will play San Marino, Albania and Poland in a six-day triple-header as they begin the road to Qatar 2022.
However, Gareth Southgate will also be using the international break as a late opportunity to test his players ahead of the European Championships.
It's no secret that the England boss loves a right-back, but that wasn't enough to spare Alexander-Arnold the axe.
Kieran Trippier, Kyle Walker and Reece James have all made the squad in his place.
Undoubtedly the most shocking omission from the latest squad, assuming Trent hasn't sustained an unreported injury, the lingering sense that Southgate wasn't convinced by Alexander-Arnold has been emphatically confirmed.
Southgate contacted Alexander-Arnold to stress his omission was form-related and he remains in England thoughts. Southgate pointed out that he also left Kyle Walker and Kieran Trippier out in the past and they fought back. Gareth Southgate emphasises that "Trent is a super talent". But still left him out.
He also went on to say in his press conference: "The challenge now for Trent is to continue the form he's starting to show with his club," the England manager said, before adding a contentious caveat. "I feel like I've got to look at myself a bit with Trent. I don't feel he's hit that level he's hit with Liverpool for England, and the other players have, and there's an element of me having to look at how we do that going forward, because we know some of the qualities that he brings".
Trent was considered by many as the best right-back in Europe last season, there is no question the Liverpool star has suffered a drop off in form this time around - with "A rating drop from 7.20 last season to 6.82 in 2020/21".(WhoScored.com)
Alexander-Arnold joined Liverpool's academy in 2004 and captained the club at across its youth levels. He made his senior debut in 2016, at age 18, and played in back-to-back UEFA Champions League finals in 2018 and 2019, winning the latter and being named in the Champions League Squad of the Season.
These appearances made Alexander-Arnold the youngest player to start in consecutive finals in the competition. In the same year, he won the UEFA Super Cup and the FIFA Club World Cup
Trent's England Career so far
Alexander-Arnold has also represented England at various youth levels and made his senior debut in 2018. He has since featured at the 2018 FIFA World Cup, where he became only the fourth teenager to start a match for England in the tournament, and in the 2018–19 UEFA Nations League where England finished third.
He also scored three goals for the England U19 team, including a brace against Croatia and another against Spain which secured England's qualification for the 2017 UEFA European Under-19 Championship. He did not feature at the tournament itself as Liverpool reached an agreement with England to rest him ahead of the following season's league campaign, but the Three Lions went on to defeat Portugal in the final to claim their first ever title in the competition.
The month following the tournament, he was called up to the England U21 team for the first time for their UEFA European Under-21 Championship qualifiers against Netherlands and Latvia, and made his debut in a 3–0 win over the latter. Two more appearances followed with the U21 side before he was promoted and solidified his status within the senior England camp.
He received his first call-up in May 2018 when he was named in Gareth Southgate's squad for the 2018 FIFA World Cup. His debut followed on 7 June 2018 when he started in a 2–0 pre-tournament friendly win over Costa Rica at Elland Road.
15 November 2018, during a friendly international, held in honour of Wayne Rooney, Alexander-Arnold scored his first senior international goal as England recorded a 3–0 win over the United States at Wembley Stadium. In doing so, and at the age of 20, he became the youngest Liverpool player since Michael Owen in 1999 to score for the national team
Liverpool fans will be to some extent relived by looking at the recent squad announcement for England upcoming games and saw no Liverpool players included into Gareth Southgate 23-man squad.
Alexander-Arnold is widely regarded as one of the best attacking full-backs in world football as a result of his proficiency at occupying attacking spaces on the pitch and creating goalscoring opportunities for his teammates
The last England call up caused the reds centre back Joe Gomez getting injured during a training session at ST George's Park which has resulted in him missing the entire 20/21 season for the champions.
According to The Athletic, Liverpool boss Jurgen Klopp gave Alexander-Arnold and few others who were going to participate with their national team some time off this week in anticipation of their involvement for with their countries including Trent who was supposedly going to play for England in their upcoming matches. However, this is not the case anymore
The report claims that the squad announcement, with Reece James and Kieran Trippier ahead of Alexander-Arnold, was met with confusion inside the Liverpool camp, as Jurgen Klopp believes he has been one of the club's best performers in 2021.
Even though this season Liverpool have had many ups and downs during the season with injuries to key players such as Virgil Van Dijk, Joe Gomez and Jordan Henderson. These are vital players for Liverpool they are an integral part of how Liverpool play and ensure leadership from back to front.
However the champions have been able to rely on Trent leadership at the back and build relationships with the likes of Natt Phillips and Ozan Kabak in the Liverpool defence.
Trent has also been through his own battle with a few injuries and Trent also missed pre-season with coronavirus.
The real question is whether Alexander-Arnold's form has really been bad enough. Nobody is saying the Liverpool right-back is in the form of his life. He's been part of the champions' wider drop-off and holds the unwanted record this season of the most failed crosses in a game (18 against Burnley).
It's always been accepted that the Premier League Champion is a little suspect defensively. Even then, his tackle success this season (69%) is higher than Walker's (65%) and James (66%).
There is no doubt the Premier League have many high calibre of players including talented and quality defenders. There have been many stand out performers this season such as: Luke Shaw and Joao Cancelo who are currently having a fantastic season for their respective clubs. However statistics back up the argument of Trent Alexander Arnold is still a very influential figure at Liverpool not only defensively but also very good as an attacking option too.
Of the defenders who have created the most chances in the Premier League this season, Luke Shaw leads the way with 52. Andy Robertson has 45 and Alexander-Arnold 44. That means he's eight behind the Manchester United left-back, but he's also clear of Aaron Creswell (41) and Joao Cancelo (40).
In terms of big chances created, only Cresswell and Robertson have more with nine - Alexander-Arnold is on eight.
When you consider Premier League clubs and their attacking options such as Kevin De Bruyne and Bruno Fernandes. You do not only consider midfielders as players who do majority of assists. Fullbacks have now have adapted their game to become more offensive minded.
Let's take a look at assists, too. While Trent only registered three in the league (and five in all competitions), there are only five full-backs with more. He's performing at the same level on that front as Tottenham's Sergio Reguilon and out-performing Hector Bellerin of Arsenal.
The way Trent plays has his game has not changed that much - he's only scored one league goal this season. No doubt if Liverpool had their strongest starting 11 every week he would have more attacking returns and he would definitely have more than one goal to his name.
Comparing his last season 19/20 stats included: He scored four League Goals, 13 Assists and 12 Clean sheets.
During the 2019/20 season he also picked up some personal honours and team awards including: Young Player of the Season, Player of the Month award in December 2019 and helped end the reds 30-year league title drought by winning the Premier League.
So while there's no denying he's struggled to reach his usual levels, Trent has definitely set the bar too high. being consistent this season has been a struggle but it's a challenge Trent is surely willing to take on and prove his doubters wrong.
He will surely be back after this rollercoaster of a season and perhaps his recent highlights are a good indicator of what is to come.
It's one thing for Southgate to drop Alexander-Arnold for a few March qualifiers, but it would be a huge statement if he exiles him this summer at the Euros - particularly when the stats suggest the England boss has been very harsh.