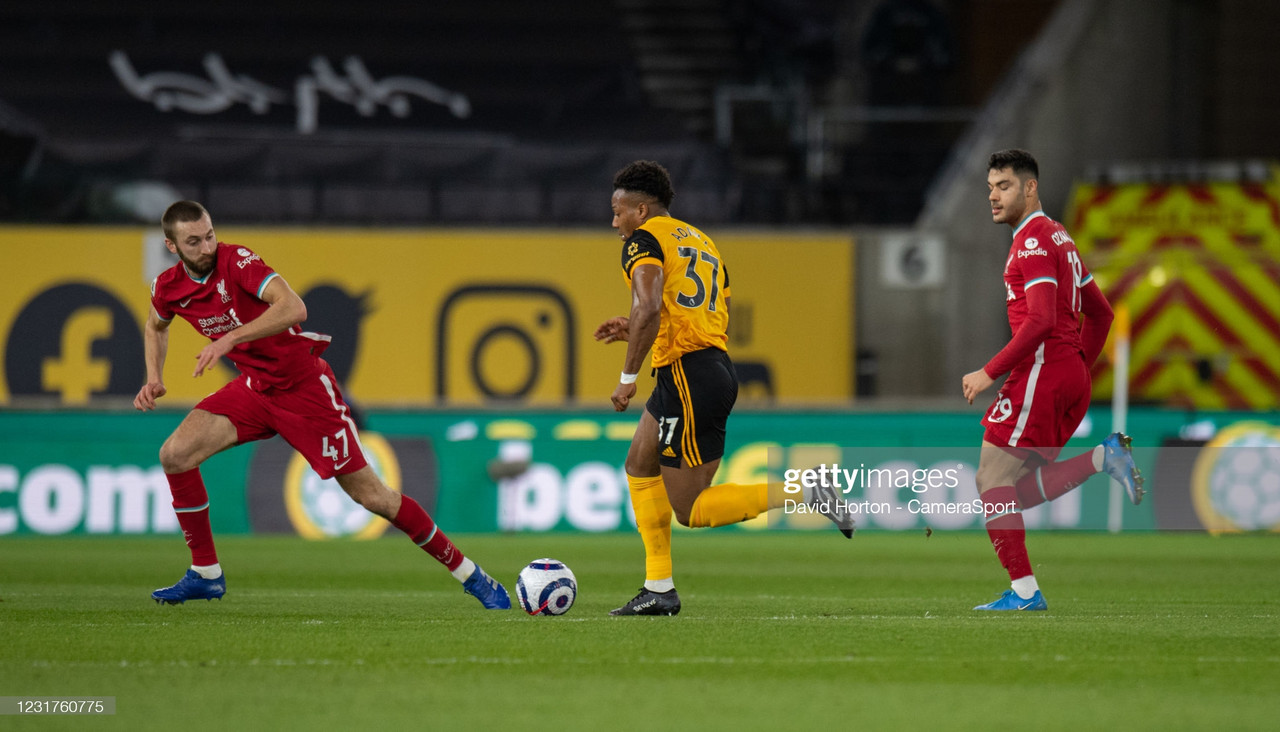 Another month of Liverpool's Premier League title defence has seen yet another centre back partnership for the Reds. Nat Phillips and Ozan Kabak have become Liverpool's 21st centre back pairing for the season and despite a shaky start to their Anfield careers, they have shown promise in recent games.
It is now expected for the pairing to play for the remainder of the season, something that many Liverpool fans will be pleased to see. But how have they turned their fortunes around?
When they first started playing in the Liverpool team, both looked out of their depths and struggled. However, as a pairing they have shown good promise early on.
Their first game as a pairing came in the Merseyside derby. Phillips came on for Jordan Henderson in the 30th minute due to the skipper getting injured. Despite the game finishing 2-0 to Everton, the defence did not have too much to deal with and generally dealt with what did come their way.
Since the Merseyside derby, they have played together against Sheffield United, RB Leipzig and Wolverhampton Wanders, keeping clean sheets in all of these games.
It goes without saying that Fabinho returning to the midfield has played a massive part in these victories and clean sheets, but the centre back pairing must also be given credit. In Liverpool's last two games, both have picked up Man of the Match awards for their performances.
Both deserve credit for their improvements
It has already been discussed how Phillips has been able to turn his season around. Coming into the team as a worst-case scenario against West Ham United at the end of October, he has managed to develop, putting himself in contention for a future with Liverpool beyond this year.
Since his first appearance for the Reds, Phillips has slowly improved his defending and reading of the game as well as becoming better in distribution. When he first started playing for Liverpool, Jurgen Klopp described him as a "monster in the air." But he is much more than that now. He deserves a lot of credit for his rapid improvement and has turned himself into a reliable defensive option.
His improvement in distribution has also allowed the Reds to begin to play out from the back more, helping them retain possession better and build attacks starting from the defence. Both of these characteristics are so important to Liverpool's style of play. Without being able to do so, the fullbacks have had to play deeper, reducing the width. The midfield has struggled to win the battle in the centre of the pitch. As a result, chances and goals have dried up for the forwards due to these changes.
All of these small and minor alterations to how Liverpool play football have been hindered by the injury crisis and in particular having no senior centre backs. However, with a solid defensive partnership now in place, Liverpool have been able to revert back to old ways.
In a similar vein to Phillips, Kabak has done a tremendous job in reviving his Liverpool future. The 20-year-old really struggled when he first came to Liverpool and was very quickly, and probably unfairly, written-off by many pundits.
His debut against Leicester City saw him collide with Alisson to give away a goal which gave the Foxes the lead and ultimately win the game. All round on that day, Kabak looked rash in his reading of the game and followed this up with another poor game the following weekend. In his next Liverpool game, against Everton, he was too tight to Richarlison, allowing the forward to peel off him and score in the third minute of the game.
These mistakes, along with others which did not cost Liverpool goals, showed where his level was. A talented youngster, with good potential, but not quite ready.
However, Kabak deserves credit for turning this narrative around.
With his improved performances, Liverpool could very well decide to make his deal permanent by signing the £20million sign-on fee in the summer. If he continues to perform how he has done in the past couple of games, this would also seem another piece of good business from the Reds.
Two great performances against Wolves
In their most recent game against Wolves, both defenders played very well and covered for each other impressively.
There were a number of occasions during the game against Wolves, when Phillips pushed forward to try to win the ball, Kabak sat deeper anticipating if his partner misjudged his tackle. This was also the case with instances when Kabak misjudged a tackle or his positioning was slightly wrong for an oncoming cross; Phillips was there to help him out and dealt with the situation.
This was great to see from both of them as it showed good awareness of what their partner was doing and also showed their improved reading of the game by being in the right positions to help their partner out.
Following on from two positive performances and two consecutive clean sheets, the onus will be on Phillips and Kabak to keep this level of form going throughout the remainder of the season.
Should they be able to, Liverpool will seriously have to consider the futures of both of these defenders and may very well reward them with contracts at the club.