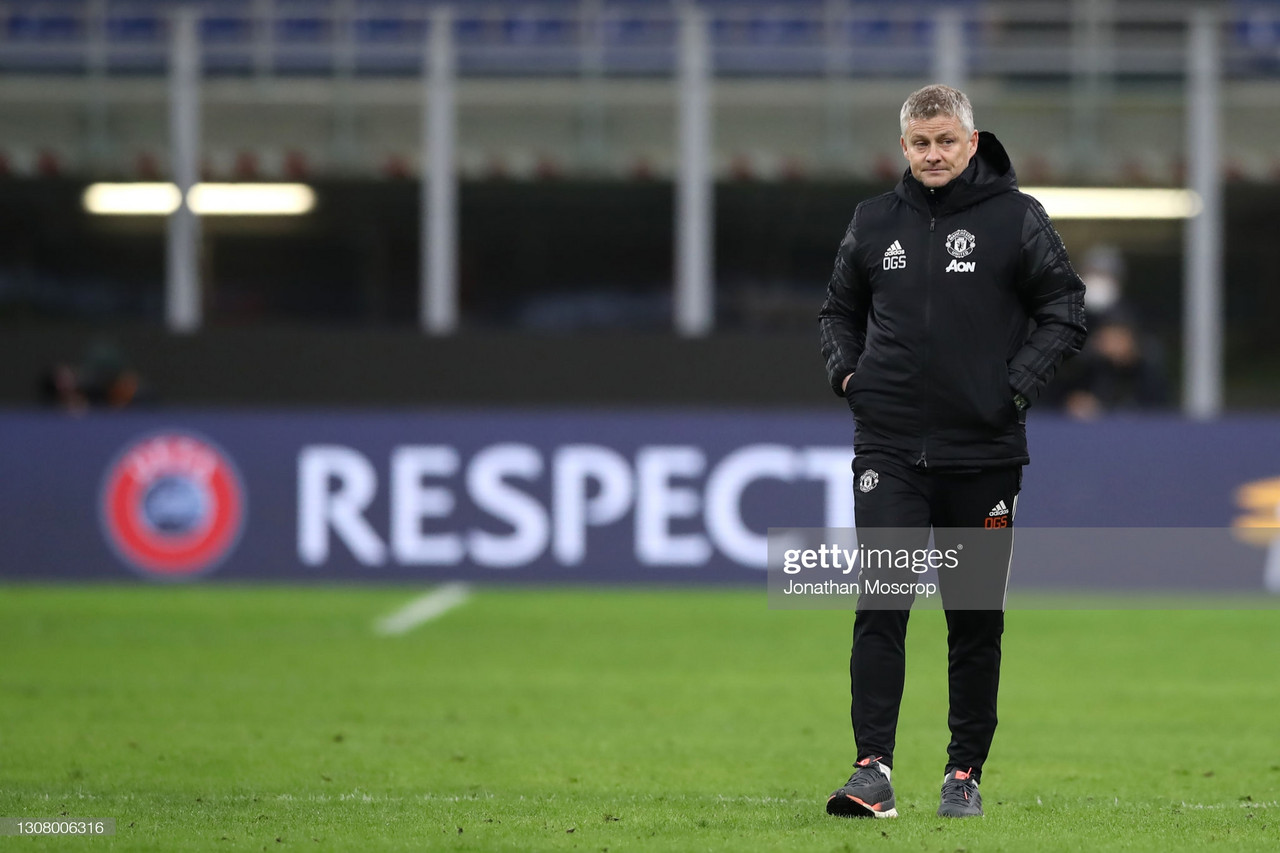 Manchester United have gone into the international break in good form, in terms of the Premier League.
They sit second in the league, only behind rivals, Manchester City, who they actually beat 2-0 in their second to last league game before the league paused for the international break.
In their final league game they beat West Ham United, 1-0. The Red Devils also progressed through to the quarter finals of the Europa League after beating AC Milan 2-1 on aggregate. However, United finished on a sour note when they were knocked out of the FA Cup, 3-1 by Leicester City.
Eight games to go - my prediction
1. Tottenham Hotspur
The reverse fixture of this game isn't too hard to forget, with The Red Devils being on the wrong end of a hammering. Spurs put six past United on the day with The Reds only managing to reply with one goal. Although the game started off well with Fernandes giving United the lead after two minutes, but that ended quickly with Spurs firing back two minutes later. At 2-0, Anthony Martial was sent off and it continued to go downhill for United. Tottenham currently occupy sixth place and are only three points off of a Champions League spot. However, Spurs' form let them down, for me United will edge this one 2-1.
2. Burnley
Burnley aren't an easy side to beat, and over recent years they've proved this. United did win the reverse fixture this season, but it was not easy. Paul Pogba broke the deadlock in the 71st minute to win the game for The Reds, although up to that point it was looking like it was going to end as a draw. Last season United were shocked with a 2-0 defeat at Old Trafford. What's also key to note is that Manchester United haven't actually beaten Burnley at Old Trafford since 2015. Before that United's next win against Burnley at home, came in 2010. I think history will play a factor in this game, I think the two sides will cancel each other out and it will finish 0-0.
3. Leeds United
Leeds are one of the most exciting teams in the Premier League when it comes to counter attacking. And as Manchester United fans known, counter attacking is one of The Reds' strong points too. The reverse fixture was one of United's most exciting games of the season so far. The Red Devils won 6-2 on the day with Scott McTominay being United's star man. He scored two goals within the first three minutes of the game putting United on track to a comfortable win. However, with Leeds even at 4-1 at half time, there was still some worry as we know how free scoring they can be. I think this game could be similar in terms of how many attacks there could be and for that reason I'm going to go for 4-2 to Manchester United.
4. Liverpool
United vs Liverpool is most of the time one of the most hyped up games with one of the the most disappointing games. 0-0 and 1-1 have been the most frequent score lines between the two. Although, the last meeting between these teams came in the FA Cup where United beat Liverpool 3-2 in a game that saw both sides take the lead. Again Fernandes proved to be the difference for United when he came off the bench to score a clever freekick past Alisson. However, I think even with Liverpool's poor season they'll start to pick up in terms of their performances with players returning from injury, hopefully for them, and I think the game could be another lacklustre, I'll go for another 0-0.
5. Aston Villa
Villa currently sit 10th, European football is also still a possibility for them. However, The Villans last win against United in any competition came back in 2009. Since then The Reds have dominated and won most of them with a few draws in the mix too. The reverse fixture saw United beat Villa 2-1, with Martial and Fernandes getting the goals, Bertrand Traoré got Villa's goal on the day. Villa have had a fantastic season by all accounts, especially when you compare it to last season where they finished 17th, staying up by one point. Again though I think United will win this one, Villa haven't been great recently and even if they have a rise in form towards the end of the season I don't think it will affect the outcome of this match much. I'm going to predict a 2-0 win for Ole Gunnar Solskjær's side.
6. Leicester City
Leicester left United fans upset before the international break with them kicking The Reds out of the FA Cup. Former Manchester City player, Kelechi Iheanacho, proved to be the difference on the day as he scored two of Leicester's goals with Youri Tielemans also scoring a fantastic goal from the edge of the penalty area after playing a one two with Iheanacho. Before then, United hadn't lost a game to The Foxes since 2014 (5-3) where the two sides performed in one of the games of the season. However, history once again favours United. Leicester have not beaten Manchester United at Old Trafford in the last 23 years. Their last win at Old Trafford came in 1998, a game which saw current United boss Ole Gunnar Solskjær play in. I think United will want revenge for the FA Cup result and will win this one 1-0 in what will be a very tight game.
7. Fulham
Fulham won't be an easy game, especially with the timing of this fixture. If the relegation picture is over and that's finished then this could be a different game. However, if things were to stay how they are at the minute, with the Fulham, Newcastle United, Brighton and possibly Burnley and/or Southampton involved in a relegation fight for that last spot (18th) in the relegation area (also assuming that West Bromwich Albion F.C. and Sheffield United are both already relegated) then Fulham will be a very tough game. Fulham have also recently pulled out a shock result when they beat Liverpool 1-0 at Anfield. However, I think United will beat Fulham 2-0 at Old Trafford. Also, I think that Fulham will just survive with Newcastle going down. What's exciting to note for football fans is that Fulham actually play Newcastle on the final day of the season.
8. Wolves
Manchester United's final game of the season will come against Wolverhampton Wanderers F.C. Wolves have not been the team that they were last season, the transfer business at the start of the year wasn't the best and with Raúl Jiménez' injury The Wanderers have struggled with scoring goals. Willian José joined on loan in January and has dissapointed. However, Nuno Espírito Santo, is hopeful that Jiménez will play again this season and therefore could feature against United. In the last seven meetings between the two sides, United have won two, lost two and drawn three. With this in mind, I think by this point, for both sides, there wont be much to play for and we could see a low quality game. But, I do think United will win this game 1-0.
If my predictions were to come true and we were to not lose one Premier League game between now and the end of the season, then that would mean that United would pick up 23 points in total in their last nine games, leaving United on 80 points. However, as we know, this is the Premier League and anything can happen.