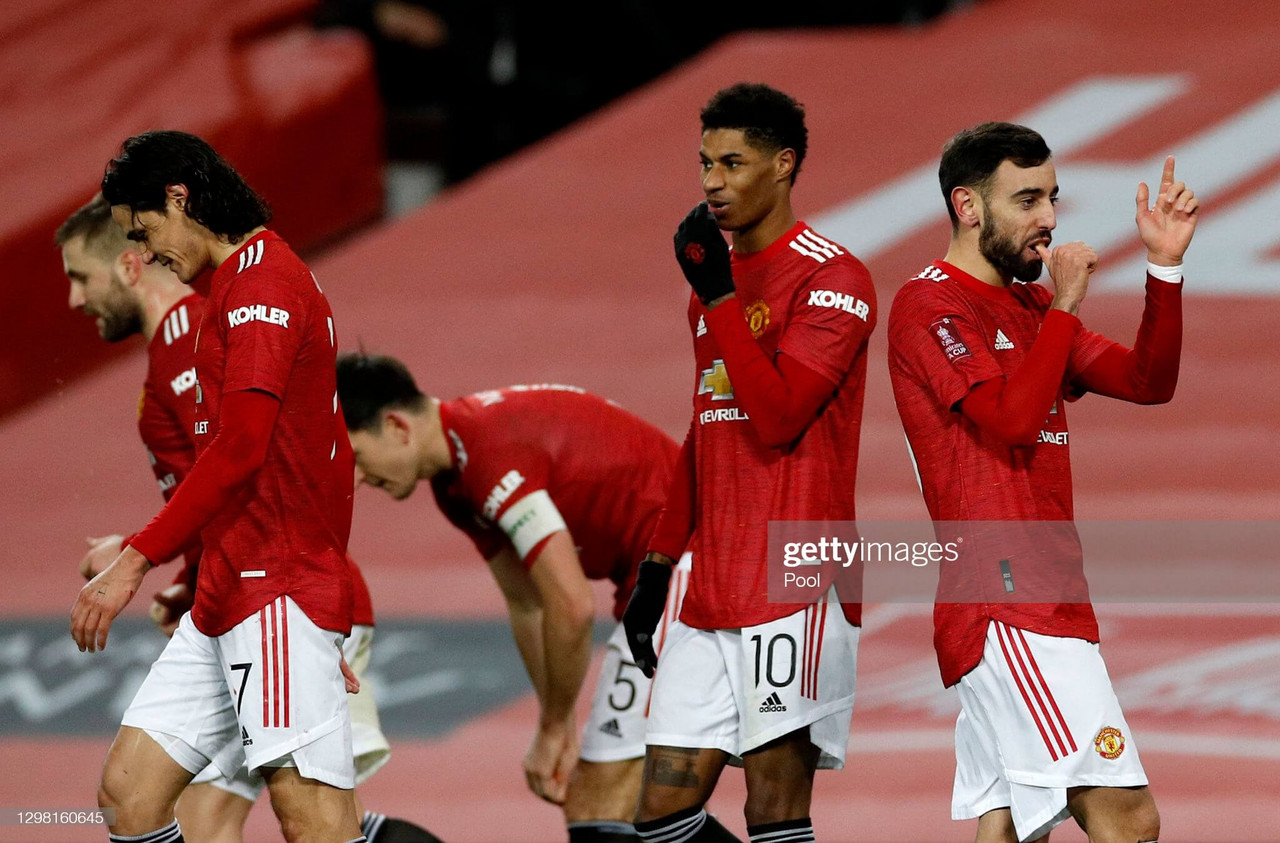 Bruno Fernandes's superb 78th-minute free-kick won this entertaining FA Cup fourth round match for Manchester United and gave Ole Gunnar Solskjaer his first triumph over Liverpool as manager.
It was a rollercoaster tie with Liverpool taking an early lead through Mo Salah before the home side came back with goals from Mason Greenwood and Marcus Rashford before Salah netted his second to level. It was then Fernandes who stepped up to send United into the fifth round.
United's fine form continues
It is clear that Solskjaer's side are high on confidence at the moment. They are top of the Premier League and now through to the fifth round of the cup. A domestic double, anyone?
United came in for some criticism after last weekend's league meeting for not attacking Liverpool to a greater extent, but here they showed both the grit and flair that has led to their upturn in form.
Whether United could transfer their league form into this cup tie was a prominent question pre-match but given that there were few changes among both starting XI's this felt quite similar to a Premier League match.
The more open affair certainly played into the home side's hands as they thrive on the counter. Solskjaer started with Greenwood and the space that he had to run into at times made the manager's decision inspired.
Rashford best on the left
One peculiarity of United's run of one defeat in 12 matches is that Rashford has not been at his best during that spell. He hadn't scored in his last six starts. That changed here and unsurprisingly came when he was reinstated on the left side of United's attack.
Solskjaer has swapped the personnel in wide areas in recent games, with Rashford placed on the right at times to accommodate Paul Pogba in an advanced left position. But Rashford is best suited to the left and that was shown when he assessed his options on 26 minutes before checking back onto his right foot to send a 40-yard diagonal ball to Greenwood who then scored the home side's equaliser.
Furthermore, the relationship between Rashford and Luke Shaw is one that Solskjaer should be harnessing. Their link-up play works well and it was apparent by the number of attacks that came down United's left here against Liverpool. To cap off Rashford's return home, he finished a fine United counter by placing a shot beyond Alisson for 2-1.
Liverpool score but lose again
This was further pain inflicted on Liverpool. Jurgen Klopp's side have won only one of their last seven games - and that was against Aston Villa's kids in the previous round of this competition. It is now also three defeats in five which is form so unaccustomed to this high-flying Liverpool side. At least they scored a few goals here having not found the net in four successive league games.
Salah took both of his goals well with his first which he dinked over Dean Henderson oozing class. Despite losing, this was an improved performance from Liverpool. They played with greater confidence and composure, Roberto Firmino and James Milner in particular, but it still wasn't enough to halt United.
Coming up for Klopp's team, though, are trips to Tottenham Hotspur and in-form West Ham United before hosting Manchester City. They are hardly enticing match-ups for a team struggling for form but such tough could help Liverpool quickly regain momentum.
FA Cup still matters
One glance at the team-sheet showed that Solskjaer and Klopp were both taking this fourth round tie seriously. Alisson made his first start in this competition since joining the club 30 months ago with the visitors making only three changes to the side that lined up against United the previous week in the league. United, meanwhile, also went with their full strength side with only David De Gea making way for cup keeper Henderson.
It has become normal practice for clubs to make wholesale changes in this competition in recent seasons, so it was refreshing to see a United-Liverpool cup tie with the best players on show. The lack of changes certainly added to the spectacle with the game being open and free-flowing.
Fernandes's practice pays off
Fernandes's late free-kick, which was somewhat dubiously awarded as the contact on Edinson Cavani by Fabinho appeared minimal, was struck superbly nonetheless to give United the victory. His right-footed shot travelled to Alisson's right, his side of the goal, but the Liverpool goalkeeper couldn't keep it out.
It came to light afterwards that Fernandes had been practicing his free-kick taking on Saturday, the day before the match. "It was a great goal, good free-kick," Solskjaer said. "He [Fernando] stayed about 45 minutes after training yesterday shooting free kicks so I was pretty confident he could score one if he got the chance. He's never happy with me when I tell him to go inside after training when he's playing the next day so he got some practice yesterday."