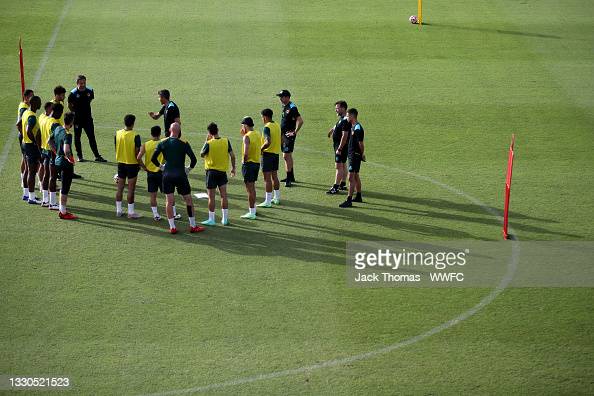 After finishing last season in 13th place, Nuno Espirito Santo was replaced with Bruno Lage, who was charged with reinvigorating a club that had overachieved in a very short amount of time. With the squad still small, expectations are still high ahead of the new season.
VAVEL takes a look at the Wolves squad and compares the current quality of the playing staff against the standard required for the side to qualify for European football once again.
Goalkeeper: One out, one in
The lure of playing under José Mourinho may not be as appealing as it once was these days, but it was enough for Rui Patrício to change his goals at Molineux, for the ones at A.S. Roma.
The Portuguese international has been outstanding for the club during his time in between the sticks and would definitely be hard to replace.
Lage though, does like his keepers to play with their feet, with the current flavour of football asking goalkeepers to become sweepers when their team is in possession. This was not one of Patrício's strengths, so his exit may have been the best for both parties.
Shi is no fool when it comes to business however and wasted no time in bringing in what would be his replacement in José Sá. The 28-year-old has had quite an interesting career so far, from being surplus to requirements with Porto, to being one of the stars for Olympiacos F.C.
It is very difficult to say if the Portuguese can fill Patrício's gloves however, as he will face sterner challenges more consistently in the Premier League than he did in both the Greek Super League and the Portuguese Premiera Liga.
One thing for sure is, Sá is comfortable on the ball and has great distribution, which signals that Lage's opinion was very much involved in this transfer, but it will be hard for the new man to compete with Patrício's aerial ability, reflexes and handling.
One man who decided to stick around for another year was 34-year-old John Ruddy. Accepting once again his role as the 'cup keeper', the Englishman is a good option to have as back-up. He is not at the same level as Sá or Patrício and would struggle to be a number one in the Championship let alone the Premier League, but his experience and influence are important for the squad.
Although, if Sá were to get injured, this would present a big problem for Wolves, who would then have to bring in third choice Andreas Sondergaard as backup for Ruddy. This represents a bit of a gamble. However, Sá has UEFA Champions League experience and if he stays fit, he should be good enough to put Lage's side into Europe.
Central defence: Very thin ahead of the African Cup of Nations
This is the club's weakest area with regards to having the quality to qualify for Europe. It is hard to say whether Lage will stick with a back three or move to a back four yet, but either way, Wolves will need at least three solid central defenders in the squad.
Worryingly, Wolves have not really strengthened with a top player in this position since Nuno's first season back at the start of the 2017/18 season.
Conor Coady, who flourished in a back three in Nuno's first season, looks set to partner Romain Saïss in the heart of the Wolves defence once again. Both were also there in the Championship, indicating a lack of willingness to change the pack around at the back.
Maximilian Kilman or Marçal could also be the third central defender if Lage goes with a back three. This is because both Willy Boly and new signing Yerson Mosquera have both picked up injuries in the preseason. Wolves also could play Ki-Jana Hoever there, but it would be more likely to see him feature at wing-back.
Now if you consider who is good enough to play in a side that is aiming for European football this season, then there is a big problem. Boly is arguable Wolves' best centre-half, but has struggled with injuries of late and will also miss a big part of the season when he represents Ivory Coast in AFCON 2021.
Coady is just about good enough, but has only shown consistency in a back three. There are still question marks over his suitability as a central defender in a back four, which is not ideal for a team with Wolves' ambitions.
Saïss is not getting any younger but has been instrumental in getting Wolves where they are today. He will also be away for the AFCON 2021, meaning that another defender will be out during that time.
Kilman has shown a lot of promise in games both of late and in last season. However, if he was good enough to play there, he would have been playing there consistently by now. At 24 years of age, he is hardly a youth prospect, so needs to be playing now, or be deemed as back-up.
Marçal is 32 years of age but has shown that he can play at a good level. The problem though is keeping him fit. The Brazilian has been plagued by injuries and it would be foolish to think that he will not face other issues this season. Unfortunately, he cannot be relied upon moving forwards.
New boy Mosquera has been very impressive in the preseason and has shown that he has the makings of a solid defender. He is still young and raw, which whilst playing as a centre-back can lead to mistakes and rash decisions, representing a problem in terms of being reliable.
To summarise, Lage will probably need to go with a back three due to the defence being not good enough in the middle to go with a back four. This means that there will be one man less going forwards and thus less attacking football. As it stands, this defence is not good enough to compete for European football.
Wing/Full-backs: Promising options
In either a back four or three, wing/full-backs seem to be one of if not the most important positions in Lage's formation. He will be expecting tight, uncompromising defending, whilst being able to fly forward and overlap fellow teammates to get in behind the opposition. Essentially, Lage needs top quality wing-backs to be successful.
After a shaky start to his first season for Wolves, Nélson Semedo has adjusted well to English football and although still not perfect, has become stronger and stronger with each game. Having represented Portugal in Euro 2020, the 27-year-old is full of confidence and determination to succeed this season.
After some good showings in the preseason games, Semedo should give Lage what he needs down the right-hand side. He would though benefit from playing in a wing-back position rather than a full-back in a back four, as he seems more comfortable attacking rather than defending. In a back four, he needs a strong central defender to support him.
As a back-up for Semedo, Lage does have Hoever who can slot in on the right-hand side and is a good option to have behind Semedo. The Dutchman would not be strong enough to claim the position as his own yet, but has shown flashes of quality at times.
The left-wing/full-back position would easily be filled by Jonny Otto, but unfortunately, the Spaniard is having a terrible time with injuries. It is difficult to say if the 27-year-old will even return to action at all, let alone be the same player he was before.
This is why Wolves opted to sign Rayan Aït-Nouri permanently for the season ahead, with hopes that the young Frenchman can fill in for Jonny. When playing as a wing-back, he has incredible energy and positivity moving forwards, which is exactly what Lage is looking for.
His defensive positioning and experience is still raw though and does have that mistake in him, which could prove crucial in big games. This would be even more scrutinized should Lage go with a back four, as it would mean more defensive responsibilities as a full-back.
Marçal though has started as a left full-back in the preseason when Lage has gone with a back four, which gives the manager more options. The Brazilian has looked solid and dependable and again if injury-free, would be a good option in that position. Having both Marçal and Aït-Nouri available on the left-hand side should be good enough for Wolves to challenge.
So in summary, Wolves have good options at wing-back and full-back, which will give Lage the versatility he may need throughout the season when considering formations and tactics.
Central Midfield: Same old, same old
On paper, Wolves have some big names in the middle of the park. Yet last season, the midfield was lacking the energy and drive that saw them dominate and dictate games in the past.
Ruben Neveshas now become a household name among the fan base and at only 24 years of age, still has a lot of potential to develop into. He is also a model professional off the pitch and is becoming more and more influential in the dressing room as games go by.
In the right system, his passing and vision would be devastating to teams, which is why he has been linked with clubs such as Manchester United and Arsenal this summer. Lage seems keen to play a quick passing game, which would suit Neves, but only if there are quality players in and around him.
Alongside Neves has normally been his fellow countryman João Moutinho. He has been sensational throughout his time at Molineux and was an absolute steal at only £5 million.
With the veteran midfielder due to turn 35 this season, he will find it more and more difficult to keep up with the pace and physicality of the Premier League. There were signs last season that he is was beginning to struggle and Wolves cannot afford to be sentimental for a player on such high wages with their current financial restrictions.
One player that often goes under the radar at Wolves is Leander Dendoncker. The Belgian had to fill in at the back a few times last season and was able to hold his own in a team struggling for form.
His more natural position however is in centre of midfield, normally operating as a box-to-box midfielder. He keeps his play simple, covers a lot of ground and regularly charges late into the opposition's penalty area to get on the end of crosses.
Yet, for all the chances he had on goal last season, he did struggle to convert them for the side. This area of his game needs to improve for him to be a dependable option for Lage moving forwards.
With Neves almost certain to play and Lage most likely to go with only two central midfielders, there is a place for a box-to-box player, but Dendoncker needs to up his levels slightly to ensure that he is the one chosen.
Another option Lage has is in the form of local lad Morgan Gibbs-White. The Stafford born academy graduate has struggled to hit the levels that his bright early career suggested and an unfortunate injury last season really hurt his opportunities to develop.
He does appear to be more mature this season and has shown his determination to succeed at Wolves during preseason so far. This could be the season in which he finally demonstrates what he is truly capable of, but cannot be relied upon to ensure that the club claims European football.
With slim pickings galore through the middle, only Owen Otasowie is Lage's realistic remaining option to partner Neves. The young American has shown flashes of brilliance in the limited appearances that he has made so far for the club.
However, with Nuno not fancying the 20-year-old as much last season, he has not developed enough to challenge consistently for a first team place. Also, with Otasowie recently rejecting a contract offer from the club, his time in the Black Country may soon be coming to an end.
This means that Wolves currently only have one solid candidate in the middle of the park to take them forward. If Gibbs-White becomes the player that he has shown that he can be, then he would be perfect alongside Neves. Dendoncker is still a good option, but may not be able to be good enough. Otherwise, Wolves will not be dominating any games from midfield for a while.
Wingers: Wolves' strongest department.
This area is where Wolves have the most quality in depth. Lage has stated that he wants two good options in every position and he has a lot of good options to choose from here.
When Wolves travel to Leicester City for their opening game of the season, you should expect one of the wings to be occupied by Adama Traoré. The Spaniard has been consistently linked with a move away from Molineux, with many teams interested in what Traoré has to offer.
When in the mood, he is completely unplayable. His pace, acceleration and agility are unreal, forcing his opponents to double up on him to prevent him causing chaos. He struggled a little for form last year, but this may have coincided with the absence of his partner in crime up top in Raul Jiménez.
If Traoré can link up again with the Mexican, he will be absolutely vital to Wolves' chances of being successful. This will mean providing much more goals and assists than last season, which also means polishing off his end product.
However, with one year left on his contract, Wolves may opt to cash in on the 25-year-old now, rather than lose him on a free next season. A big decision needs to be made and very soon.
If all the squad was fully fit, the other flank would be occupied by a rising star in Pedro Neto. The 21-year-old has become one of the sides most important players, with the youngster's progression from rookie to star being an incredible one.
Sadly though, he is still set to miss the start of the season, as he is still recovering from his knee surgery. Another potential problem will be whether or not Neto is able to get back to the same levels of performance when he eventually returns to full fitness.
This is where Wolves were smart and brought in Francisco Trincão on loan from FC Barcelona. The 21-year-old comes to the Molineux with much promise and has looked good in the preseason. It is difficult to replace a player like Neto, but Trincão could end up giving the young Portuguese competition for his place as the season unfolds.
Another player returning from injury is Daniel Podence. The 25-year-old has struggled to get a good run of games in the side, as injuries have plagued his time at Molineux so far.
He has shown that he has incredible technique whilst on the ball and has good flair and presence about him whilst on the pitch. If he can get back up to full fitness and keep himself available, he would be very useful as an option to go with for Lage. It is a big if though and he cannot be relied upon for that push for Europe.
Lage has also played Gibbs-White as one of the wingers at times in the preseason, with the new boss keen to see what the youngster can do in a more attacking position. This also adds more competition to Traoré and Trincão, who look set to start against the Foxes.
Strikers: Very reliant on Jiménez
Wolves on paper currently have a strong forward lineup, but it's very unlikely to stay that way before the transfer window shuts, as two of them will most likely be leaving.
There is no doubt that Jiménez will be the man up top, with his long-awaited return from his horrifying collision with David Luiz welcomed by everyone at the club.
The Mexican adds enormous presence up front and his anticipation and positioning get him into dangerous areas in the final third.
Wolves are a much better side with him in it and will always have a chance with him on the pitch. A fully fit Jiménez could easily play for any of the top clubs in the league, so Wolves need to get good balls into him to make the most of him!
It would though be a disaster if Jiménez suffered another long term injury this season. This means that the club would have to turn once again to another of their young stars in Fábio Silva.
The 19-year-old was never meant to lead the line this early in his Wolves career, but the experience he gained last season from doing so, will go a long way in eventually developing him to the performance levels of Jiménez.
With Silva still developing, Lage will be looking for another alternative for support upfront. If the manager goes with a 4-4-2 formation, it will mean that Wolves will need another quality striker up top.
There are two players who have been on the periphery of the squad in recent seasons with Patrick Cutrone and Rafa Mir still under contract at the Molineux.
Mir has impressed for Spain in the Tokyo Olympics, whilst Cutrone has looked sharp in pre-season even bagging a goal in the process.
Sadly, it does not appear that either want to stay at the club and are very eager to move on. This really leaves Silva as the only other striker in the squad, so options will most likely be limited unless reinforcements are brought in.
Hypothetically, if neither left the club, then competition would be very healthy and they would push each other to be the best, which would only be good for Wolves. This is however, looking unlikely.
Summary: Europe is looking like a step too far
There are some aspects to like about the current squad, but there are also some poor ones too. The squad has potential, but with the other teams improving and bolstering their ranks as well, competition is high in the league.
It appears that Sá is a like for like replacement for Patrício, but with better ball skills. With Ruddy remaining at the club, the goalkeeping situation at Wolves is good enough to push on.
Currently, the central defence needs two new top quality additions to really beat the team's around Wolves to European qualification. A fully fit Boly is the only real centre back that can help them achieve their ambitions.
The club is also thin in the centre of midfield and are in need of a top-quality player to play alongside Neves. Dendoncker or Gibbs-White may step up this season, but Wolves need something more to truly mix it up again with the big boys.
The club needs to decide what is happening with their strikers, because if Jiménez gets another long-term injury again, it will be all up to Silva to lead the line, which is not good enough for a club challenging for Europe. They need to make a decision on the futures of Mir and Cutrone and then potentially bring in another striker to challenge both Jiménez and Silva.
This means that the club are four quality signings away from competing for Europe this season. Unfortunately, with the current financial restrictions placed on the club, it will be difficult to acquire all three. This means that Wolves' realistic expectations for the season will be to finish mid-table.
But do remember, things were a lot different before Fosun purchased the club from Morgan in 2016. To be disappointed in not getting European football is a vastly improved position to struggling in the Championship. Perspective is key and it is important that Lage gets all the backing he needs from the fans this season.