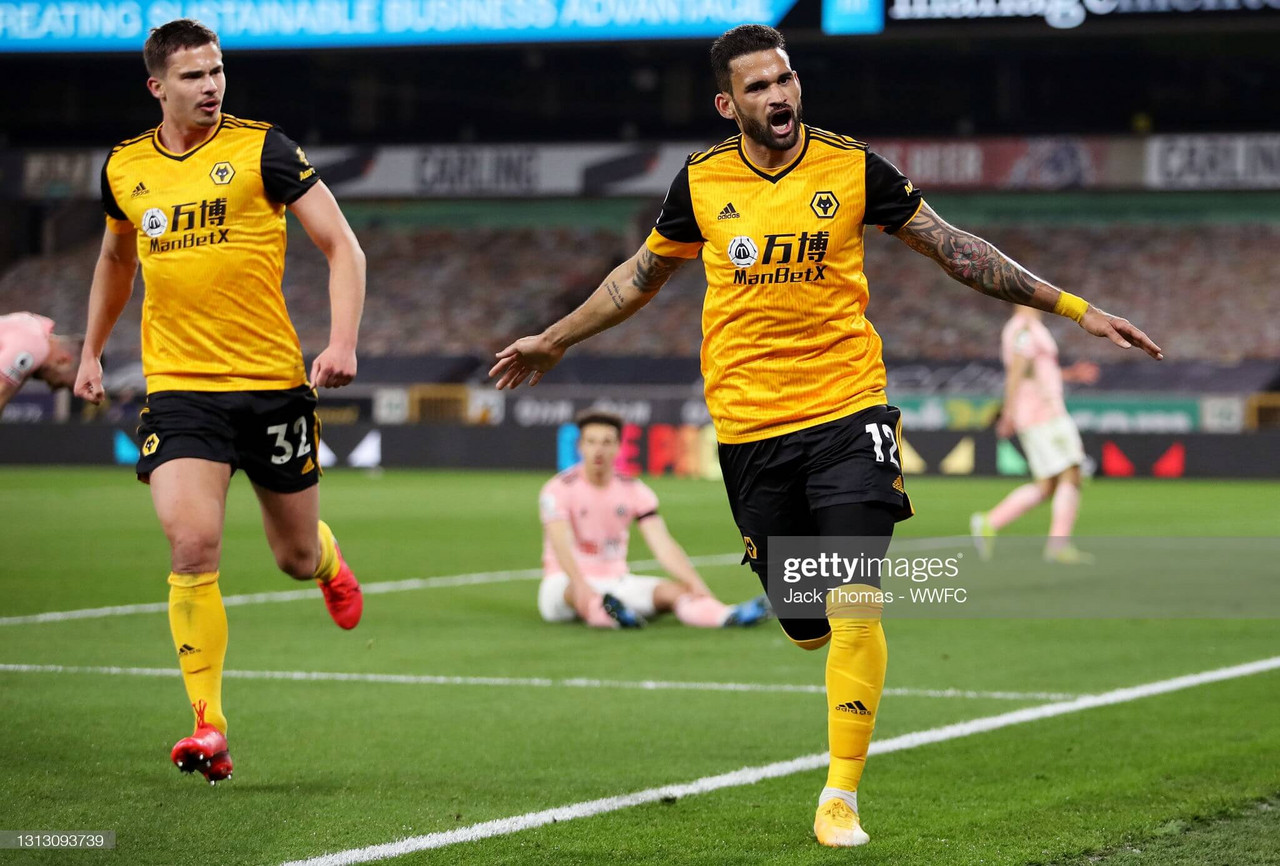 In a game that was much tighter than it first looked to be on paper, Wolverhampton Wanderers scraped past bottom of the league Sheffield United. It was a goal from Willian José which settled the score and ensured all three points stayed in Wolverhampton.
Wolves were put under pressure at times in the first half, and despite controlling the possession, they didn't look too threatening. Willy Boly came closest in the first 45, as he had the ball kicked off his heel which saw it looping over keeper Aaron Ramsdale before being cleared off the line by a United defender.
It was more of the same in the second half as Wolves couldn't really get going, until they were able to counter attack through Adama Traore who crossed the ball into striker José who took his goal very well.
After the goal, the game didn't change too much. Nuno's men couldn't kick on and Sheffield United couldn't find a way back into the game. Wolves showed defensive solidarity in the final 10 minutes in order to see the game out and take all three points.
Willian José off the mark
Willian José has had a tough start to life in England, having two potential goals taken away from him due to fouls and VAR, but tonight he finally got off the mark.
He showed the quality that he does have in front of goal, which is a major positive for his remaining time at the midlands club. For the goal, his movement was excellent. He arrived perfectly in the box, getting ahead of his marker before hammering the ball home from close range.
Youngster Fabio Silva also featured tonight and did well in parts. These two have been battling it out for game time over the previous couple of weeks, with José largely getting the nod. However, recently Silva has provided a goal and an assist in the two games before tonight.
Nuno will be hoping that he can kick on now and score more goals for the club, something which have been largely missing all season after the injury to Raúl Jimenez.
Another clean sheet
Despite not being a performance to write home about, Wolverhampton Wanderers have come out of this game with three points and a clean sheet.
When playing five at the back, Nuno's men do look very secure and concede very few chances, despite not creating too many. A huge positive from tonight's game is another clean which shows the defensive solidarity.
Rui Patricio didn't have much to do tonight, but when he did, he made some very smart saves. Nelson Semedo was also a standout tonight, both going forward and defensively. In the build up to the goal, he got himself in the way of a shot and provided an important block to deny a good strike.
Willy Boly was put back into the side tonight, and Wolves looked like a different team at the back. He won almost every ball that came his way in the box, and commanded the back line alongside Conor Coady who also had a good game tonight.
Another slow start
One of the main things that has hampered Wolverhampton Wanderers this season is the slow starts to football matches in the first half. Since returning to the Premier League, Wolves have failed to score in over 70 first half's having played 109.
This is a worrying stat for Nuno, and one that he will want to change going into the next season. It is something that needs to be done if Wolves want to break into that top seven where they were last season.
Boss Nuno Espirito Santo has admitted himself that he does not know why these slow starts continue to happen, but it is something that the side are working on in training and hope to improve for the future.