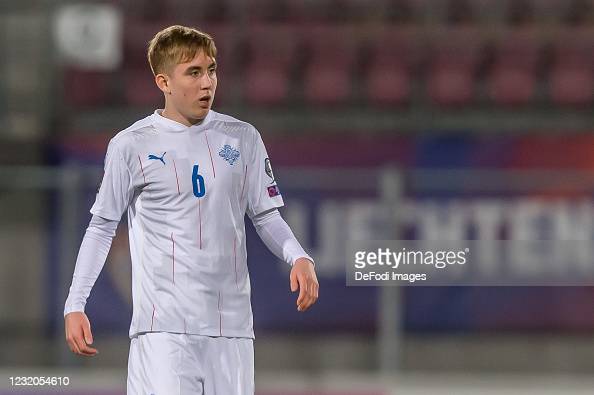 On the final day of the season in 2018, Ísak Bergmann Jóhannesson became the youngest player in ÍA history; a club with a rich history in Icelandic football. He was only 15 years and 182 days old that day.
Jóhannesson went on trials to clubs such as Ajax and Brighton but made a wise move by signing for Norrköping in Sweden. Now three years later he's attracting interest from Europe's elite, including from Manchester United.
Football heritage
Jóhannesson is born in Sutton Coldfield in England in 2003 and he spent the first years of life in the country as his dad, Joey Guðjónsson, was a professional footballer with Burnley, Huddersfield and Leicester.
When the family moved back to Iceland Jóhannesson started training with ÍA, one of Iceland's most historic clubs. He was a national champion with ÍA's youth side before signing for Swedish club IFK Norrköping in 2018.
He has some strong football genes. His grandfather, Guðjón Þórðarson, used to manage Stoke, Barnsley, Notts County, Crewe and the Icelandic national team. His father was a national team player and his uncles, Bjarni Guðjónsson and Þórður Guðjónsson, also played for the national team. He comes from a big football family and a town – Akranes – with a big football tradition.
Big interest, why?
Jóhannesson quickly cemented his place in the Norrköping first-team; much quicker than most expected, due to his young age. He played his first game for the first-team in the summer of 2019 and he managed to get himself on the scoresheet in a 6-1 win over Timrå IFK in the Swedish Cup.
In 2020 – the year he turned 17 – he had a big breakout year. In the Allsvenskan, he played 28 out of the 30 league matches and he started 25 of those. He scored three goals and had seven assists while playing all over the field. He was third in the whole league when it came to assists and doing that at such a young age, it's easy to see why huge clubs such as Man United, Liverpool, Juventus and Real Madrid are setting their sights on him.
Jóhannesson is a hugely versatile player who can play left-back, on both wings and in midfield. When he was asked to describe himself as a player in an interview with Icelandic website fotbolti.net he said: "I have a good understanding of the game, good technique, good passing ability, I have a strong left foot and I can shoot the ball well. I want to create opportunities for my teammates and I can run a lot. I give my all on the pitch and I want to win every time."
He is not the biggest nor the strongest, but he has got some brilliant technical ability and energy that can be used all over the pitch. In an article by The Athletic, his style of play was likened to Real Madrid midfielder Luka Modric.
He made his international debut for Iceland against England - his country of birth - in November 2020 and was a part of the Iceland U21's at the Euros last month. During that tournament, he played both as a midfielder and a winger. "Ísak is just good at football. He can solve the positions he is asked to solve," said Davíð Snorri Jónasson, the U21 manager for Iceland, to fotbolti.net when asked about Jóhannesson's best position.
Pellistri, Diallo and now Jóhannesson?
Over the last year, Ole Gunnar Solskjær has brought in two teenagers for a potential combined fee of £45million in Amad Diallo and Facundo Pellistri.
Pellistri and Diallo are not going to be first-team starters right away but they have a lot of potential, and so does Jóhannesson. If he were to sign with United he would probably not be a starter for a while; the jump from Allsvenskan to the Premier League is massive and it would be tough for any player, especially an 18-year-old. But with time these players could grow into superstars.
The signings of Diallo (18) and Pellistri (19) show that the Red Devils are investing in its future. Hannibal Mejbri (18) that was signed from Monaco in 2019 is another example of that.
He's a Man United fan
As previously mentioned there is a big interest in Jóhannesson and United are amongst the clubs that are said to be in the race for his signature. In October last year, Norrköping director Jens Magnusson revealed to FotbollDirekt that the club had to turn away scouts wanting to see the Icelandic teenager in action, due to Covid restrictions.
There is reported interest from some of Europe's biggest clubs but his dream – even though he might not openly say it right now – is probably to play in a Man United kit at Old Trafford.
In an interview with Aftonbladet last year he said: "Manchester United are my favourite club, but Norrköping is my dream club. I lived in Manchester when my dad played there [in England] and watched many matches." He also said that he would not rule out a move to Liverpool or Manchester City if that became a possibility and that those two teams were playing great football.
Comparison to former Man Utd player
Park Ji-sung was a very underrated player during his time at Manchester United from 2005 to 2012. He was a workhorse that could play many different positions. He could run up and down the field without breaking a sweat. Whatever position and whatever role he was put in, he could do it well. He was not the biggest nor the strongest player on the pitch, but he had fantastic technical ability and a whole lot of energy. The South Korean was a humble footballer and a big team player.
Jóhannesson has a lot of the qualities that Park had as a player, but it is too soon to say if he will go as far in his career. He is certainly on the right track.
What next?
It is yet to be seen what his next step will be; it might be Manchester United or another huge club. It could also not be. It might be more attractive for him to join a club where he will be promised first-team football. There have been strong rumours to RB Salzburg in Austria in the past and lately, there were talks of a move to Premier League side Wolves.
Jóhannesson has his head screwed on right and whatever he decides, it will surely be a well-thought-out decision. His life is about football; he plays football, he watches football and plays Football Manager. Now, his focus is all on Norrköping as a new season is starting in Sweden.