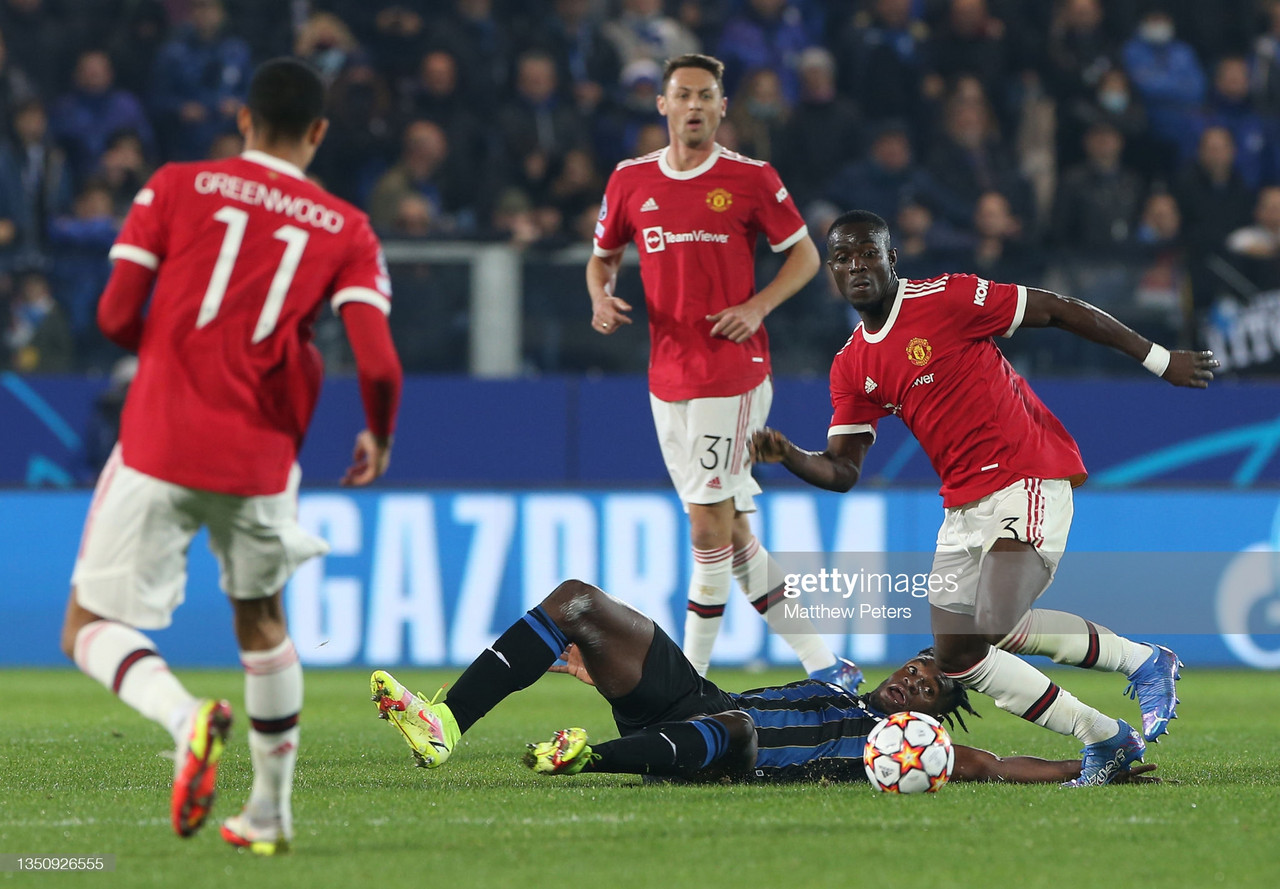 Eric Bailly, a player who puts his life and body on the line - quite literally at times - but rarely starts for Manchester United.
Yet he was given the opportunity to prove he can still be of use to Ole Gunnar Solskjaer on Tuesday night in their 2-2 draw with Atalanta in the UEFA Champions League.
Solskjaer's tactical switch to a three at the back formation has seen Victor Lindelof return to the starting XI but he picked up a minor injury before United's clash with the Italians.
United were already 1-0 down when Bailly produced a stunning block to prevent Gian Piero Gasperini's side from doubling their lead. It was the type of block where you had to stop and think to yourself whether any other defender would make that challenge…none came to mind.
He then prevented Atalanta from extending their lead once again in the second half. A beautiful ball was whipped in and Bailly intervened with a fully stretched leg. Had Bailly not have made the interception, Duvan Zapata would have been there to tap home Atalanta's third.
Bailly started and arguably played the best 90 minutes of football he ever has for United on a night where both Harry Maguire and Aaron Wan-Bissaka left enormous gaps behind them.
Bailly cleaned up and dealt with Zapata well – for the majority of the match – but the Colombian still managed to score which was either David De Gea or Maguire's fault…take your pick.
Solskjaer said he was impressed by the Ivorian's performance: "Eric did well, you know he's not played for us for a little while, he's played for the international team and he's trained really well.
"As expected, Eric wanted to prove himself and show what he can do and he was important for us. He made a couple of blocks that only Eric can do. He'll take a lot of encouragement from this performance."
If Solskjaer was to continue with the three centre-backs – and that may come down to how serious Raphael Varane's injury is – then Bailly can become of great value.
"First look at it is, felt his hamstring. We'll have to look at him tomorrow, but he felt his hamstring as he ran there tightening up, he didn't want to risk anything. First assessment does not look good, but we'll assess him again tomorrow. Fingers crossed," Solskjaer on Varane's injury.
Because of Bailly's knack for diving into tackles, he would still have Maguire and Varane behind him. It could also have a positive effect on Wan-Bissaka as he may feel more safe bombing forward.
Wan-Bissaka had the freedom against Tottenham Hotspur on the weekend and some branded it as his best performance this season.
The three at the back is in its infant stage, however, you get the feeling Bailly and/or Lindelof could see more playing time if it is to become United's go-to.