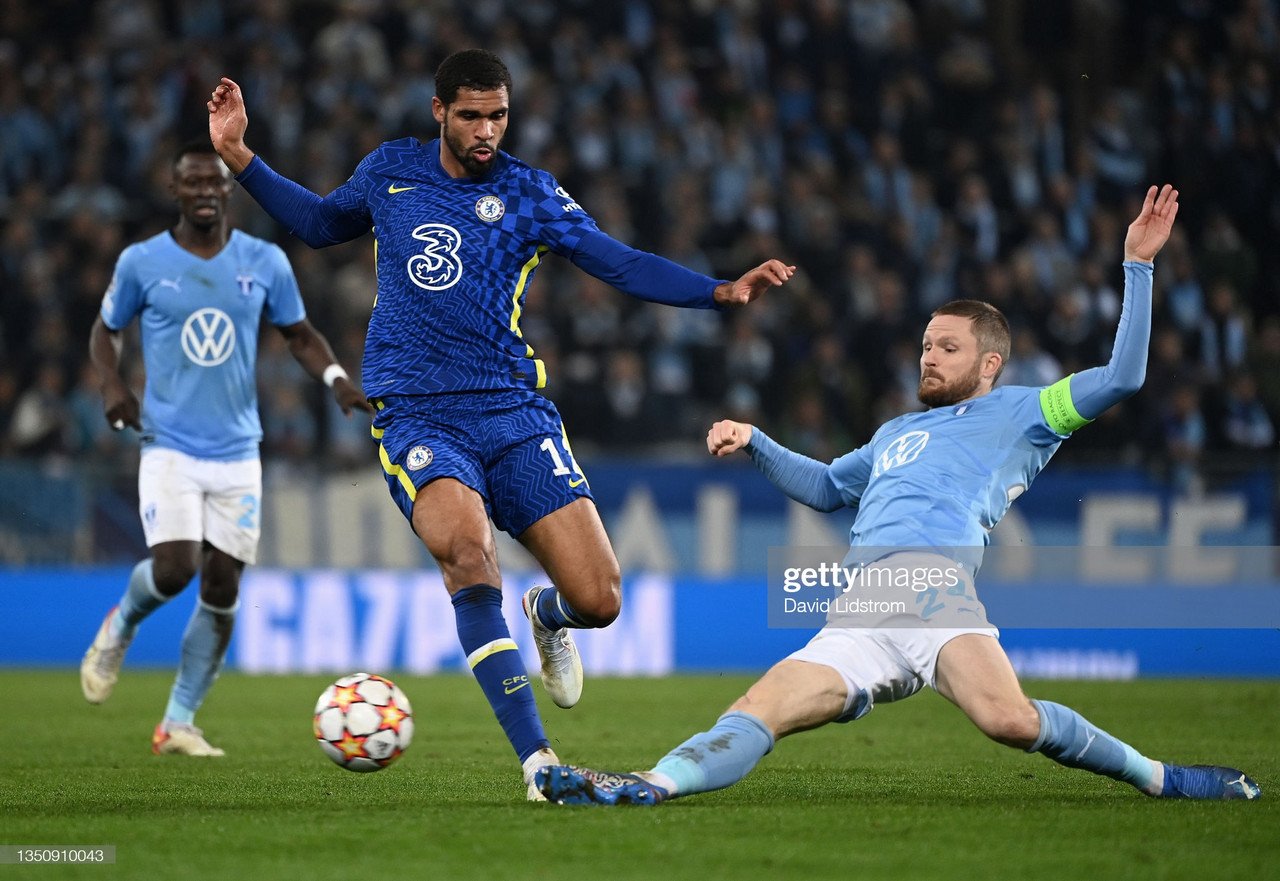 Chelsea took all three points on match day four of the Champions League away at Malmo courtesy of an early second half goal from Hakim Ziyech in a much-rotated side from Thomas Tuchel.
The Blues struggled to break the opposition down in the first half, despite having the overwhelming amount of possession throughout the initial 45 minutes.
It followed a very similar pattern for the majority of the game, with Tuchel's team controlling the ball with ease but unable to find a killer pass or ruthless finish for some time.
To Malmo's credit, they came out not willing to just sit back the whole game, threatening on the counter attack on more than a couple of occasions, especially with the match poised at 0-0.
One of those times was when Sebastian Nanasi broke forwards with two other teammates, but the striker couldn't get his shot away properly, much to the Chelsea defence's relief.
In fact, the main feature was that of Dahlin in the Malmo net, who made innumerable saves when faced with one-on-one situations, including against the likes of Kai Havertz and Hakim Ziyech.
HAKIMMMMMM! 👌

⚪️ 0-1 🔵 [56'] #MalChe pic.twitter.com/dVw9XoBpyu

— Chelsea FC (@ChelseaFC) November 2, 2021
Eventually though, with eleven minutes gone in the second half, Kai Havertz played Callum Hudson-Odoi down the wing, who raced forwards, and played an inch perfect ball into Ziyech.
The Moroccan then had the easiest of tasks to simply tap the ball home into an empty net, before celebrating in front of the one thousand Blues' fans who had made the trip.
From that point onwards, the visitors didn't threaten the Malmo net particularly often, bar a couple of half chances and another missed opportunity face to face with the 'keeper by Havertz.
After the clock finally ticked over past the 90 minute mark, there was one final chance for Christian Pulisic, making his first appearance since August, which he somehow couldn't take - although moments later the flag did go up, and the referee blew for full time.
Your matchwinner! ✊ pic.twitter.com/OlD0uwA1XE

— Chelsea FC (@ChelseaFC) November 2, 2021
Loftus-Cheek getting back to his best
It speaks volumes that, both pre and post-match, Rio Ferdinand was in the BT Sport studio comparing Ruben Loftus-Cheek to a midfielder such as Yaya Toure.
The legendary Ivorian was one of the best in the world in his prime, so to even be mentioned in the same sentence should be taken as a huge compliment by any player.
"The name associated with him at the moment, Yaya Toure, if he adds goals to his games you can start talking like that."@rioferdy5 and @petercrouch are both impressed by Ruben Loftus-Cheek's recent performances under Thomas Tuchel 📈#UCLTONIGHT pic.twitter.com/8rBKsjiMwy

— Football on BT Sport (@btsportfootball) November 2, 2021
Even more so however, by a player who, by his own admission, hasn't had a huge amount of opportunities to show what he can do, particularly at Chelsea, over the past few years, owing to a combination of factors, not least his two loan spells.
Now at 25 years old, there was a six year gap between his last Champions League start - a 4-0 win at home to Maccabi Tel Aviv in September 2015 - and the one he made last night.
It's been quite a lengthy hiatus, but if he continues performing like he did against the Swedish outfit, it surely won't be longer than a few weeks before his next one.
He looked calm and composed every time he got on the ball, as he has done consistently over the past few matches in which he has been given a chance by Tuchel.
On multiple occasions Loftus-Cheek could be seen charging up the field with the ball at his feet, easily muscling off defenders who were left battered and bruised in his wake.
For a player who has had his fair share of ups and downs with injuries as well, particularly one suffered at the end of the 2018/19 season, this truly does feel like a moment of renaissance that he has worked for and deserves.
That's not to say he's the perfect player yet - some of his final passes still need to improve, as does his shooting - but if he continues on the trajectory he is currently on, he'll start causing even more selection headaches for the Blues' boss.
Blues continue to grind out wins
One of the factors Tuchel will likely be most pleased about when he returns home to West London will be the fact, despite the heavily-rotated team, Chelsea still found a way to win.
It's already been said on many occasions so far this season, but having the tenacity, the hunger and the will to win, no matter the game, is an incredibly valuable psychological asset for any team to have.
Even more so is the fact that it came with players in the side who haven't always had the most chances to prove themselves - such as the aforementioned Ruben Loftus-Cheek and Marcos Alonso.
WWWWWWW. ✊

Seven in a row, night! 💙 pic.twitter.com/GvChV8v8VA

— Chelsea FC (@ChelseaFC) November 2, 2021
When you have a squad which, regardless of their regularity of starts, always puts in 100% effort for the team, it shows that the manager and his coaching staff have developed an almost idyllic state of mind within the team.
It wasn't the best performance by Chelsea throughout the season thus far, but in a way that is a better sign than an almost unsustainable high level of match performances.
After all, while it's cliché, the sign of champions is a team which carves out results even when they're not at their absolute best and highest quality, which is exactly what the Blues managed.
The opposition was stubborn defensively, they troubled them occasionally on the counter attack but, unlike many other sides who may have given in and settled for a 0-0 draw, Tuchel's team instead stepped it up a gear.
Whether that will continue to happen over the following few months remains to be seen, but for now it would be hard for any Chelsea fans to find many negatives at all in this current squad - and that in itself is perhaps the greatest praise of all.