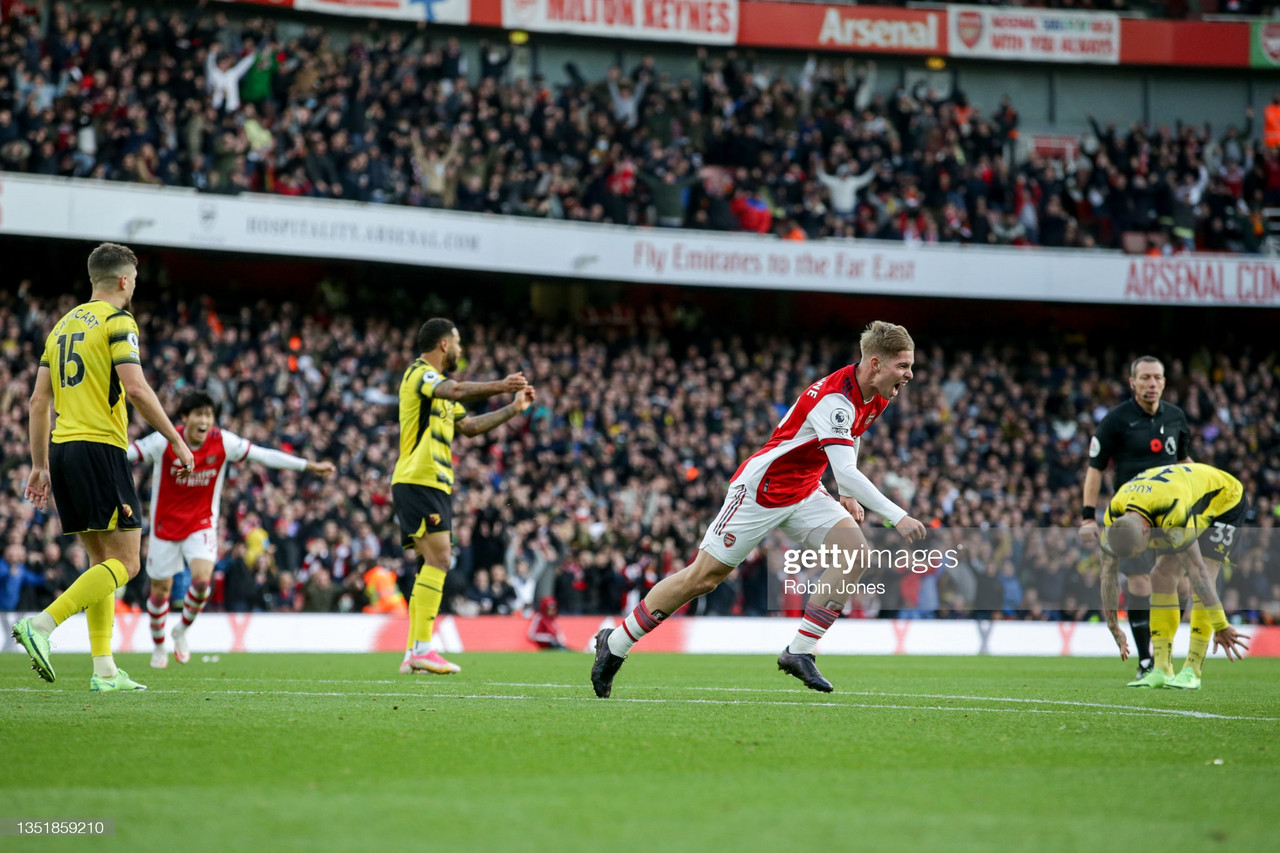 "We put the ball out and everybody expected Arsenal to give back the ball. After this it was very strange. There was a cross, Kiko Femenia hit the ball with the header, Ismaila Sarr took the ball — in my opinion there's big foul, but nothing happened and then they scored the goal. I told [Mikel Arteta] there isn't respect when we put the ball out; there isn't respect in this action."
These are all very valid points from Claudio Ranieri and it's possible to sympathise with his feelings. But Watford's head coach would do well to remember that very few established Premier League teams will offer his side the "respect" he feels they deserve apart from the sort which views them as a banana skin that needs to be carefully evaded.
To be sure, Arsenal didn't treat their match with the Hornets lightly whatsoever, and that's why they gleefully took advantage of Danny Rose's decision to put the ball out of play while Ozan Tufan lay on the turf injured. A couple of phases later, Emile Smith Rowe had powered home the single goal which consigned Watford to a narrow defeat at the Emirates Stadium.
Perhaps it is testament to the improvement of the team's performances under Ranieri that a side of Arsenal's calibre (and form) were only able to beat them by such means. Yes, the Gunners looked the better side on the day, but that's to be expected, and Ben Foster had been impervious in goal all afternoon until Smith Rowe's deft finish from just beyond a bemused Hornets defence proved one assignment too many for the shot-stopper.
The manner of that defeat rankles at Vicarage Road, something which has been exacerbated by the ongoing two-week wait for the Hornets to set the record straight against Manchester United in their next match; the international break has been but a fortnight to ponder the injustice and gnawing thoughts of what might otherwise have been.
As frustrating to watch as the incident at the Emirates was for those associated with the Hertfordshire club, and wherever you sit on its moral implications, Alexandre Lacazette's decision not to throw the ball back to Watford did not contravene any of the written laws of football, and did thus not supply referee Kevin Friend and his officials valid grounds on which to disallow the game's decisive goal.
The body-check by Ainsley Maitland-Niles on Sarr to regain the possession which resulted in Smith Rowe's winner is another matter, however. Like the tackle on Tufan earlier, a Watford player was left sprawled out on the ground following a heavy challenge by an Arsenal counterpart — but this time the latter had taken none of the ball. Friend decided it wasn't a foul and, since it was deemed a subjective event, VAR was unable to intervene.
Two causes of grievance (one admittedly more valid than the other) in the build up to one solitary goal which deprived them of a crucial result on the road against a 'Big Six' team; Watford's frustrations are pretty understandable.
Furthermore, one can only wonder what stance the officials might have taken had the situation been reversed, the Hornets nicking all three points in such a fashion fashion at the Emirates.
It just wasn't Watford's day — and that's despite the hosts having two goals chalked off for offside and Foster expertly saving Pierre-Emerick Aubameyang's penalty. The tactics worked well, individuals competed with their counterparts in red and white, but individual errors and ultimately a bizarre sequence of events meant the Hornets made the short trip home from north London with nothing to show for their efforts.
But you make your own luck in football, and what the incident, and perhaps the whole match, does show is that Arsenal have developed a resourcefully nasty edge under Arteta which contrasts with Watford's present naivety. The Hornets will need to catch up in that regard if they want to avoid relegation from the toughest, most unforgiving league on the planet; no one's cutting them any slack round these parts.
What's more, Smith Rowe's goal is not necessarily an isolated incident in the context of their season so far, because Watford's mental frailties have been found out on far too many occasions already this campaign.
The displays against Brighton & Hove Albion, Wolverhampton Wanderers, Leeds United, Liverpool and Southampton stand out as particularly 'soft', though in those matches the quality of their performance was such that 'nastiness' alone would probably not have saved the Hornets from defeat. Against Arsenal, however, their guilelessness arguably cost them a point and perhaps even three.
These are points which, it should be noted, come at a real premium in the Premier League's gruelling relegation battle.
At the Emirates, Watford allowed their frustration to compromise the composure which they had shown for the majority of the rest of the match, and this virtually erased their chances of finding an equaliser. Josh King spurned his side's best chance of the match, firing wide of an open goal from an admittedly tight angle, and the Hornets created very little after that as they resorted to a desperate long-ball approach which seemed destined to ineffectuality.
Nonetheless, and despite the result at the Emirates, Ranieri went on to assert that he was, "very satisfied about our performance". Watford are certainly playing better under the Italian than they had been with his predecessor Xisco Muñoz at the helm: generally more organised in defence, more structured and combative in midfield, and more dynamic in their attacking approach play, technical and tactical improvements are visible and those should stand the Hornets in good stead over the coming months.
What needs to come next, though, is a process of psychological reorientation. The feeling that the world is against Watford appears to be a source of frustration for Ranieri, his players and the club's fans alike; instead, it should be used to contribute to an unwavering desire to win at all costs and, above all else, to show no signs of naivety for their opponents to take advantage of.
Watford keep losing on the mental playing field, and to buck this trend they need to begin giving what they get. If the ball is put out for a player to receive treatment that he ends up not needing, don't give it back and/or don't expect it back. If a foul is suspected, play to the whistle regardless. Every little helps when Premier League survival is at stake, and showing 'respect' likely hinders rather than helps the pursuit of that objective.
For what was probably a fairly mundane match and result to neutrals, Watford will have learned a lot about themselves and their prospects from their encounter with Arsenal. Channel those lessons positively, integrate them into the upturn in the calibre of performances, and, who knows, perhaps the Hornets can tally together some points in the next few weeks — even with United, Leicester City, Chelsea and Manchester City to face in their next four games.
In fact, encounters with the league's elite outfits are opportunities as good as any to test and improve a team's mental reserve. So, roll on the visit of Ole Gunnar Solksjaer's Red Devils, the opportunity to showcase the fruits of the international break's work and to shake the perception of Watford as one of the Premier League's softer sides.
Because naivety of the kind the Hornets have shown in recent weeks is not compatible with survival in England's elite division.