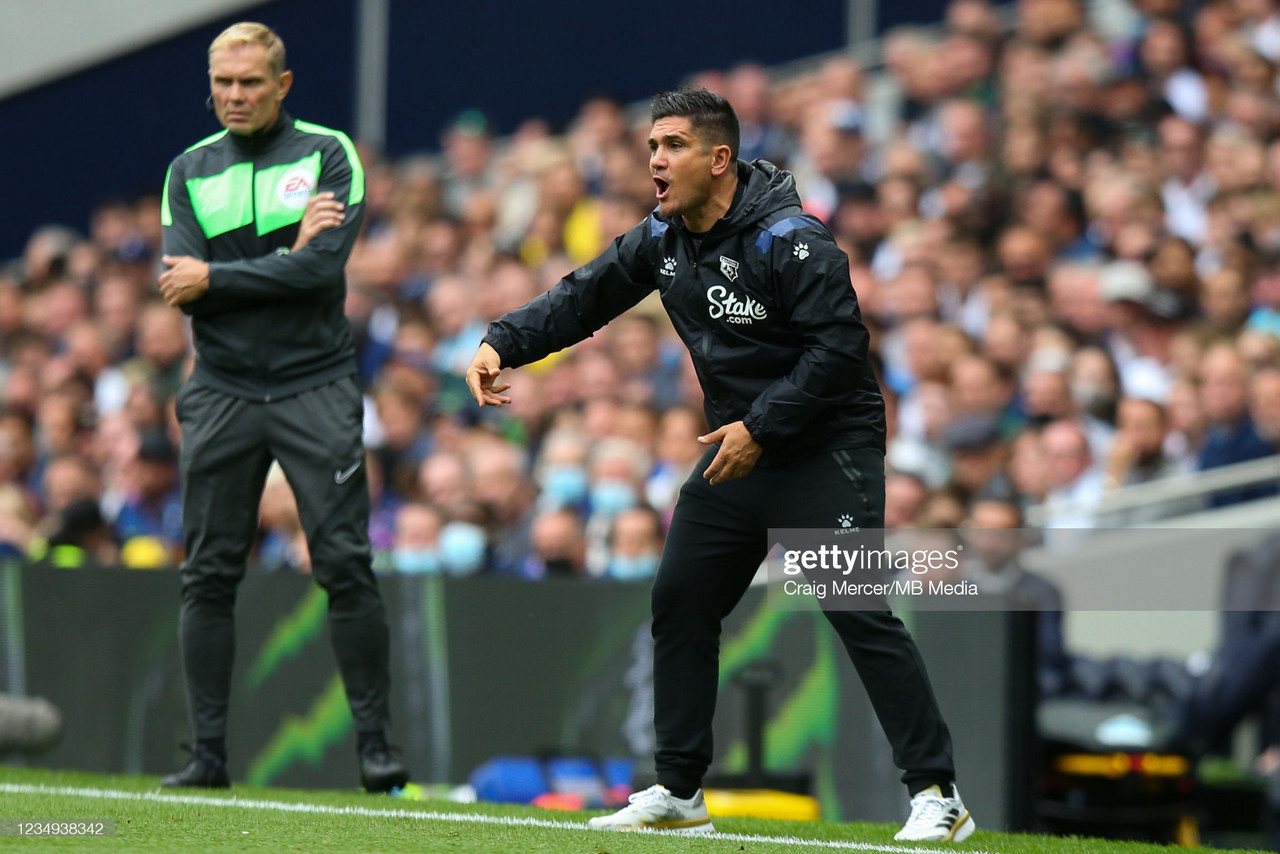 Watford host Wolverhampton Wanderers at Vicarage Road on Saturday, where the home side will be looking to prevent Bruno Lage's away team from picking up their first points of the season, and make it eleven home wins in a row.
Wolves have started the season with three consecutive 1-0 defeats. The Hornets began with victory over Aston Villa before falling to two defeats away from home.
Xisco Munoz, Watford's head coach, got a chance to catch up with the media prior to this encounter.
Here are five things that should be pointed out from his press conference.
Having signed for the club in 2010, skipper Troy Deeney recently announced his departure from the club in a heartfelt video, joining boyhood club Birmingham City on a permanent transfer.
Munoz made clear that Deeney will 'always stay in our hearts' and wished him 'all the best with his next team'.
He was also quick to recognise how important Deeney was for the club, saying that 'everyone knew Troy loved Watford'.
He hailed a 'new era' without him, but also noted that 'this is life, this is football', and ultimately believes that the club 'traded him for the best'.
Despite Deeney moving on, Munoz stressed that the most 'important thing is focusing on our team and preparing'.
International trouble with Francisco Sierralta
Chilean international, Francisco Sierralta, made his first Premier League start for the Hornets against Tottenham Hotspur following a solid spell at the heart of last season's Championship defence.
However, with Chile being on the red list of countries in regard to the UK's Covid-19 travel restrictions, Sierralta was not released by the Hertfordshire-based side.
As a result, Chile have asked Fifa to impose restrictions on him playing this weekend in accord with regulation.
Asked about this, Munoz conceded 'it's a difficult situation for everyone'. Above all, he wants 'a fair result for everyone, all the teams'.
Wolves were expected to have similar problems with striker Raul Jimenez, but have now come to an agreement with his home country of Mexico. He is expected to thus feature on Saturday.
More balance needed for Watford
Despite declaring that his team had a 'good performance' in their 1-0 defeat at Tottenham last Sunday, Munoz argued that his team needed 'more balance' between the attack and defence; sometimes having 'a situation for attack, sometimes [needing to] work very hard in defence'.
He was quick to emphasise the positives, but at the end of the day Watford 'didn't take the points'.
Ahead of an important run of games in September – after Wolves, his team face other early strugglers Norwich City and Newcastle United – Munoz recognises it is 'important to understand it is three points which is important'. [Saturday] is the most important where we should try and get three points.'
Wolves unlucky so far
Wolves have found themselves in the relegation zone and without both a point and a goal in the opening stages of this Premier League season.
The Watford boss, appointed in December after Vladimir Ivic was sacked, conceded that Wolves 'have been unlucky. They've played against very good teams and we know we are up against a good team. We have a strong game [ahead]'.
They 'have good players, good style, a good manager'. He also said that his side will have to 'give 100%, continue with the same attitude but have a little more ambition'.
Ozan Tufan debut could await
Regarding team news, new signing Ozan Tufan was 'training and we will see [if he plays]', said Munoz.
He was full of praise for the midfielder, signed from Turkish club Istanbul Fenerbache; 'Tufan is a very good player. He has very good things and helps mix up the midfield.'
Munoz said that the club were 'working hard to adapt him' and that he was ready to 'adapt the team and provide a different situation' to fit him in.
Alongside a potential Tufan debut, Joao Pedro could make his return as he returned to full training. Kiko Femenia and Ben Foster remain sidelined with groin and hamstring injuries respectively.