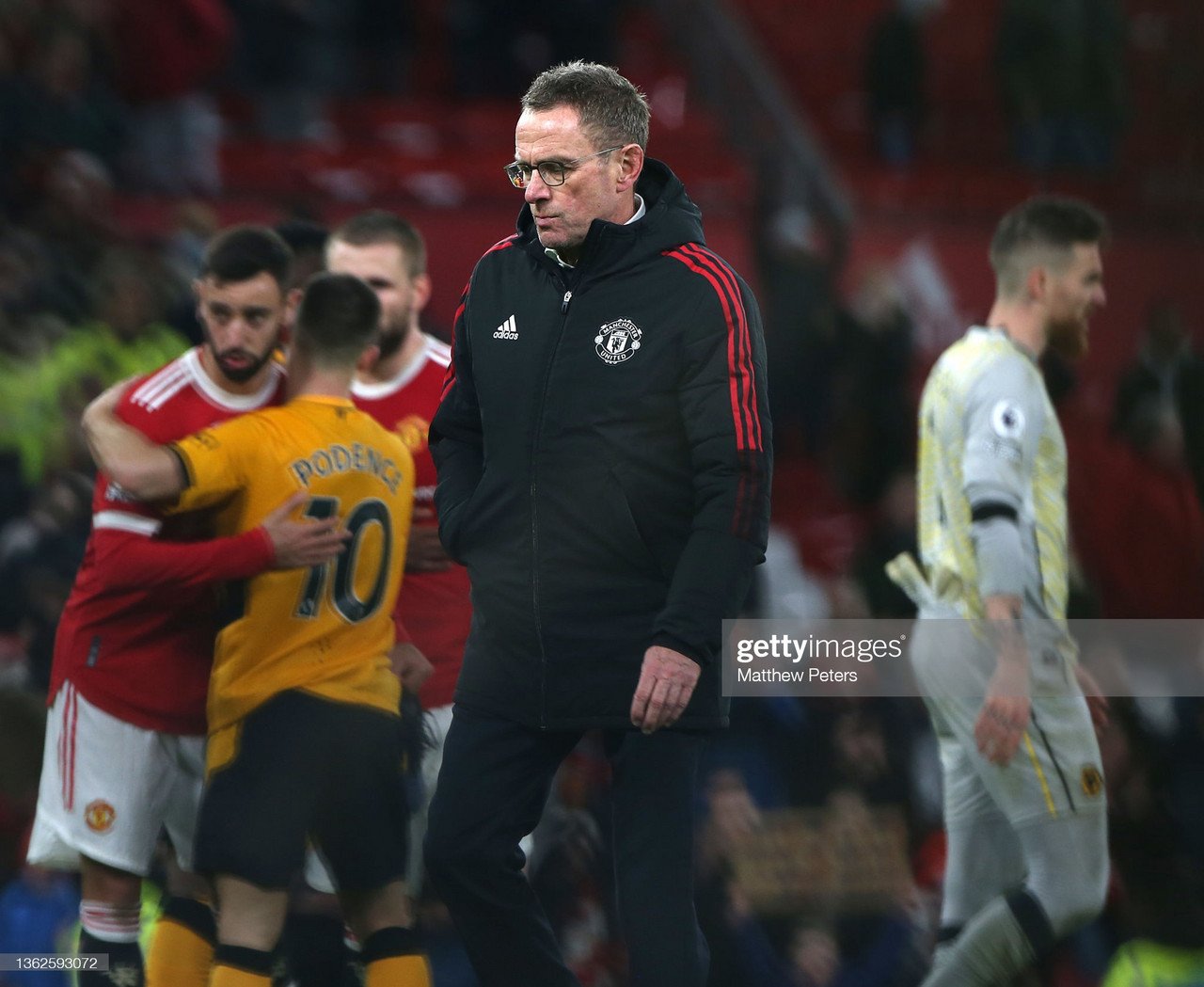 Manchester United's unbeaten start to life under Ralf Rangnick came to an end at the hands of Wolverhampton Wanderers on Monday evening.
Rangnick had started his interim managerial position with five matches without a defeat. However, Bruno Lage's side caused United the most trouble they have faced for quite some time and it showed.
Wolves managed to pull off their first win in the league at Old Trafford since 1980.
Rangnick assessed the winning goal and sounded disappointed when he said it was a goal his side have conceded too many times.
"The goal that we conceded again showed we had enough players in the box but we allowed Adama Traore, back to goal, to turn, gain speed and bring in the cross.
"The cross was already defended by Phil Jones but the goal was one of too many [like it] this season as Joao Moutinho could shoot, completely unmarked with no problems and no pressure at all."
Rangnick's side rarely threatened in front of goal but enjoyed a brief spell in the second half when Bruno Fernandes struck the bar and Cristiano Ronaldo had a goal ruled out for offside.
Rangnick puts down the lack of goalscoring opportunities to a misbalance upfront.
"We missed out on scoring the first goal with Bruno [Fernandes], it would have been possible to get the important first goal.
"We had two situations, one with Bruno and the other with Cristiano [Ronaldo], who was unfortunately offside.
"In general, we just need to find a better balance within our team, defensively and offensively," he added.
Jones impresses on return
Phil Jones had not featured for Man United in over 700 days. Continuous struggles with fitness meant he has spent nearly the last two years either on the bench or not involved in the match squad.
But he returned with a grand performance and was unlucky to be involved in Wolves' winner.
Rangnick had mentioned prior to Monday's match that Jones had impressed in training and he lived up to those comments on the pitch.
"I think he [Phil Jones] did well, not having played for two years at this kind of level.
"We didn't see that [effects of the absence] in the game. He did his job and did exactly what I expected him to do," Rangnick said.
United face another midlands club next week, this time Aston Villa in the FA Cup. Villa have already enjoyed a victory in the league, and they now have Steven Gerrard in charge - who will no doubt want to get one over United considering his Liverpool relations.