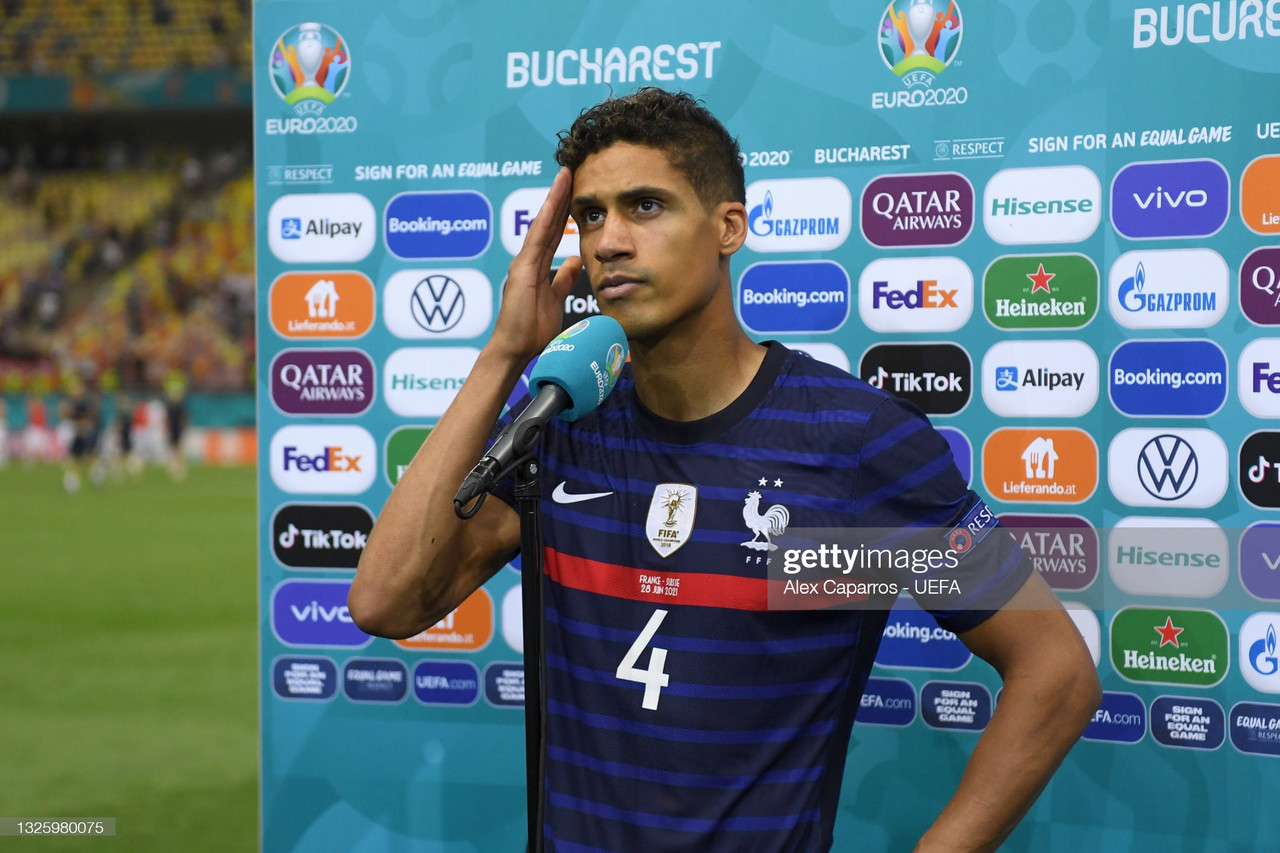 Raphael Varane and Manchester United over the last decade are names that have become synonymous with each other. Dating back to 2011 when former United manager, Sir Alex Ferguson, was looking for a young up-and-coming central defender and had the choice of two, Varane or Phil Jones.
Nemanja Vidic and Rio Ferdinand albeit were world-class defenders but they were not getting any younger. Ferguson wanted a fresh face to come in for the short term and more specifically for the long term. A young French defender who made his debut for the club nicknamed Sang Et Or which means blood and gold was stealing the limelight in France.
A 17-year-old French defender was causing a stir in Ligue 1 for RC Lens. Playing at the Stade Félix Bollaert-Delelis in the North of France, Varane was attracting suitors, namely Manchester United and Real Madrid. Ferguson and the new Madrid sporting director Zinedine Zidane were both pursuing the Frenchman's signature, not a bad selection of iconic football men.
In the end, the French World Cup winner won the tussle, and Madrid got their man. Meanwhile, United because of this went to Blackburn Rovers and wanted to sign another one of Europe's hottest properties. 19-year-old Phil Jones was hot property for the Premier League's leading sides, after his breakout season at Ewood Park.
The Old Trafford side ended up signing the young Englishman for a fee believed to be £16 million, a big gamble at the time and he won a league title for the club but that is where the similarities between the Frenchman and the Englishman end. It's 2021 now and Varane's move from Madrid to Manchester has been agreed for a fee in the region of £34 million-plus add-ons.
How will Varane fit in at Old Trafford?
In what turned out for once to not be protracted, United get their man for an incredible price in today's market, although due to his contractual situation and Real Madrid's financial woes, the fee may in fact be reasonable nowadays. Varane and United have been two names linked to each other for years and finally United have the defender who they have coveted and dreamt of having.
Varane joins fellow newcomer Jadon Sancho in coming in to bolster United ready for a potential title challenge, with manager Ole Gunnar Solskjaer getting his number 1 targets for both the centre of defence and indeed the right-hand side of the attack. Both positions have been an issue now for years, Solskjaer will hope these additions bring to an end to the issues United have suffered with.
Varane brings with him a wealth of experience which includes a World Cup, four Champions League titles, three La Liga titles and a Copa Del Rey cup victory. The French defender's qualities are obvious, he is fast, good at passing and ball progression and a colossus in the air. The strengths of Harry Maguire and Varane, assuming it is the partnership on the opening day of the season, is almost a perfect modern-day partnership.
Varane's pace and Maguire's dominance in the air should complement each other superbly. The defending last season was questionable at times at best, with Lindelof and Maguire, there was always a question mark over the pairing despite Maguire being an elite central defender and Lindelof being an intelligent, quick, ball-playing centre back it just didn't quite work.
Despite Lindelof's clear strengths, the lack of quality in the air from the Swedish international was his downfall during last season, with Mbaye Diagne from West Brom showing his fantastic ability in the air and Lindelof's weakness in the air during the 1-1 draw at the Hawthorns.
Varane's ability in the air will be a welcome addition for Maguire, oftentimes big strikers would stick to Lindelof to exploit his aerial weaknesses and would stay well away from Maguire. Dominic Calvert-Lewin and Diagne are two examples of strikers who have highlighted Lindelof's weakness in the air so the addition of Varane will indeed be a welcome boost for Solskjaer who will hope to mount a Premier League title challenge.
Are United ready for a title challenge?
Sancho and Varane goes a long way to making United a better more cohesive defensive unit with Varane and certainly a better more cohesive attacking threat with Sancho on the right-hand side and Marcus Rashford on the left-hand side. United for the first time in eight years has a squad capable of challenging for a Premier League title.
Manchester City will inevitably be challenging for the title, although are yet to actually sign anyone albeit have been linked with a double swoop for Harry Kane and Jack Grealish. Liverpool has added Ibrahima Konate to Liverpool's defence which may turn out to be a shrewd acquisition. No matter what, United with the recruitment they have done will need to challenge for the title.
If they can sustain a title challenge this season and push their competitor to the end and win a domestic or potentially a European trophy then this season will be a success. Question marks remain from within the fanbase about United's Norwegian manager but there is evidence that he can get the best out of the squad he has at his disposal.
Adding Varane, Sancho and potentially another midfield player to the mix would certainly propel United into the reckoning with pundits before the season starts. The question remains do United have what it takes to mount a serious title challenge, with the squad they have? We will have to wait and see.