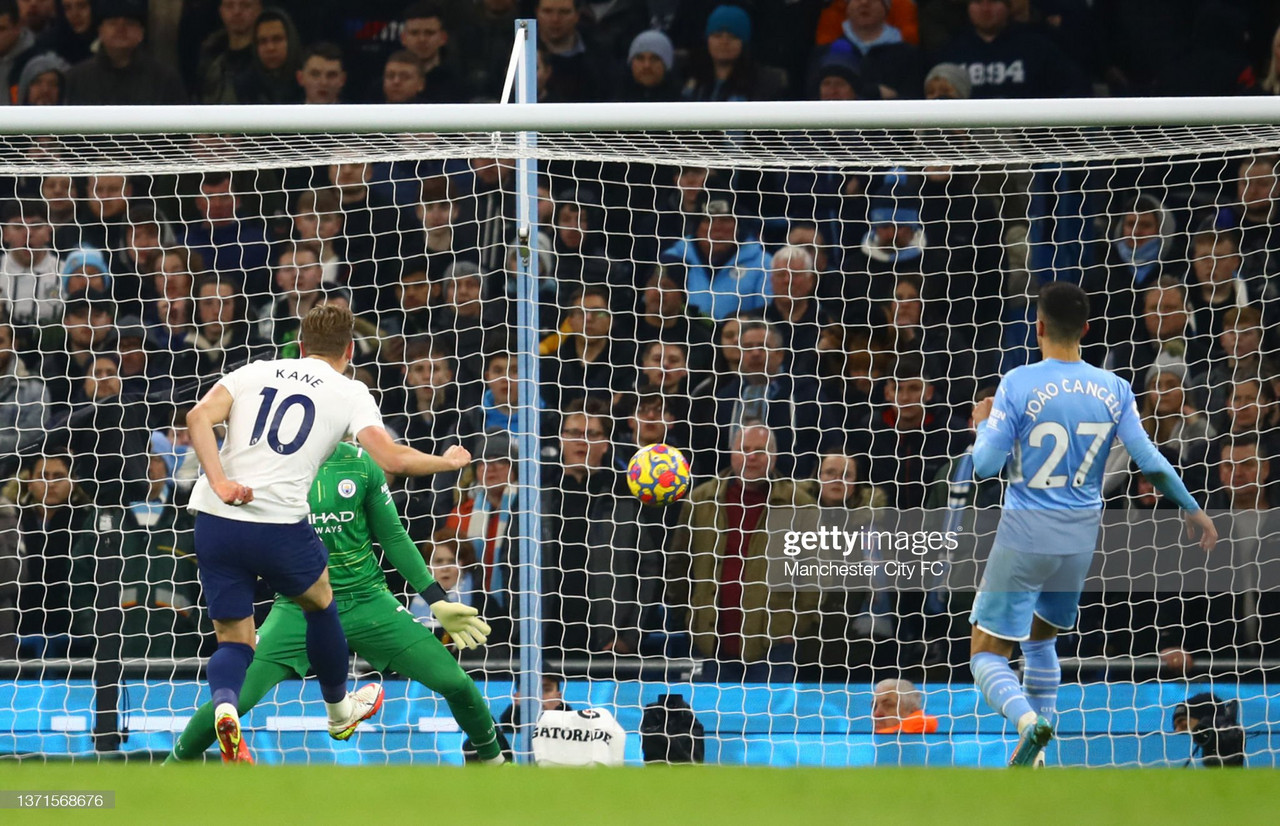 Harry Kane put in his best performance of the season to help Tottenham Hotspur complete a shock victory over table-topping Manchester City at the Etihad.
It was one of the most exciting games of the Premier League season and here are some of the takeaways.
Harryson back!
Heung-min Son and Kane were the dynamic duo once again. We haven't seen telepathy between these two quite like this since the days of Jose Mourinho.
This performance was very similar to Chelsea's efforts at the Etihad in January. Thomas Tuchel set his team up to defend and hit City with counters. The difference? An out-of-form Romelu Lukaku and a Hakim Ziyech who, at the time, was low on confidence.
Spurs are fortunate to have two world-class operators in attack. They can give their team a chance, even if with only a small percentage of possession.
Shades of Mourinho in Conte masterclass
Antonio Conte has been in the news a lot this week, largely for an Italian interview that seems to have been mistranslated. However, if there was a perfect way to respond to that then this would surely be it!
The point before talks about the similarities with Mourinho and it's hard to ignore. Defending in a low-block, springing effective counters, getting the best out of Kane and Son, while deploying some clever time-wasting techniques: it was straight out of the Mourinho playbook!
The current Roma boss has seen his reputation tattered over recent years but he never really got backing as the Tottenham head coach. When he did get Spurs performing well, though, they followed a similar blueprint to Conte's at the Etihad.
You would say that Conte is a closer guarantee of success because of his recent work with Inter Milan and Chelsea. But one might also argue that Mourinho was dealt a bad hand at Manchester United and then at Tottenham.
This was an incredible win for Conte and he was jumping around like a hyperactive teenager on a pogo-stick when Kane scored the winner. You can't help but want him to be Spurs' saviour. In order to be the saviour, however, Conte must find answers to other problems.
Can Tottenham keep winning the games that they're supposed to win? Can they break down resilient defences? Can they play with a high-line? These are the questions that Conte must crack if he is to bring success to this football club.
To move to that next level will require substantial financial backing from Daniel Levy, something Mourinho never got.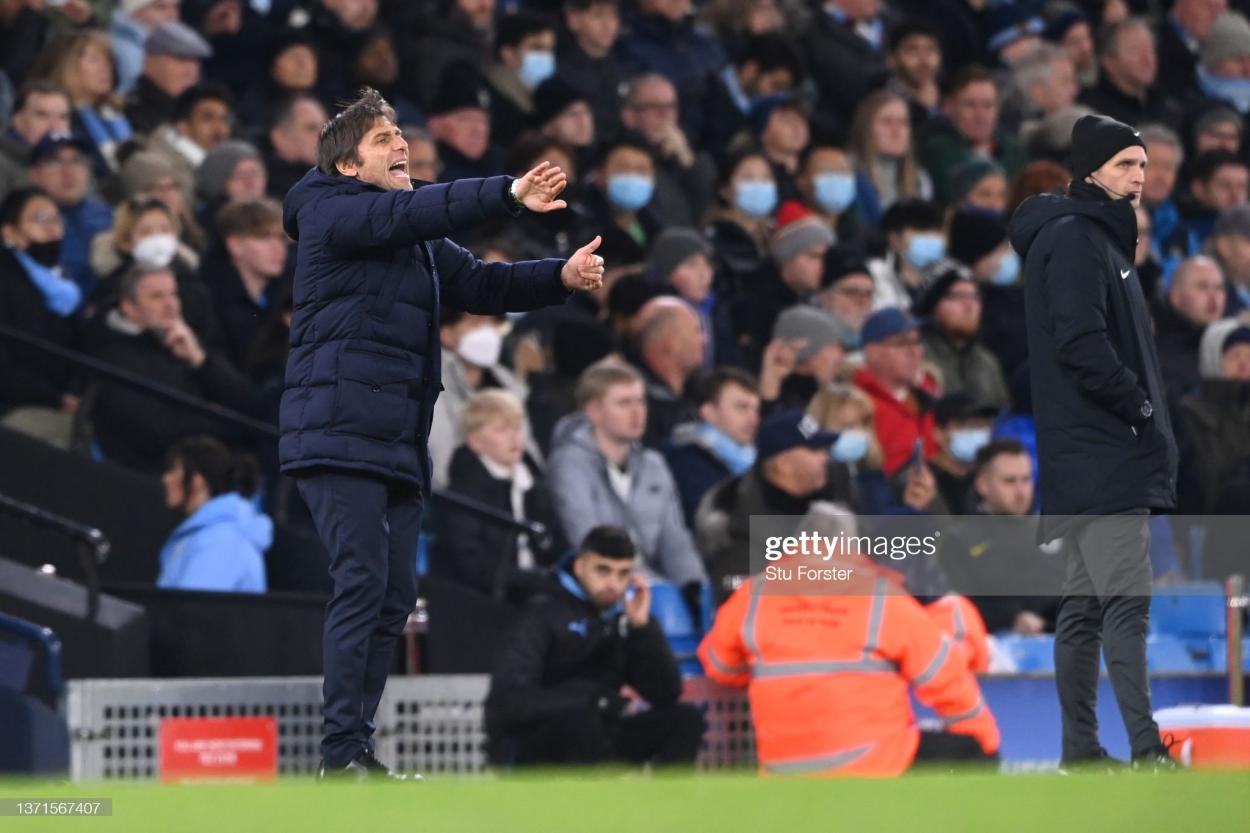 Complacent City
Pep Guardiola's men haven't lost since October and their performance today wasn't bad in the slightest. However, they seemed to take their eye off the ball in a defensive capacity and Spurs made them pay.
It's not often that you catch City at less than 100%. It felt like they were operating at a solid 80%. On most days, that would be enough to win the match. But they simply couldn't find an answer to the Tottenham front-three. Even Dejan Kulusevski caused a lot of havoc.
Guardiola noted that it was difficult to pick up the runs from deep of Son and Kane so perhaps, therefore, the midfield needed to take some responsibility in tracking back?
It was inevitably a strange day at the office for City. Dominating possession and territorial play but still they still looked as likely to concede as they did to score. A head scratcher for the former Barcelona and Bayern Munich manager.
Striker concern? Not really!
Guardiola played down links to Kane again this week. "It was never an option", he repeated in his post-match presser.
However, it's farcical to read too much into this one match.
City have just smashed five past Sporting Lisbon in the first leg of their Champions League last-16 clash. This is only their third Premier League defeat of the campaign. They need a striker? Cry me a river!
This squad, minus Jack Grealish, were a game away from winning a treble last season.
This defeat wasn't down to not having a prolific forward. It was down to missing out on the fine margins. They weren't tight enough at the back and they just weren't quite incisive enough in the final pass.
You can have the most clinical striker in the world but they won't score if you aren't creating the chances. The distance between Tottenham's players in their own defensive third was minimal; there was little room to exploit.
For all of City's creative wizardry, they just couldn't create clear openings and you have to credit Spurs for that. The two goals they did score came from an individual error and an unfortunate hand-ball. Sometimes, you have to say it's just one of those days!
Mark my words: City will be back!