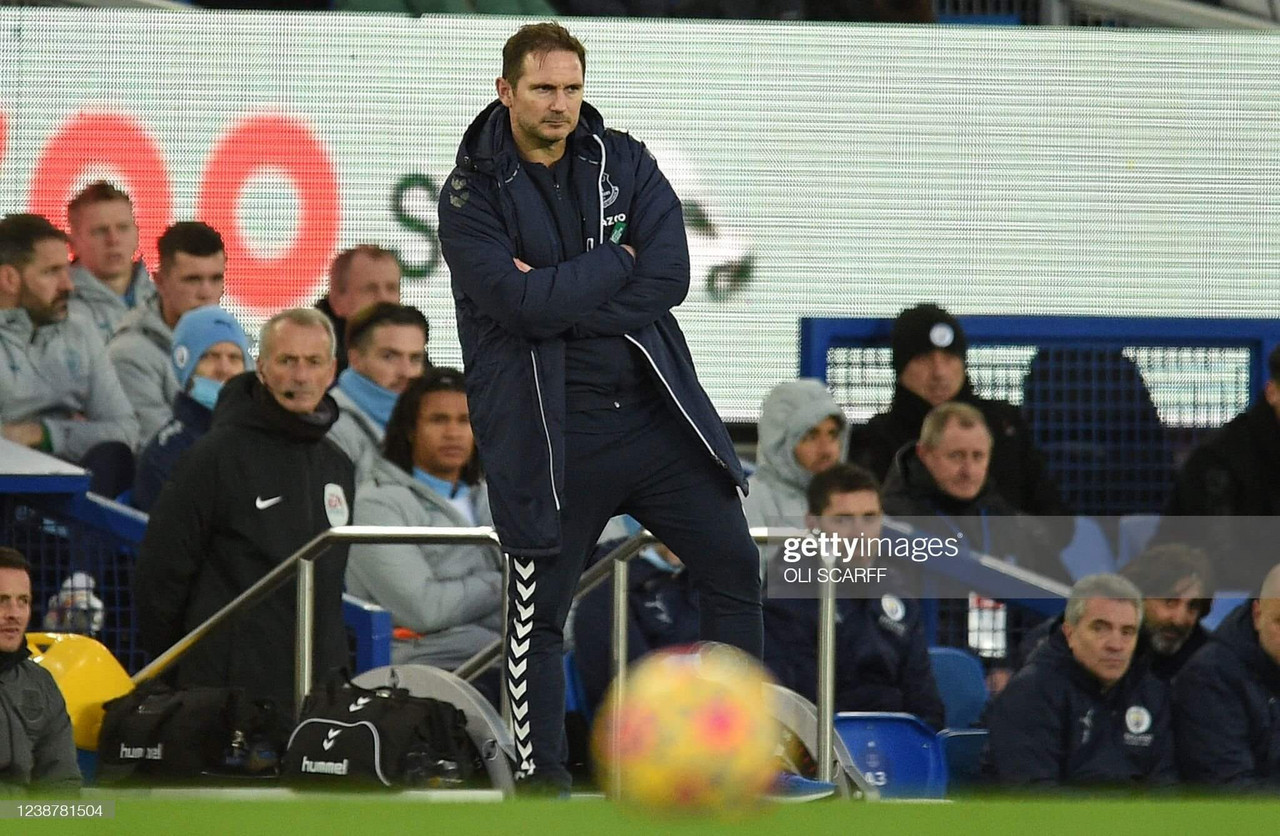 Frank Lampard spoke of his disbelief after Everton were denied a late penalty in their 1-0 defeat to Manchester City. The Everton manager was furious as he blasted VAR official Chris Kavanagh as "incompetent at best" and a "professional who cannot do his job right". The incident came shortly after Phil Foden's 82nd-minute goal gave the visitors the lead.
As the ball was played in, Rodri was running back towards his own goal when the ball struck the midfielder's upper-arm. Referee Paul Tierney waved play on and VAR failed to award the penalty, instead signalling offside. Everton coach, Ashley Cole, who was sat in the press box with fellow analysts quickly made his way down to the pitch after the final whistle and was yellow carded for his protestations.
"There is no doubt, there is no probably to it," Lampard said of the handball. "The decision is incredible, incredible, and that loses us the opportunity to get what we deserved. That's a VAR call. That's Chris Kavanagh, I spoke to the referee and they know it is a penalty, the question is that is it offside and it wasn't. That's the reason we have VAR.
"It wouldn't have needed more than five seconds to know it was a penalty. He [Kavanagh] should have either told the referee to give it or told him to go look at it. We've lost a point because of a professional who cannot do his job right.
"You start searching for whys and I can't think why. It is so incompetent to get it wrong. Pep will know, Everton fans will know, Man City fans will know, it was the clearest penalty you could give: arm is out – great, below the sleeve – great, I was waiting for the penalty. Incompetence at best, at worst who knows? I'll wait for the statement or apology they do when things are wrong but it will mean nothing."
Lampard's fury at the decision was no doubt infused by the way in which his side allowed City to break the deadlock. Foden pounced on an error by Michael Keane who mis-kicked his clearance after Bernardo Silva's ball into the Everton area took a deflection off Mason Holgate, wrong footing his centre-back partner.
"When you play against City you understand how the game may go: possession against you, having to defend, to press, to cover. We did it brilliantly," the Everton manager said. "The first half was immense from us. I think we deserved something.
"They created chances in the second half, nothing in the first. I won't criticise individual mistakes. [The goal] is a little freakish, cruel but that's football."
Meanwhile, Pep Guardiola was left praising a gutsy display and crucial win for his side, which extended their lead at the top of the table to six points with Liverpool not playing this weekend due to their participation in the League Cup final.
"I have to admit, really important," he said of City returning to winning ways after last weekend's defeat to Tottenham Hotspur. "The second half was much better for the consequences of the first half. We moved them and attacked better.
"Goodison Park for us is always so difficult. [It was a] good victory, another step. In general, we controlled in the second half, we had chances, not a lot because it was not possible but the second was half much, much better."
Even though City's goal arrived via some good fortune, Guardiola said that his team's improved second half display had warranted a slight moment of luck. He said: "We're playing a certain way, we did it and when [Jordan] Pickford made a good save, the question is 'don't give up, try again and try again' and in the end Phil was there to score.
"We were searching. We tried and we were there. We earned the good fortune. It's in our hands [the Premier League title race] but we have to perform like we are, I had the same feeling against Tottenham, Southampton and today we performed who we are. Sometimes win, sometimes don't but [we just have to] keep going and try to do it."