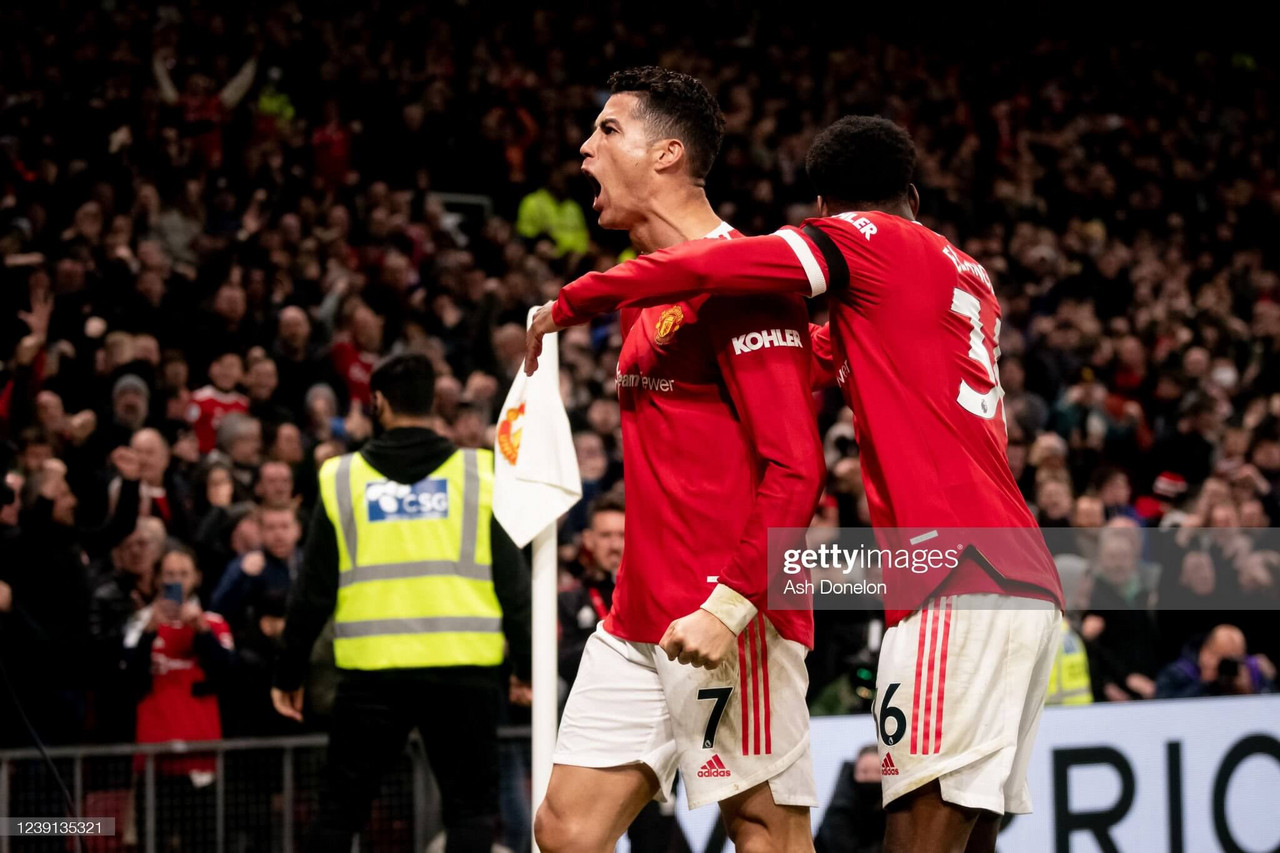 Cristiano Ronaldo 3 Tottenham Hotspur 2. In what Ralf Rangnick proclaimed as a 'must win' game in Manchester United's quest for a top-four spot come May, the interim manager had his No 7 to thank for securing this crucial victory. Theoretically, had it not been for Ronaldo, United would have lost 2-0. Practically, they would have been left floundering too.
Throughout the week, the question had been whether or not Ronaldo would feature after missing last weekend's humiliating derby defeat to Manchester City. A trip back home to Portugal while his team-mates were subject to a City masterclass had made headlines. His hip flexor injury was discussed, analysed and judged. And he had taken his time easing back into full training over the course of the week.
But come game-time, he showed why he is the greatest goalscorer of all time. Not only did the Portuguese supreme score the first hat-trick of his second-coming at United, but the 59th for club and country overall.
When Ronaldo sprinted away after scoring the third in the 81st minute — and with it, sinking Spurs — it was as if Zeus himself had landed at Old Trafford. All in red shirts flocked to the superstar agog, those in the stands sang "Viva Ronaldo" with gusto.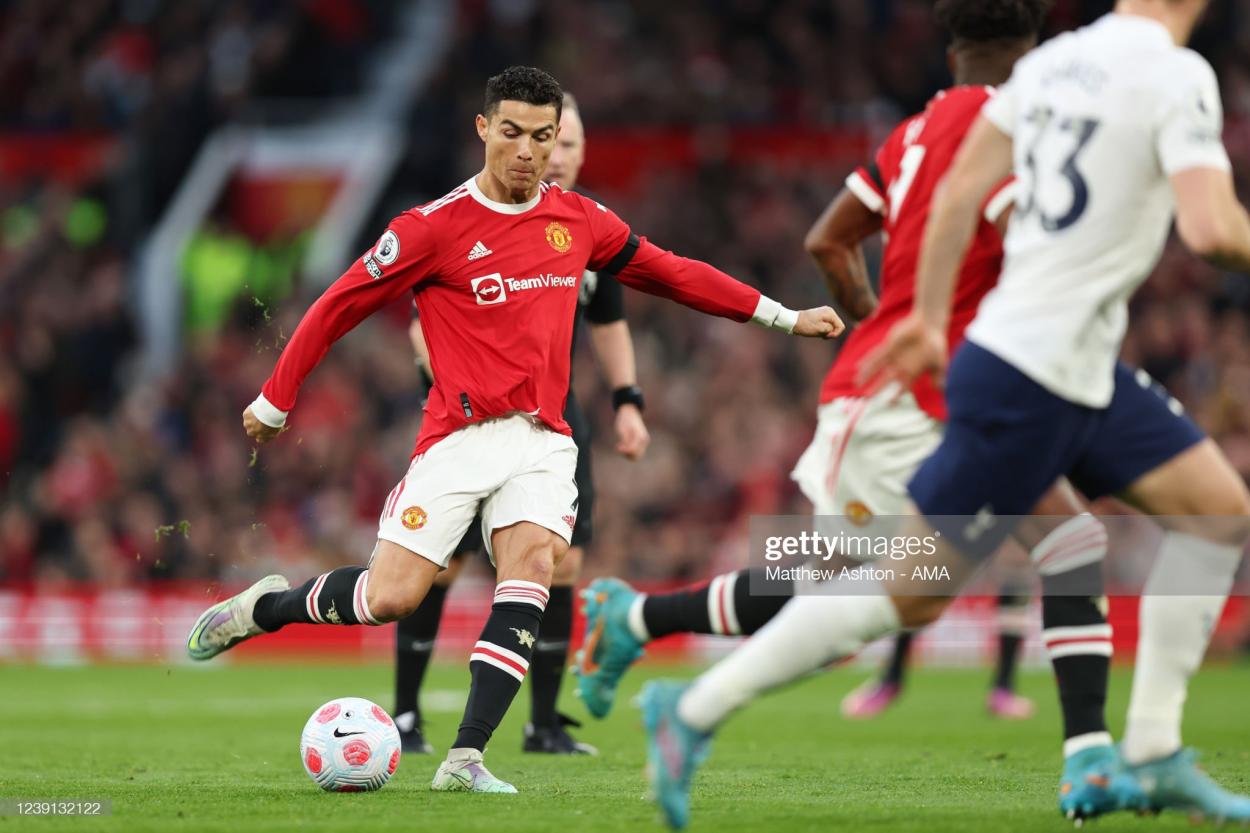 There will still be some who question whether Ronaldo — in his twilight years — should be the focal point of this United, but not those present in this corner of Salford for this game. He is the reason why United's top-four ambitions live another day. He is the player who brings the belief. He is the star of this show.
The numbers speak for themselves: Ronaldo has now notched up 807 career goals, which is the best record in the world as far as Fifa are concerned. United's expected goals in this contest was 0.93; that's to say that they would have been expected to score less than one goal given the quality of their chances, but Ronaldo put paid to that by conjuring brilliance.
His first, in the 12th minute, was a phenomenal strike that was released from his right foot and swerved and dipped before deceiving Hugo Lloris who could only dive in vain. Then, three minutes after Spurs had equalised, Ronaldo finished from Jadon Sancho's pass. His header, with nine minutes of play remaining and the scores level once again, featured an athletic jump, the utmost desire to meet Alex Telles's corner and fine execution to send the ball into the top corner.
No wonder Rangnick swiftly substituted his hat-trick hero to wrap him in cotton wool ahead of Tuesday's Champions League round-of-16 second leg with Atletico Madrid. Chances are he will be needed once more then.
Ronaldo papers over dysfunctional team
Ronaldo may have single-handedly dragged United to victory here, but he had only scored once in his last 10 appearances and the bluntness of Rangnick's attack had started to become a concern. This performance will act as a confidence-booster for both Ronaldo, who like any forward does still need goals to fuel his ego, and United.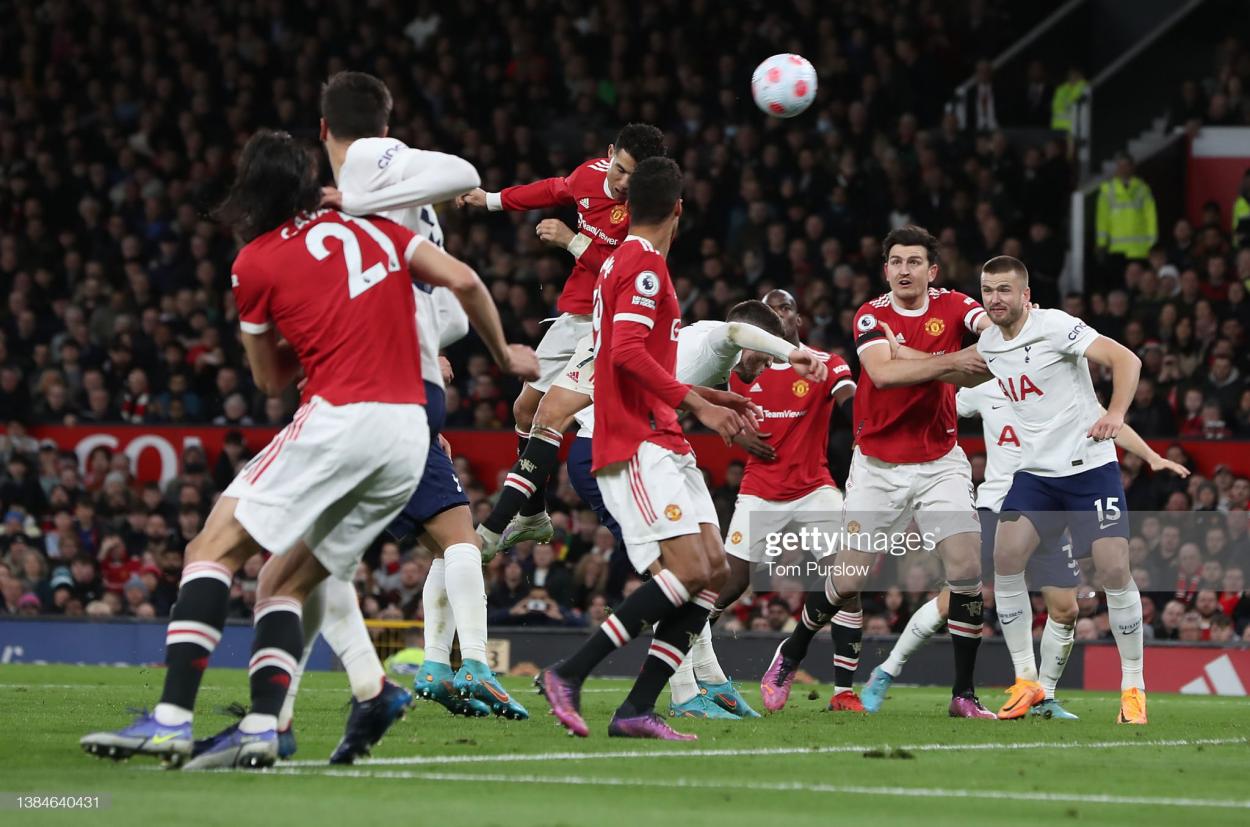 Apart from Ronaldo, what were United like? Well, they were similar to many other games under Rangnick and beyond. They look a confident team when they score first and take control of the ball. But whenever things start to go wrong, they run to take cover, shun the ball and look vulnerable when out of possession.
Ronaldo papers over the cracks. Harry Maguire continued his struggling form by suffering at the hands of Harry Kane and Son Heung-min before tucking the ball into his own net for Spurs' second. Telles provided the handball which allowed Kane to strike from the penalty spot. Bruno Fernandes and Scott McTominay were absent through illness and injury respectively, and Marcus Rashford did little in his third league start in the last 12 matches to suggest that a fourth will be on its way anytime soon.
United are still a dysfunctional team and Antonio Conte will have been frustrated that his side, who arrived having trounced Everton 5-0 in their last league outing, couldn't win this game, never mind hang on for a valuable draw. They offered more than their hosts for large spells (possession, duels won, corners, tackles and expected goals) but, crucially, United had Ronaldo.