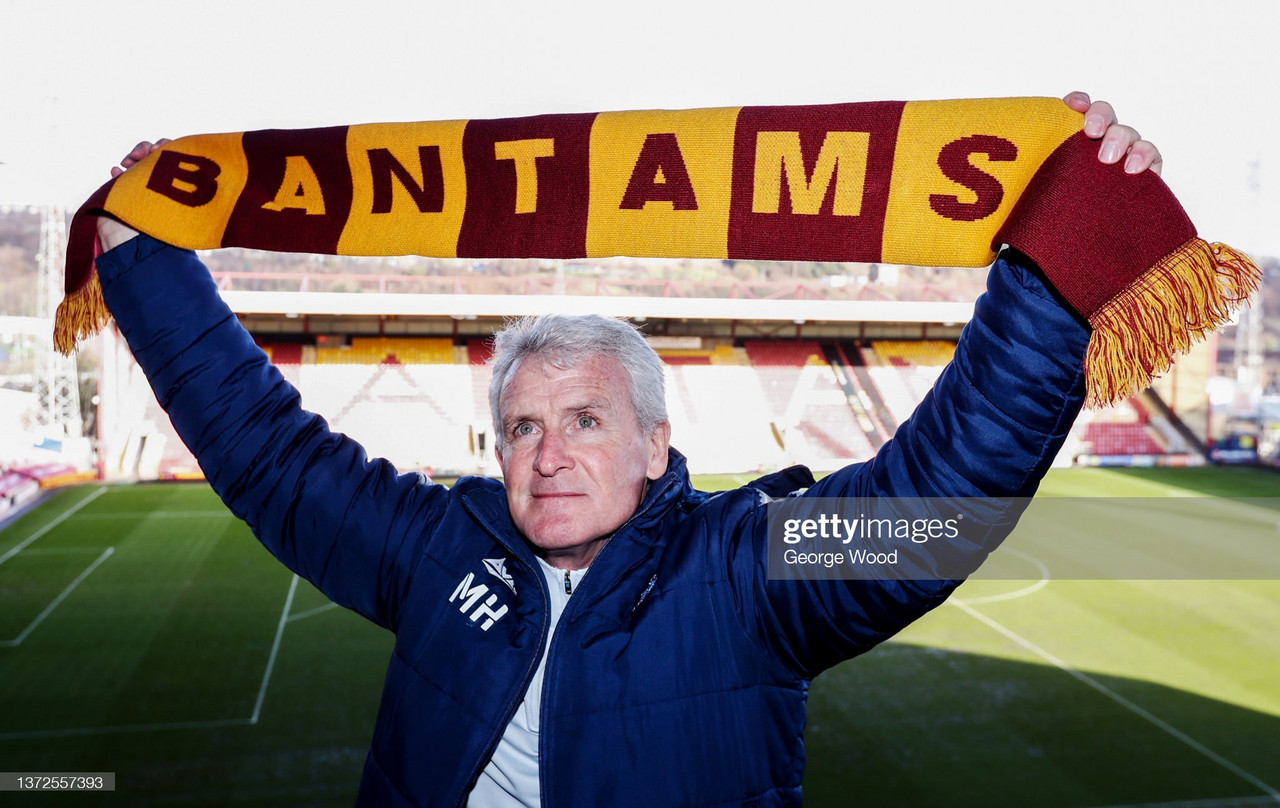 It is that time in the season where supporters begin to notice improvements in players, heads go elsewhere and the debate of who deserves a new contract with their club open up- and it's more important than ever at Bradford City.
The arrival of Mark Hughes has been a breath of fresh air to the supporters and some of the players, but with a roster of his own signings expected in the Summer and 10 contracts finishing come June, who should stay and who should depart the Utilita Energy Stadium?
With the additions of Jamie Walker on a permanent, Lee Angol already announcing his extension and Dion Pereira teasing his return, which players can supporters expect to see in July's return?
Elliot Watt
A player of incredible potential and confidence currently in his qualities, Elliot Watt has shown vast improvements under Hughes. Having already made 36 appearances this campaign, Watt has notched two goals and two assists which aren't the most impressive stats for a creative midfielder, but he has been trusted in a deeper role to accommodate a 4-2-3-1 formation.
With some of the best vision in the league, Watt has already been linked with higher-profile clubs so it might be tricky to hold onto the 22-year-old, but supporters can hope the influence and expertise of Hughes will be enough to hold onto the exciting youngster.
Levi Sutton
Similar to Watt in position wise, Levi Sutton is a fan favourite at the Utilita Energy Stadium, but hasn't necessarily flourished under Hughes so far.
Having joined from Scunthorpe Untied, Sutton had a lot to prove to himself upon joining and has done so with an incredible work ethic and consistently putting his body on the line for the Bantams, even scoring some brilliant goals in his time such as Walsall and Tranmere Rovers away.
However, Hughes doesn't seem to favour the midfielder compared to Watt, Gareth Evans or Callum Cooke so it may seem unlikely Sutton will want to extend with the club. If not, and if Sutton can impress the experienced manager, it's likely we could see the best version of Sutton so far.
Matty Foulds
Bradford supporter, player and recent father, Foulds has had a 2022 to remember so far. The injury to Liam Ridehalgh allowed Foulds to get his chance, after spells with Everton and Como in Italy, and the defender has looked decent, making some good tackles and clearly showing he cares.
However, Foulds has only really had good form in recent months and hasn't necessarily pulled up any trees, and questions could be asked as to whether the Bantams may let the defender go to add some more quality to the left-back position. Foulds does offer impressive cover however, and is still fairly young to improve under Hughes.
Charles Vernam
Despite struggling with injuries consistently this campaign, Charles Vernam remains one of the most exciting players to don the Bradford City shirt since Mark Marshall in the 2016/17 season.
With some mesmerising feet and incredible skills, Vernam is a must-keep for Hughes who appears to favour using wingers in the City side, so with Vernam available down one wing it offers a very dangerous option for the Bantams, and someone who has the ability to change a game.
Furthermore, Vernam is just 25-years-old and is set to enter his prime, which is something all Bradford fans will be excited to witness should he stay.
Paudie O'Connor
Club captain Paudie O'Connor has quickly become somewhat of a stalwart since joining the Bantams, showing impressive class in defence despite having played with numerous different partners in a back four.
But being just 24, receiving reported interest from higher divisions and representing the club as someone who is willing to get stuck in and put a strong challenge in (even if he's missing a tooth!), Paudie is crucial to keep hold of and to continue his unblemished partnership with Yann Songo'o in defence.
Callum Cooke
Another player that supporters will surely be hopeful of Hughes extending the contract with, Callum Cooke has shown composure and creativity in the attacking midfield position this season.
Despite admittedly becoming more of a coasting role under Derek Adams, Cooke has come back into the game and is playing with more confidence, looking really impressive under Hughes since the managers arrival.
With seven assists as well and some fantastic stats with passing accuracy and long-balls, Cooke is still only 25 and Hughes could unlock a really dangerous player should the midfielder opt to extend his stay with the Bantams.
Gareth Evans
Under Adams, Gareth Evans' career looked all but over with the Bantams, reportedly training away from the first team and having a rather scarred relationship with the supporters.
However, since Hughes arrival and a fresh start for Evans, we're beginning to see the player Portsmouth fans adore, with his brilliant work ethic and clear experience on and off of the ball, Evans is a player who looks likely to extend under Hughes. With that being said, the midfielder is now 33, so his age might be taken into consideration as he begins to wind down the twilight years of his career.
Theo Robinson
Theo Robinson will certainly be remembered for that goal against Swindon Town earlier on in the season, but apart from that, he hasn't contributed much and it looks unlikely he'll extend with the Bantams.
Being 33 he is starting to see his career wind down like Evans, but he hasn't shown the necessary quality to really push for a starting position with the Bantams and it would certainly be surprising if Hughes opted to extend, as he hasn't really been involved with the first team recently since Adams exit.
Caolan Lavery
A name that will certainly be up for discussion amongst City supporters and whether he deserves an extension, Caolan Lavery seems to be favoured under Hughes.
Having made 17 appearances this season but only managing one goal, Lavery has struggled with injuries and is yet to really make an impact under Hughes or Adams, but the quality is evident. A hard-working attacker who may be able to accommodate a target man like Andy Cook, he's certainly a controversial name and one who may split opinions on what his contract decision is.
Richard O'Donnell
It looks inevitable that Richard O'Donnell's time with the Bantams will come to an end in the Summer.
With Hughes preferring loanee Alex Bass, O'Donnell seems to have taken up more of a coaching role almost helping to influence Bass and other younger goalkeepers, but his playing days with Bradford certainly seem to be over.