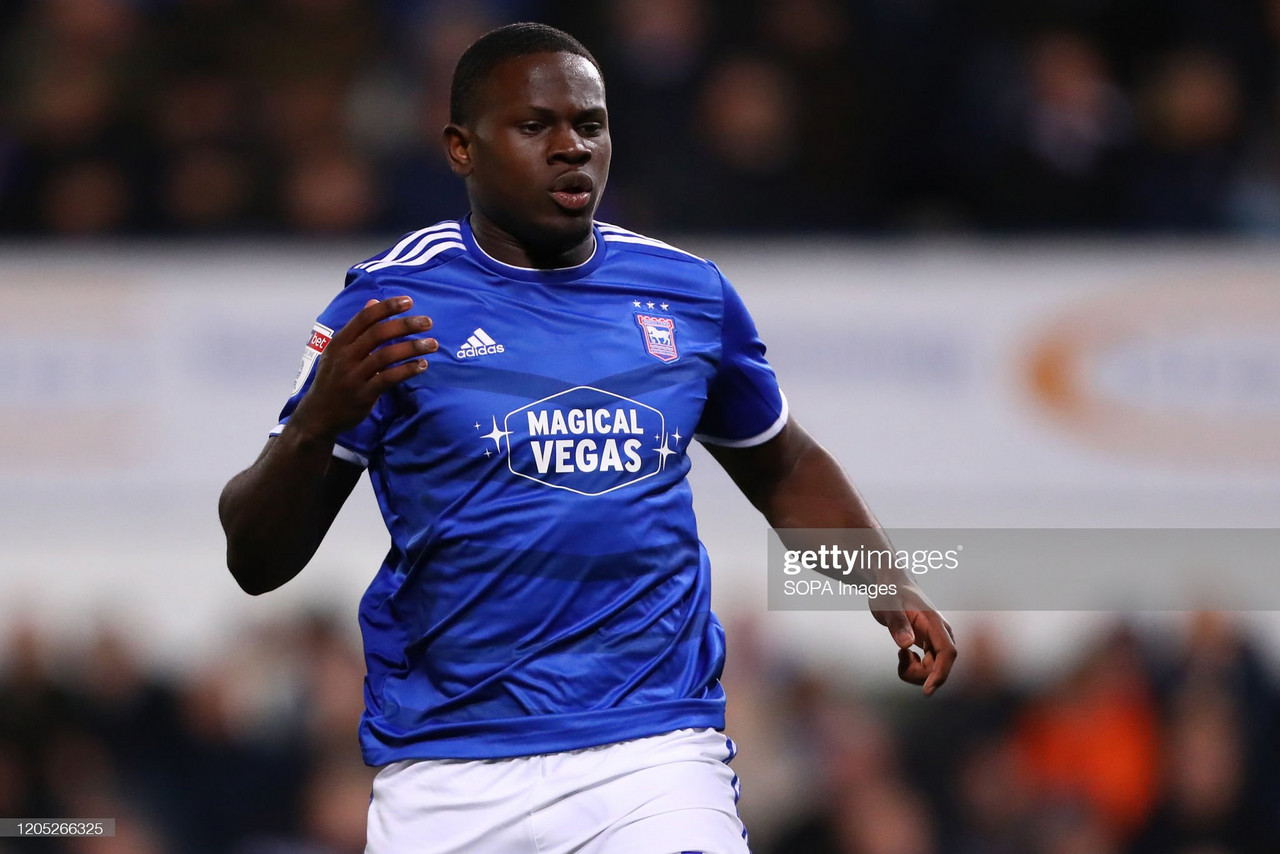 Tyreece Simpson is set to depart Ipswich Town this summer after expressing his desire to leave the club.
The club announced last week that the young striker had informed them of his wishes to move on from the League One side at the end of this season.
Simpson has not featured for the Tractor Boys since his surprise recall from a successful loan at Swindon Town in January.
This came following a spell where the 20-year-old scored 11 goals in 30 matches for the Wiltshire outfit, in what was his first taste of senior football.
Simpson has not been training with the Ipswich first team in recent weeks.
Simpson's breakthrough
Simpson joined the Ipswich academy at the age of 16, initially signing a two-year scholarship. A keen rugby union player, he had turned down a professional contract from Leicester Tigers in March 2018 to pursue a career in football.
Following the club's relegation to League One in 2019, the forward made his debut in the Town's first EFL Trophy match against Tottenham Hotspur's U23s in September 2019, appearing as a substitute.
After continuing to impress in the youth setup, the striker was given his league debut in February 2020, as a substitute in a 2-1 defeat at Blackpool.
Speaking following the match, then-boss Paul Lambert said: "He's a strong kid with a nice touch. He's one for the future is Tyreece."
Off the back of his league debut, Simpson signed his first professional contract, putting pen to paper on a two-year deal until 2022, with the club holding the option of a further year.
He made a further two substitute appearances in the next two matches against Fleetwood Town and Coventry City, playing a total of 57 minutes of third-tier football.
However, football was then brought to an abrupt halt due to the Covid-19 pandemic and Simpson didn't get the chance to continue his run of matches in the Ipswich squad.
It begs the question as to what could have been had the season continued?
Swindon success
After making a further three first-team appearances during 2020/21, including his first two starts in the EFL Trophy, Simpson signed for League Two side Swindon Town on a season-long loan in July 2021.
Handed the number nine shirt, Simpson made his full league debut in a 3-1 victory at Scunthorpe United on the opening day of the season.
After impressing in his early weeks, he scored his first senior goal in a 1-0 win over Mansfield Town at the end of August.
Speaking a few days later, Robins' boss Ben Garner was full of praise for the way Simpson had adapted his game at senior level.
He said: "I'm really, really pleased with Tyreece's progress in this early period. I think sometimes when you've got a player who is so physically strong, you forget he's only 19 years old. He plays like a senior centre forward, and he works ever so hard every day.
"He wants to learn, he wants to improve, he's a big character in the squad – he's a bit of a practical joker – and he's just getting better and better."
Simpson continued to impress and scored a brace in Swindon's victory at Oldham Athletic in October, though Garner believed the striker deserved another that afternoon.
He said: "No way was the ball out of play when it was crossed in. It's a real shame because a talented young 19-year-old has just been robbed of a first league hat-trick.
"Tyreece has been brilliant this season, but he should have been taking the match ball home tonight."
Simpson went on to feature in an FA Cup tie against boyhood club Manchester City and played in all 25 league matches, all bar one from the start, until his temporary spell was cut short.
He scored his 11th and final goal for Swindon in his last match for the club against Bristol Rovers in late January.
Return to Ipswich
Simpson was recalled by Ipswich on January 23. The club claim the reason for the striker's return was to resolve a 'contractual issue'.
It is believed Ipswich were planning to send Simpson back on loan before the January deadline, once the contract situation has been sorted. It seemed likely he would return to Swindon for the remainder of the season.
Ipswich manager Kieran McKenna, who had only been in charge for a month and had not met Simpson previously, said: "Hopefully they'll get resolved over the next few days and then we'll sit down with Tyreece and discuss what's best for him for rest of the season.
"I got to meet him on Monday. He's a lovely kid and we want him to be a part of the future and a part of what we're doing here.
"Obviously he is a player we value very, very highly. We've been keeping really close tabs on what he's been doing at Swindon and are really pleased with his progress."
However, no contract negotiations came to fruition, with Simpson remaining at Ipswich once the deadline had passed.
With many Blues fans baffled by the 'odd decision', they had hoped to see the prospect get some first-team minutes during the second half of the season.
This wasn't to be. The club was struggling for goals with senior strikers James Norwood, Joe Pigott and Macauley Bonne all misfiring, and Kayden Jackson out inured, there was still no sign of Simpson in the matchday squad.
Barring a brief period out with injury, Simpson was training and playing with Ipswich's U23s and it soon became evident the striker was not happy with the situation, given how much success he found in the first half of the season.
Rumours circulated that Simpson's agent was too demanding and turning the youngster's head elsewhere.
Speaking at a fan's forum, Ipswich's chief executive, Mark Ashton, said: "This football club will not in any shape or form be agent or representative led. It doesn't work. Doesn't work for me, won't work for this ownership group.
"Ipswich Town will decide where its young players go, what's best and what contracts are put in front of them and how that works and how that pathway works to the first team.
"We have to protect the football club and if we don't show strength at certain times, trust me, our football club will get walked all over. I've seen it time and time again."
It therefore came as little surprise when, last week, the highly-rated prospect announced his intentions to leave the club to pursue other ventures.
Where to next for Simpson?
Despite Simpson expressing his desire to leave this summer, it seems highly likely that Ipswich will trigger the one-year extension option in the striker's contract.
The club will not be willing to let Simpson depart on a free transfer, so the extension will be triggered in order to receive a fee rather than compensation, should a suitable buyer be found.
The most obvious destination initially became a return to Swindon, however Garner has confirmed the club will not be in the market to bring the 20-year-old back to the County Ground on a permanent basis, despite the club's transfer embargo being lifted on July 1.
"That's going to require a transfer fee and that's not a position we're in as a football club at the moment," the Robins boss said.
"I'd just like to see Tyreece kick on in his career now. He came here and did great, and he's got the potential and ability to do great things in the game whether that's at Ipswich or whether that's somewhere else. I'd just like to see him make the most of his talent and potential moving forwards."
Simpson, though, is unlikely to be short of suitors, including those from the Championship.
It is understood that Luton Town, Cardiff City, Hull City and Barnsley were all linked with the prospect in January and could look again this summer, with the Hatters particularly keen on the 20-year-old.
Will this turn out to be a decision that Ipswich live to regret, or will Simpson be wishing he remained at the Tractor Boys, who had an offer on the table.
Either way, the striker has a very bright future ahead of him if he plays his cards right.