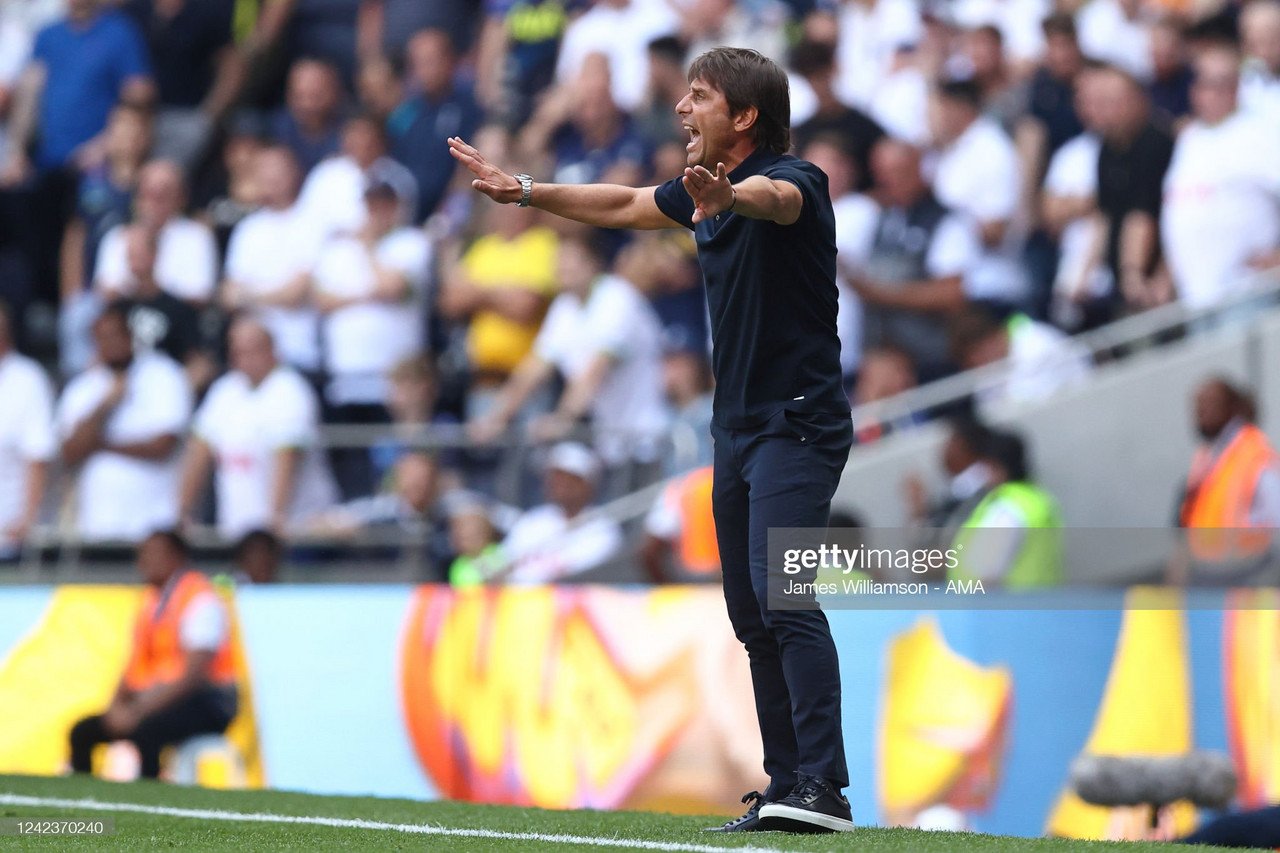 Tottenham Hotspur have struggled for years to create an identity from which build to a team from. They have gone from a limited team that relied on Harry Kane every week to a very well-organised and structured side with quality throughout.
Conte's Vision and Revolution
This team began to take shape once Antonio Conte was able to take over the reins, which included a deal to ensure he was in charge of everyday running and transfer targets, as since he has been on board it has been calculated and thought out transfer business.

They have gone from wasting the profit from Gareth Bale's sale on a multitude of average players to a team that has balance and quality throughout.

Conte has managed to stamp his style onto the club the same way he managed at Chelsea and Inter Milan and Italy. A world-class manager that manages to command respect from all his past or present players.

Conte often sticks with his trusty 3-4-2-1 that very much relies on starting play deep within Spurs' territory and overpowering the opponent, such as by stacking one side of the pitch. This creates situations where they overpower the opposition with three to four players to create space and passing lanes that can be exploited by the attacking three, with Kane often dropping deep to pick the ball up and play in between the lines.

With the three central defenders, Conte prefers to play a more-offensive thinking centre back in the middle, acting as a libero - a term meant to describe a ball-playing defender who is tasked with playing higher up the pitch to force the ball forward. Fortunately, they have players like Pierre-Emile Hojbjerg who can cover gaps left by this position, acting as the anchor to shore up the back line.
Big Summer Window
Spurs clearly have a lot to improve on, especially working in between the lines, which should be massively helped by the new signings of Clement Lenglet who himself is a player who is accustomed to playing out from the back and being comfortable on the ball.

Double that up with the absolute steal of Ivan Perisic and you have a roaming wing-back who will be able to create plenty of chances going forward and will suit Conte's style of having the wing-backs high up the park and building chances. Perisic will also be able to take players on with ease, which is a big improvement on the likes of Sergio Reguillon and should ensure they have improved in that area.

Another signing not to be overlooked is Yves Bissouma who will massively improve the Spurs midfield and will most likely take over the position played by Harry Winks. Bissouma was an important player for Brighton and is known as a box-to-box midfielder with very well-rounded attributes that has a great defensive mindset which stands out every week.

The marquee signing for Spurs is Richarlison, who has so far divided opinion on his work effort and attitude. However, on his day he is a match for any defender and possesses the skills to unlock even the most stubborn defence. It is unclear where he will slot into the team, but for a fee in the region of £50m it is clear he hasn't been brought in to watch from the sideline, which suggests a small tweak in formation or a surprise in the starting 11.

It is vital for Spurs' season that Harry Kane and Heung-Min Son keep fit and hit the ground running. The pair of them will be the key players of the season and will be heavily relied upon.

Big things are happening at Spurs and the wheels are in motion for Conte's men to march onwards and upwards towards the top four and potentially even higher.
Spurs' Best XI
Spurs will be going into the season with a massively different team donning the 3-4-2-1, with an expected starting 11 and roles as follows.

Goalkeeper - Hugo Lloris, has been a long-serving member of the squad and commands respect from the whole team. Throughout the season Lloris will ultimately save Spurs a massive amount of points through his great shot-stopping and positioning.

Left Centre Back - The recent purchase of Clement Lenglet will be a massive presence in the back line with his assured defending which is only complimented by his composure on the ball. With this preferred tactic it is vital that the back line has the assurance to hold the ball and pick out the wide men or creative central players to start attacks and he fits the bill to a tee.

Central Centre Back - Eric Dier has quickly become Conte's go-to central defender. This is very much down to the positional and passing awareness that he learned and improved on while playing in a central midfield role. He is the orchestrator at the back and will continue to do so in a leading role. He is a massive aerial threat in the opposition's box and will be a mainstay of Spurs this season.

Right Centre Back - The final piece of the puzzle in regards to the back three is Christian Romero, who has quickly impressed since joining the team and becoming a major cornerstone of the defensive structure. Out of the three at the back, he is more of a no-nonsense defender who wears his heart on his sleeve and takes no prisoners.

Left Wing-Back - This position is very much up for grabs between Perisic and Ryan Sessegnon. On one hand, you have the experience of Perisic, but on the other the youthful exuberance of Sessegnon. It is expected that once Perisic is up to speed he will be relied upon to run the wing, leaving Sessegnon to learn from him, which is a massive plus for Spurs going forward.

Right Wing Back - This could arguably be the weakest spot in the position and is evident by Conte looking to bring in a proven winger to take this spot in the 11. However, it looks like Djed Spence is very much one for the future and should be afforded the chance to claim this spot as his own. His performances last season with Nottingham Forrest earned rave reviews and will only act to help him build on that with his first Premier League season.

Central Midfield - It is expected that this position will be the massive battle of the season, between Hojbjerg and Bissouma who both will be fighting to play as that anchor/box-to-box midfielder. Both players have massive qualities and it is very much up in the air who will be viewed as the number one pick.
Due to Conte already having him up to speed it is expected that Hojbjerg will get more game time, but if called upon Bissouma could quickly flip it around and make the position his own. This position will be important for Spurs this season, with this player expected to be the insurance to the back three and help massively on the defensive side to ensure Tottenham don't become outnumbered on quick counters.

Central Midfielder - Rodrigo Bentancur is vital to the way Spurs play and will be relied heavily on to bring a creative side to the centre of the pitch. He has a wealth of experience and will use this to create passing lanes and play up alongside the likes of the front three to create havoc for the opposition. Bentancur will be expected to have a lot of the ball and will often pop up in between the lines to try to force the issue.
Front Three is Streets Above
This is seen as the massive X Factor of the Tottenham side, as they possess arguably the most feared front three in the Premier League. Son and Kane have been a lethal duo for years together and have garnered a great bond that allows them to play with freedom. The link the pair have is evident during every game with both players regularly picking each other out for chances that ultimately have led to a lot of goals.

Add the explosive nature of Dejan Kulusevski and you have a front three capable of unlocking any defence they wish. It is expected that Richarlison will swap between all three positions if needs be with fatigue and injuries, but this is a feared 11 that can do big things this season.

This only goes to cement the idea that the top four is the minimum that Conte can achieve, with this team capable of surprising many and pushing for the very top accolades. Conte's vision is coming true - now it's time to step up and be counted in the biggest league in the world.