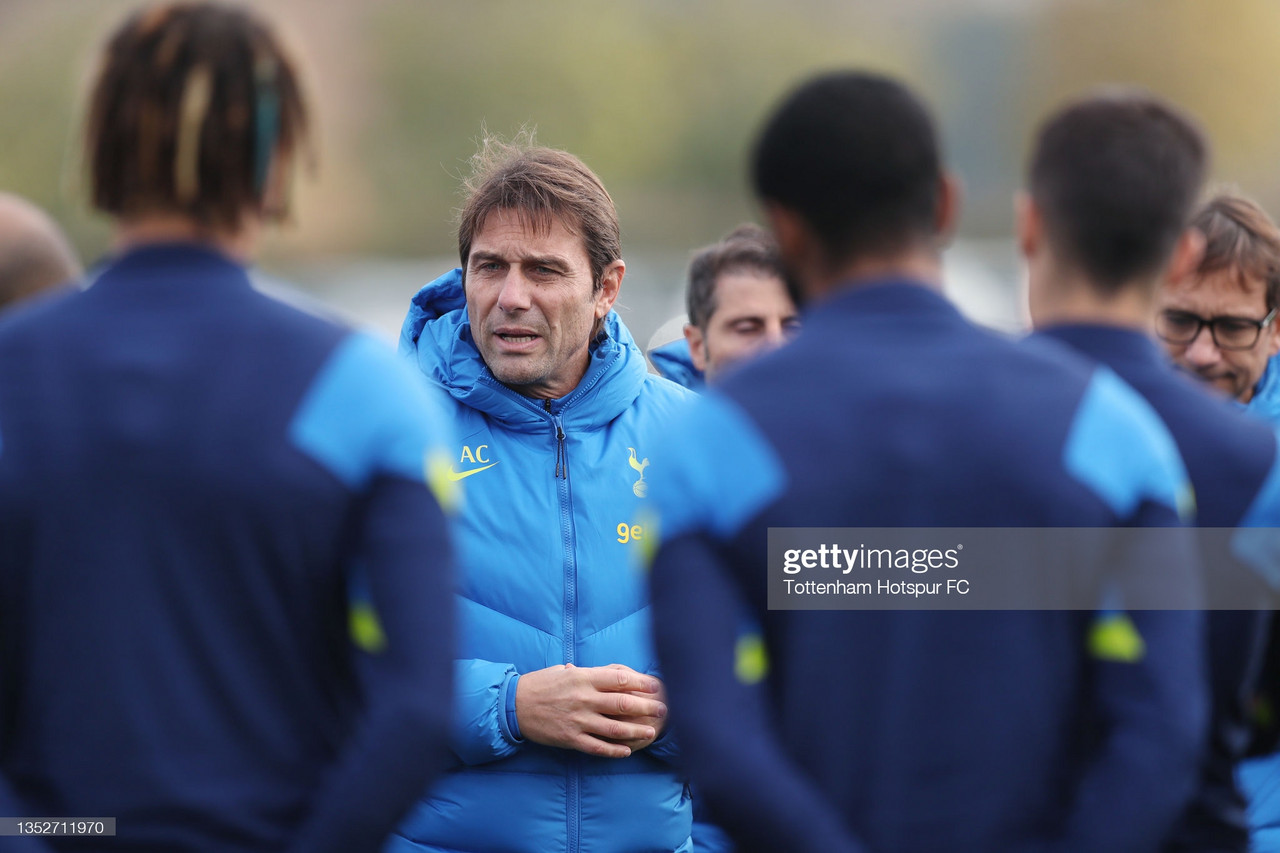 Antonio Conte spoke to the media this morning ahead of what he hopes will be his first Premier League win as the head coach of Tottenham Hotspur this weekend against Leeds United.
Spurs welcome Leeds to the Tottenham Hotspur Stadium in a Sunday early-evening match, with the Italian now opening up on injuries and what he has learned in his first two weeks.
Cristian Romero picked up a thigh injury during Argentina's 0-0 against Brazil this week, with the centre-back going down clutching his leg following a challenge.
Despite trying to play on, he was eventually removed from action and Conte has now revealed that it will still be another 7-10 days before Tottenham know how long he will be out for.
Conte said: "Bad news about Cristian Romero and his injury. I spoke with the doctors and now is right to wait seven to 10 days for another scan to understand the time he needs to recover."
Giovani Lo Celso, who also appeared for Argentina over the international break, came away with a knock of his own, according to the Spurs boss.
Lo Celso will now need to be assessed to see whether he is available for Sunday.
Conte said: "Also Giovani Lo Celso didn't come back perfect physically. I don't know about him if he'll be available (for Sunday). For sure Romero is not available, Lo Celso I don't know. The rest of the team, we have all the players."
Conte also revealed that Pierre-Emile Hojbjerg, who also picked up an injury and did not play for Denmark over the international break, will be assessed in training today ahead of Sunday.
The mercurial talent of Tanguy Ndombele has long since perplexed Tottenham managers, with Mauricio Pochettino, Jose Mourinho,, Ryan Mason and Nuno Espirito Santo struggling to get the best out of him.
Conte has now claimed that Ndombele will have to work harder than the rest of the Spurs players, while also noting that former Spurs managers have struggled to find his best position.
He said: "Yeah, I have seen that many managers struggle about this situation, about the position. For sure Tanguy has the quality. At the same time he has to understand that there is a team and he has to play into the team.
"I think it means that it is important to keep order and to do what the position asks you to do.
"For sure with Tanguy we are working. We are working very hard. He has to work much more than the others, because as you say he has talent but he has to put this talent into the team for the best of the team, not for the single player.
"In my football I have an idea and in this idea there are tasks for the players. Every single player has to know what he has to do. Otherwise, if every player just goes and runs around the pitch, I think it will be a mess."
Harry Kane has only scored one Premier League goal with Tottenham so far this season, yet netted seven with England in just two fixtures over the international break, albeit against Albania and San Marino.
Conte claimed he was happy to see his striker scoring goals as it will likely serve as a boost for his Tottenham form.
He said: "Harry scored seven goals. To score is never easy. Never. I am happy for him and the national team because now England is ready to play the World Cup in Qatar. It is a good achievement.
"You saw Italy, we forced to have the play-off. I am happy for Harry because he scored with England. We are talking about a world-class striker.
"He is an important player for us. To score is a boost for him. And I'm very happy because I have the opportunity to know him much more. I understood that he's a top player in many aspects.
"He wants to train very, very hard and improve. That is fantastic for me because my first task is to improve the players, bring the players to another level. Another step. In this team, I think many players can do this."
Oliver Skipp is unavailable for Spurs this weekend after picking up five yellow cards in the opening 11 Premier League fixtures, meaning Conte will have to break up the reliable partnership with Hojbjerg.
In his press conference, he revealed that both Harry Winks and Ndombele were in line as possible replacements.
Conte said: "In this moment I have to proceed because Skippy he can't play, he was banned for one game. In the previous games we played with Skippy and Hojbjerg.
"Also we have to see, I hope today to have Hobby with the team, because he also was injured in the last week and didn't work. Then there is one between Winky and Tanguy Ndombele. (Laughs) Not many choices but we have to go."
One on One Chats -
Conte also revealed that he has held one-on-one chats with the Tottenham players over the past few weeks.
He revealed: "It happened and especially when you arrive at a new club to speak to all of the players. Then you try to take a moment to have one to one with the players, to know them in every aspect, not only through the football aspect.
"I think it's good. They have to know me and I have to know them. I have found players with a great will to work and a great will to improve, to try to do something special for this club.
"I'm the first person to know that we need a bit of time because this team is a young team, but in one hand maybe we don't have the right experience and this is not good, but in the other hand we have players who are very young and if you work we can improve all together and I think this is good for me, for the club and for the players."
Two Weeks of Training -
Conte has held training with his non-international players over the past two weeks and was asked how impressed he has been with them.
He said: "I think that we were very focused to work on the pitch. For sure when you arrive at a new club, you try to be focused and in the situation you have to improve on the pitch - tactically, physically, also mentally.
"We work very well in these two weeks and during the international break, we work well with the players who we had with us.
"Good work, it was intensive work in many aspects. But also with the players that came back, we started to work yesterday. Today we'll have all the players I think."