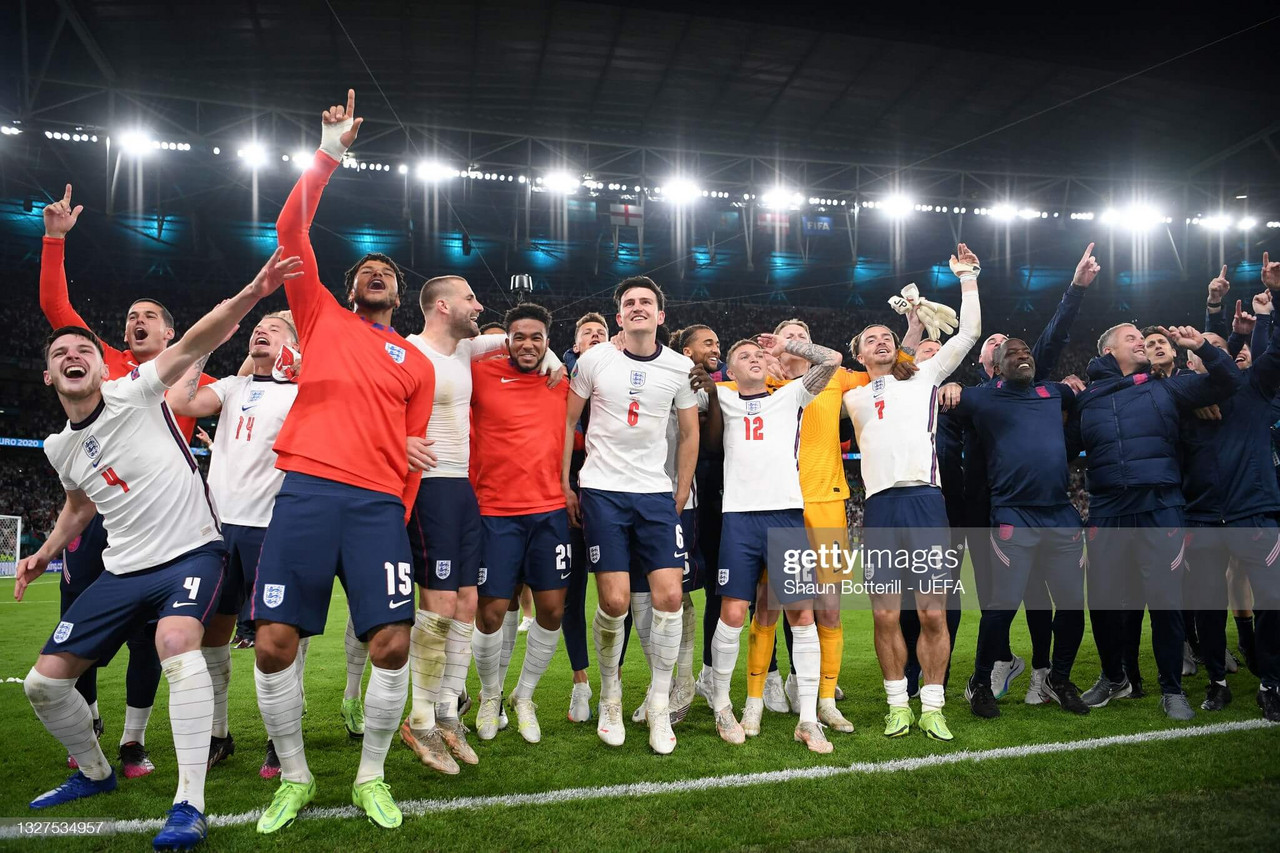 It was just after 10.45pm that the England squad lined up along the touchline. Led by captain and match-winner Harry Kane, they linked arms and joined in a chorus of Neil Diamond's Sweet Caroline. The backing singers numbered no fewer than 60,000 and in that moment the new Wembley had its defining moment to date. So did the new England.
This was the night of nights for England and the millions of supporters around the country. Two hours earlier, England's players had lined up in hope of making history - the achievement of reaching a final of a major tournament for the first time since 1966 is now complete. But Sunday evening beneath the arch could trump this still should England take the final step.
Yet there was a clear sense of barriers being broken down here. Wembley has not known noise quite like this. There was a release of emotional baggage accumulated over 55 years as songs grew louder in the packed stands. Football has had to wait some time for this too and there is no doubt that the latter stages of this tournament have offered encouragement that football as we know and love it is on its way back.
Southgate's fingerprints over blueprint
This was a victory, and has been a tournament, made in the England manager's mould. Gareth Southgate had promised that his teams would manage such situations differently to their predecessors but even he may not have envisaged quite a growing into this competition with luck, at last, swinging England's way in a semi-final.
The England manager demonstrated his own removal of angst, having unfortunately had his own semi-final penalty miss at Euro '96 hanging over him for the past 25 years. He fist-pumped and let out a roar of joy on his lap of appreciation after the final whistle after exorcising some demons. He and his players are rewriting history.
Yet, despite that slightly out of character release of emotion, Southgate has kept true to himself throughout his tenure as manager. He never planned to take up the role, refusing it when first offered to him, but has shaped it like no one else has managed previously.
Along with Steve Holland, his assistant, and fellow coaches Graeme Jones and Chris Powell, as well as the countless other backroom staff who make the new England tick, Southgate has given the country a lift by remaining himself but revving England back up.
Watching on, the noise, high stakes, conceding of an early goal all led to a familiar feeling that England may just well find themselves stumbling when the pressure reaches fever pitch. Such despondency usually greets England when the going gets tough at a major tournament. Yet, this England team is different.
They resisted the panic after conceding, they exerted physical dominance over Denmark as the game moved on from 90 minutes into extra-time, they even switched from a high-intensity press to a calmer possession-based approach as the crowd begged for more.
But Southgate knows what he is doing and is comfortable seeing it through. The sending on of Jack Grealish as the game needed a spark and then subbing him back off again once England had their goal in extra-time and switching to a back-five highlighted that the manager is happy to take the wrath for unpopular but necessary decisions. Shrewd management is his modus operandi.
England finally break hoo-doo
There will be those who say it is only Denmark, only Ukraine, only a below-par Germany. Maybe they will say after Sunday it was only Italy, too. However, those who have watched England over the years, as the fine details have gone awry and lady luck has departed the Three Lions, it is clear that Southgateism is working. From Bloomfontein to Kiev and Lisbon to Nice, all of it came to a head at Wembley - quite apt really.
The celebrations as night fell in north London were deserved. The communion between supporters, who have stuck with the national team through thick and thin, and this current crop of players grew stronger with every chorus of the celebratory tune. This is a reward for planning, perseverance and pertinent personnel-management.
Southgate has kept faith in Raheem Sterling, Kane, Harry Maguire, John Stones, Jordan Pickford, Jordan Henderson and Kieran Trippier when others may have took the easier option and neglected them or discarded them rashly.
He has also encouraged the emerging talents to write their own stories and the empowerment of the likes of Grealish, Bukayo Saka, Declan Rice, Kalvin Phillips and Mason Mount has helped England get this far.
Furthermore, the injection of character into the squad via the means of Conor Coady, Reece James, Dominic Calvert-Lewin and Marcus Rashford - all good 'citizens' as Southgate likes but not guaranteed a starting berth - has made this such a unified, harmonious and brotherly group.
It's not over, though, and England will now hope to overcome one last hurdle on Sunday against Italy when Wembley will be decked out in all its finery. Yet in the moment, as England reached their first final for a generation, the players were right in what they were singing: good times never felt so good.