 For Liverpool, it had been a long time between drinks, but last week they tasted success over Manchester United for the first time since 2014, extinguishing Louis Van Gaal's perfect streak of four wins from four against the Reds.
However, given the historic and unprecedented nature of the European clash, the job is only half done for Jürgen Klopp's side. 2-0 is a strong position to take to Old Trafford, especially if Liverpool score in Manchester, but an early goal for the Red Devils will ensure a nerve-wracking night for both sides.
Nevertheless, last Thursday was a terrific night, aided by a dreadful and anonymous performance from Van Gaal's players, who clearly forgot the magnitude of the match.
Reds must repeat first-leg performance to ensure progression
By contrast, Liverpool were at their intense best, closing down space at every advantageous opportunity, remaining solid at the back and, crucially, bringing their shooting boots, a weapon which has been used inconsistently this season, hence the lack of end product and their subsequent struggles.
But it was on show tonight, with a penalty converted (just) by Daniel Sturridge, before a really well-worked move was finished off by Roberto Firmino, who continues to add to his impressive and ever-growing list of goals and assists.
In all honesty, the Reds could have scored five on the night had it not been for United goalkeeper David De Gea, who was the only opposition player to emerge from Anfield with any credit.
They will not be so poor again, and Liverpool would be fools to expect otherwise. Complacency will be costly.
Having had a week off between both legs, compared to United's involvement in the FA Cup with a home draw against West Ham United, Liverpool should have no concerns about replicating their own performance from last week.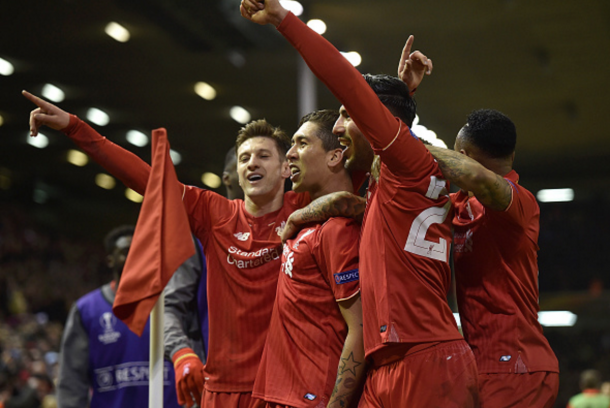 By that, Klopp will be looking for lots and lots of pressing and energy to rush the United players, who will feel the pressure, especially if they cannot score early on.
The only issue Klopp has to address concerns the starting line-up for Thursday. James Milner missed the first-leg through illness but is now available again and the England midfielder has been in good form lately, with seven goals/assists in his last ten games.
His contributions thus far have been, as with the majority of the side, woefully inconsistent, especially for someone of his supposed class and wage, but, for this season at least, he fits in well with Klopp's style of play and could provide a vital calm head in the cauldron of noise and fire at Old Trafford.
Conversely, it would be harsh for anyone to be dropped from the team selected last Thursday, as all performed brilliantly and deserve to start the return leg, even if the likes of Milner, Joe Allen, Divock Origi and Kolo Touré are ready and waiting.
One thing's for certain – the Reds will have a very strong bench to take to Manchester, something of a luxury and rarity for Klopp this season given the number of injuries.
Now he has most of his squad fit and firing, with plenty of quality among the substitutes – it could be vital should the game rest on a knife-edge.
In order to ensure the greatest chance of that situation not occurring, Liverpool should go on the offensive from the outset at Old Trafford.
Sitting back and soaking up pressure will do no good – the Reds have not been adept at such a tactic since the days of Rafael Benitez and could be a suicidal move should Klopp attempt it now.
Liverpool should field an identical side to last week, despite the merits of players such as Milner, as the front four of Sturridge, Philippe Coutinho, Firmino and Adam Lallana can either provide a considerable threat on the counter-attack, if the Reds are under siege at any point, or, more importantly, attempt to keep United penned back into their own area through pressing and overwhelming any attempts to progress through midfield.
Van Gaal likes his side to keep possession and build from the back – the Reds will be more than happy to see the ball go back and forth among United's back four, and the least Liverpool's front four can do is help maintain that trend.
Their pressing work means the lack of three central midfielders is not so alarming – besides, Jordan Henderson and Emre Can cover a lot of ground between them, despite only being a midfield duo.
Liverpool need a big performance from their skipper tomorrow night.
Henderson has struggled this season to impose himself on games, and has also been troubled by a heel problem this season. Yet if he wants to prove himself as Klopp's long-term leader, the 25 year old has to start leading by example once again.
Being attack-minded doesn't mean having seven players in the opposition box, but Liverpool cannot afford to simply protect what they have.
Reds need to echo spirit of former European victories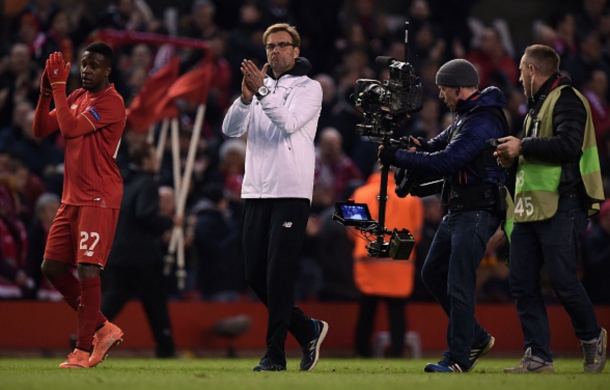 Score an early goal and the tie is as good as over.
It is extremely reminiscent of Liverpool's second leg against Real Madrid at Anfield, back in 2009 when the Reds were in the period where they were at the peak of their modern European powers under Benitez.
Having edged the first leg 1-0 at the Bernabeu, thanks to Yossi Benayoun's header, there was a lot of speculation over what type of tactics the Reds would employ for the return fixture.
Given in previous campaigns Liverpool had become famous for seeing out narrow leads, most famously against Chelsea, Barcelona, Juventus and Inter Milan, most expected something similar against Madrid.
Yet it was the complete opposite. Liverpool were a hurricane, blowing away Madrid's chances of progression early on with an avalanche of pressure on Iker Casillas' goal, and despite his heroics, Liverpool went up quickly through star duo Fernando Torres and Steven Gerrard, before progressing comfortably via a 4-0 win on the night, and 5-0 on aggregate.
It was an incredible result, arguably their best European night under Benitez, which is some accolade, but the Reds were defensively and, surprisingly, offensively awesome.
Just like United nowadays, Madrid were not at their peak, but it still sent shockwaves around Europe, many especially reverberating given Jay Spearing and Andrea Dossena combined for Liverpool's fourth goal at Anfield that night.
The Reds subsequently won 4-1 at Old Trafford after the Madrid victory, but they do not need four goals this time round at Old Trafford. However, a similar performance to these famous triumphs is required.
Klopp's DNA is embedded into performances akin to the one Liverpool displayed against Madrid in 2009. He and his players are more than capable of seeing the tie through and ensuring Liverpool's progression into the quarter-finals of the Europa League, but they have to take the game to United – not the other way round.