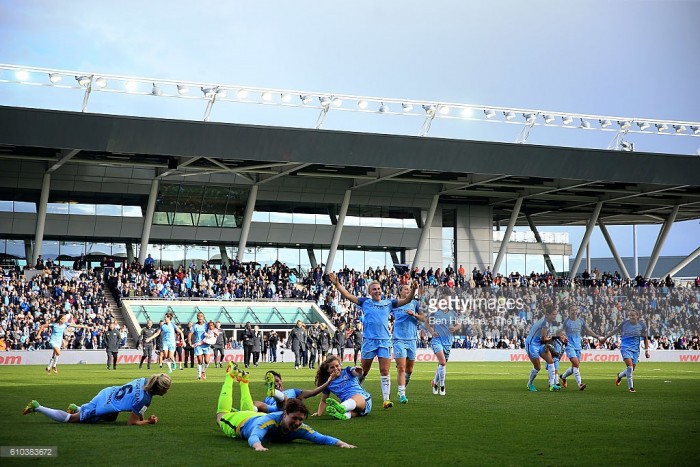 After having been crowed WSL champions in only their third season in WSL 1, Man City's progress is staggering but whilst raising the bar it also raises questions of what it means for everyone else.
City but not as you know it
Much like the men's team, Manchester City women have been around for far longer than their recent successes, originally founded 28 years ago – only one year after Arsenal ladies. Even as women's football in England started its' resurgence in the 90s with the FA Women's Premier League National Division, City were nowhere to be seen, only coming into their own with a cash injection and a bid to join the newly expanded WSL for the 2014 season.
Ruffling feathers as they were parachuted into WSL 1, the then Manchester City Ladies became Manchester City Women as the club began to expand and sign-up a number of high profile players. Nick Cushing was installed as manager and former Gunner, Steph Houghton was handed the armband as the rebranded team took its' first steps into the big league, set to change the women's game forever.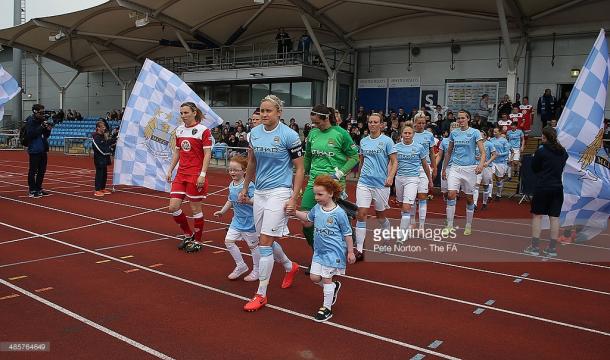 Recipe for success
After winning the Continental Tyres Cup in their first full season but finishing a disappointing fifth with six wins, one draw and a seven losses there was still more to be done at the CFA. A new season rolled in and Houghton was reunited with Jennifer Beattie in defence as current Player of the Year, Lucy Bronze signed for the Citizens. Demi Stokes, Natasha Harding joined up as and Nikita Parris agreed a loan deal. Stronger and stronger the team got, time spent in training reflected on the pitch as the Citizens began to climb the table with unknown American student Daphne Corboz agreeing to postpone her degree to join City during the Summer.
After the Summer break for the 2015 World Cup, City were adrift with just five points from five matches, far far behind leaders Chelsea on 14 points. Revitalised by their time in Canada the City squad – littered with England internationals – went from strength to strength, surrendering just two points in their remaining nine matches, leaping up the WSL 1 table past a shocked Arsenal, chasing down the Blues.
With potential last-day drama on the cards all eyes were fixed on Wheatsheaf Park and the Academy Stadium, should Chelsea slip up City would just need to win. After coming agonisingly close the previous season and missing out on the last day – due to a defeat by the Citizens – Chelsea made no mistakes and clinically wrapped up this campaign with a 4-0 over Sunderland. The trophy finally theirs, City a credible second, two points and six goals behind the champions, European football confirmed, a statement made.
Manchester City made themselves unplayable this year, carrying their superb form from the second-half of last season through to this, yet to lose a game in 90 minutes this year (with 23 played in all competitions).
City haven't lost a league game since the end of April last year (a narrow 2-1 away to Liverpool), that's a staggering 25 game unbeaten run, with only eight points dropped from a possible 75. Their three losses over than period away to Chelsea twice in the FA Cup semi-final and Arsenal in the league cup quarter final.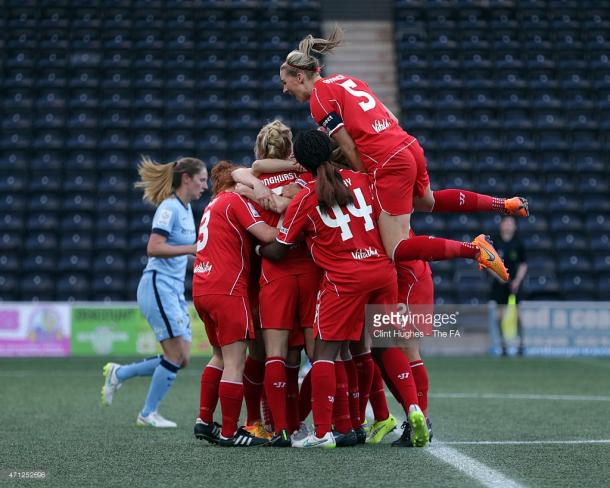 More investment followed, more players left and a handful arrived. Capturing the signature of PSG and Sweden attacker Kosovare Asllani sent out a message about City's intentions in Europe, bringing in experience, skill and understanding. Another new face at the Academy was Scottish international Jane Ross, signed from middling Vittsjö GIK, Ross had netted 28 times in 64 apps for the Damallsvenskan side.
With a glut of goals for Scotland, many could see the pros and cons of the signing but doubted whether Ross would be the right fit for City and wondered if a higher profile signing would be better. Ross silenced her critics with ease with 13 goals in 21 apps so far this year, Ross has been a vital part of City's success. The move an inspired one.
Raising the bar
City are unlike any other team in WSL and probably even Europe. The City Group are more than willing to put money into the team, to invest and watch the side go from strength to strength, as the global brand continues to grow. Whether New York City in the MLS, Melbourne City in the A-League or Manchester City in the Premier League, all three teams come under the same umbrella, City a franchise, one kit, one parent company, total domination.
As women's football has grown Melbourne City has debuted in the newly formed W-League in Australia, winning all 12 league games, conceding just four times with 38 goals in their favour. Ruthlessness from the newest of the City teams.
With a reported revenue of £368,703,00 in 2015, throwing a million or two into investing in a women's team is small potatoes. Many balked at the men's team for paying up to £49M for Raheem Sterling but a scant fifty mill' is pocket change for Sheikh Mansour.
Manchester City (women and men) know who to buy, when to buy and how to entice players and managers. With the men's team consistently having struggled in Europe – as well as fluctuating in the Premier League – City look to have remedied their problems with the signature of managerial heavyweight Pep Guardiola. Guardiola will bring stability and new ideas to City, nurturing talent as it comes through, cutting the fat and creating the best team possible. Money and facilities no issue; whatever you could want, the City Group will provide.
The same applies to the rebranded women's team. When Houghton signed for City she talked about the plans the club had as being "frightening", the players understandably excited to crack on. With the likes of Houghton, Izzy Christiansen, Karen Bardsley and Everton pair Jill Scott and Toni Duggan on board the foundations were being laid, improvements steady. There is no doubt that players were more than happy at their former clubs but with what they were being offered at City they simply couldn't turn down the chance to reach their full potential.
Ambitions
When she signed for the Citizens Asllani lauded the facilities at City, comparing what her former club, PSG, were attempting to do but suggesting they were still years behind her new team. With everything in one place, there's harmony between the youth teams and both senior teams, everyone given the same chances to develop and improve. The facilities available to the women's team just the same as the men's, the players are full time and can devote themselves to the game they love.
The story at City bordering on unique, female footballers given the opportunity to go full-time still a new idea in England, many regular faces in WSL are part-timers and juggle a full-time career and/or education with evening training. In previous interviews Jill Scott has spoken about the staggering amount of work she used to do just to be able to train, working full time and travelling hundreds of miles a week for late-night training, barely sleeping or eating correctly. The midfielder's sacrifices a mirror of those continually made by women across the country who give so much for the game they love.
When given the opportunity to train full-time, to legitimatise their passion and become the best they can be, there is no player in the country who'd say no.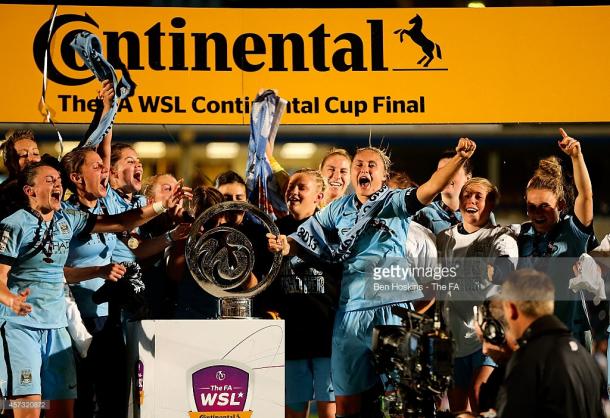 How to defeat the undefeatables
After having stormed the domestic league, City will look to build a legacy in Europe – something the men's team has long since dreamed about – and if successful could change the way the game is played across the entire continent.
The only way to best City is to match City, to put the investment in and to offer players the highest of standards. To not just ware the same badge as their male counterparts but to train as they do too, to mirror the successes of the biggest teams. Arsenal and Chelsea have amped up their affiliations with their men's teams; more money and better facilities will always attract a higher calibre of players. But Arsenal and Chelsea have money in the kitty to invest, other WSL 1 teams like Birmingham City and Notts County do not.
As European heavyweights and league dominators, PSG and Bayern Munich pour money into their women's teams they run the risk of diluting the competition – although PSG will struggle against European titans Lyon in Division 1 Féminine. It's the same story in WSL as it is in D1F, how will ASPTT Albi build a team than can compete with PSG or Lyon? How will promotion hopefuls Durham compete with City should they come up from WSL 2? The teams that can theoretically lean on the men's side for invest in their women's teams can build themselves up as City have – Chelsea, Arsenal, Liverpool, Sunderland, Everton and Watford all have men's teams in the Premier League.
Following their relegation from WSL 1 last season, Bristol City (then Academy) were forced to rebrand to fall under the City logo and unfortunately lost a number of Rovers fans. Bristol, Birmingham City, Aston Villa and Reading are all next down the pecking order with their counterpart men's teams all playing in the Championship, any of them could yet be playing in the PL next season.
Further down the line Millwall and Oxford United are the only two WSL teams whose male counterparts play in League One. The Belles are almost their own entity, having received a cash injection after being relegated from the top tier, an idea of building for the future and making the club great again still alive despite a troubled return to WSL 1.
Notts County, London Bees (Barnet FC) and Yeovil Town are all affiliated with teams that play in League Two, the Magpies particularly troubled in recent years, with fears the club would fall into administration.
For WSL newcomers Sheffield, their modest Coach and Horses Ground is a nod to the meagre means, their men's team currently playing outside of the National League. The situation even worse for Durham, the three-year-old team a standalone collaboration of Durham University and South Durham & Cestria Girls football clubs.
But if we begin to make the women's game about the fortunes of the men's then we instantly invalidate and condemn it.
Put a cap on it
The kneejerk response is to suggest putting a cap on spending, if teams have an upper limit of transfer fees then that will surely level out the playing field. Some teams would spend their full allowance and others wouldn't, maybe not even being able to match it. The greater problem with the disparity goes back once again to investment.
Manchester City Women train as the men do, the money goes into everything that happens off of the pitch and that is where teams can't keep up – and to suggest a cap on investment is absolutely insane and in itself counterproductive.
It once again goes back to cutting out the stigma of women's football, with a record attendance of 4,096 at the Academy to see City make history and win their first title last weekend the idea of funnelling millions into investment is something that doesn't sit right with many. The progress in England is slow and steady, average attendance figures only breaking four figures for four of the 19 teams in WSL (so far this season). Despite their glowing history in the game for both the men and women, Liverpool Ladies currently have the second lowest attendance figures in WSL 1 for 2016, amazingly averaging just 662 spectators from seven home league games.
Growth is still paramount, investment will help the growth and growth will necessitate investment but whether any team can keep up with what City have created remains to be seen. Money as always a huge factor.