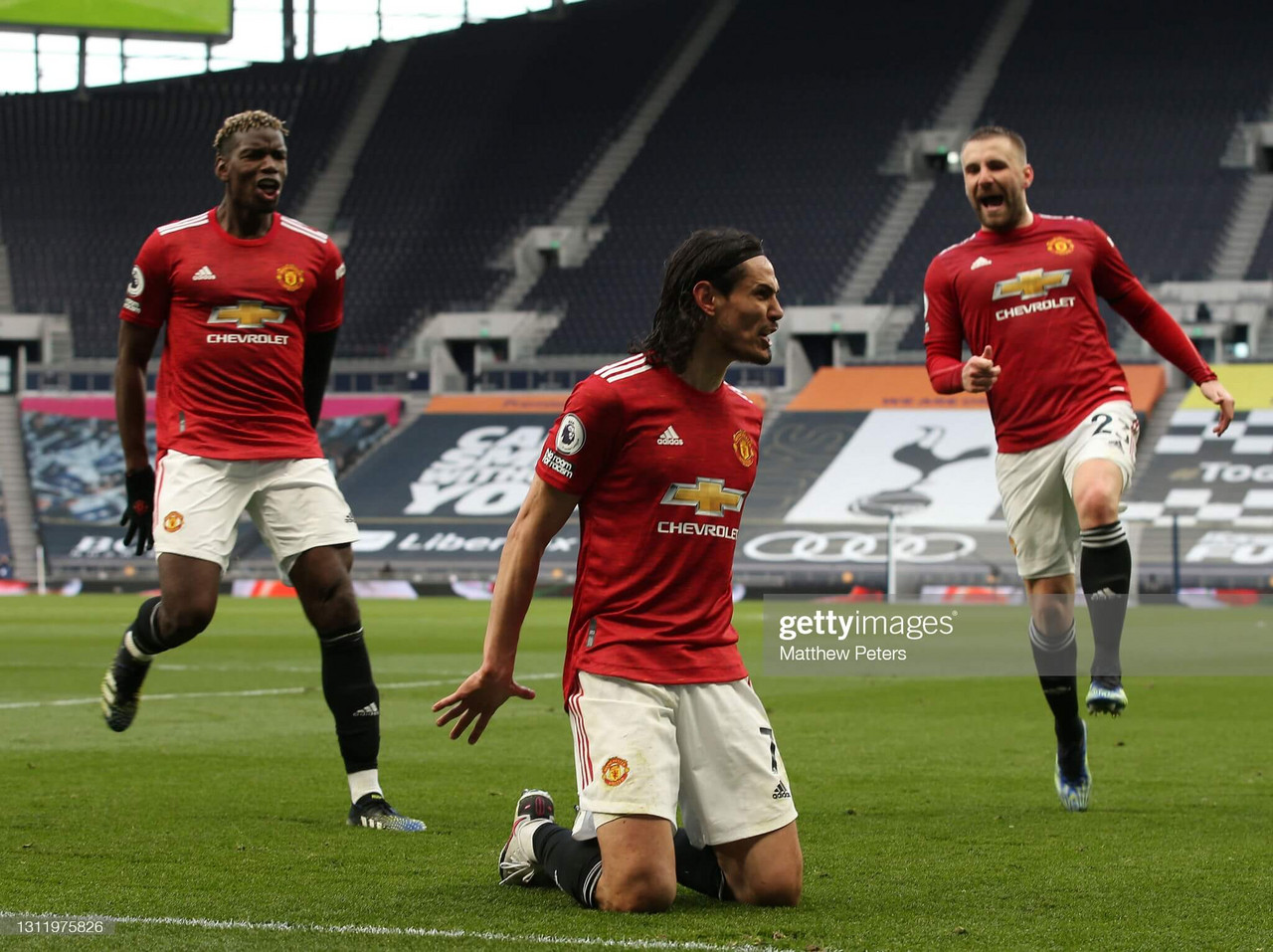 Manchester United continued their remarkable unbeaten away run in the Premier League with a hard-fought victory over Tottenham Hotspur.
Edinson Cavani scored a diving header to turn their one-goal deficit around thanks to a glorious ball in by the substitute, Mason Greenwood. Greenwood then scored the final goal to rub salt in the wounds with a sublime finish to make it 3-1.
Heung-Min Son gave Spurs the lead moments before the half-time whistle. Harry Kane found Lucas Moura behind United's back-line who then fired a ball across the box for Son to slot home.
Perhaps one of the most unlikely players to find an equaliser for United but Fred did exactly that just before the hour-mark. The midfielder played through Cavani whose shot was fired straight at Hugo Lloris. Lloris parried it into the path of Fred who continued his run and blasted it into an empty net.
The most controversial talking point of the match came when United were denied a first-half lead. Cavani's neat finish was ruled out after the on-field referee, Chris Kavanagh, took a look at a 'foul' that Scott McTominay made on Son in the build-up.

Story of the game
These are two sides that have thrived on the counter-attack all season. One of them had to change their approach to avoid a stalemate. United were rather careless in the opening 20 minutes as they kept firing balls forward aimlessly. Spurs controlled the tempo and United were happy to sit back and watch.
After a dull opening 30 minutes, it all kicked off at both ends of the pitch. In the best play of the first half, McTominay breezed past Son but caught the South Korean in the face with his hand. The ball made its way to Pogba who slipped in Cavani who slotted the ball through Lloris' legs. Chris Kavanagh was told to go to the pitch-side monitor to take a look at McTominay's hand in Son's face. He did so and ruled out the goal which left Ole Gunnar Solskjaer far from happy on the sidelines.
In the next attacking phase for Spurs, Kane found Moura behind United's defence who then cut the ball across the box to find Son with acres of space. Son struck the ball first time from the six-yard-box past Dean Henderson - who could do nothing but watch it zoom past him.
Early in the second half, United had a great opportunity to level the scoring. Pogba picked up the ball on the right-hand side and whipped in a ball to the front post. Cavani's movement was excellent to get himself into a position where he nearly flicked it past Lloris.
United continued their bright second-half start and Tottenham found themselves on the back foot. Solskjaer's men were rewarded for their efforts as Fred equalised. The Brazilian played through Cavani who struck straight at Lloris who could only parry it into the path of Fred who continued his run to smash it in the back of the net.
Fernandes then let rip from distance with his left foot across Lloris but the French goalkeeper matched the strike and directed it away from goal.
United kept pushing forward in search of a winner. Marcus Rashford made way for Greenwood who instantly brought United a different threat out on the right-wing. Greenwood, who scored his first header for United last weekend against Brighton, floated a wonderful ball for Cavani to dive and get his head onto.
Greenwood then secured the victory in added time with a clinical finish.
United close gap on City but are destined for second place
You don't get a trophy for finishing second in the Premier League and Solskjaer will know that but he will see it as progression, which is something he has referred to this season many times.
The challenge for United this season was to close the gap between Liverpool and Manchester City. United have managed to rise well above Liverpool in the league but you could put that down to Jurgen Klopp's injury list.
As for City, nobody has come close, however, Solskjaer has definitely closed the gap. To overtake their rivals on the other side of Manchester, they will need an impressive summer off the pitch with their chequebook at the ready.
Spurs Champions League hopes in tatters
Jose Mourinho will be disappointed that this quality group of players have failed to live up to their expectations over the course of the season. He has not been one to hide his disappointment, either.
Comparisons have and will always be made when you have managed three sides in one league but the circumstances are always different. Bringing a trophy to Spurs is the biggest thing on Mourinho's mind but failing to secure UEFA Champions League qualification will damage his relationship with the board and fanbase.
Mourinho will get the chance to bring Spurs their first trophy in 13 years when they face Man City in the Carabao Cup final next weekend.
His side are now six points off West Ham United who currently have one hand on that final Champions League place. With seven games to go, it is one heck of a mountain to climb.