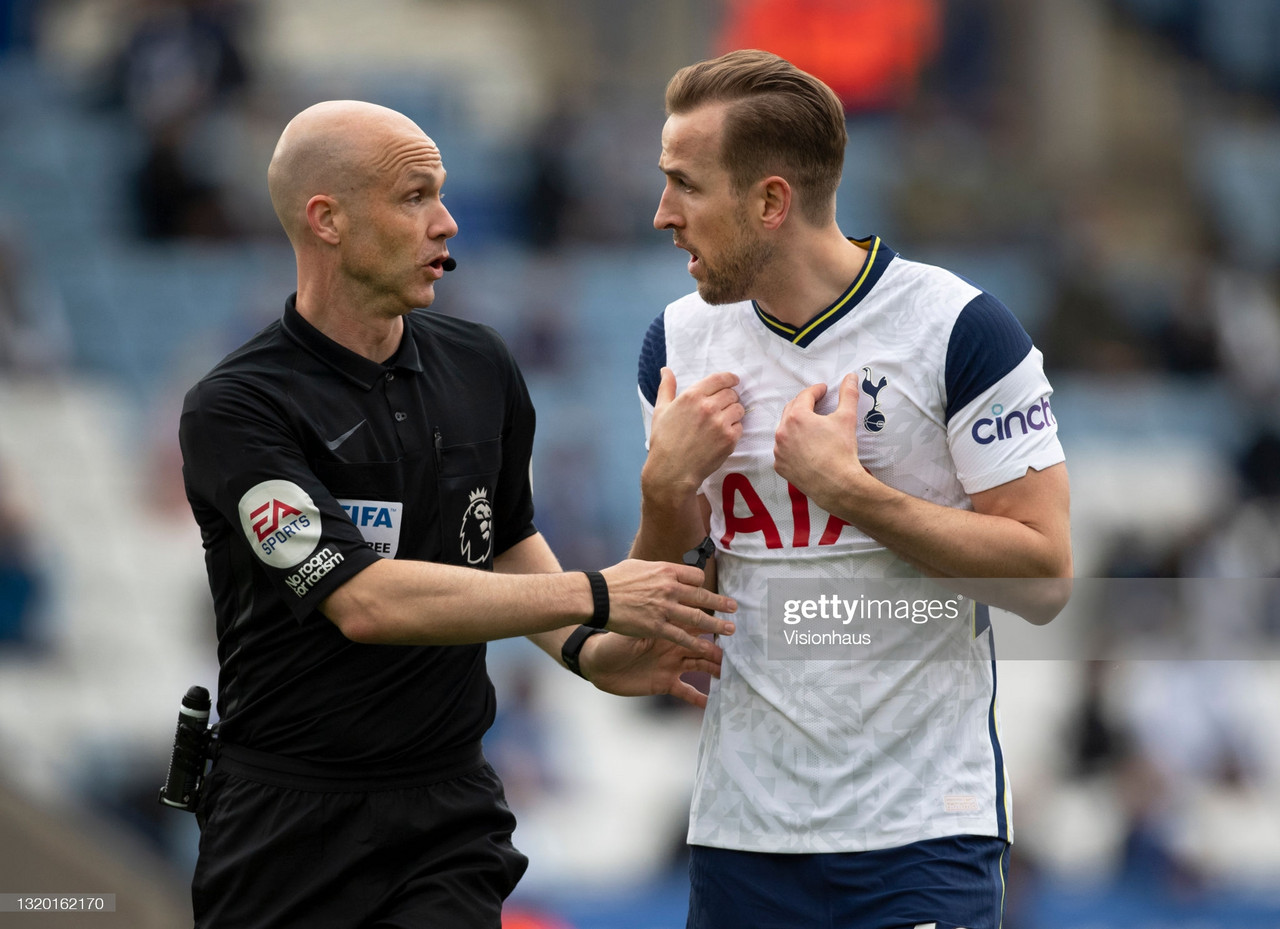 The spectacle that is known as the Harry Kane transfer saga has been continuously prolonged for the best part of three months now. With less than two weeks left of the summer transfer window, Both Kane and Tottenham Hotspur are running out of time to sort what would be the biggest ever transfer fee for a British player.
Whilst Daniel Levy has made it clear that he did not agree to a gentleman's agreement with the talisman, the Kane camp is adamant that the Spurs chairman has broken promises made last summer.
With the recent news that Kane has hired a new PR firm to handle his social media and 'leaks' to the press, it could be perceived as a last-ditch effort to force his move up to Manchester.
Regardless, this drama looks to be heading all the way to the deadline, and the football doesn't stop for anyone. Spurs play in their maiden Europa Conference League match against Portuguese side Pacos De Ferreira on Thursday night, and as many probably will have guessed, Kane has been left at home.
Some reports made the assumption that Kane was at the stadium on Sunday, whilst others suggested that the club vice-captain remained at home following a solo training session at Hotspur Way in the morning.
Either way, it is likely that the striker heard what the fans inside the Tottenham Hotspur stadium thought of his actions so far this summer.
"Are you watching, are you watching! Are you watching Harry Kane!" #COYS #THFC #TOTMCI pic.twitter.com/kx6jGChuz0

— Alex (@mralexthfc) August 15, 2021
Shouts of 'Are you watching Harry Kane' echoed around the stadium as Spurs closed in on their fourth win in a row against City in their new stadium, having not conceded a goal in a single one of the matches.
Whether this would have angered the academy product or whether it would have simply stung, remains to be seen.
New boss Nuno Espirito Santos told the press in the build-up to the City game that Kane was available for selection but he would not pick him if he was not fit enough. Well, it can only be assumed that the same is the case for the midweek game as it is important to remember that Kane has only been back from his holiday for less than two weeks.
Furthermore, it might be of a larger benefit to Spurs for Kane to continue to work at Hotspur way and build up some fitness for what looks to be a tough clash against Wolverhampton Wanderers on Sunday.
With Nuno facing the tough task of trying to beat his former team in his former stadium just a few months after leaving, the boss will need every available unit from his arsenal to assist with the job.
This would likely include Kane, and whilst it is unclear whether the 28-year-old would start for the first time this season, he could certainly have an impact off the bench.
Reports over recent days have suggested that Kane would still like a move away from the club in the final two weeks of the transfer window, but would continue to give his all if the move does not materialize.
Kane throws down gauntlet to Levy:
- Sources accuse chairman of breaking promise Kane could leave if Spurs finished outside top 4 or no trophy
- Man City bid is £125m but Levy won't talk
- Kane believes holiday row not his fault
- Will continue to give his all if move fails https://t.co/yrGV4PVtpd

— Jason Burt (@JBurtTelegraph) August 17, 2021
It seems that the Euro 2020 runner up is preparing for the eventuality that his dream move does not happen this summer, and could be working with his team behind the scenes in an effort to win some of the fans who have been disappointed with his actions this summer back over onto his side.
On Wednesday evening, Nuno spoke to the press in the build-up to the playoff tie in Porto.
He immediately ruled out all 11 players who started the game against City on Sunday stating:
"A decision that would be made. Important that all of them have real competition. Players that started the game on Sunday are not going to be involved."
When asked about the chances of Kane playing on Sunday, the Spurs boss gave nothing away, saying:
"I cannot answer this. I can answer that he's getting better and better, fitter and he will join the group on Friday. Then we'll see.
He's better than yesterday and hopefully, he's going to be better tomorrow. That's how all the players working should be. Improving and working on fitness."
Clearly, the former goalkeeper and Champions League winner is keeping his cards close to his chest when it comes to the media. This is something that is not surprising considering the extensive coverage and sheer amount of questions that have been asked about the player this summer.
Ben Davies was also asked about his teammate during the press conference, and similarly to his boss, was giving nothing away. The Welshman, when asked how he felt about the situation, his reply was very well-rehearsed:
"He's probably one of the world's best strikers and he's training with us now. The rest is out of my hands but of course, you'd want him in the team rather than out of it."
Nuno also confirmed that he has spoken to Kane on a daily basis since his return to Hotspur way and emphasized that this is normal with any player.
With those close to the player giving little away, all we can do is continue to wait and see how this situation is resolved in the coming weeks.
What if he doesn't play on Sunday?
With the hope that Kane does build up enough fitness to feature on Sunday, it would certainly come as a shock to fans and pundits alike should he miss the game at the Molineux stadium.
Spurs recently put out a video of some of the players boarding the plane to Portugal, which included new signings Pierluigi Gollini, Cristian Romero, and Bryan Gil. However, no Kane.
Other notable exclusions from the squad are Serge Aurier and Tanguy Ndombele, with the former still seeking an exit from the club and the latter still struggling with his fitness.
The situation was clarified by the man himself as he posted across his social media channels.
Is this the star man admitting defeat and accepting that he will be playing in white for at least another season? Either way, time is running out for both parties.
Should Kane not play on Sunday in an attempt to force a move, it could only anger Daniel Levy even more. With the chairman known for his stubbornness, the situation could end up becoming quite bleak for all parties involved and may leave Spurs with an unhappy player, or without their best every goalscorer.