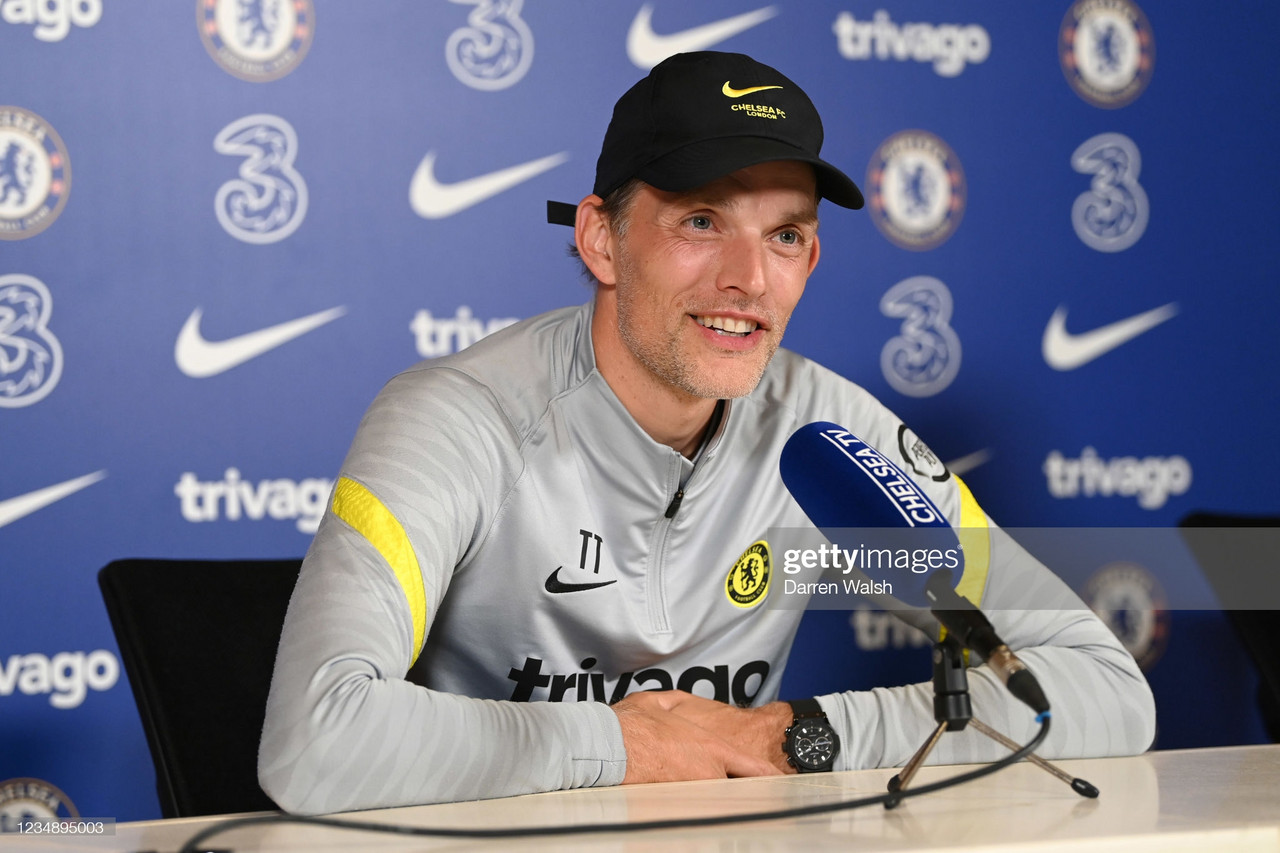 Ahead of Chelsea's upcoming Premier League trip to the Tottenham Hotspur Stadium to face off against London rivals Tottenham Hotspur, Thomas Tuchel was in the hot seat as he took questions from the press.
The two rivals have had similar starts to the season, with the away team going into the fixture joint top of the league, and the coach made it abundantly clear he expected a difficult match.
Also on the agenda for the press conference was news on injuries within the squad, a potential new contract for compatriot Antonio Rudiger and how he would have coped as a player against new signing Romelu Lukaku and Tottenham striker Harry Kane.
These are the five key things that the German manager said earlier today...
Thoughts on Spurs
'It's a tough opponent, a London derby, we had a great result last season and we will try everything to repeat that. But no matter who plays [for Tottenham], some players also came back and they will do everything to have their players back on the pitch.'
'They have a new manager that brings new energy. They had a fantastic start with the win at home to Man City. They played relentless and hard-working. This is what they did and we expect the same against us, a tough opponent and an exciting match in London.'
Some good #TOTCHE memories in here! 🤩

— Chelsea FC (@ChelseaFC) September 17, 2021
Tuchel referred to the win away at Spurs last season for his side and it was during that game - one of his very first at the helm in England - that people noticed how well-drilled his side was.
Regardless, as he pointed out, of injuries or current form, a derby never goes the way it is expected to, so accurate predictions are extremely hard to come by.
It's clear he respects the opposition coach in Nuno Espirito Santo and recognises what he will bring to a Spurs side that has looked, bar their previous result against Crystal Palace, relatively strong, at least compared to last season.
Antonio Rudiger's new contract
'There's no news from my side, and I think that Toni [Rudiger] feels very, very good at Chelsea, he feels very respected by his teammates and he feels the importance that he has in the team and in the squad.'
'But in the end it's between him and the club, and that's in good hands. I am calm and relaxed, whatever has to happen will happen.'
🔵 Antonio Rüdiger 🚫@ChelseaFC | #UCL | #UCLfinal pic.twitter.com/CFrkOgzr8e

— UEFA Champions League (@ChampionsLeague) June 2, 2021
There has been much talk in recent weeks, and in particular over the past few days, about a potential new contract for defender Antonio Rudiger, with his current deal set to expire at the end of the season.
However, while talks have reportedly stalled slightly, Tuchel appears relatively calm regarding the situation, in a sign that things may be moving behind the scenes.
After being nominated for UEFA Defender of the Season, it's hard to see how the Blues can let him go, particularly with the energy and enthusiasm he evidently brings to the team.
How he'd have dealt with Lukaku and Kane
'In my time defending I was a sweeper so I played 10 metres behind the real defenders so they did the dirty work. So I was the guy to push them up against Romelu [Lukaku] and once the ball is free I come and steal it and get all the applause from the public [...].'
'Harry Kane drops a lot to the number ten position. I would have liked it because then I could have given the job to the number six and the midfielders. They [Lukaku and Kane] would have gone past me easily.'
Whether it's simple modesty from the manager or genuine comment regarding his own playing ability, he evidently is a big fan of both strikers in this upcoming game.
That said, the tactical knowhow he even seeks to present in a more light-hearted scenario is testament to his managerial ability - even if he was simply noting his defensive mishaps during his playing career.
The battle between the strikers will be one of the most interesting on Sunday afternoon, and could end up deciding which way the game ends up going by the full time whistle.
Injury Updates
'No fresh injury concerns which is good news. Christian [Pulisic] is in individual training and trying to come back as fast as possible to team training so he will not be in the squad.'
'N'Golo [Kante] is back, and back in full shape and ready to play.'
There was mostly positive news from the manager during the press conference regarding the potential team news for this weekend's game.
Both Christian Pulisic and N'Golo Kante have been forced to miss the past two games due to their own injuries, but it seems now that the French midfielder will thankfully be making his return - something that will delight Chelsea fans.
It will be another game on the sidelines for American winger Pulisic, but the 22-year-old's position has plenty of backup, especially with there being no other absences at this stage.
Performances still improving
'I would say we are not doing well but we can do better. We are a team that's tough to beat and it is much easier to have results and play better than play good with no results and try to keep the momentum going.'
'Of course a win helps to have a good atmosphere, keep calm and be open to criticism. It helps. I think at the moment I feel that everybody is aware that we can do better but we are not really bad.'
Red hot Rom. 🔥@RomeluLukaku9 | #UCL pic.twitter.com/TKHlZoI5HH

— Chelsea FC (@ChelseaFC) September 16, 2021
For a team still yet to lose a game over a month into the season, and with a European trophy already under their belts, to hear they are still not playing at the top of their game must be music to the ears of their fans.
Of course, Tuchel's point is simply that, while the results have still remained consistent, there have been moments in games where the performances are perhaps not at the very highest level.
However, with plenty more games to come, there remains time to correct that course and, even if that doesn't happen immediately, the results still seem to keep coming through regardless which will please everyone at the club to no end.