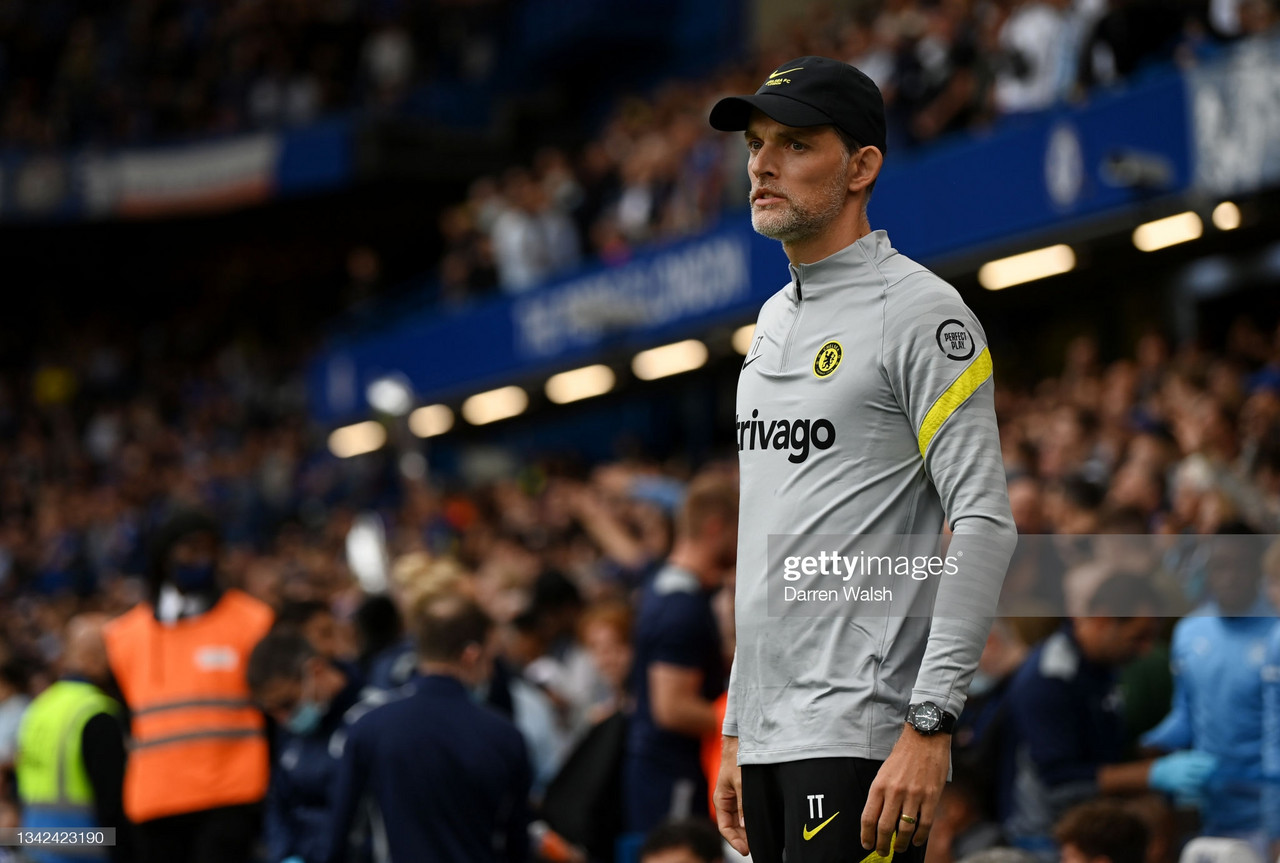 Following Chelsea's first loss of the Premier League season to fellow title contenders Manchester City at Stamford Bridge, Thomas Tuchel spoke to the press with his thoughts on the game.
The two sides played out something of a stalemate in the opening 45 minutes, before the away team found the lead in the 53rd minute through Gabriel Jesus.
They cruised through the rest of the second 45 minutes, going on to take all three points, helped by a subpar Blues' performance, which the German boss discussed.
Here are the five key quotes from the Chelsea manager after Saturday's game...
Chelsea's Game Plan
'The approach was very easy. If you want to play at this level you need everything: possession, long balls, defending, ball wins in transition. As I said, we relied on the last 20 metres and they made us defend deep.'
'We could not escape the pressure and then it was a case of decision making, vision, individual performance today. We were so imprecise and our decision-making was not good enough.'
Manchester City are the first team to prevent Thomas Tuchel's Chelsea registering a single shot on target since he took charge.

Pep gets revenge. 😈 pic.twitter.com/hLh9wyjo16

— Squawka Football (@Squawka) September 25, 2021
It's clear that Thomas Tuchel's pre-match game plan was not executed in the way he would've hoped it was going to pan out prior to kick off on Saturday afternoon.
The sloppiness that the head coach referred to was evident on multiple occasions, with various players misplacing passes - shown by the fact City made 185 more passes than their opponents.
That pattern set the tone throughout the 90 minutes and Chelsea never really got hold of the game themselves, struggling to bypass the intense pressure from Pep Guardiola's side, as Tuchel referenced here.
What Went Wrong
'We were excellent but only in the last 20 metres of the match, not in the other 80 metres. Part of performance is to make an opponent underperform and that is what City did today.'
'I had a feeling we lacked belief and confidence to escape in the situations that it was possible to escape. With every mistake we lost more confidence. This can happen. In the end we defended our box and goal very well but we were too deep.'
0.22 - Chelsea amassed an expected goals (xG) total of just 0.22 today against Manchester City. In their 250 Premier League games at Stamford Bridge since Opta have full game-by-game xG data for the competition (2008-09), this was their lowest total. Comedown. pic.twitter.com/4Yh4qoPpnX

— OptaJoe (@OptaJoe) September 25, 2021
The 48-year-old manager was very honest in his assessment of his side's performance, though was also keen to credit the opposition for their showing too.
His opinion that the loss was primarily a mental one, particularly in terms of confidence, is an interesting one, and worth considering when looking at the team's showing.
While they were clearly second best in terms of energy and pressing, the Blues did appear to struggle to get out of their own defensive third which, given the quality of players at the back, must be at least partly attributed to a psychological factor.
Lukaku's Performance
'I don't think it's necessary to talk about Romelu's [Lukaku] struggle today. When we reached Romelu the attack was already half over as there was not enough people, not enough belief and connection. So this was a team problem, not an individual problem.'
Romelu Lukaku struggled to make an impact at all against the rock-solid defensive duo of Aymeric Laporte and Ruben Dias, the UEFA Defender of the Season.
The Belgian can rightly point to a lack of service for that however, which appears to be the point Tuchel is making here, suggesting that his lack of involvement was not due to a lack of effort.
Instead, the succinct absence of any sort of attacking threat when going forward meant that the main involvement for the 28-year-old ended up being a goal disallowed for offside.
It's hardly the impact he would've been hoping for before the game, although he will appreciate the fact the manager recognises the difficulty he would've had out on the pitch.
Regrets Over Tactics
'We can debate endlessly [about whether there were enough attacking players on the pitch] and we will never have the answers. I don't think it is a matter of structure against City, it is a matter of divisions and adaptations to the opponents spaces, where you can find the spaces.'
'We tried in a [5-]3-2 and weren't able to have front connections in the build-up. I will ask the question also to myself: was it the right shape? But I don't think the result is decisive to the result.'
It's easy to say with the benefit of hindsight after a loss whether another tactical system might have benefitted Chelsea more, but the 5-3-2 system was a bold one to start with.
It worked well with three midfielders in the second half against Tottenham Hotspur last weekend, but failed to materialise to the same effect second time around, inevitably leading to questions about why.
Of course, as Tuchel points out, tactics aren't everything, particularly against a team of City's quality, but they do play a big part and ought to be analysed, especially when things go wrong.
Reaction After The Goal
'We played with the mentality that we had something to lose but there was nothing to lose here. After the goal there was a bit more energy, a good reaction [...].'
'I finally had the feeling and connection that this is the mentality that you need from the start: that you take risks and accept risks.'
Gabriel Jesus gives City the lead at Stamford Bridge 👊

Quick thinking, and even quicker feet! pic.twitter.com/BWjDz7cy8K

— Football on BT Sport (@btsportfootball) September 25, 2021
One small positive that can be taken from an otherwise disappointing performance was the reaction shown by the home side after going behind in the second half.
There was more positivity in the attack, especially with the introduction of Ruben Loftus-Cheek who was one of few Chelsea players that impressed.
However, the fact it took going behind to produce such intensity will be the more disappointing takeaway from what was, overall, a largely unsatisfactory showing at Stamford Bridge for the West London side.