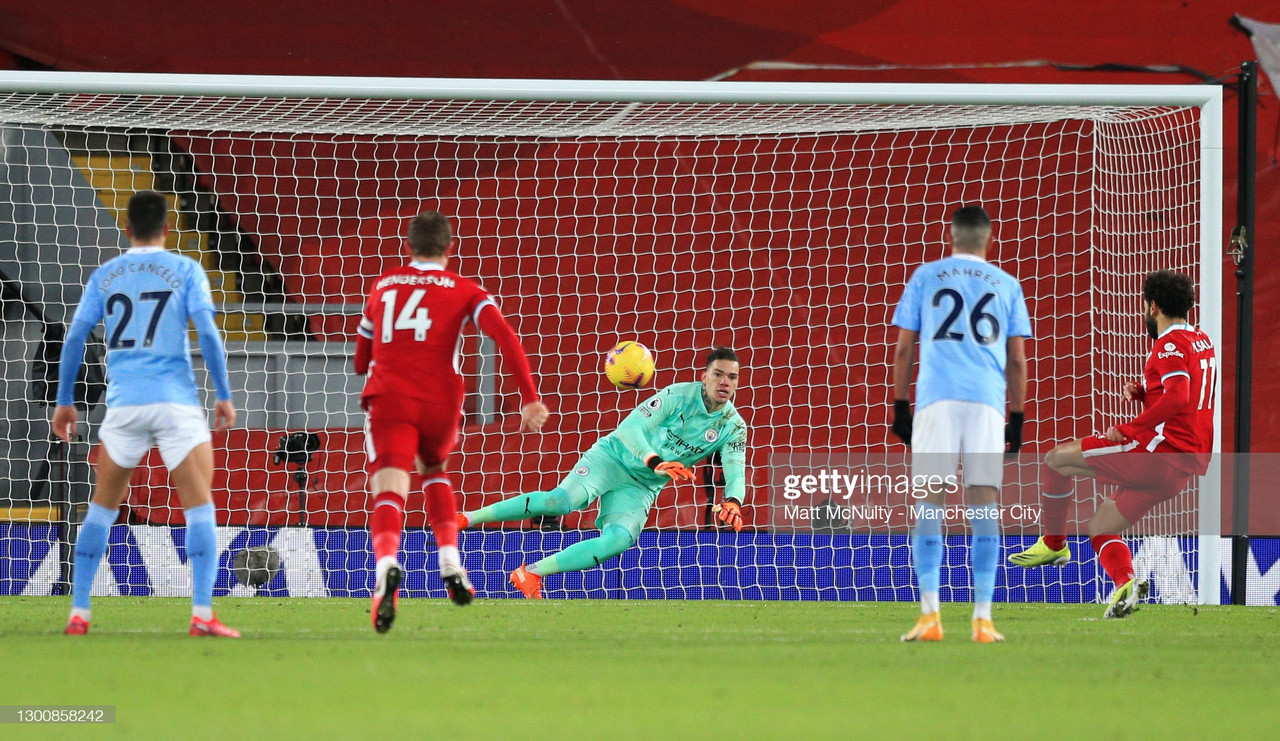 Meetings between teams managed by Jürgen Klopp and Pep Guardiola never disappoint.
Liverpool and Manchester City was a fixture with enough history before the two great managers arrived in the Premier League and Sunday's encounter should be another mouthwatering watch.
It's safe to say that the two clubs have set the benchmark over recent years; City have won three of the last four titles, with the Reds winning their first Premier League title in 2019.
Sunday's hosts go into the grudge match with goals flowing throughout the team, but also flowing at the wrong end of the pitch.
Last weekend's crazy 3-3 draw against newly-promoted Brentford may have been enthralling to watch, but Klopp will expect much more from his star-studded defence. This was evident in their 5-1 demolition of FC Porto in the UEFA Champions League on Tuesday night.
Despite their defensive worries, though, Liverpool have scored fifteen - yes, FIFTEEN - goals in their last six games and boast the most lethal and most consistent front lines in Europe.
As the last remaining unbeaten side in the Premier League after just six games, Reds all around the world will be hoping for that fact to remain in tact come full time.
Cityzens, however, will want to spoil the party and the reigning Champions could hardly be in better form.
Remarkably, Guardiola's men have only conceded one goal in the league so far in 2021/22. That came on the opening weekend in the 1-0 defeat to Tottenham Hotspur.
Do they need an out-and-out number nine? The vast majority say yes, yet they lie in second place - just one point behind Liverpool - after the brilliant 1-0 win over Chelsea at Stamford Bridge last weekend.
Gabriel Jesus' solitary first-half goal was enough to take all three points from a match which they dominated, but the less than inspiring 2-0 loss in the French capital against Paris Saint-Germain in midweek left a lot to be desired.
All in all, there is still room for improvement in attack, but six points from three away Premier League games - all 1-0 scorelines - against Tottenham, Chelsea and Leicester City is not bad going at all.
Jürgen Klopp expects Trent Alexander-Arnold to return to fitness after the upcoming international break, meaning the 22-year-old will certainly miss out on the visit of Manchester City on Sunday. James Milner is expected to fill in at right-back again.
Midfield maestro Thiago Alcantara will also miss the high-quality showdown, but Klopp is still confident his squad have what it takes to win the game.
"No news means they are doing well, but they won't have enough time for being back against City. I expect them both back after the international break.
"But, we have a good team so we will still have solutions and we have to use them."
Pep Guardiola gave an almost identical update on his players' fitness on Friday afternoon.
İlkay Gündoğan scored in this fixture last season, but is ruled out this weekend. Oleksandr Zinchenko also will not feature, but there are no new injury concerns ahead of the trip to Anfield.
"Everyone is fit except Zinchenko and Gundogan," said Guardiola. "Hopefully, we expect them both back after the international break."
Manchester City have won two of the last three Premier League meetings comfortably.
A 4-0 home victory in July 2020 saw them batter their rivals in the first half, taking a three-nil lead into the break courtesy of a Kevin de Bruyne, strikes from ex-Red Raheem Sterling and hometown boy Phil Foden before Alex Oxlade-Chamberlain turned the ball into his own net in the second forty-five.
Surely it doesn't get better than that, right? Wrong. City turned up to an empty Anfield and put on a show on their way to the title last season, coming away 4-1 winners and it could have been more.
Alisson Becker had a rare off day as his mistakes led to goals for Gündoğan - who got a brace - and Foden, with Sterling scoring against his old club yet again.
A 1-1 draw at the Etihad sandwiched those two results. Mohammed Salah gave the then-Champions the lead before Jesus equalised. De Bruyne then put a spot-kick wide just before half time and a tight second half saw the honours stay even all the way to the final whistle.
Liverpool's last win against City at home almost two years ago in November 2019 when Fabinho, Salah and Sadio Mané found the back of the net in a 3-1 triumph. Bernardo Silva, who has been in fine form recently, scored the visitors' consolation.
Liverpool (4-3-3)
Alisson; Robertson, Matip, van Dijk, Milner; Fabinho, Henderson, Jones; Salah, Firmino, Mané.
Ederson; Cancelo, Rúben Dias, Laporte, Walker; Bernardo Silva, Rodri, de Bruyne; Foden, Grealish, Jesus.
The game will be shown live on Sky Sports Premier League in the U.K. and will kick off at 16:30 BST.