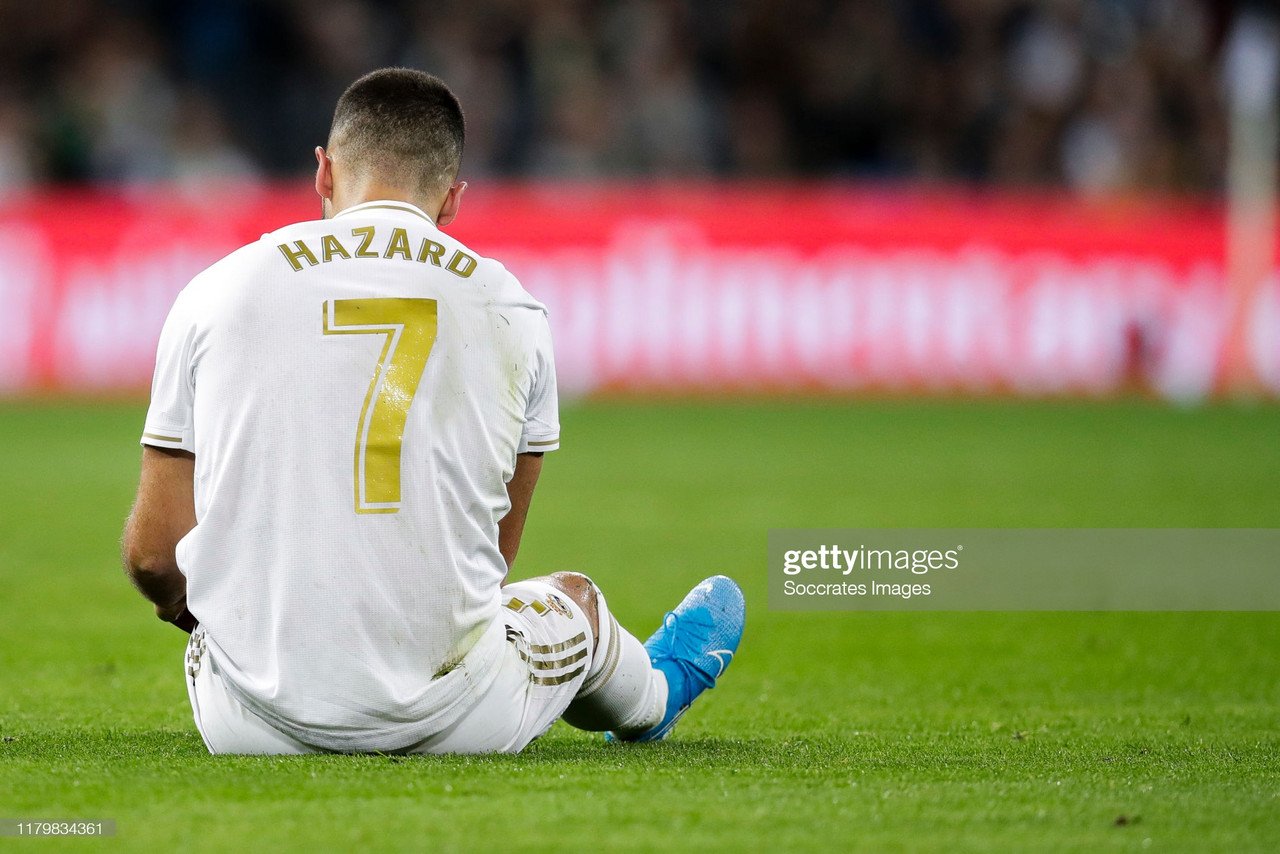 Eden Hazard has revealed why he will never reach the same heights he once did at Chelsea, ahead of Belgium's Euro 2020 clash with Finland.
The two-time Premier League winner joined the Blues from Lille in 2012 for £35 million and missed just 21 games through injury before departing for Real Madrid in 2019.
Since arriving at the Santiago Bernabeu the 30-year-old has missed 59 games across two seasons, inferring that it has become harder to maintain his fitness after a trilogy of major injuries.
He said: "I broke my ankle three times, it will never be the same as 10 years ago.
"But I know that when I am in shape, that I can prove myself on the field and that's what I'm working on now."
Hazard's most recent setback came in May and he claimed that there was a possibility he might not have made Roberto Martinez's squad.
However, with the knockout stages on the horizon for Chelsea's former number ten, Hazard is eyeing a return to full fitness.
Making a return
The Belgium captain made an 18-minute cameo off the bench in the Red Devils' Euro 2020 opener that saw them waltz past Russia 3-0.
In building his fitness, Hazard was then brought on for the final 30 minutes in Belgium's second group game against Denmark.
His arrival, alongside the returning Kevin De Bruyne, saw the momentum immediately swing in Belgium's favour highlighting the merciless threat Martinez's side can pose.
Operation 'get Kevin De Bruyne to dig us out the sh*t' is complete.

Beautiful goal. 😍

📹 - @itvfootball pic.twitter.com/zyFqr2YNjL

— Footy Accumulators (@FootyAccums) June 17, 2021
Speaking on his return, Hazard said: "I never doubted my qualities, but whether I would be 100% fit for the European Championship was going to be a question."
Belgium faces Finland in the third and final group game which could see Hazard make his first start of the competition. A potentially pivotal fixture for Hazard that will pay dividends in the later stages.
"I'm not 100% yet, but I'm ready to start," said Hazard. "But that was the plan, to bring me along gradually.
"It's especially important to be completely fit in the knockout phase."
Victim of your success
AS Roma's newly-appointed manager and former Blues boss, Jose Mourinho, spoke on TalkSport about Hazard's tendencies and attitude towards training from the pair's time at Chelsea together.
The Belgium forward featured 125 times under the Portuguese manager contributing directly towards 66 goals, while also picking up the 2014/15 Premier League Player of the Year.
🇧🇪 Eden Hazard in the 2014/15 season:

🔵 52 appearances
⚽️ 19 goals
🎯 13 assists

🏆 Premier League Winner
🏆 League Cup Winner
🏅 Premier League POTS
🏅 PFA Players POTY
🏅 Premier League Team of the Year

Incredible. 👏 pic.twitter.com/OLvxofioiX

— PF | Transfer News (@PurelyFootball) March 25, 2021
The compromise between Mourinho's steely defence-minded philosophy with the lavish exuberance of Hazard set the Premier League alight.
According to the former Tottenham Hotspur boss, the Belgium number ten channelled all his energy and focus onto a matchday relinquishing his day-to-day training duties.
Mourinho said: "The truth is what you see from him, he is an amazing player with awful training.
"You can only imagine what he could be with a super professional attitude in training. He gets onto the pitch every morning and he doesn't work much.
"When he gets onto the pitch you don't see the reflection of a week of work, you just see a reflection of his talent."
A generational talent
Mourinho continued by hailing Hazard, insisting that the Belgian 'does not belong to this generation of players'.
He said: "In the end, he is an amazing kid, he is an incredible family man, he looks like he doesn't belong to this generation of players, he's very quiet and is totally focused on family, on kids, on parents, on a very quiet life.
"He is this amazing player and you can imagine if he was a top professional.
Eden Hazard hit differently at Chelsea 🔥

🏆 2x Premier League
🏆 2x Europa League
🏆 1x FA Cup
🏆 1x League Cup

📆 The Belgian winger joined the Blues nine years ago today!pic.twitter.com/ailPIh5U3r

— Football on BT Sport (@btsportfootball) June 4, 2021
"When he went to Real Madrid I thought wow, this guy is going to the biggest club in the world and is going to feel this huge pressure to always be at the top, this guy is going to win the Golden Ball because he is amazing."
The Portuguese manager continued by commiserating what could have been for Hazard at Real Madrid should he have trained to the best of his abilities.
Mourinho said: "In terms of his fitness, his speed, his condition, he would be a much better player [if he trained properly]. What you see is just the talent that got Eden to where he is.
"He's had more injuries at Real Madrid, at his time with me at Chelsea he didn't, he might have had one but it was nothing big.
"But in Madrid, he got into this negative dynamic with his injuries and that's probably affected him."