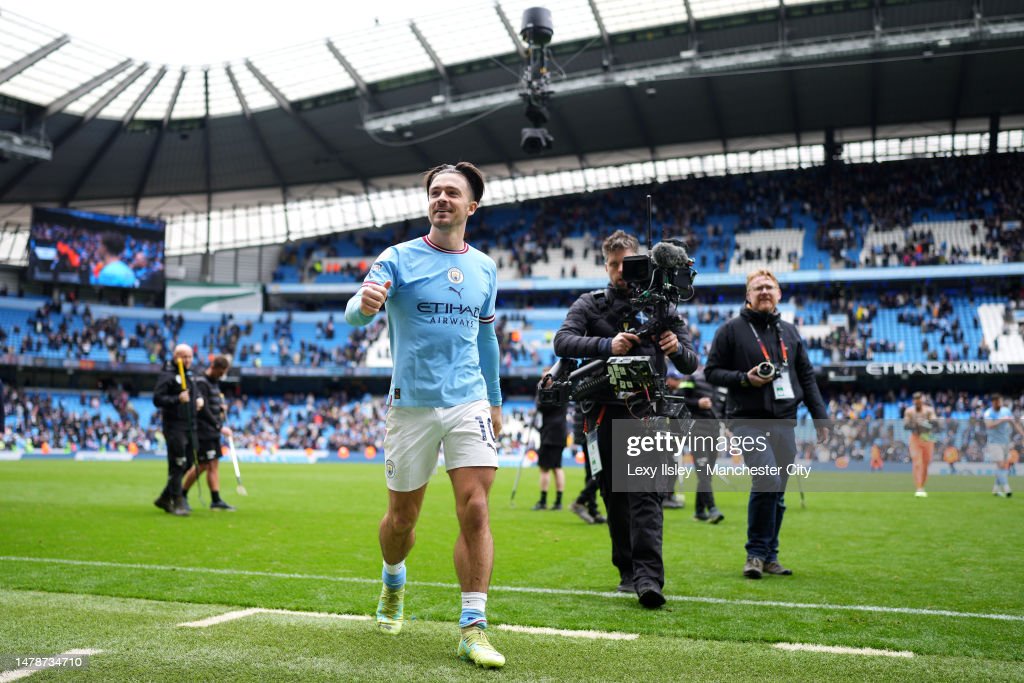 It was at some point between dancing the Poznan and singing the oles when one Manchester City fan turned to another and muttered: "Surely, this has to be Jack Grealish's best game in a City shirt." He was not wrong.
Erling Haaland's record goalscoring exploits have stolen the headlines this season at City but slightly hidden underneath that has been the drastically improved form of Grealish during his second season at the club. The 27-year-old appears to be getting more confident as the weeks roll on and looks set to be instrumental as City enter the business end of the season.
At times during City's 4-1 demolition of Liverpool, it felt like this was the Jack show. This was an all-encompassing performance from the wide player in which he provided the impetus to City's attacks down the left and assisted defensively when the visitors countered in the first half.
Perhaps Grealish's notable display was distilled in the 26th minute. City had fallen behind to a Mo Salah goal on 17 minutes, which had come on the break and very much against the run of play — it was their only shot on target all game. The prospect of Jurgen Klopp's team somehow scoring a second grew more vivid as Salah raced through again following a City corner.
However, there, sprinting back in pursuit by himself, was Grealish and he managed to get close to Salah and deflect the pass aimed at Diogo Jota towards the grateful Ederson. That piece of tracking back drew a huge applause from all four stands.
"A few people have said to me now about running back but it's normal," Grealish said. "I think anyone would do it in the team. Obviously, it was a big part in the game because it could have been 2-0 and a few minutes later we go and score to make it 1-1 which was a big moment."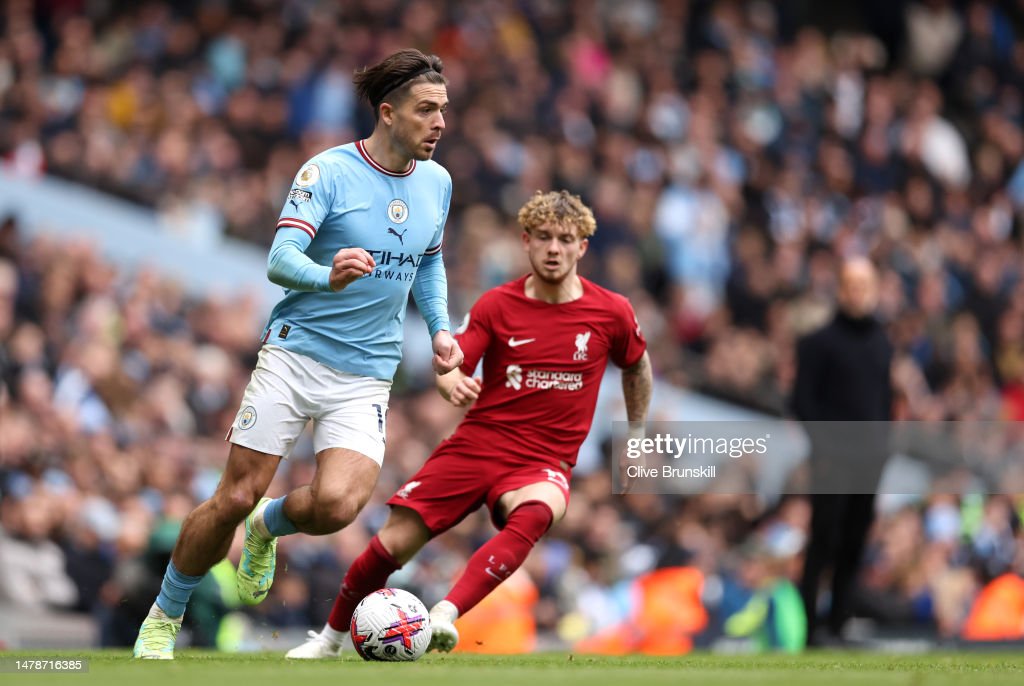 Quite so, and it was Grealish who instigated it. He was now at the other end of the pitch, spinning outside Trent Alexander-Arnold and producing the perfect rolled pass for Julian Alvarez to score the equaliser. From there City didn't look back.
"I thought we were brilliant today – especially in the second half and it shows what we are about," added Grealish, who scored the fourth goal after Kevin De Bruyne and Ilkay Gündogan had set City up for a comfortable victory over this struggling Liverpool outfit.
Grealish bedazzles with aesthetics rather than stats
It was fitting that Grealish was able to cap this performance with his first goal at the Etihad this season. His shot curled around Alisson on 74 minutes and it was clear what it meant to the attacker.
Grealish isn't a great finisher, he has scored four league goals this season and provided five assists, but there is a lot more to his game than finding the back of the net: the visual aesthetics more so than hardline stats.
Grealish has the ability to mesmerise opposition players, often providing City with a route to goal; his skittering runs and imperceptible changes of direction are capable of leaving defenders in his wake. If last season was a time for bedding in and finding his feet under the unique demands of Pep Guardiola, then now the England international is thriving after 18 months at the club.
"It's part of learning the way the manager wants to play and it does take time" Grealish admitted. "I feel like I've got that now. There are times where the manager doesn't want me to dribble all the time and [instead] keep the ball and play little short passes which I completely understand."
The start against Liverpool was Grealish's 13 in City's last 15 matches and that consistency in terms of selection has allowed him to build a head of steam as well as confidence. That has built and built to such an extent that he is now playing his best football since joining from Aston Villa.
"All season I've been really, really pleased, now it is the Jack we thought [we were signing]," said Guardiola. "The Aston Villa fans know him really well. Nothing changed, but it was just to believe, 'I am part of that and I can be here.' Now he believes completely.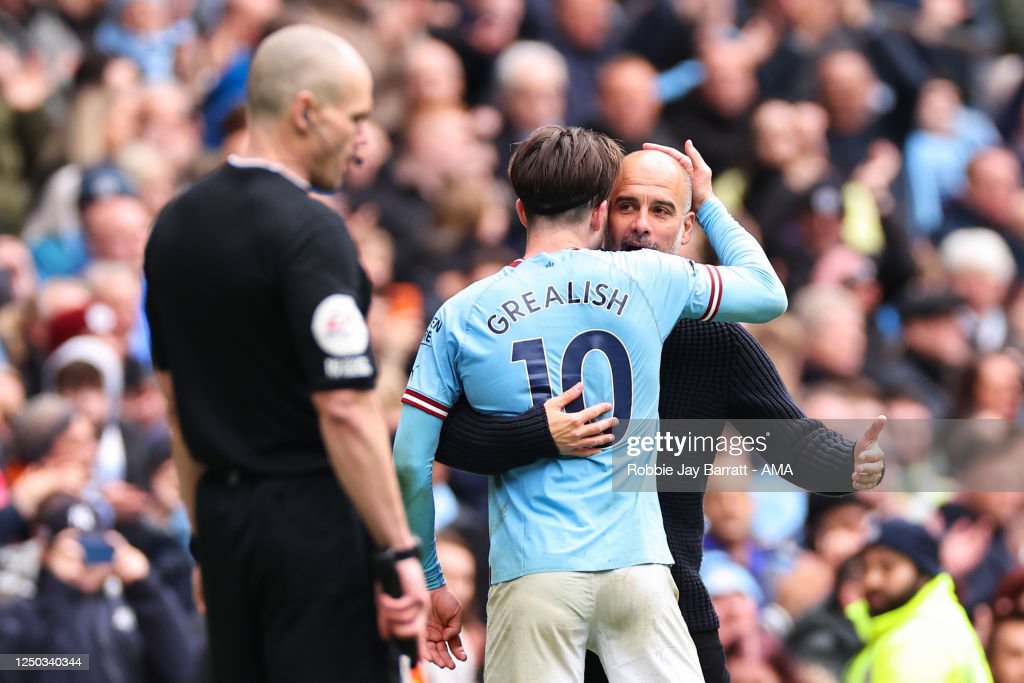 "You can be judged on the block to Salah, maybe it could be 2-0. Football is more than the stats. The way he gave us the right tempo to play and make the extra passes. I could not imagine with the big name he is and the price the club paid [£100 million], he has the humility to run like a teenager. That means a lot to me and the team."
Combining the hard running with the panache of which Grealish is capable and building on this period of good form will be vital if City harbour hopes of tracking down Premier League leaders Arsenal, who are eight points ahead but have played a game more, and getting past Bayern Munich in their Champions League quarter-final and reaching a first FA Cup final since 2019.
The rapturous applause which greeted Grealish's substitution in the 89th minute on Saturday demonstrated how highly the supporters appreciate their No 10. There is a strong sense that as this City team evolves he is a big part of what comes next.
"I'm really enjoying my football at the moment – I feel confident, I feel fit, and I feel like I'm affecting games and big games," Grealish added. "Fingers crossed I can continue."