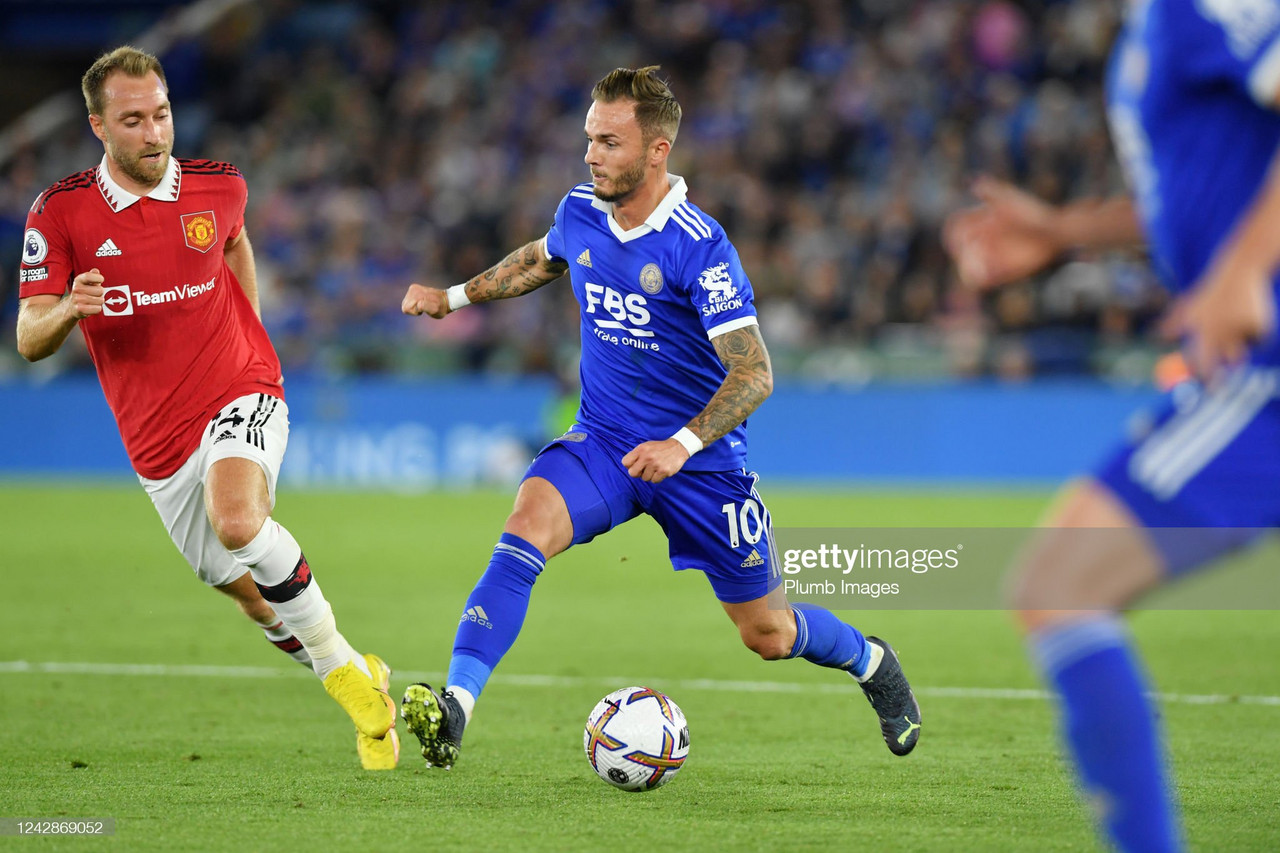 It has been over 1000 days since Christian Eriksen left Tottenham Hotspur for Inter Milan. 1248 days to be exact.
Since then, Spurs have spiralled out of control. Jose Mourinho was sacked, so was Nuno Espirito Santo, and Antonio Conte sent Hotspur Way into flames with a post-match press conference at Southampton. Chaos has been the number one word in N17.
Yet despite all the drama, there has been one recurring theme in North London - Spurs' lack of creativity. Giovani Lo Celso and Tanguy Ndombele provided a brief spark but it never materialised into something meaningful.
It led to the Lilywhites having one clear mission this summer transfer window; sign James Maddison. After back-and-forth negotiations with the Foxes, that dream became reality. The Englishman joins Spurs on a five-year deal from Leicester for a rumoured fee of £40million plus add-ons. So what will the playmaker offer Spurs, and can he reignite the flame Eriksen left behind?
Maddison's stats speak for themselves in years gone by. In the past three Premier League seasons, the playmaker has registered 22 assists, the eighth most of anyone in the league. He's even achieved ten goals or more in the past two seasons. In a side where Spurs have lacked a goalscoring threat outside of Heung-Min Son and Harry Kane, Maddison will provide a new dimension in the final third.
Even below the surface, the stats continue to show Maddison's quality. He's created 5.48 progressive passes, and 5.01 shot-creating chances per 90 in the past year. That places him in the top 15% in the percentile, which is even more impressive in a Leicester team that suffered relegation on the final day.
But it is not just the stats that make the Englishman so impressive; his ability to glide past defenders and create dangerous chances makes him exciting to watch.
Maddison can play from the left, before drifting infield and influencing play centrally. When doing so, he has the vision and quality to split defences open - something that is likely to become a huge asset at Spurs with Son's directness. This occurs between the lines and in the half-spaces, where Maddison can be provided with the freedom to show his creative spark.
Maddison's eagerness can sometimes see him waste chances, but on the other hand, that positivity and forward-thinking allows him to create several dangerous and risky opportunities, just like a high-risk, high-reward scenario. When opponents don't press him, it gives him time and space to always look for a player in the box. Whether that is an in-swinging cross or a through-ball, it is always a dangerous asset to have.
Yet Maddison's preference to rotate and roam around the final third could become the key to success at Spurs. Kane is well-known for dropping deep with his precise passing, whilst Dejan Kulusevski has been widely tipped to have a future as a 'ten' instead of out wide. If they can rotate alongside Maddison, it would provide a painful headache for the opposition.
Reigniting Eriksen's finest years
Eriksen's spell at Spurs from 2013 to 2020 was nothing short of remarkable. The Dane, originally brought in alongside a group of seven to replace the outgoing Gareth Bale, took time to adjust to life in North London. But as soon as he did, there was never any looking back.
The now 31-year-old amassed 305 appearances in the famous Lilywhite shirt, contributing with 69 goals and 90 assists in the process. Eriksen's finest days came under Argentinian manager Mauricio Pochettino. The playmaker would roam in the final third, with Son, Kane, and Dele Alli all providing a vocal point alongside him. It became known as one of the most fearful attacks in Europe, but can that threat be recreated with Maddison?
The short answer - yes. Although Ange Postecoglou plays a slightly different system to previous manager Pochettino, there are still stark similarities. Pochettino adopted a 4-2-3-1 in N17, with Eriksen as the main playmaker, Son out wide, and Alli partnering Kane as a shadow striker upfront. Postecoglou is expected to play a 4-3-3 in the upcoming season, which would see Son and Kulusevski on the wings, Kane upfront, and Maddison with the freedom to roam as a 'ten'.
Maddison's freedom would work in a similar way to Eriksen's success in Tottenham's most exciting spell in the modern era. Roaming in between the lines, being direct towards defenders, and looking to find a teammate in the final third - it all points towards optimism for Spurs.
Maddison's partnership with Kane
Last season epitomised the current state of Tottenham. Defensive woes, goalkeeping errors, a lack of control in midfield, and no creativity in the final third. It was pretty grim viewing for anyone around the world, with Spurs repeatedly called 'boring' or 'underwhelming' by experts. Yet despite all the negativity, there was one major positive story to come from last season - Harry Kane.
The all-time Tottenham top goalscorer scored a remarkable 30 Premier League goals last season, whilst also contributing with three assists. Without Kane, Spurs would have finished in the bottom half of the table, likely to be in a similar position to London rivals Chelsea.
Although the base numbers do not suggest so, Kane's ability to start an attack with his precision passing was key to the Lilywhites last season. The England captain would drop deep into midfield, before often spraying the ball out wide to Son, Kulusevski, or the overlapping full-backs.
But with Maddison's arrival, will Kane still need to do that? Kane only started dropping deep and becoming a false nine when Mourinho arrived in 2019. The Portuguese manager told Kane he would 'help him explode'; he did exactly that. The 29-year-old became one of the best all-round strikers in world football, known not just for his finishing, but also for his passing.
Yet with Maddison now occupying the space between the lines, Kane may now be able to revert back to the role of a traditional striker. It is expected Kane will be less reliant in the Spurs team, with Maddison's becoming the main protagonist for creativity. This will allow the striker to do what he does best - score goals. Highlight reels from last season showed the fierce finishing Kane possesses every match, likely to become a key component of Postecoglou's system in the final third.
With talk around Kane's exit still continuing, Maddison's arrival may just give the England captain an extra incentive to stay. Bayern Munich is an appealing proposition, but Kane may want to find out how exciting a partnership with Maddison can be before deciding his future in North London.