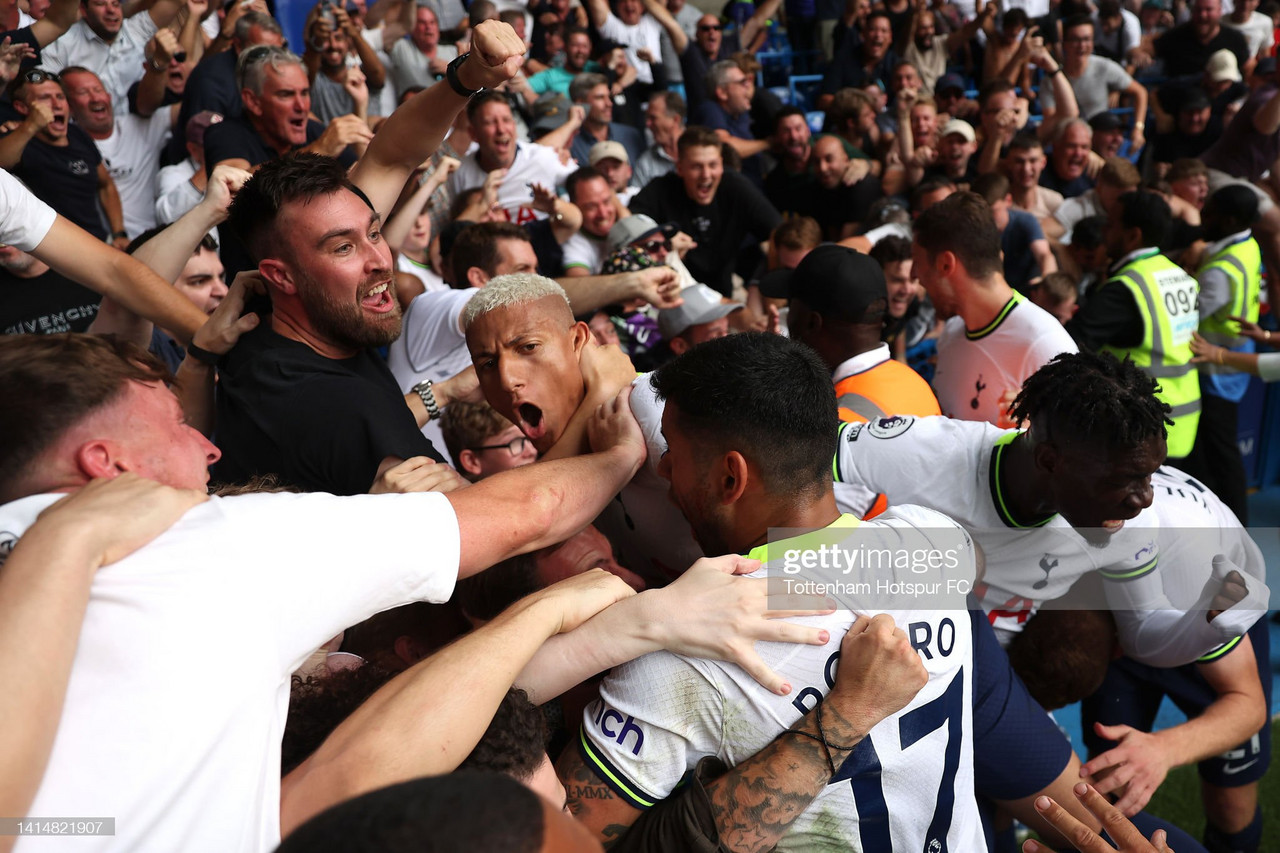 On Sunday evening, all the talk was about Tottenham Hotspur's feisty clash with London rivals Chelsea. Nicknamed as the 'Battle of the Bridge II', it saw tempers flare on and off the pitch.
Despite a dominant performance from Thomas Tuchel's side, it saw Spurs strike late to equalise through Harry Kane. It showed the passion, desire and the 'never give up' attitude this Tottenham team possesses.
This is a dramatic change from previous Spurs teams. Under Mauricio Pochettino, Spurs were classed as 'bottlejobs' due to their weak mentality and struggles in the big matches. But, ever since Antonio Conte's arrival, this mentality has been abandoned in an attempt to succeed this season.
Mentality Monsters
Tottenham's performances against Chelsea lacked sustained pressure and a clear goal threat. Their West London rivals had six more shots, whilst earning 0.57 more expected goals (Fotmob).
Despite being overloaded by the two-time Champions League winners, Spurs were able to fight to a valuable point.
Having a strong mentality like this is vital for success, which is why Antonio Conte was key to building this belief.
The Italian is notoriously known for being passionate and aggressive. After Pierre-Emile Hojbjerg's stunning strike, the former Inter Milan celebrated in the face of his rivals. This led to a chaotic clash between the backroom staff, but showed just how passionate the 53-year-old is for his team.
However, this fiery temper boiled over onto the pitch as well. Moments before the Lilywhites' first equaliser, Rodrigo Bentancur placed a firm tackle on Kai Havertz. Meanwhile, Cristian Romero played on the limit as he pulled Marc Cucurella's hair to the ground.
Although Cristian Romero was too aggressive, and potentially lucky to avoid a red card, it shows that Conte has installed a ferocious personality into his players.
Since the start of 2022, Tottenham have scored multiple last-minute goals. In fact, goals at Watford, Leicester City, Manchester City and, now Chelsea, have seen Antonio Conte's side earn an extra eight points. This is the type of form which saw Spurs earn Champions League qualification last season.
A change in times
A fiery, aggressive personality is exactly what Spurs have needed for some time. Former manager Jose Mourinho tried to install it into his players, but failed due to a lack of support within the squad.
On one hand, it could be argued Tottenham have suffered with a weak mentality ever since their last trophy in 2008. In major games, the Lilywhites often struggled with a mental block, especially during Mauricio Pochettino's reign.
Throughout the Argentine's era, the North London side lost three semi-finals against Manchester United and Chelsea twice (transfermarkt).
At the penultimate hurdle, Tottenham failed to deliver time and time again. Within these matches, they lacked the finishing touch of champions. But under Antonio Conte, they look more aggressive and determined to succeed.
At the end of a grueling pre-season, many players expressed just how hard the training was.
Matt Doherty said: "It's not like anything I've done before. This is hard. It's the hardest pre-season I've had".
In recent years, the intensity during Tottenham's training lowered, as Nuno Espirito Santo and Jose Mourinho's tactics did not require high levels of fitness. This meant Spurs were easily outmuscled in the key moments.
But, with the Italian and his backroom staff adopting a more intense pre-season, the players have seen a sharp rise in their fitness and strength levels. This allowed Tottenham to fight till the end against their bitter London rivals.
Pressing until the final whistle gives Spurs the best chance of success in years. This shows just how effective Conte's tactics can be alongside his aggressive personality.
Mentality over Skill?
The mentality the Tottenham Hotspur players showed yesterday in the final minutes was long overdue. But, there is still concern amongst the fanbase due to the performance from the Lilywhites.
From the first minute, Chelsea overloaded the midfield, causing havoc for Conte. It was only a tactical change from the Italian, which allowed Spurs to gain a grip on the match.
Even after Antonio Conte's change in tactics, Chelsea continued to find pockets of space, allowing Reece James to fire in from close range.
However, the best teams find a way to earn points whilst not playing their best. Tottenham Hotspur have just one Premier League win at Stamford Bridge in 30 years, showing the mental block they usually suffer with every year.
So, to even earn a point away in West London is progress for a side that had lost their previous five games against the Blues.
Having a strong mentality is vital to earn success at the end of the season, but if the former Italy manager wants to lift silverware, then he must gain a stronger tactical grip within the big matches.