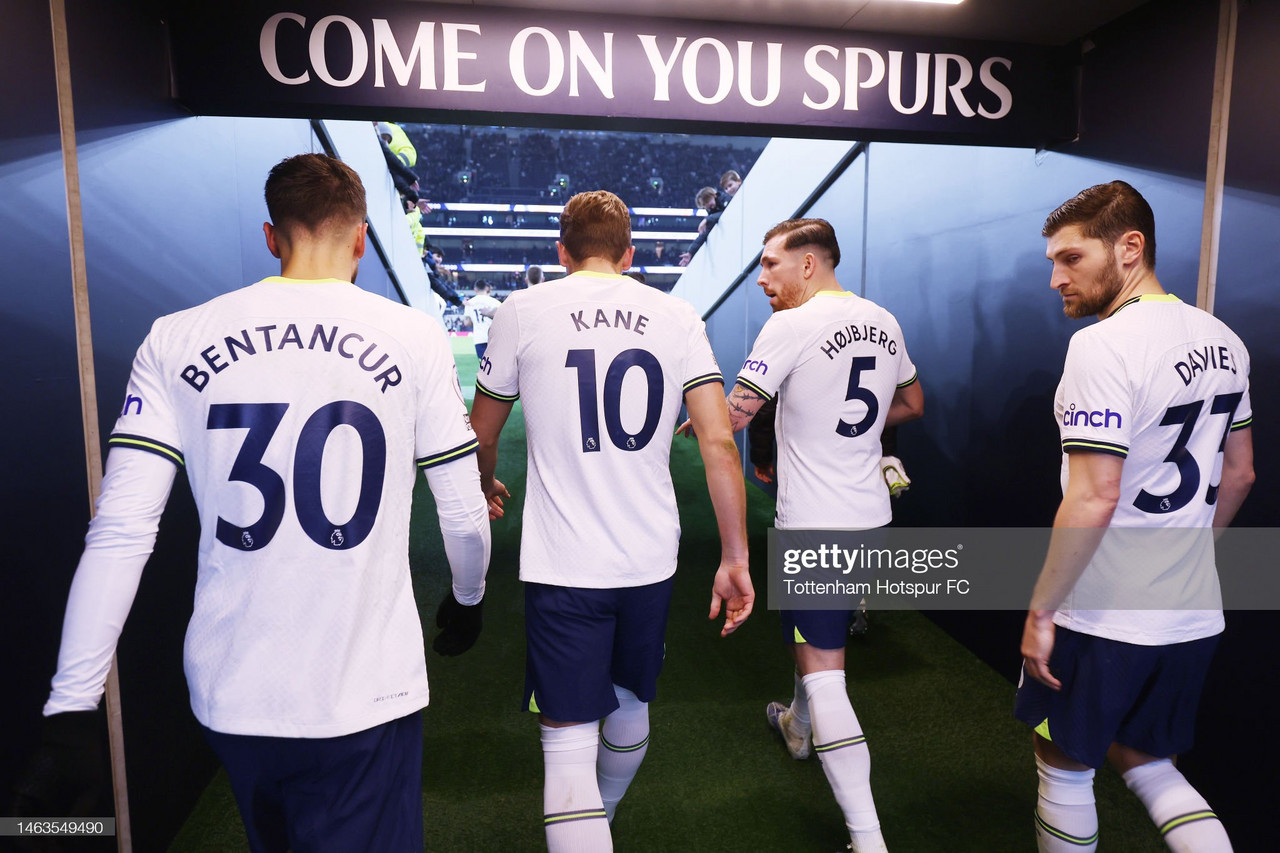 With the appointment of Ange Postecoglou at Tottenham, the dark and gloomy cloud hanging over Tottenham seems to have shifted and settled elsewhere, at least for now. However, one omnipresent question still remains - the future of Harry Kane at his boyhood club Tottenham Hotspur.
While there are many contrasting narratives surrounding Harry Kane's future, as of yet the England goalscorer has only known one parent club through the entirety of his adult professional career and through the majority of his youth journey in Tottenham's Enfield-based Academy.
With just one year left on his deal at the North London club, speculation has never been so rife over the star number 9's future. In the summer of 2021, after a protracted manager search which ended up taking 72 days, the same as this season's search for Postecoglou, Kane attempted to force through a move to then reigning champions Manchester City.
Although his attempt was unsuccessful, it made clear Kane's mentality, that he is a player that targets far more than 4th-placed finishes with desires to not just have illustrious individual records, but also win trophies with his respective club.
Since Kane's attempt to break away from the Lilywhites, the bond between the supporters and their star player has been fully repaired. During the past 2022/23 campaign, Kane had yet another superb season in North London, scoring 30 goals and assisting three, his best ever Premier League campaign in terms of goal contributions.
In addition, the forward has never been so vital for Spurs, winning countless points for Spurs on his own accord and on average providing a goal or assist per 87 minutes. The sublime goalscoring rate of Kane has seen him overtake the legendary Jimmy Greaves to become Tottenham's all-time record goalscorer as well as the second-highest goalscorer in the Premier League, overtaking Wayne Rooney's 208 goal mark in 175 fewer games.
Not only has it been a fantastic domestic season for Kane but also a record-breaking one within the sphere of international football. England's captain is also now England's greatest ever goalscorer with a tally of 55 goals in 82 games, two more than previous record holder Wayne Rooney.
In the last few months, as Kane's form has reached new heights, interest has understandably increased over the starman's signature; Tottenham Hotspur as a club have made it very clear how much they appreciate the exploits of their number nine. Before home games this season, the South Stand has created tifos to celebrate the fantastic effort of their finest homegrown talent, as well as a presentation following his record-breaking achievement against Manchester City.
In addition, a Harry Kane mural has been painted outside the ground in between the stadium and the White Hart Lane Station to commemorate Spurs' best-ever number nine, with the famous line 'he's one of our own', displayed across the right half of the artwork.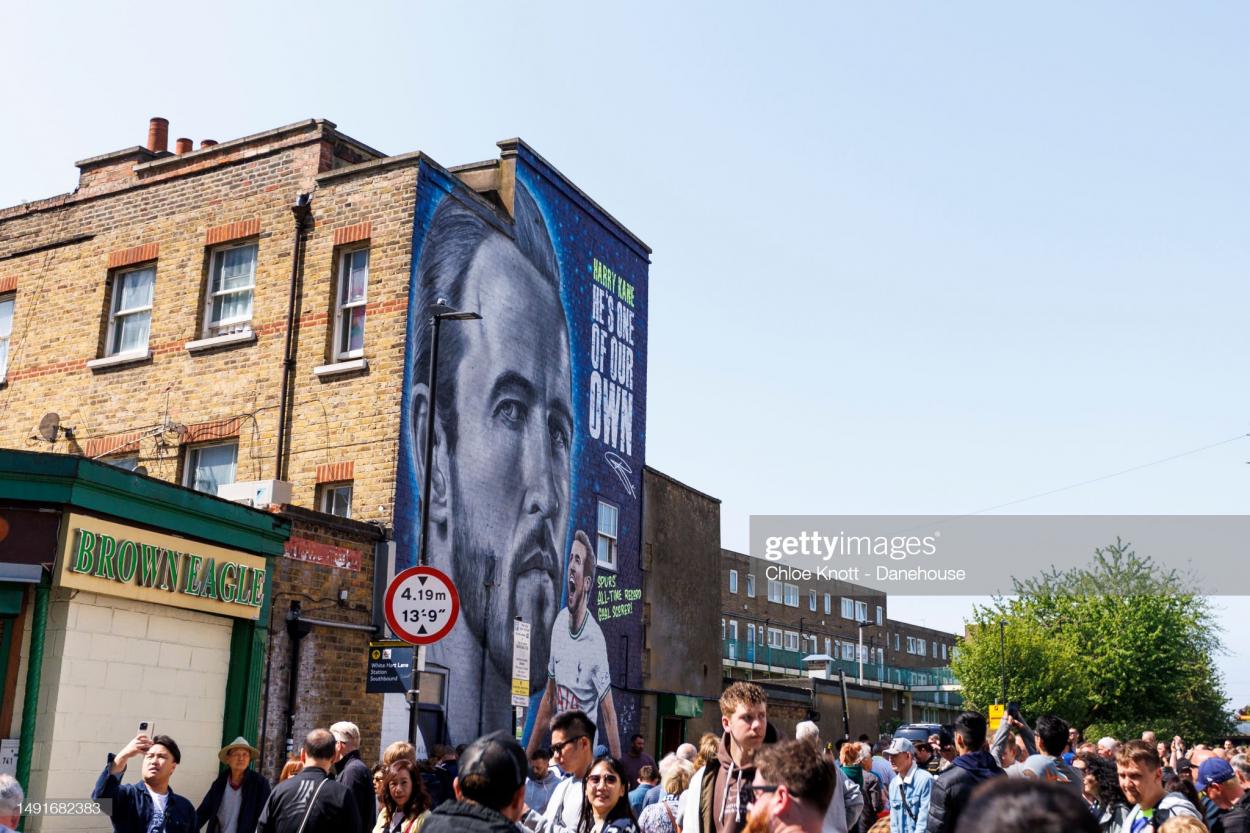 With Kane already one of Spurs' all-time greats and arguably close to securing immortality, we analyse the probability that the striker, who will be 30 in July, would choose to move away from his boyhood club to seek opportunities elsewhere.
Opportunities elsewhere
While Harry Kane will turn 30 in July, the player is still keen to point out how he believes he has many years left at the top of European football. Following England's game in Naples against Italy, in which he broke the goalscoring record, Kane described how he was feeling the best yet in his career.
He said: "I don't like to look too far in the future but I'm 29, I'm feeling fit and strong - the best I've felt in my career. I hope I have many more years. Playing for England is probably my greatest feeling in football. I want to do it for as long as possible".
To back his point, Kane has managed to keep himself injury free for the past 12 months, something that would enthuse any potential suitors, with Tottenham's star striker seemingly over the ankle issues that regularly plagued him during the latter half of seasons.
While a move away from Spurs is a possibility this summer, there are few clubs who would be able to pay up the necessary money to force Daniel Levy's hand into accepting. One club that has continually been mentioned is Real Madrid. Los Blancos recently witnessed their striker, Karim Benzema, move to Saudi Pro League side Al-Hilal, where he will pick up over £200 million in wages.
Madrid's President, Florentino Perez, will therefore be on the lookout for a long-term successor to the Frenchman who scored 353 goals for the Spanish giants in a front three that included Cristiano Ronaldo and Gareth Bale.
With Kylian Mbappe now seemingly unwilling to sign a new deal at Paris St Germain, it looks highly likely that both Kane and Mbappe will be available for reduced fees this summer and potentially on free transfers next summer.
In addition, Real Madrid have recently signed Jude Bellingham - Kane's younger England teammate, which may potentially enhance the possibility of Kane following his national team companion to ply his trade on foreign shores.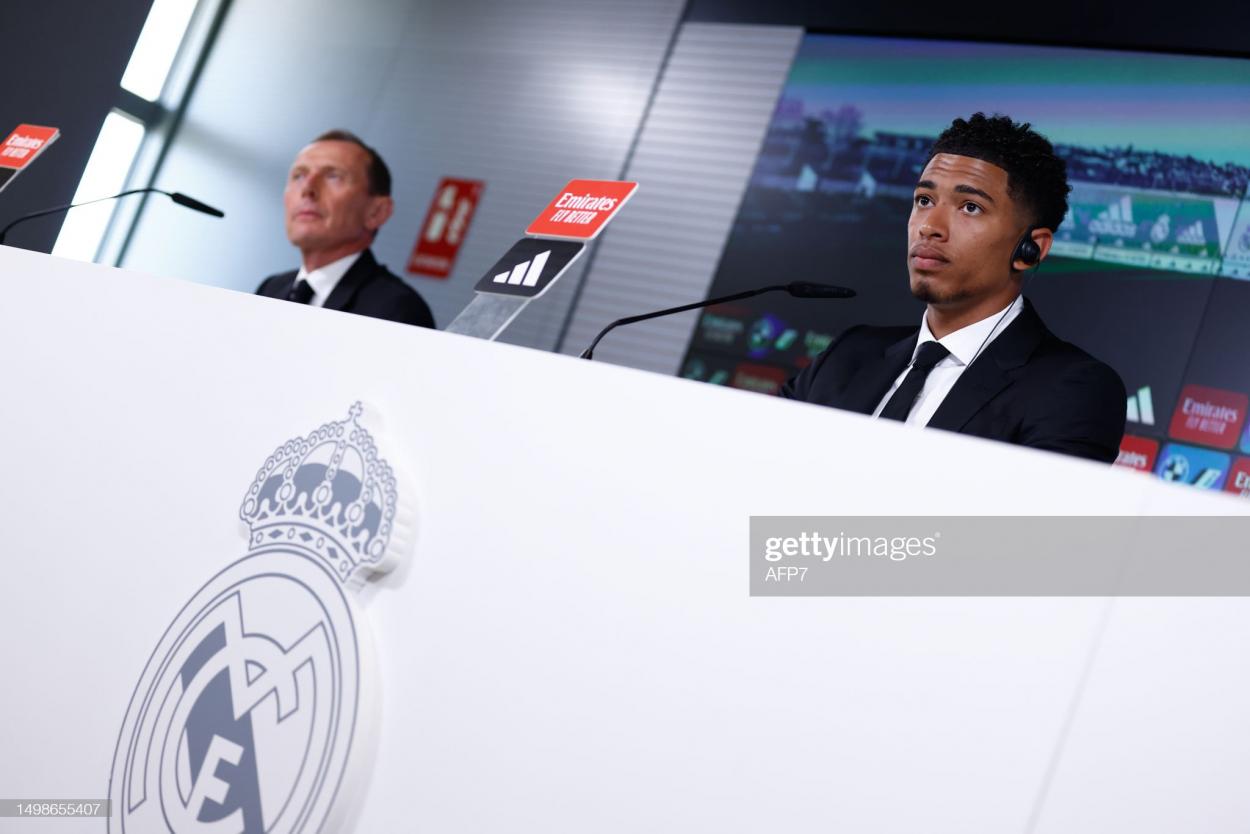 A domestic move for Harry Kane cannot be ruled out next summer, with the forward likely to be presented with proposals from fellow London club and former manager Mauricio Pochettino's Chelsea as well as Manchester United. However, it is highly unlikely that Daniel Levy would sell to another Premier League rival this summer for a cut-price deal.
One factor that will heavily influence Kane's decision to move to a domestic rival would be of that of achieving the all-time Premier League goalscoring record. The forward is currently on 213 Premier League goals just 57 behind Alan Shearer's impressive record.
With Kane aiming to have many more years at the top of the English game it seems a certainty that he would achieve the record if he stayed within the Premier League and kept himself fit.
Furthermore, if Harry Kane did move to Manchester United, he would be placing himself in the perfect position to win the major trophies that he desires as well as being able to play football within Europe's elite, something Tottenham cannot currently offer.
The chance to achieve immortality
While fellow Italians Antonio Conte and Cristian Stellini left Daniel Levy and Tottenham Hotspur with a pile of Roman ruins, things can quickly change in football. For many, the appointment of the Greek-born Australian Postecoglou brings much excitement.
For the first time in years, Spurs fans are hopeful of seeing their side play on the front foot with attacking football, something that would only benefit Harry Kane, who has been used to relying off scraps for the past few seasons.
Postecoglou is arguably a leap of faith from the Spurs hierarchy, representing a highly rated yet unproven manager within Europe's top five leagues, yet this gamble may prove to be the factor that keeps Kane at the club.
Postecoglou has a track record of going into broken clubs, clearing out the 'deadwood' and building squads that are capable of winning trophies and playing attractive football as shown through his spells at Brisbane Road, Yokohama Marinos and most recently Scottish giants Celtic.
Aside from the appointment of Postecoglou, Kane may yet sign a deal with Spurs due to the fact that he is from the local area, growing up just outside of North London in Chingford, Essex and has seen himself start a family with young children going to school in the local area. A move away to Manchester or Spain may represent something the striker would be unwilling to do at this stage of his life and career.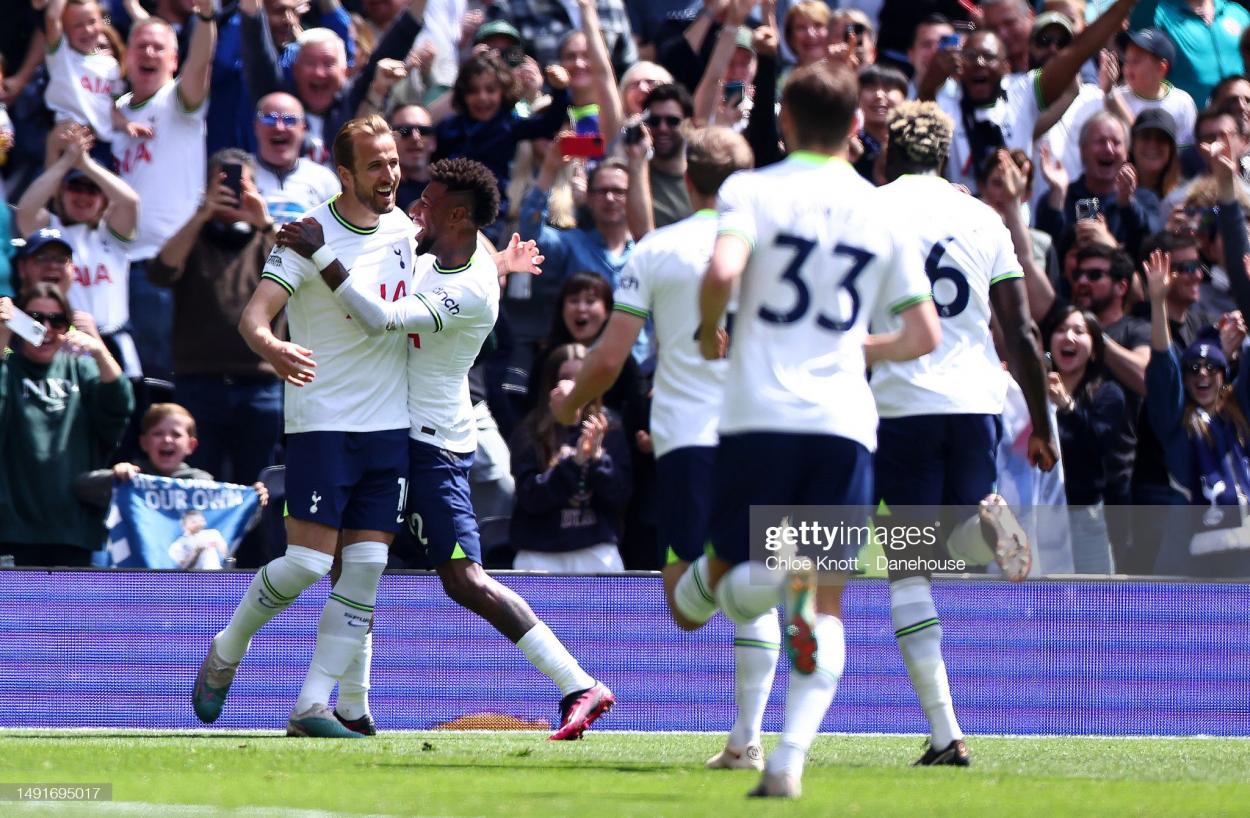 While a move away from Spurs gives Kane a more realistic opportunity of winning the Premier League and European trophies, at Spurs, the striker can ensure that he achieves immortality as an all-time great of the club.
However, it is clear that this alone would be unlikely to keep Kane at the club, with the star striker looking to see his ambition for trophies met by that of the club's hierarchy and with the correct investment in the squad to match those aims.
Speaking back in 2017, Kane spoke to Thierry Henry saying: "I just want to win trophies. I don't think there's a day that goes by where I don't think I want to win something. I want to win the Premier League. I want to win the Champions League. I want to win the FA Cup. I want to win. And I think if in three years time I haven't won anything, it would be disappointing".
With England's and Tottenham's record goalscorer arguably no closer to winning the trophies he craves, it may only be matter of time before he seeks a move away to win the biggest honours the game has to offer.