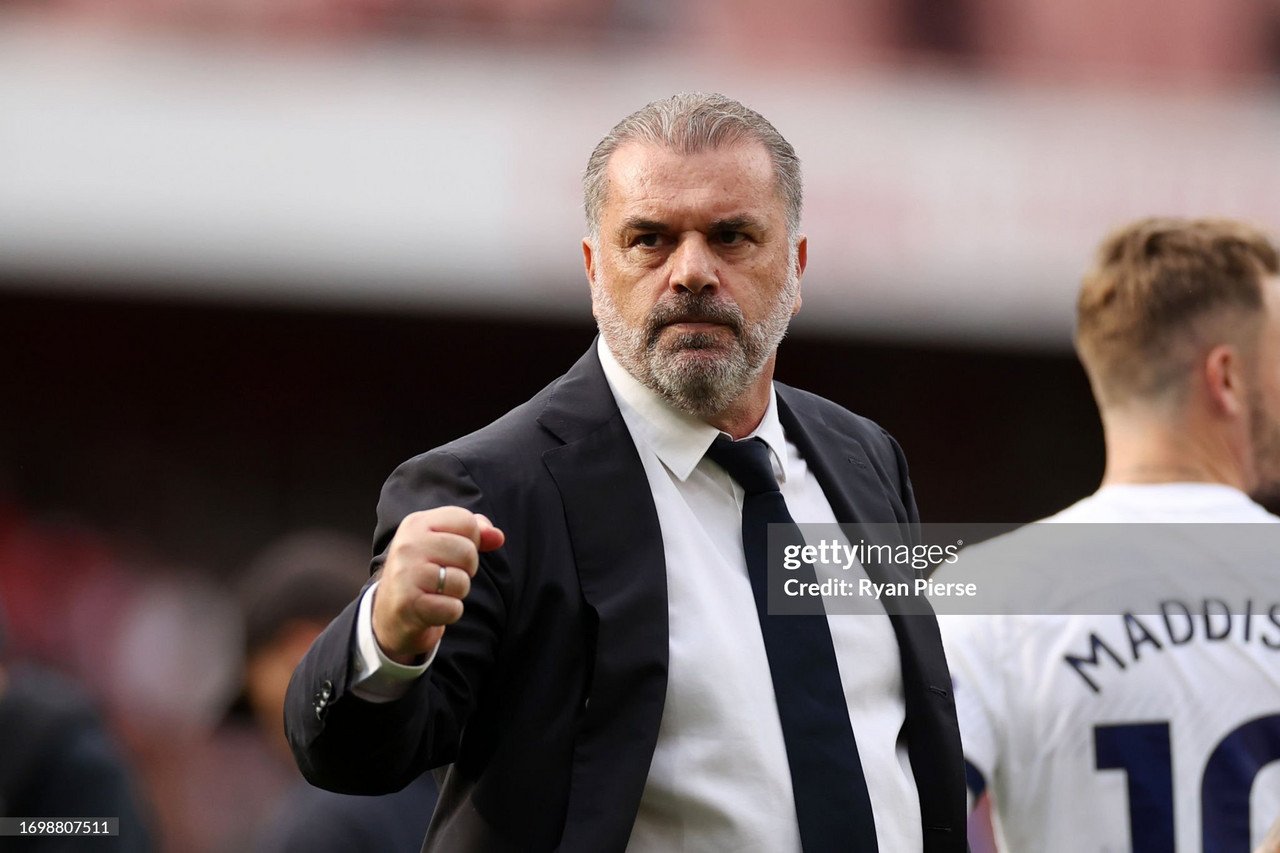 Ange Postecoglou is always quick to start the jokes in his press conferences; today was no different, as the Australian quickly shut down any idea that his Liverpool-supporting childhood still exists.
"I used to love Happy Days back then too! I don't have posters of the Fonz anymore either," he quickly claimed.
Postecoglou's impressive start in north London continued last weekend, as Spurs claimed a valiant point away at Arsenal. However, his job does not get any easier, with an upcoming clash against Liverpool looming on Saturday.
The Lilywhites have a notoriously concerning record against the Reds, with their last win against them coming in October 2017.
When suggested the players like to call him a Dad, Postecoglou was quick to joke about it, but later emphasised the importance of his guidance.
"It's probably a reference to the way I dress," he chuckled.
"I think in our role, we provide support in any way we can. Some of that is guidance; I am older and I've had more life experience. Whatever I can pass on about the things I've learned in life apart from football, then I'll try to do that."
The former Celtic manager also provided an update on team news and Liverpool's impressive spell in the Premier League.
Spurs suffered two scares against Arsenal last week, with James Maddison, Brennan Johnson, and Heung-Min Son suffering minor knocks.
The Australian confirmed former Nottingham Forest winger Johnson will miss out, whilst Maddison and Son should be able to feature.
"Brennan will miss out. Nothing too serious but he won't be right for this week. Maddison and Sonny have just finished the session and they didn't seem to get through too bad, but we'll just have to see how they pull up. It's fair to say they'll still be sore after last week and they've had a disrupted week of training," he said.
"Both have been good. They've been [great] on and off the field and driven the lads to try and maintain a level of performance every week."
"You can do whatever you like," Postecoglou later calmly answered when asked about putting Maddison into a Fantasy Football team. The Australian's relaxed figure has epitomised Spurs' start to the season, with the Lilywhites playing without pressure.
Meanwhile, Bryan Gil is set to return to action soon, and Postecoglou believes he could play a key part for his team.
"He's been unfortunate. From the start of pre-season, he's had a couple of injuries that haven't let him train with the team. He had a good year last season away from here. He plays in a position where guys with his attributes can fit in. It will be good to see him get up to speed in the next couple of weeks," he said.
A tough test against Liverpool
Liverpool failed to qualify for the Champions League last season, as the Reds dealt with a rebuild in the middle of the park.
However, Jurgen Klopp's side have looked rejuvenated this season, currently sitting second in the Premier League.
Postecoglou said: "Very highly [rated]; they've been a very good football team for a while now. Obviously, they fell a little bit off the pace last season, but the elements of who they are as a football team have always been there. It will be a really great test for us.
"They bring something different compared to every other team and the way they play. It will be a good test for us to try to impose our football on a team that are unique in the way they play the game. Jurgen is an outstanding manager.
"He's one of those managers who has made an impact on the competition and not just the club. The way he came in and challenged quite a few conventions about the Premier League - introducing a new style of play that others have followed. It's a great test for us for where we are at the moment in terms of our development."
"I thought similar to last week [about it being a spectacle to watch]. Arsenal were in good form; we were in in good form. It ended up with a good game of football. We're looking for that tomorrow. It has to be about our own development. How we impose our style of football on a top team? How much of ourselves can we show?
"The more we go through these tests and show ourselves, the more the belief is to keep going down this road and accelerating the growth. We're at home, it's a small thing, but we've had seven matches so far and only two at home. Being at home tomorrow will help us in that sense."
Liverpool-supporting childhood now long gone
Postecoglou's childhood in Australia meant very little football could be watched. When it was available, it was only the biggest of matches - often European and FA Cup finals.
Postecoglou confirmed once again he did support Liverpool down under, but that relationship is now long gone.
"It was the 70s, so it went one of two ways; they only showed Man Utd or Liverpool. A couple of my mates went United, so I went the other way to keep it interesting. Like any kid, I had a couple of posters on my wall and Liverpool was my team, but you grow up and things change. I used to love Happy Days back then too! I don't have posters of the Fonz anymore either," he said.
Yves Bissouma has been a revolution in the middle of the park for Spurs this season, despite a tough year under Antonio Conte last year.
However, the midfielder has already picked up three yellow cards this season, meaning he is only two away from a suspension. Despite this, Postecoglou has no intentions to speak to him about it.
He said: "I think some of those things are just consequences of the game state and the way things are going. I never worry about talking to the players about those sorts of things. If they're picking up needless bookings like dissent, then potentially I would have words with them. He's become a really important part of what we do; we don't want him missing games.
"It's certainly nothing at the moment to address to him about. He plays in an area of the pitch where there's a lot of action. He's involved in all of it which is brilliant for us; I'd hate for me to curtail that."