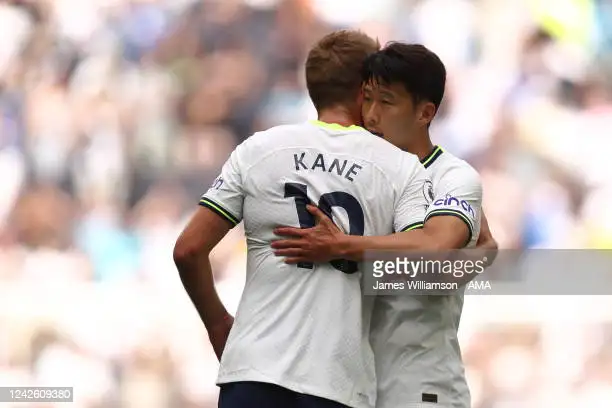 After a vital win against Nottingham Forest on Sunday, Tottenham Hotspur have little time to rest. The Lilywhites travel to bitter rivals West Ham United on Wednesday evening.
With a midweek game every week up until the end of October, it is vital teams have strong depth to be able to keep fitness levels high. Therefore, this upcoming gameweek might be the first time we see rotation from Antonio Conte.
Heung-Min Son is under pressure after a poor start to the season, whilst Yves Bissouma is itching to earn his first start. Therefore, how will the team from N17 lineup?
The World Cup winning captain is one of the few world-class players in N17. The Frenchman is entering his eleventh season with the club and he is still performing at his best.
There is no doubt amongst fans and pundits that Lloris is the best goalkeeper for Tottenham and must start every big game.
Tottenham Hotspur have not conceded with the Colombian on the pitch for over nine hours. Due to Cristian Romero's injury, the former Ajax defender has been a superb backup.
Despite Romero training on Monday, it is unlikely he will be risked so early on, especially when Tottenham have a crucial run of matches ahead of them.
Although Sanchez lacks the quality to play out from the back, his defensive qualities are vital to Antonio Conte.
Despite struggling for minutes under Jose Mourinho, Antonio Conte believed in the England international from the first day.
Since then, Dier has been a staple point within the Lilywhites defence. He sweeps up any loose balls, whilst his ability to play sensational long balls is vital to Tottenham's counter-attacking style of football.
Dier will continue to play most games for Tottenham, so questions need to be asked about his England future.

The Frenchman is yet to start a match this season, and has only featured for four minutes. However, this may be the time for the defender on loan from Barcelona to start.
When Romero is unavailable, Tottenham struggle to progress the ball from the back. Ben Davies and Davinson Sanchez are too conservative with possession, making it hard for Spurs to gain control of matches.
However, Clement Lenglet is regarded as one of the best ball-playing defenders around. In the past year, he has averaged 6.91 progressive passes and 10.07 progressive carries per 90 (fbref).
Although it is a gamble, playing the 27-year-old, will give Conte's side another dimension they have lacked at the back.
Many expected the Brazilian to leave London this Summer, however Conte has placed his full trust in the wing-back.
So far this season, fans have seen a reinvigorated Emerson as he tries to gain firm control of his starting place. Although he lacks a consistent final product, it is unlikely he will be dropped for this match.
Matt Doherty and Djed Spence have played just four minutes combined this season, therefore their fitness levels will not be at the level the Italian manager requires.
After Rodrigo Bentancur suffered a suspected concussion against Nottingham Forest, it is likely the Malian international will earn his first Premier League start at Spurs.
Bissouma is regarded as one of the best central midfielders in the league, due to his ability to break up play in the centre of the park. He will be required to minimise the threat from Jarred Bowen and Pablo Fornals against West Ham, but the Tottenham hierarchy will have full faith in him.
The Danish international has been a regular for Spurs in recent years, and for good reason. Quite often, the Lilywhites struggle to create consistent chances. However, Hojbjerg is now being used as a deep-lying playmaker to create chances. In the past year, he has made on average 5.89 progressive passes per 90 (fbref).
Giving the Dane more creative freedom could be vital against the Hammers if Conte can exploit the West Ham midfield.
After not starting in Spurs' opening two matches, Perisic has since been a vital cog in the system for Conte's side. He offers a creative threat from wide, giving the Lilywhites a new, unpredictable dimension.
The Croatian's strength may allow him to be used as an inverted wing-back. This would give Tottenham an extra man in the midfield, allowing them to control games with greater ease.
Since signing in January, Kulusevski has been one of the best players in the Premier League. The Swedish international has contributed to sixteen goals since his arrival, making him a serious threat.
The winger uses his strength to beat his opponent, allowing him to cut in. Although it seems predictable, it consistently works for the loanee. His arrival has made the famous duo of Son and Kane into a famous trio. Therefore, it has forced defenders to mark all three components of the attack.
Kulusevski is a vital threat for Spurs, who will exploit the Hammers defence unless he is man-marked.
Despite winning the golden boot last season, Heung-Min Son has struggled to perform this season. With zero goals to his name, it might be time for the South Korean international to be dropped.
In recent years, Tottenham have not had the depth to be able to drop under-performing players. However, the arrival of Richarlison allows the Italian to use this tactic.
The Brazilian international has featured three times off the bench. On each occasion, he has caused chaos for the opposition defence. Against Nottingham Forest, the former Everton striker played a sublime cross to Harry Kane, helping his side to win 2-0. The performances from the 25-year-old warrant a place within the starting eleven.
In his press conference last week, Antonio Conte stated:
"After every game, I will have to check the situation with all of the players for tiredness and injuries. And one player will not be able to play in all seven games — it is impossible."
This suggests Kane will not play every match for Tottenham, but a match away to West Ham is not one he will be rested in.
The England captain is in sensational form currently, with four goals in four matches. The 29-year-old links most attacking patterns for Spurs, therefore dropping him for a London derby is incredibly unlikely.
Tottenham Hotspur face West Ham United at 19:45 pm BST at the London Stadium. Currently sitting third in the table, Antonio Conte's side will be seen as the favourites as they look to consolidate their title challenge.