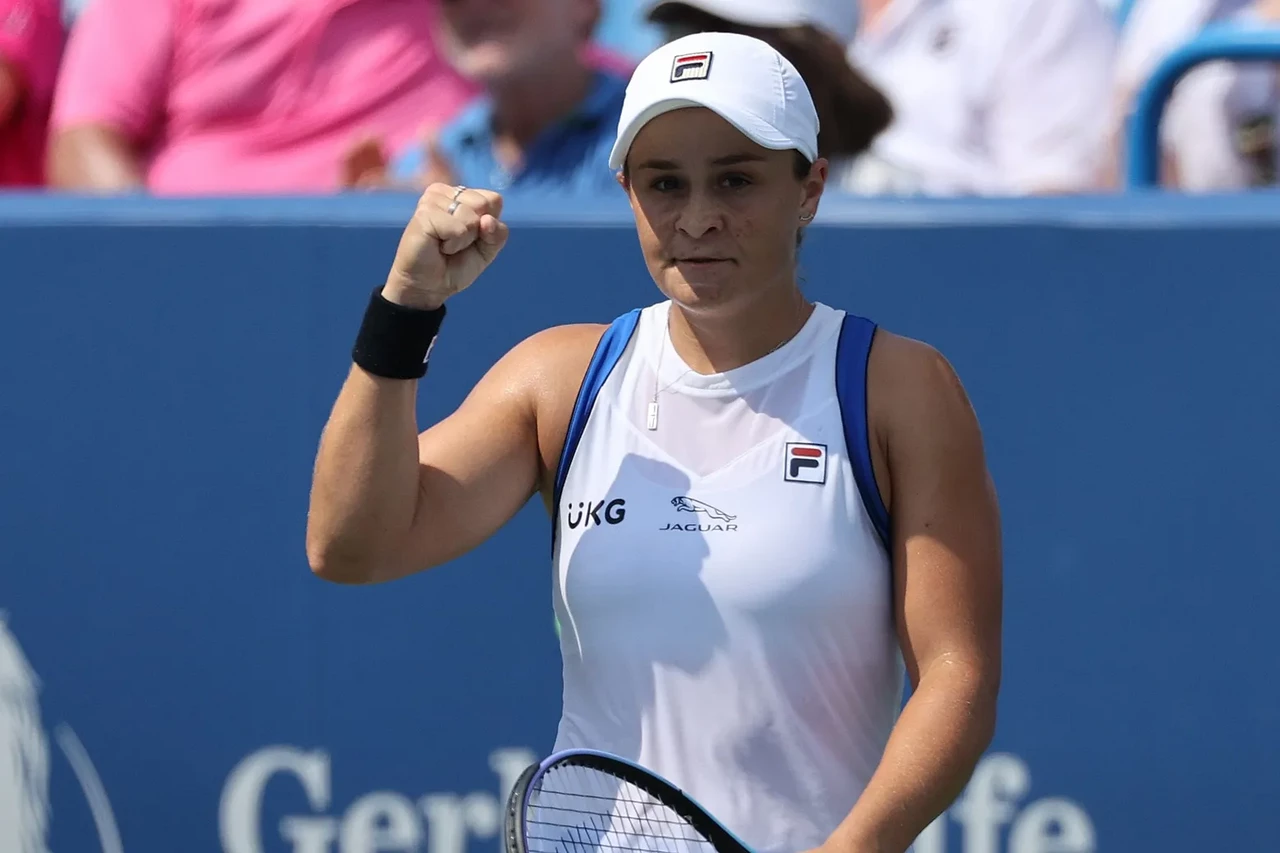 The season's last major will begin on Monday as the US Open will occur in New York City. All eyes will be on two players: top seed and world number one Ashleigh Barty, the Wimbledon champion and third seed and defending champion Naomi Osaka.
With a bevy of challengers waiting to see if they can upset the two best players in the world, VAVEL takes a look at what should unfold over the next two weeks at Flushing Meadows.
1. Ashleigh Barty: She's the clear favorite. While Osaka can't be counted out, the Australian has won a title on every surface this year, claimed the last major played at the All-England Club and just won in Cincinnati. I almost feel she's underrated despite being atop the rankings for nearly two full years. If she's not holding the trophy in two weeks' time, there will have been a major shock.
2. Aryna Sabalenka: No longer does she have to hear about her inability to go deep at a major, which she took care of at Wimbledon, coming within a couple of games of reaching the final. If the courts are fast, watch out. Could face former doubles partner Elise Mertens in the fourth round and either Roland Garros champion Barbora Krejcikova or Garbine Muguruza in the quarterfinals.
3. Naomi Osaka: Let's just take a minute to praise the four-time major champion for taking care of her mental health and making that her first priority rather than tennis. Coming off of a disappointing showing at the Olympics, she followed that up with an early loss in Cincinnati to Jil Teichmann. Back at the scene of her last Slam title, it wouldn't be a surprise to see her back in the final. Yulia Putintseva is 3-1 against her and they could square off in the third round.
4. Karolina Pliskova: The good news for the Czech is that her game has been revitalized under coach Sascha Bajin, having reached the finals at Wimbledon, Montreal and Cincinnati. The bad news is that she lost all three of those finals (two of them to Barty). She made her major breakthorugh here in 2016 and is playing well enough to make another deep run.
5. Elina Svitolina: The bronze medal she won in Tokyo will do her wonders and she is a former semifinalist here. She doesn't have a bad looking draw in that there's no one in her section that can overpower her until Osaka in the quarterfinals. She might be at her most dangerous here with very little expectations placed on her.
6. Bianca Andreescu: Tennis' ultimate tease. When she's healthy, she's among the very best in the world as her title in 2019 proves. The problem is that she's never really been consistently able to stay on the court for a long enough time to make a significant impact since her run two years ago. With Petra Kvitova, Maria Sakkari and Jelena Ostapenko in her section, it'll be a challenge to get to the quarters.
7. Iga Swiatek: In some ways, she's regressed this year, although when you plow through a major as she did in Paris in 2020, that's to be expected as very few are able to keep up that level. She did win a title earlier in the year, but she's still somewhat needing to prove herself off of clay. Not in a very favorable section with Olympic champion Belinda Bencic, Jessica Pegula and Cleveland titlist Anett Kontaveit.
8. Barbora Krejcikova: With all of the talk about Novak Djokovic chasing history, the Czech has already become the first player in tennis history to win a Slam in singles, doubles, mixed and an Olympic gold medal in the same year. She made the Round of 16 at Wimbledon and is a delight to watch. I really hope she faces Muguruza in the fourth round.
9. Garbine Muguruza: She hasn't been beyond the third round of any tournament since winning in Dubai (coincidentally, where she beat Krejcikova). This is the only major where she's never been beyond the fourth round and with a draw that includes a dangerous first round opponent in Donna Vekic, Victoria Azarenka and Krejcikovsa lurking, she may not make it that far this time around.
10. Petra Kvitova: You get the sense that the fast-paced, raucous atmosphere and the conditions (which are different from Australia) just don't suit the two-time major champion. I think I join in with a lot of people associated with the sport who hope she can make one more run at another Slam title.
11. Belinda Bencic: The (somehwat) surprise winner of the gold medal in Tokyo, she outlasted Elena Rybakina and Marketa Vondrousova in the medal rounds to become Switzerland's first female Olympic singles champion and her results after that can be excused. A semifinalist here in 2019, she could very well make it far enough in the draw to challenge Barty.
12. Simona Halep: She's all but disappeared with injury and a bout with COVID-19. Out of the top ten for the first time in a decade, she's only made it past the third round in New York three times in ten career appearances. It wouldn't shock anyone if Montreal champion Camila Giorgi knocked her out in the first round. In any case, it's terrific to see her back on court.
13. Jennifer Brady: This is where it all began for the American as she reached the semifinals in 2020, losing a close match to Osaka. Followed that up with a final in Melbourne, again Osaka getting the better of her. The pressure to defend a big result will be something new. Let's see how she does in handling it.
14. Anastasia Pavlyuchenkova: She got her visa issues straightened out just in time to be able to participate here. With that behind her, she can focus on another deep run as was the case in Paris. Her two biggest obstacles to a second-week showing are Paula Badosa and Pliskova.
15. Elise Mertens: She's about where she should be: high enough in the seeds to be a threat, but not too high where she's overseeded and ripe for an upset. Slower courts will help her steady baseline style where she can outlast her opponents.
16. Angelique Kerber: I would be very, very concerned if I were players in her section. She's a former champion and reached the Wimbledon semifinals, where she was competitive against Barty. For a great player, she's very up-and-down, but she's on the "up" and a fourth-round battle against Osaka will be a treat.
17. Maria Sakkari: Since her run to the Roland Garros semifinals, she's 3-3 at tour-level events. You wonder how long it will take her to get over not converting that match point in the semifinals against Krejcikova in Paris. Kvitova and Andreescu are in her section, so she may not make it out of the first week.
18. Victoria Azarenka: Last year's finalist, where she came within a set of the title, lost to Sabalenka in Montreal and Barty in Cincinnati in convincing fashion. Not much attention on here, so she may be able to surprise again if she can get by Muguruza in the third round.
19. Elena Rybakina: She reached the quarterfinals in San Jose, which was good to see because, like Sakkari, she had her own demons to get over after blowing the Olympic semifinals against Bencic and bronze medal match versus Svitolina. She could face the Ukrainian again in the round of 16.
20. Ons Jabeur: Her ascent continues with victories over Swiatek and Andreescu in recent months. Her all-court game and infectious personality make her one of the easiest players to root for. Sabalenka got her at Wimbledon and she would relish a rematch here.
21. Cori Gauff: This is her highest seeding at a major and it happens to be in her home country. Madison Keys or Sloane Stephens could be her second round opponent and with her power game, this may be the Slam where we look back and say her rise to the very top began.
22. Karolina Muchova: Understated breakthrough this year, reaching the Australian Open semifinals and adding a second quarterfinal at Wimbledon. She puts pressure on her opponents by coming to net and with her variety, she could cause a few more surprises here.
23. Jessica Pegula: A nice run to the Montreal semifinals, where she was edged out by Giorgi, will do her good. Australian Open quarterfinal showing started her climb, although a difficult draw with Bencic and Swiatek may prevent her from reaching that stage here. 2022 should be a big year for her.
24. Paula Badosa: She's had a magnificent year, beating Barty in Charleston, getting to the Roland Garros quarterfinals and reached the same stage in Cincinnati. A hard-hitter, look for her and Pavlyuchenkova to have a slugfest in round three.
25. Daria Kasatkina: It's great to see such a talented player back to playing some steady good tennis. Finalist in San Jose, her versatile game will suit her extremely well regardless of the speed of the courts. Here's hoping she maintains the level she's gotten back to.
26. Danielle Collins: Back-to-back titles in Palermo and San Jose give her a great deal of momentum coming into New York. She's as feisty as ever and the crowds will appreciate that (and she'll love feeding off of that). Third-round match against Sabalenka could be very exciting.
27. Jelena Ostapenko: Eastbourne champion and Cincinnati quarterfinalist, she's playing well as of late, which is extremely dangerous for the rest of the field. Could face Andreescu, which would be an electric encounter.
28. Anett Kontaveit: She lost to Ostapenko in the Eastbourne final, lost in the first round of her next events and then won Cleveland. In many ways, that's the story of her career: never consistent long enough to fulfill her potential (so far). Let's see what happens here.
29. Veronika Kudermetova: Charleston champion hasn't won more than two matches at any tournament since Rome and with Barty looming in the third round, that's likely to continue. Still, it's been a terrific year for the Russian.
30. Petra Martic: 3-7 since Rome, where she made the semifinals, she's not very comfortable on hardcourts. She's probably going to lose to Pliskova in the third round and can turn her attention to having a solid fall.
31. Yulia Putintseva: Usually, I say she's feisty enough to just bother higher-ranked players, but she nearly made the semifinals here in 2020 and owns a 3-1 lifetime record against Osaka. Guess who she could play in the third round.
32. Ekaterina Alexandrova: Hard-hitting Russian hasn't won a match since Wimbledon. Defeated Kim Clijsters in the first round in 2020 and she could face Krejcikova in the third round. Court speed will be very important for her chances.
Unseeded players to watch
Marketa Vondrousova: Olympic silver medalist doesn't have an easy draw, but she took down Osaka in Tokyo and was a whisker away from beating Bencic. A run here, with her variety and current confidence, wouldn't be much of a surprise.
Alize Cornet: If she can get by Jabeur, she could go a long way. Veteran who has had big scalps in majors before, she's coming in off the back of a finals appearance in Chicago.
Emma Raducanu: Admittedly, she may not get out of the first round considering she is facing Brady, but she broke out with a fourth-round showing at Wimbledon. Qualified here and is a player to keep a very close eye on.
First-round matches
Keys vs Stephens: A shame one of them will lose right away. Fitting they open Ashe and the fans should be in for a treat.
Giorgi vs Halep: This is a lot like when the Romanian lost in the first round in 2018 to Kaia Kanepi: a dangerous, hard-hitter who can blow Halep off of the court. Shock value will be zero if the Italian wins.
Vekic vs Muguruza: Expect a lot of up-and-down play from both. Croatian has caused surprises at majors before.
Putintseva vs Kanepi: Speaking of causing surprises at majors, Estonian is in with a chance in this one. Should be a lot of fun.
Semifinals: Barty def. Pliskova, Kerber def. Krejcikova
Final: Barty def. Kerber