2017 started in good fashion for Manchester United with an excellent win in the league on their first visit to the London Stadium, defeating West Ham United 2-0.
Indeed, there was still promise on all fronts, as despite trailing Chelsea by some way in the league, a productive December of the previous year had seen United drop only two points at Everton.
They had secured their passage into the knock out rounds of the Europa League, face a League cup semi-final with struggling Hull City and were to begin their FA Cup campaign at home to Championship Reading.
In Jose Mourinho's first season United were becoming a force once more.
As the year draws to a close, we know that United did triumph on two of the four fronts. The league went to Chelsea, and it was the Londoners who knocked United out of the FA Cup 1-0 at Stamford Bridge.
The League Cup was secured with a thrilling 3-2 victory over Southampton, and the Europa League with a workmanlike 2-0 win over Ajax. That meant that United secured Champions League football, as they finished a disappointing 6th in the league.
Mourinho had become the first manager in United history to win a major trophy in his first season and went one better by claiming two. That was a huge achievement, and the 2016-17 season a resounding success.
League form 2016/17
United started in 6th position going into the year and ended in 6th position. This difference was that they were 13 points behind Chelsea at the turn of the year and ended up a huge 24 behind.
Worse was that they never gained on any of the teams in between, but fell further behind. The main problem was an inability to kill teams off with too many draws.
Additionally, when United still had a chance of 4th place, Mourinho looked to the Europa League for the route to the "holy grail" of Champions League football.
From the last six games, United only recorded victory in the last game of the season - a dead rubber at home to Crystal Palace. There were some highlights though, albeit not many.
Most notably the home fixture with Chelsea. Already looking like champions and having knocked United out of the FA Cup, United needed a win for pride above all, but to keep their slim Champions League hopes alive.
They did so in superb fashion. With most pundits predicting a typical Mourinho big game performance - soak the pressure and hit on the break - the tactics were anything but.
United chased and harried from the off and were on the front foot from the first whistle. It seemed to catch Chelsea unawares and Marcus Rashford opened the scoring early in with a brilliant finish.
Ander Herrera was outstanding and he added a deflected effort in the second half to condemn Chelsea to a resounding defeat. It was a rare entertaining and bright moment. It showed United could go toe to toe with the best.
Unfortunately, there were plenty of lows too. United had a genuine chance of a top-four finish, but when they turned up at Arsenal there minds were firmly fixed on the Europa League semi-final.
They slumped to a 2-0 defeat without much of a whimper. It was understandable, as it followed tepid draws with Manchester City away, and Swansea at home - another deeply disappointing game.
It was sandwiched in between the two semi-finals with the second leg only days away. So the performance was one of a number where you could only describe them as not good enough.
Record Breaker
Another performance that wasn't good enough was Stoke City away. United drew 1-1 early in January. The game as a whole will not live long in the memory. Yet it will go down in history.
With United trailing 1-0 and 90 minutes already on the clock, they were awarded a free-kick on the left corner of the penalty area. It had destiny written all over it.
Wayne Rooney took responsibility and smashed a wonderful effort into the far corner. That in itself was not significant, he had been scoring wonder goals for years. It was the goal that took him past Sir Bobby Charlton's record of 249 goals.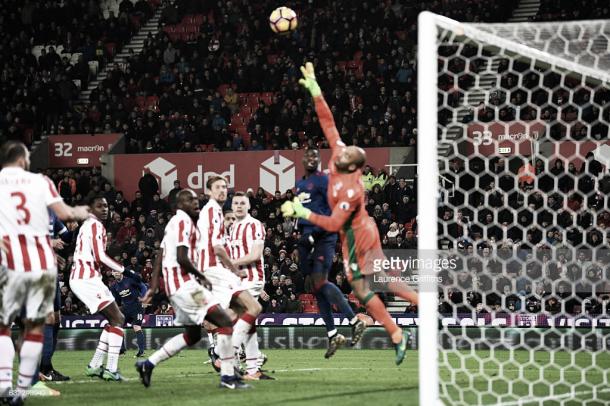 Wayne Rooney wrote history that day. Not just that day, of course, there was a matter of the 13 previous years when he was plundering goals in a red shirt.
Rooney divided opinion at United with many fans being unforgiving, but if you concentrate on the football he produced then it is impossible to ignore he was a magnificent servant to United.
Was, because at the end of the season he returned to where it all began. Everton. Mourinho insisted he wanted to keep Rooney, but could only offer him a bit part role. This was something he was having to get more and more used to and didn't want to.
So it made sense for both parties that he left to play football. Further goals against Burnley, Swansea and Spurs meant that he finished his career at United with an amazing tally of 253 goals in all competitions.
Summer transfers
Rooney was a high profile departure and the only real first team departure.
Josh Harrop also left for Preston on a free transfer. He had made his debut - a very accomplished one with a goal no less - against Crystal Palace on the final day. At 21, he could still have made progress at United, but he made the choice of a career elsewhere.
The first incoming transfer was Victor Lindelöf. He was acquired from Benfica for an initial fee around £31m. There were rumours of the transfer in January, but it didn't transpire until the summer.
Zlatan Ibrahimovic had commented that he felt Lindelöf had what it takes to succeed at a club like United. He had played with him in the Swedish national team, so it was a glowing endorsement.
At 23, he has a long career still ahead of him, and time would show that he was not necessarily brought in with a view to making an immediate impact.
Romelu Lukaka was though. Throughout the early part of the summer, United were linked with Alvaro Morato. It was alleged that Real Madrid were playing hardball with United over the fee.
United in the blink of an eye turned their attention to Lukaku and signed him in a swift deal for a reported £75m. What part the Rooney deal (United allowed him a free transfer) played is unclear, but is likely that it was significant.
Lukaku had been all set for Chelsea, and the irony is that after missing out on Lukaku they bought Morata.
If that turn of events was surprising, then United's final purchase was quite the eye-opener. Despite Chelsea potentially holding a grudge that United seemingly too Lukaku from under their noses, they sanctioned a deal to sell Nemanja Matic to United.
United paid nearly £30m but whatever the cost it was worth it. Mourinho knew the player he was getting, and it was baffling that Chelsea were prepared to sell to a direct rival.
Mourinho wasn't done. His last piece of desired business involved Ivan Perisic, the winger from Inter Milan. Again negotiations proved difficult, and the deal never got over the line.
It would have no doubt left Mourinho frustrated, and how much of an impact the Croat would have had is debatable. He, like Matic at the time, is 28 and the board despite spending huge sums showed they can still have a prudent side.
They did sanction one more signing though. Ibrahimovic had been released when his contract had expired as a result of a cruciate knee injury sustained in April.
Despite him still recovering and not being available for a lengthy period of time, United re-signed for another year. It made sense in many ways and was crazy in others.
His character and influence in the dressing room is something that cannot be underestimated. It was probably as much for that as anything that they offered him a contract.
Yet if he could recapture his form - and who could doubt him - then he would be able to take the burden off Lukaku and continue to help the development of the likes of Rashford and Anthony Martial.
League form 2017-18
The season began with a 2-1 defeat in the UEFA Super Cup at the hands of Real Madrid. Not ideal, but Lukaku opened his account on his debut.
Despite the loss, United were clearly buoyed by last seasons exploits as they hit the goal trail from the word go. A 4-0 victory over West Ham on the opening day, was followed by another away at Swansea.
In the first 11 league and cup games, United scored four on six occasions. Lukaku scored in his first 10 games for the club. They were playing some expansive football and had won every game apart from Stoke away, when they drew 2-2.
It was October and at Anfield that if the wheels didn't fall off, then certainly the brakes were applied. Mourinho reverted to type. Instead of continuing to let the "horses run wild" he kept them firmly in the stable.
United had lost Paul Pogba to injury in the Champions League victory against Basel, but in the five games without him they had won every one and scored four in four of them. Clearly, Liverpool were a different proposition for Jose.
They were not coming into the game in anything like the form United were, but an ultra-cautious United display saw them gain a point in a painstaking 0-0 draw.
United were unfairly and heavily criticised, considering what had gone before. Yet hindsight shows that the critics may have been right. They lost their first game in the following match at Huddersfield Town in what was a pitiful performance.
Since the Liverpool game United haven't regained the huge momentum they had. They continued to score goals and win matches, but it was with nothing like the swagger of the early season.
They followed the defeat at Huddersfield with a war-of-attrition victory over Spurs at home and also beat Arsenal at the Emirates in an amazing "rope-a-dope" victory.
Two up after less than 15 minutes, they then sat back and allowed a barrage of attacks. David De Gea produced one of the most sensational goalkeeping displays you are likely to see as United won a crazy game 3-1.
That game came after United had beaten Watford 4-2 in another cracker. Cruising at 3-0, United sat back and invited pressure. Only a wonder goal from Jesse Lingard managed to hand United victory after Watford came close to snatching a draw.
A similar story in the victory at West Bromwich Albion. And at Leicester. Except at Leicester the tactics finally caught up with United, and their luck ran out. They were unable to deliver the final blow on the counter and pressure eventually told - against 10 men. 2-1 became 2-2.
It is far from doom and gloom. United are second in the table, and whilst the heady days of August are a bit of a fading memory, in any ordinary season United would be bang in with a chance of the title.
Except City have contrived to make this a season as extraordinary as when Leicester claimed the title. Thay have blown the opposition out of the water, and United are playing for a Champions League place once more.
League Cup winners
The league may take Mourinho a bit more time to figure out. He did it when he encountered Pep Guardiola's Barcelona when he was at Madrid. He can do it again.
That is for the future, when you look back at 2017 then United had their name etched in two trophies and that is all that counts when all said and done.
The first was at Wembley against Southampton in the League Cup final. The year had started with a two-leg semi-final against Hull in January. After a comfortable 2-0 win at home, United went to Hull seemingly with one foot in the final.
Once again, United made hard work of things. Trailing 1-0 in the second half, Pogba seemed to have put United comfortably in the final with an equalizer. Yet Hull scored again late on and United went through but unconvincingly.
The final was a fantastic game, made so by an enterprising and attacking Southampton team. They took the game to United from the off, and were harshly denied the lead by an incorrect offside decision.
United were second best for periods, but by half-time seemingly had the trophy in the bag. An Ibrahimovic free-kick was followed by another Lingard goal in a Wembley cup final.
As is so often the case, thoughts of a cruise were soon dismissed as Southampton clawed their way back into the game with two Manolo Gabbiadini goals.
With extra time looming and three minutes left, a delicious Herrera cross was met with a sumptuous header by Ibrahimovic and United did get their hands on the trophy.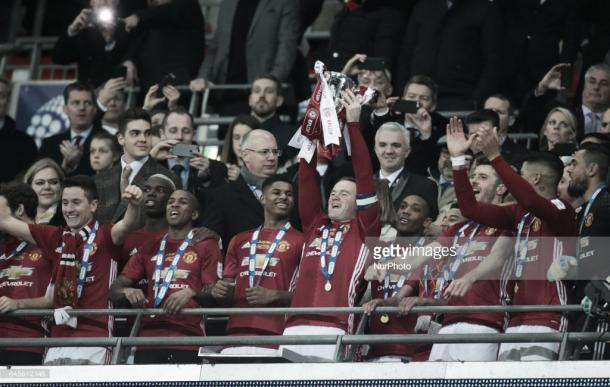 It was a tiny bit of revenge for their only previous cup final in 1976, when Southampton created a huge shock by winning the FA Cup. On that day the best team lost, and it could be argued that the tables had been turned.
Europa Cup winners
No matter a win is a win, and in May United had the chance to double up their trophy haul.
Having just about negotiated the group stages, their first opponents in the knock out phase were Saint-Etienne of France. This was a team that Ibrahimovic knew well from his time at Paris Saint Germain.
He had plundered goals against them in the French league and in the home leg he all but finished the tie with a hat-trick. United won 3-0 against what has to be said were a poor outfit.
With the three-goal lead intact, United never looked like being put under any sort of pressure and a Henrikh Mkhitaryan goal sealed an easy passage into the next round.
This was a much trickier tie as United travelled to Russia to face Rostov. They had come to the Europa League as a result of finishing third in their group during their Champions League campaign.
On a freezing cold night, United took the lead in Russia again courtesy of Mkhitaryan. He didn't start life at United in particularly good fashion, but he was now finding his feet.
United conceded in the second half, but a 1-1 draw in tough conditions against a tricky team was satisfactory. In the return game, United again performed reasonably well and a Juan Mata goal was enough to settle the tie.
Anderlecht were the quarter-final opponents. They also came via the Champions League, though they had been defeated in the Qualifying round.
Belgium has some of the worlds best footballers, and despite Anderlecht dominating the domestic Belgian League, United were still the favourites to progress.
In the away leg, Mkhitaryan once again gave United a lead which they held onto until the final few minutes. A late equalizer from the home side blotted the night a little, but a decent performance set things up for the game at Old Trafford.
Mkhitaryan - who else - gave United an early lead, but the night would turn sour quite quickly after that. First, Anderlecht equalized around the half-hour mark and then tragedy struck at the double.
First Marcus Rojo and then Ibrahimovich both suffered terrible knee injuries that would end their season. In addition, United were unable to find a way of breaking their opponents down and the game went into extra time.
Ibrahimovic's injury paved the way for Rashford to take up a striking berth, and he produced a moment of skill and power to fire home a fantastic long-range effort and see United through.
Any Spanish side has to be respected, and Celta Vigo were the next in line. They were not Barcelona or Madrid though and United never looked troubled in the first leg.
They hadn't threatened a great deal either, but midway through the second half Rashford struck the only goal of the game. He was growing with the responsibility on his shoulders and stepped up to score a lovely free-kick.
That set United up for a safe passage, and when Marouane Fellaini put United one up early in the return leg it looked like a comfortable night was to be enjoyed. Not with this United.
Despite Celta looking a very ordinary team, Mourinho was not about to go for the jugular. So it was sitting back and hit on the break time. United didn't look troubled, but with five minutes left Facundo Roncaglia set up the inevitable nervy finale.
Frustration got the better of Eric Bailly and after a melee, both he and Roncaglia were sent off. John Guidetti, once of City, missed a monster chance with time almost up but United qualified by the skin of their teeth.
And so to Stockholm to face Ajax. In the build-up, Ajax were built up to be a youthful super team and comparisons were being made with the Louis van Gaal vintage of 1995.
As it turned out, they were nothing of the sort, or they froze on the night. United went into the lead early on when a deflected Pogba shot broke the deadlock.
From that point on, United managed their Dutch opponents like men against boys. In the second half Mkhitaryan scored a lovely opportunist goal, flicking in a corner and for once United did cruise to victory.
Ajax never landed a blow, and United celebrated winning the trophy for the first time.
Ibrahimovic, who would dearly have loved to be the centre of attention on the night, celebrated on crutches along with Rojo and Ashley Young who was also on crutches. The suspended Bailly also seemed to enjoy the moment.
Player of 2017
Who was the best in a red shirt in the calendar year? It's a tough one. There have been many players that have put together good spells and provided important contributions, but over the whole year not many can be put forward.
Ibrahimovic was man-of-the-match for the League Cup final. He was carrying United's goal threat until the untimely injury in April ended his season.
Although he was returned, there looks to be a rustiness about him, and questions that were asked about his return have yet to be answered.
Ander Herrera was named Player of the Year for the season 2016-17. He deserved the plaudits, but since the arrival of Matic he found his chances limited in the second part of the year until Pogba's injury.
Since then, he has featured a number of times but he has yet to recapture the form that earned him his award.
Had Matic played for the full year, he would be in with a shout. He has been superb since joining in the summer and has shown himself to be a very classy act.
Mkhitaryan was instrumental in United's Europa League campaign. He grew into the team in 2017 and produced some really important moments and started to fulfil his immense promise.
Yet after a brilliant start to this season, he has again somehow managed to drop off the radar. There was some talk of a rift with Mourinho, but whatever the reason, he has question marks surrounding him once again.
Lingard has another cup final goal to cherish. He has been a peripheral figure since breaking into the United side. He has occasional games where he is outstanding. The majority he just runs around.
Until recently. He has been quite brilliant, and not once every five or six appearances. He is stepping onto the pitch and his energy is being harnassed with extreme intelligence and goals aplenty. If he can continue consistently, then next here he would be a certainty.
Likewise Anthony Martial. He has come to the fore this season, and seems to be a lot more mature. His ability is unquestioned, and he needs to keep showing the consistency he has in the second part of the year.
Rashford is still a great talent, but he is showing some signs of having a weight on his shoulders. He is still capable of magic, but he looks like he is trying too hard at times and lets frustration get the better of him. His time will come.
Bailly and Phil Jones have both succumbed to various injuries but have proved themselves as United's best defenders when they are fit.
De Gea has once again been a model of consistency. The reason he probably wouldn't be the best in the calendar year is that he does have less to do in more games than he has been used to.
He is still called upon, and his performance against Arsenal was the best by a United player for many a year.
The person who is the most consistent, most reliable and until lately one of the most under-rated is Antonio Valencia. He picked up an injury to end the year on a slight low, but he has been superb.
To think that when he was switched to fullback, the likes of Paul Scholes dismissed him out of hand, is a great credit to Valencia for silencing some critics.
Mourinho called him the best fullback in world football. Mourinho says a lot of things that can be taken with a pinch of salt, but actually, that is not one of them.
There are not many players that can get up and down the line for 90 minutes with the energy and pace that he does. He is always in the right place at the right time.
When he is in the forward areas, he knows what to do, and still looks like a winger. It is his defending, though, that really is admirable. He rarely gets beat, he is rarely out of position, but he also does what only the very best do and that is to come inside on the cover when needed.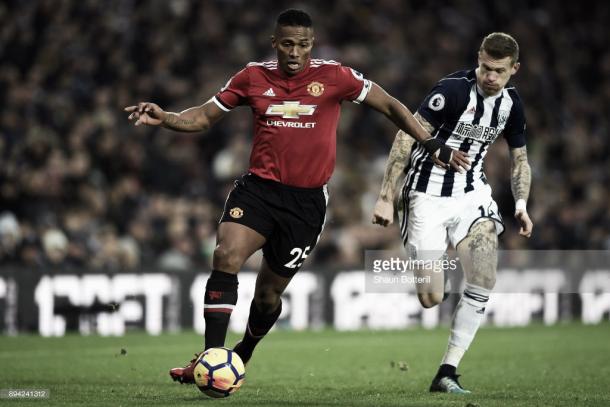 He is an 8/10 every week. Young would have pushed him close had he been able to play the year to the standard he is doing at the moment, but Valencia has been the man.
2018 Outlook
The Champions League, and more realistically, the FA Cup are United's only chances of silverware in 2018. So Mourinho could follow up a double by drawing a blank.
It wouldn't be the end of the world. After all City under Guardiola have won nothing yet. The most important thing for Mourinho and United is to ensure they finish as close to City as possible.
A trophy would be welcome, and the Champions League would be incredible. It will be tough though.
It is unclear whether Mourinho will try and add to the squad in January. He has already had a barb at somebody, somewhere, that £300m is not enough to challenge the likes of City and PSG.
Yet January is not normally the time to do any major surgery.
He does have other potential options in-house. The Crystal Palace game wasn't only Josh Harrop's debut, but also Angel Gomes' too. At 16 years and 253 days, his substitute appearance made him the youngest first team player since Duncan Edwards.
A huge talent, it is unlikely he will make a big impact next year, but he may well get a few more tasters. Significantly, he signed his first professional contract amidst a host of circling clubs meaning his immediate future is at Old Trafford.
United can look back on 2017 with some pride, and their achievements should not be underestimated. Progress is what everyone strives for, and it is possible that a backward step may be necessary for that to happen.
Yet Mourinho has never minded his back being pressed against the wall, and you can never rule out him pulling a rabbit out of the hat.