When a new manager comes into to a football club, it is natural that they want to make their mark. As well as bringing in new signings, they also appraise what is at their disposal and make judgement calls on who they keep.
At Manchester United, there is no suggestion of an agenda against Louis van Gaal, but Jose Mourinho is slowly but surely removing all of the major signings - that he inherited - van Gaal made.
In this transfer window, United's sole outgoing transfer is Daley Blind. He was one of van Gaal's first signings, and someone he trusted at international level. Blind was a good servant and got a glowing tribute from Mourinho after his departure. He was still shown the door.
Blind has followed a number of other high profile van Gaal signings, and there could be more to come before the window shuts.
Morgan Schneiderlin, Bastian Schweinsteiger and Memphis Depay were the first departures. All three came in with big reputations, but none really showed the reasons why they were purchased. It was no real surprise to see them sold.
Van Gaal himself got rid of his most expensive signing, Angel Di Maria, and another major player in Radamel Falcao, although he was, of course, a loanee.
Question marks
When you look at potential imminent departures, all of the question marks appear to be surrounding players van Gaal's brought in. Luke Shaw, Marcus Rojo, Anthony Martial and Matteo Darmian are all linked with moves away.
Shaw has stated his desire to stay and fight for a new contract, which is a positive. Given that Ashley Young is still performing at a high level, he will have a fight, but it is encouraging that he has stated his desire to finally make the left-back position his own.
Rojo has a number of apparent suitors but wants to stay after signing a long-term contract. Mourinho is clearly interested in a new centre-back and someone has to go if he brings one in. Rojo may well stay, but there will be no guarantee if Mourinho gets one of his targets.
Martial could well be on his way out. His position is becoming another saga. Before the World Cup began, his agent revealed he wanted out from United. After leaving the US tour to be present at the birth of his second child, he may well be edging closer to the door.
He doesn't seem to hide his unhappiness. His number being changed and Alexis Sanchez coming in and taking his place are two normal parts of modern day football, but it appears he is a sulker and his potential may well need to be fulfilled away from Old Trafford.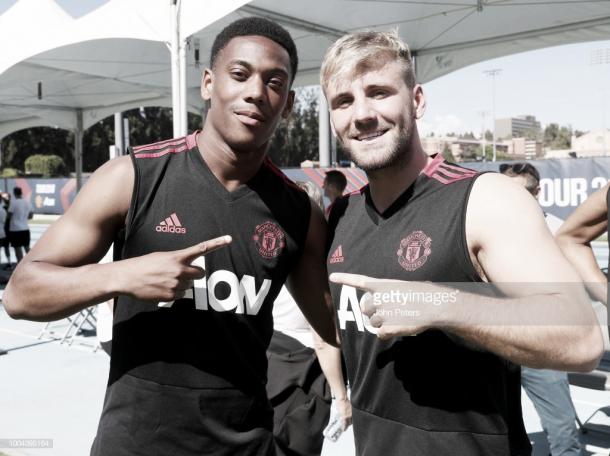 Finally, Darmian looks all but certain to be gone. He has already told Mourinho he wants to leave. A problem is his price tag, United are not going to let him go on the cheap. Additionally, Antonio Valencia picked up and injury that will mean he misses the start of the season so Darmian may actually be needed.
Moyes men still in favour
Only Andreas Herrera looks like he may get a stay of execution, and it could be that when the transfer window closes the van Gaal influence will be equal to or less than that of David Moyes.
Marouane Fellaini has signed a new contract, and whilst Juan Mata is in the last year of his contract, there is no sign that he is not going to play his part in the coming season. Moyes' boys are standing the test of time.
As are Sir Alex Ferguson's. The back five in the majority of games last year consisted of Sir Alex's signings. Considering United's best player is David De Gea then his influence could still be around for a fair few years.
Other Sir Alex players are a big part of the squad, the likes of Jesse Lingard and Marcus Rashford were both at the club when Sir Alex was in control.
Van Gaal's legacy still a possibility
Yet even if all of the players van Gaal signed did get sold, his influence would still be felt. He deserves credit for a number of players he introduced, especially Lingard and Rashford.
Others that may play a part in United's future like Andreas Pereira, Axel Tuanzebe and Timothy Fosu-Mensah and again they were given their first opportunities by the Dutchman.
Indeed, club Captain Valencia and Young are playing into their twilight years due to van Gaal's wise decision to convert them from wingers to full / wing-backs.
Had they remained as out and out wingers, it is likely they would have left by now, certainly, they wouldn't be the influential players they are now.
It is often said that when van Gaal leaves a club, his influence is felt after he departs rather than when he was at the helm. It was the case in Barcelona, and then at Bayern Munich.
His big money signings are dwindling, but there are a number of players that have the potential to ensure that United fans, whatever they think of van Gaal, may be grateful in the long term.