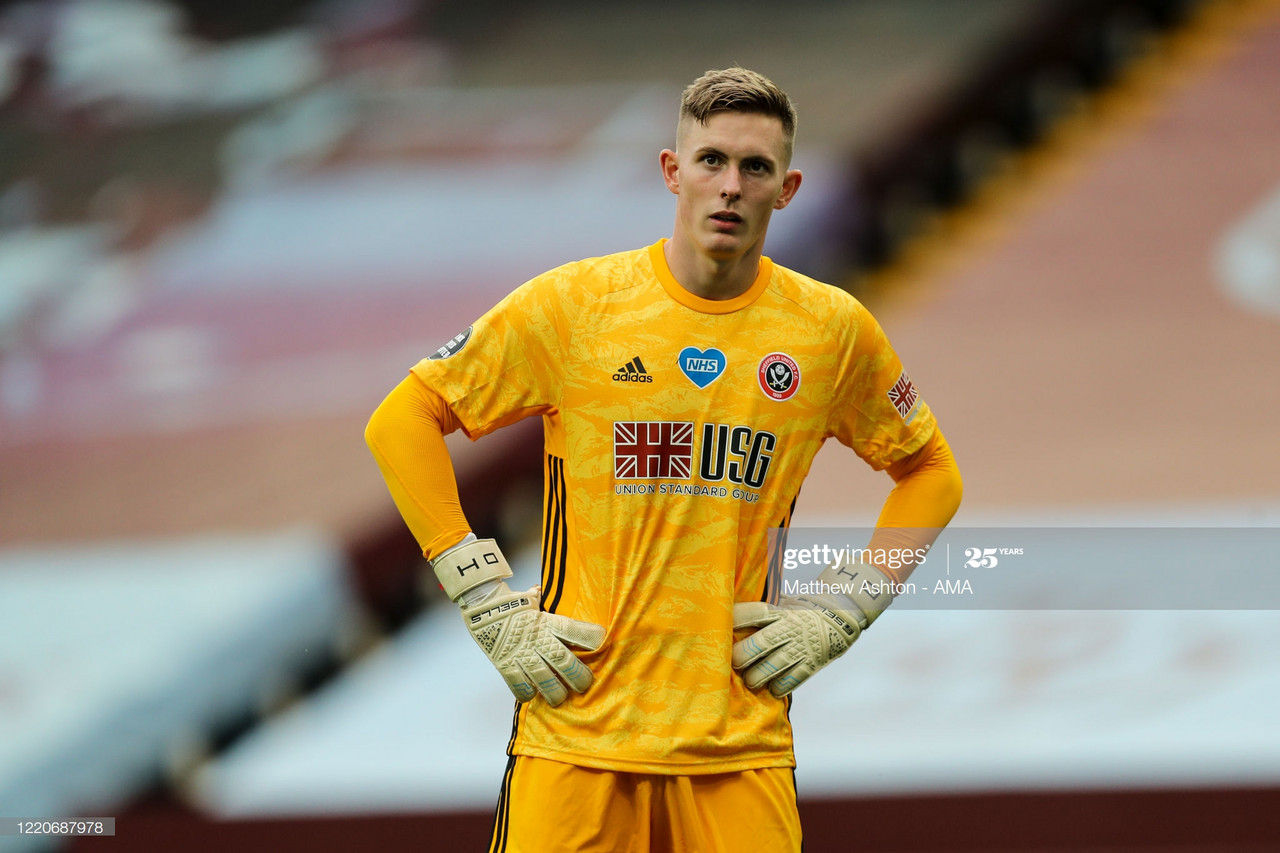 Both David De Gea and Dean Henderson haven't had their ideal return to the Premier League this week.
De Gea faced Tottenham Hotspur in Manchester United's first game back after the forced break, because of the coronavirus.
The game finished 1-1 after Bruno Fernandes' penalty cancelled out Steven Bergwijn's opener for Spurs.
However, Bergwijn's strike will be something De Gea will be wanting to get out of his mind sooner rather than later, after the Spaniard should've kept out the Dutch wingers shot.
The keeper soon after made an impressive save against Son Heung-min, although too often in recent times, the United goalkeeper has let his side down, making seven errors leading to goals since the start of last season - the joint most among other Premier League players.
Unlike De Gea, Henderson had the challenge of two games within five days.
In his first game against Aston Villa, The Blades were hard done by when they were denied a goal after the ball crossed the line because the goal-line technology failed to pick up the goal.
Although, the Sheffield United goalkeeper managed to get a clean sheet in that game, adding to his already impressive tally (11).
His second game however, was poor. Chris Wilder's team lost 3-0 to Newcastle United whilst also having a man sent off not long after half time.
Allan Saint-maximin put Steve Bruce's side 1-0 up after Enda Stevens missed the ball whilst trying to clear it, Henderson could only get a foot to the ball, but it provided little help as the ball ended up in the United-loanee's net.
Matt Ritchie got The Magpies second goal with an impressive strike however, Henderson may feel like he could've done better as he was stranded in the middle of his goal, giving Ritchie plenty to aim for.
Newcastle's third came after Sheffield United gave the ball up needlessly near the half way line, ultimately Miguel Almirón put the ball on a plate for Joelinton who really couldn't miss, the young goalkeeper couldn't do much about this one as his team seemed to have given up.
Is De Gea's time at United up?
After arguably being The Red Devils best player for the last six years or so - picking up four Sir Matt Busby Player of the Year awards, as well as many other awards - De Gea seems to have lost his confidence over the last two seasons.
His performance against Spurs has once again triggered the Henderson vs De Gea debate, with many now wanting United to cash in on De Gea and bring in the young English goalkeeper.
However, with De Gea's high wage and his price tag most likely being expensive, a lot of teams will be reluctant to pay that for an out-of-form goalkeeper.
The teams that could afford him are not likely to break the bank for him either, with them already having well suited keepers, such as Real Madrid with Thibaut Courtois, Paris Saint-Germain with Keylor Navas and so on.
United could well be stuck with De Gea and therefore, Ole Gunnar Solskjær may have the task of trying to find the David De Gea of previous years if they can't offload the 29-year-old.
Although, the Spanish international should not be disrespected as for many years United relied heavily on him and could've been a lot worse off without him.
Henderson's had a good season
Dean Henderson's first season in the Premier League has been impressive.
As mentioned the English keeper has kept many clean sheets and has made some outstanding saves, and with De Gea struggling lately Henderson has triggered many to consider him to be De Gea's replacement.
Although, Chris Wilder and Sheffield United are keen to keep the 23-year-old at the club, his current loan deal is set to expire on June 30, however, Wilder is confident that the loan deal will be extended till at least the end of the season.
When talking to Sky Sports Wilder has said that: "I believe it's now just administration with the two clubs.
"I had a chat with Ole and he was fine with extending his loan until the end of the season.
"Hopefully, that will get signed off before the deadline.
"I appreciate Ole's help on that one. Dean has been great for us and we have been great for Dean."
Solskjær has also identified that Henderson has "proved" himself and will become a first-team choice goalkeeper for United and England.
With De Gea's decline and with Henderson impressing, the Spaniard could be shown the door by Ole Gunnar Solskjær and Manchester United.