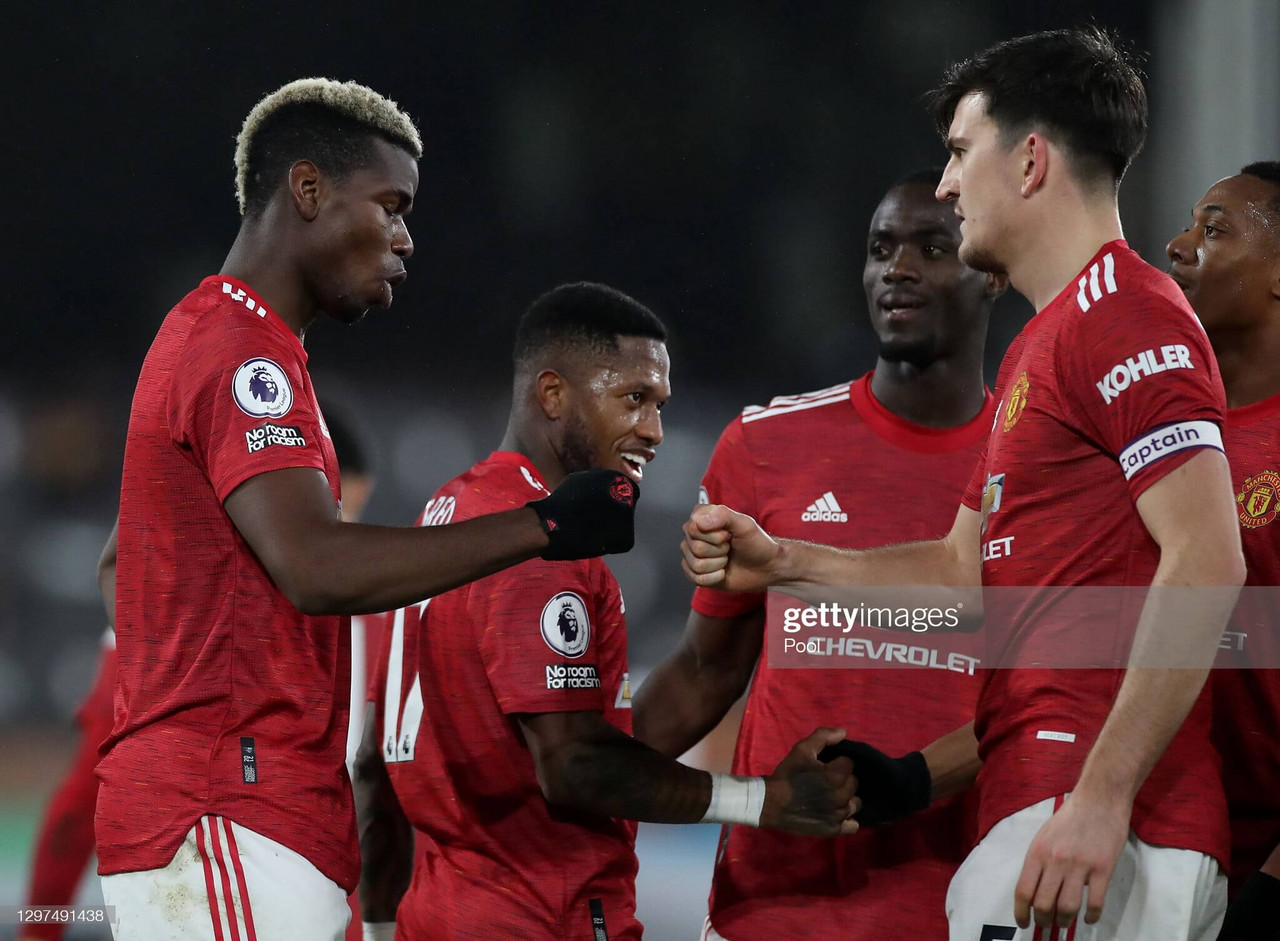 Goals from Edinson Cavani and Paul Pogba saw Manchester United re-take the lead at the top of the Premier League table, as they overcame an early deficit to see off Fulham at Craven Cottage, extending their unbeaten run to seventeen away from home.
While United may be leading the pack in the Premier League, there were five things we found out from the victory.
1. Right-back depth is a necessity
Aaron Wan-Bissaka really struggled against Fulham. He's been unfortunate recently, as his lack of depth means he's exposed much more often, as he appears in the majority of United's games. He hasn't been helped by the arrival of Alex Telles, whose arrival boosted the form of Luke Shaw – he was superb against Scott Parker's side – and as a consequence of this, many turn to Wan-Bissaka to improve as well. He struggled to keep possession against a very stoic Fulham side who pressed him well, and he arguably was at fault for the early opener, as he played Ademola Lookman onside.
With Timothy Fosu-Mensah out of the door to Bayer Leverkusen, Wan-Bissaka has no credible depth behind him, as Brandon Williams looks unlikely to play, and with Ethan Laird on loan at MK Dons. Competition behind the former Crystal Palace man is a huge need for Ole Gunnar Solskjaer's team, and while nothing is likely to happen in January, the likes of Kieran Trippier and Max Aarons have been mentioned as potential summer targets.
2. United struggle on narrow pitches
It happened against Liverpool and it happened again against Fulham. United struggle on narrower pitches. It felt, for the first half-hour, that Solskjaer's men were struggling to find space with which they could find penetration, as the hosts' flat-back-five blocked off the gaps United could have exploited.
Now, this wasn't too much of an issue considering United managed to turn the game around, but it was only through individual brilliance – from Bruno Fernandes and Paul Pogba respectively – that United managed to score. The answer to this issue isn't clear – do United need more orthodox wingers that can cross from the flanks, rather than cutting inside? Or was the lack of attacking threat from full-back difficult to overcome. Regardless, it needn't be too much of a problem considering the match was won, but it should be something that we should note, considering it was also an issue against the current champions last weekend.
3. Cavani needs to start regularly
Edinson Cavani had a solid game in front of goal, providing something that United have lacked for nearly four years: the lack of a true centre-forward. Not one of United's other strikers would have scored the chance Cavani did agains the Cottagers, and it's because they wouldn't have been in that position.
For all the flack Daniel James receives, he put in the same ball across the face of goal last season too many times to count, with neither Anthony Martial nor Marcus Rashford there to pounce. This threat from a poacher's position is what Cavani provides United, and it shows why he needs to be in contention to start more frequently.
Now, whether he starts against Liverpool in the FA Cup on Sunday is a different question – it's a different sort of game, and he struggled against the Merseyside outfit last weekend – but against some lower-ranked sides that United struggle to break down, Cavani is the perfect option.
4. Martial has lost it – but he can find it again
It was not the best of performances for Anthony Martial against Fulham. He gave the ball away, lost the ball in possession and struggled to get into the right positions. But there's a reason why Ole Gunnar Solskjaer persists with the Frenchman, and it isn't – or I hope to all heavens it isn't – because he's Joel Glazer's favourite player.
His form last season was impeccable, and he showed the individual brilliance that had been promised since his arrival in 2016. Martial has had to adapt to the left-wing and centre-forward positions, but he's a technically-gifted player, he can score goals and he can link-up with the creativity in midfield. Putting it all together could make the difference between 'good' and 'great' to describe this side.
5. Pogba is bumping up his transfer value…
Paul Pogba's spectacular winner against Fulham came out of nowhere. Tracking back to win the ball back, he advanced forward and thought, 'Why not?' And fair enough! If nobody else was going to do it, then Pogba had a crack at goal, and two winners in three games will do him the world of good as he seeks a new club this summer.
Paul Pogba, stop that! 🤯

The control, the turn, the finish.

Ridiculous! 🙌 pic.twitter.com/4WOazDVX1Y

— Football on BT Sport (@btsportfootball) January 20, 2021
It's unlikely that United retain Pogba this summer, and putting his name in the shop window, asking teams to pay what he's worth is important to not only Pogba, but his agent – who we shan't name here. Most United fans have resigned themselves to understanding there's only a slim chance that Pogba stays this summer, and most are okay with that. But for now, as long as he stays in form, we can sit back and enjoy watching a World Cup winner.