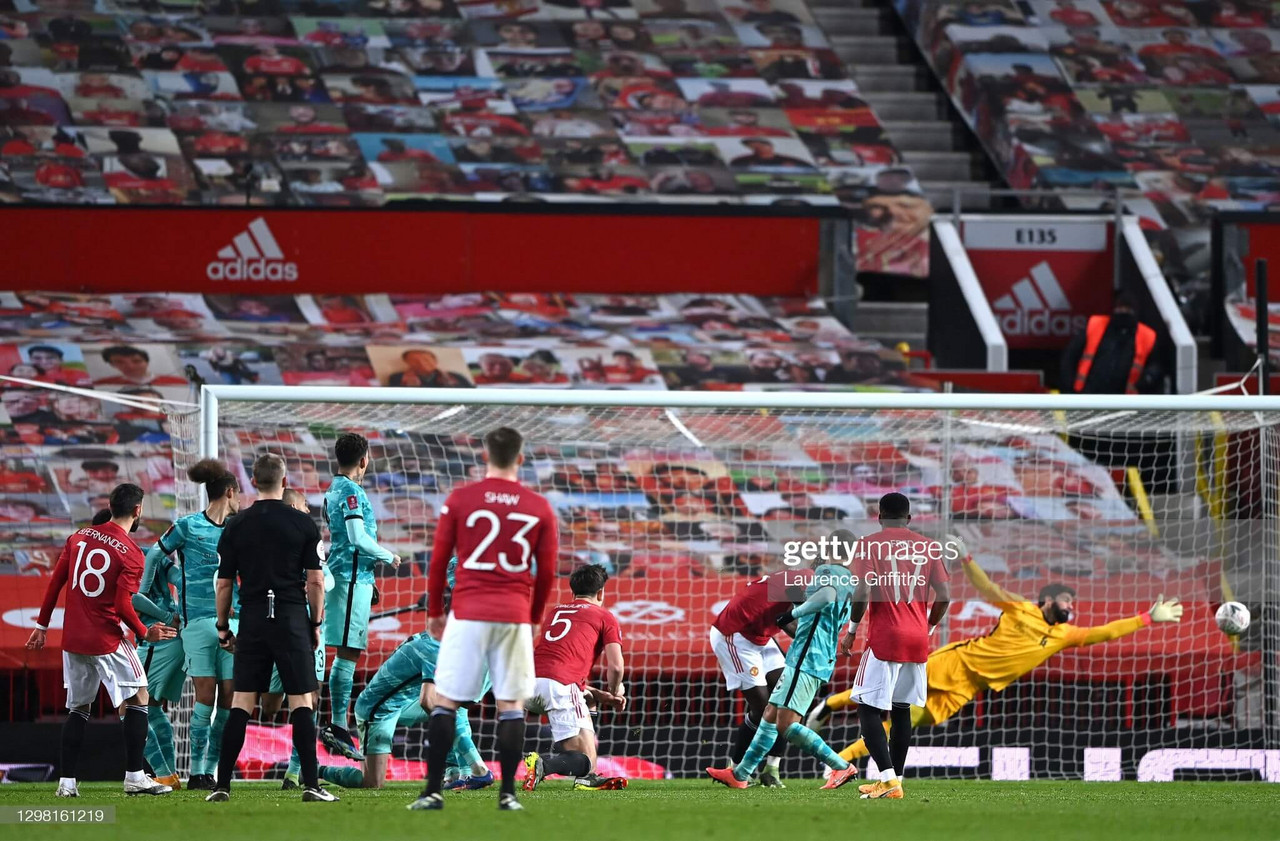 Manchester United bested rivals Liverpool 3-2 in their FA Cup fourth-round fixture, propelled by another sublime Paul Pogba performance and goals across the team.
Mason Greenwood drew the sides level before the composure of Marcus Rashford and the set-piece brilliance of Bruno Fernandes saw United run out victors.
As attentions turn back to maintaining their spot at the top of the Premier League, here's what was learned from Sunday.
Van de Beek can be relied upon
Even for the best of players, stepping into a Manchester United-Liverpool fixture is always going to be intimidating - regardless of the context. It's one of the games in football. For Donny van de Beek, it was the chance he'd been waiting for.
Although the young Dutchman didn't cover himself in glory, his game far from warranted the fringe role he's been assigned by Ole Gunnar Solskjaer. van de Beek allowed Pogba to play, was a composed figure in midfield, and afforded a measure of calm to an attack which occassionally got ahead of itself. He might not be Fernandes, but he's an excellent candidate for understudy.
Luke Shaw's renaissance exemplifies the need for competition
This may be the best that we've ever seen Luke Shaw play in a United jersey since he arrived in 2014. His spirited and reliable performances have characterised the new identity Solskjaer is trying to cultivate at Old Trafford.
And it can be no coincidence that the resurgence of Shaw comes at the same time as genuine competition in depth for his position. It happened last year when Brandon Williams emerged as a competitor, and Alex Telles's arrival has had a similar effect.
There are players who could benefit from such competition throughout the squad, particularly Aaron Wan-Bissaka, who's attacking abilities are still coming up short and predictable with a shimmy then dart to the right.
Solskjaer's game management needs to improve
It may seem peculiar to criticise Solskjaer's performance after his side put on a fine show of resilience against Liverpool, but the decisions he made during the match and a lack of tactical variation only stress the issue.
To bring on the defensive Fred at the expense of goalscorer Mason Greenwood, with the scores level, only serves to undermine the team's intent. Granted, the gamble paid off, but that's far been the case before with the changes we've seen, often the substitutions coming far too late to bear any impact.
Solskjaer is quietly continuing to grow into his own as the manager at United, but his ability to adapt to games and implement strategic substitutions and tactical variantations must improve.
Pogba deployed on the right is a waste of his ability
The issue of Solskjaer's decision making leads to another pount gleaned from Sunday's victory - where Pogba goes. And it's clearly not on the right.
Fred's involvement saw Pogba moved further wide that it appears he's comfortable with, meaning he adopted a similar position to that against Liverpool just over a week ago. While his quality allowed Pogba to play there, enjoying the cover of Wan-Bissaka and working well with the forwards, he's wasted there.
He cannot find the space he desires, nor pick the ball up where he wishes. Similarly, he doesn't have the players around him, nor making the runs from him, which enable his creativity to flourish.
Rashford cannot be moved from the left
In his post-match interview, Solskjaer noted how Rashford has been deployed across the attack this season, to varying degrees of effect. But what was made abundantly clear against Liverpool was where he ought to remain.
While he adapts to whichever role assigned to him with ease and quality, his output is severely hampered when he's shifted to the right side of the attack. Unable to cut in with as much venom nor frequency, United find themselves faltering going forward.
Rashford has to be kept out wide, if least of all to maximise his individual output. At most, and far from unlikely, it raises the bar for the entire team - not to mention the complementing of Shaw's barraging runs.