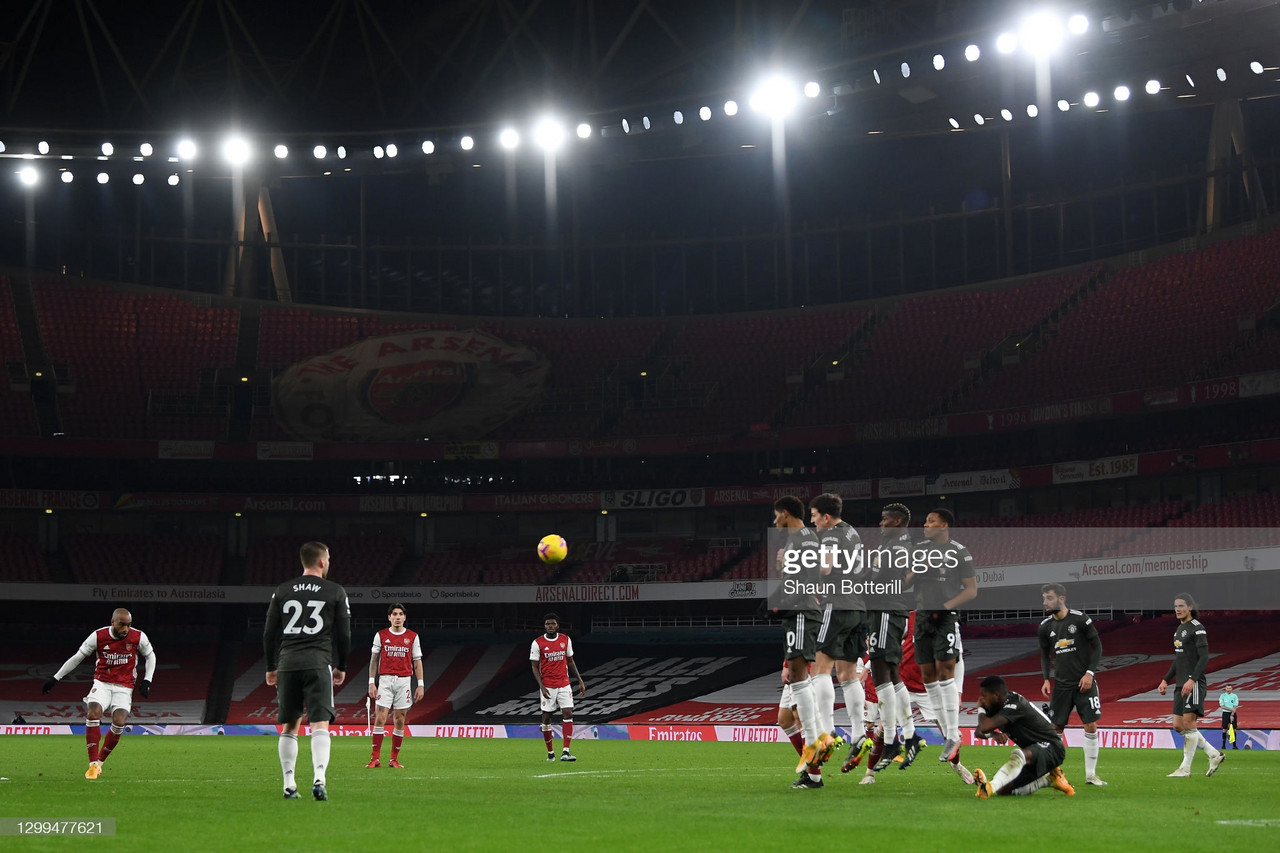 The Gunners continued their unbeaten streak to seven games in a 0-0 draw against a stubborn and defensively strong Manchester United.
Mikel Arteta's side had many great chances to break down Harry Maguire's backline.
A terrific free kick from Alex Lacazette rattled the crossbar, as well as the inform Nicolas Pepe curling the ball just wide of David De Gea's post.
Despite a lacklustre draw against the Red Devils, Arsenal may see this result as a positive due to the number of absences in their side.
The North London team only move up to eighth in the Premier League, whereas Man United remain behind Manchester City in second.
Impressive defensive displays
After a poor start to this year's league campaign, as well as reviving results, Arteta has revived the performances of his back four.
With fan favourite Kieran Tierney missing out once again due a calf injury, the Spanish boss tinkered successfully with his defence, bringing in the strong Cedric Soares as a replacement.
The Portuguese international performed admirably against Southampton last Tuesday, securing a 3-1 win against his former side.
The fullback kept the talented Marcus Rashford and young star Mason Greenwood away from Bernd Leno's net, playing alongside the well proved defensive partnership of David Luiz and Rob Holding.
The English and Brazilian partners held Edinson Cavani at bay, with the Uruguayan not having a sniff at goal.
Against Man United, Holding managed 10 clearances, two tackles and an impressive six ball recoveries.
The Brazilian had an even better game than his centre back partner. Luiz gained Man of the Match for his efforts, with four clearances and a 100% success rate for aerial duals.
Arteta has created a true Arsenal backline, every man working for one another. Holding with his Tony Adams-esque playing style, as well as the pure passion from Luiz, has created a strong moral within the base of this new Arsenal team.
Nicolas Pepe coming out of his shell
After his terrific attacking display against Southampton last Tuesday, Nicolas Pepe continued his spell of majestic presentations out wide.
The Ivorian was a thorn in Manchester United's side, proving his dribbling ability, as well as this new burst of confidence.
Winger Pepe created the most chances in Saturday's game (3), as well as having the most shots on goal (4).
Pepe is slowly adapting to this evolving Arsenal team. With 23 accurate passes, seven duals won and 56 touches, the attacker may be coming to his senses.
With the pressure of his £72million price tag, and adapting to the fast pace of the Premier League, Pepe has struggled to perform for Arsenal.
However, it is looking like the Ivorian international is progressing to his best that Arsenal scouts saw at Lille, providing Arteta with a dangerous, pacey, and technical option.
Do the Gunners have a chance at European spots this season?
With 17 games left to go, Arsenal have impressively revived their season, continuing their unbeaten run to seven.
The question on the lips of Arsenal fans is, where will the Gunners finish in this confusing league campaign?
Arteta's next three games are up for grabs. With Wolverhampton Wanderers, Aston Villa, and Leeds United to face in the coming weeks, Arsenal have a great chance to grab nine points and climb the table.
Wolves took three points away from the Gunners early on in the season however, they have not reached expected heights.
Nuno Espírito Santo's side currently sit eight points behind Arsenal in 14th, potentially doing enough to avoid the drop.
Similarly for Leeds, they are sitting mid table in their first return to the Premier League.
The Peacock's will be looking to continue their great return to the top flight, which may be challenging for Arsenal.
In between Wolves and Leeds, Arsenal face Aston Villa in a clash and battle to reach higher league positions.
A win for Arteta will take him away from Villa, minimising the threat of their games in hand.
The coming weeks for Arsenal are huge in regards to their league finish. Wins in all three will for sure propel the Gunners towards European places.