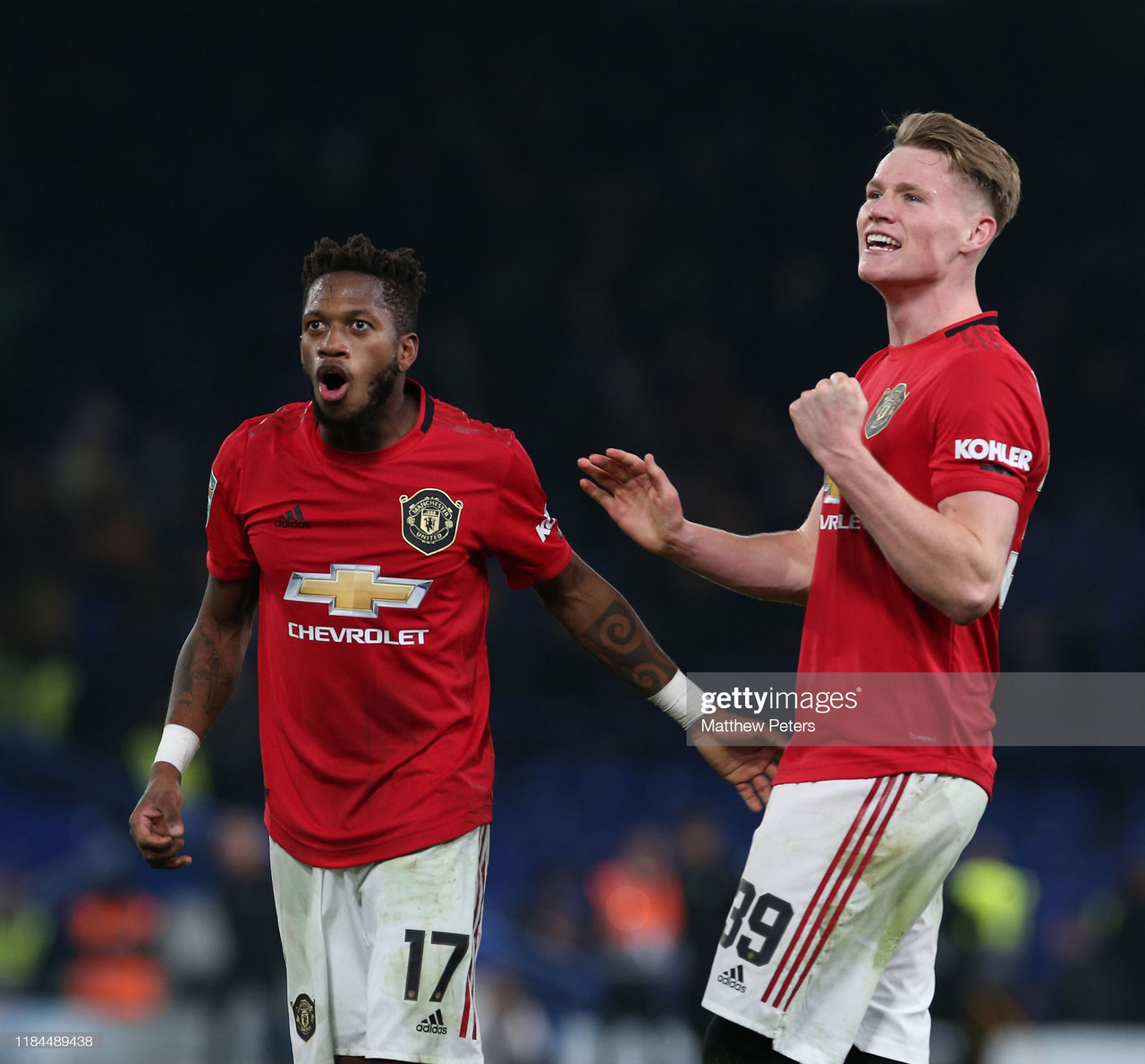 Ole Gunnar Solskjær seems to favour midfield duo Scott McTominay and Fred over any other midfield pairing in his Manchester United side this season.
They have featured in 32 games in all competitions as a midfield duo, out of those 32 fixtures they have only lost five. McTominay has scored six times this season in all competitions, which is his most prolific season for the club so far, and from centre defensive midfield too.
Fred has only scored one and assisted one this season, however he has become a more defensive minded midfielder this season where he's sat alongside the Scot helping United to control the game.
Nemanja Matic, Paul Pogba and Donny van de Beek are realistically Solskjær's other options. Andreas Pereira is still technically a Manchester United player, however, he's never done enough at the club to cement his place in the side and is out on loan at Lazio. Youngster James Garner is also an option for the Norwegian. However, the 20-year-old is also on loan at the moment, he's currently playing with Nottingham Forest after joining them on loan in January. Before that he spent a couple of months with Watford.
This leaves Matic, Pogba and van de Beek. Pogba is the biggest name of the three. The world cup winner has won many trophies already, including four Serie A league trophies, and with United has won the EFL Cup and the Europa League. Lately he's been used further up the field as a wide attacking midfielder, his versatility does offer the United boss many options. However, Fred and McTominay both seem to get into the defensive midfield positions more often than the Frenchman.
Like Pogba, van de Beek offers versatility. The Dutch midfielder is probably more suited to an attacking midfielder role than a defensive one. And unfortunately for them, he hasn't managed to break into the starting 11 as often as he would have liked. Most of his Premier League appearances have been him coming off of the bench, most of the time late on in games. It could be said that the 24-year-old hasn't had the opportunity to prove himself yet.
It could also be argued that he hasn't really put in a stand out performance in a United shirt to help his cause. McTominay and Fred have both remained fairly consistent, especially when playing together, which is probably the ultimate reason as to why van de Beek has failed to be a regular starter for The Reds. Most recently he did actually pick up an assist after being substituted on against Burnley, he set up Edinson Cavani's who scored United's third against The Clarets.
An assist on your birthday = icing on the cake 🎂

Get in there, @Donny_Beek6 ❤️

🔴 #MUFC
#️⃣ #MUNBUR
🏆 #PL pic.twitter.com/XEBbnbo8wp

— Manchester United (@ManUtd) April 18, 2021
Matic is the only one out of the three who is an out-an-out defensive midfielder. His experience and winning mentality is important to United. And often when either McTominay or Fred are rested its the Serbian that comes in to replace them. At 32-years-old he is one of United's most experienced players. He's often criticised for his pace, but where he lacks in his speed, he makes up for in his passing.
Matic performs well when he has a faster defensive midfielder next to him. United fans often get frustrated when they see McTominay and Matic both in midfield together as they aren't the fastest players. The only time we usually see the two alongside each other is late on in games where one of them is substituted on to help see out a game.
Leeds United, Tottenham Hotspur & Southampton
It's fair to say that McTominay and Fred's best performances this season have come in: United's 6-2 win over Leeds United, The Reds' 9-0 thrashing against Southampton, as well most recently, their 3-1 win against Tottenham Hotpur.
McTominay picked up the man of the match award after scoring twice in the first three minutes against Leeds. The midfielders opening two goals set United well on their way to a victory and continued to play a big part in the midfield alongside Fred to help United win the game.
His first goal was a ferocious strike from the edge of the penalty area that found the bottom corner.
His second was almost as good, Anthony Martial played a smart pass which put McTominay in on goal and the Scot kept his cool with a clever finish. The Scotland international also picked up an assist when he played in Daniel James, who got United's fifth.
In the 9-0 hammering against Southampton, both McTominay and Fred started. Southampton could not get a moments peace with the two midfielders pressing and winning the ball back every time The Saints tried to break out and up the field.
Again it was McTominay who got on the score sheet. He scored again from outside the area after striking the ball low and hard through a crowd of players, leaving the keeper stood in the middle of his goal. When nine goals go in it is easy to forgot how well the team played in the middle of the park and defensively. Both centre midfielders played a big part in that win and didn't really put a foot wrong.
Fred scored a rare goal in United's 3-1 win over Spurs. After going a goal behind to a Son Heung-min opener for the home side, United seem to have been struggling to reply with a goal until the 57th minute. Fred reacted quickly after Hugo Lloris saved Edinson Cavani's shot, the midfielder pounced on the loose ball and swept it above the French goalkeeper to draw United level.
He also played a small part in the build up for United's third. A strong second half from United and Fred saw United get the three points. Again another win for United with the midfielder duo of Fred and McTominay starting in midfield.